Here at Bubba Pie, we are all about easy, delicious comfort food. To us, casseroles are the ultimate comfort food. Great to feed a crowd or to have as an easy family dinner with leftovers for lunch tomorrow. We've come across and shared so many fun, new casserole recipes over the years. So we thought we'd go post some of our favorites on here. Enjoy!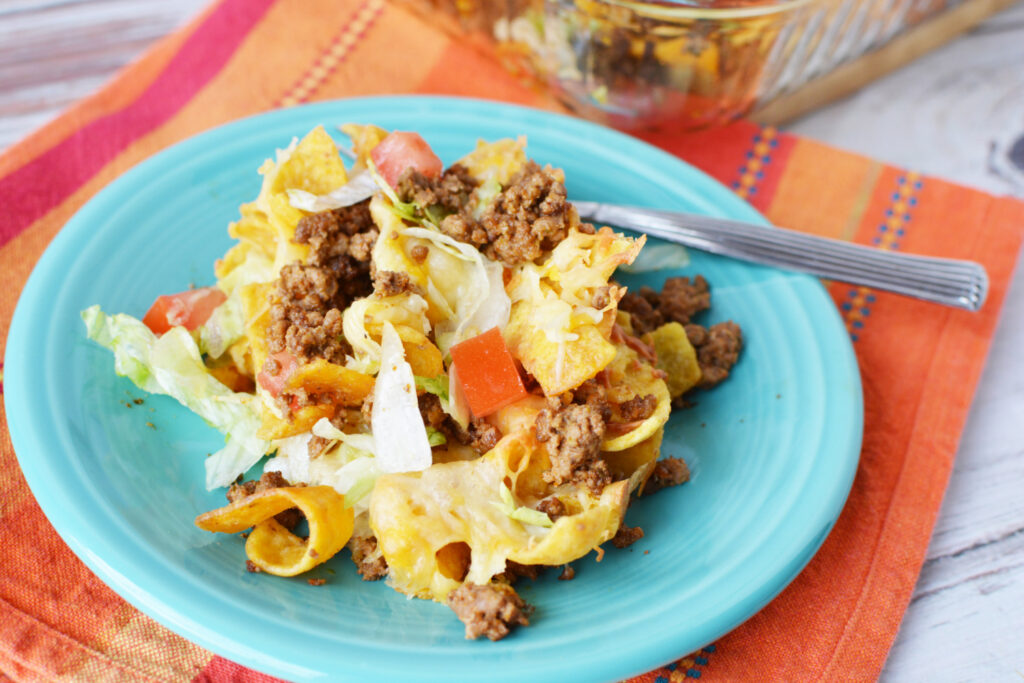 Casseroles-The Ultimate Comfort Food
The fun thing about Casseroles is that they can be so many different things. From a main dish to a side dish to even a dessert or a breakfast. There are so many things that you can put into them, take out of them and tweak however you'd like. And it's so awesome that all your ingredients are all combined together into one pot, one dish or whatever your baking your casserole in!
Below, you will find a helpful casserole guide, broken up into Main Dishes, Side Dishes and Breakfasts. We hope you enjoy! Bookmark this page so you can keep coming back to try them all!
Delicious Casserole Recipes-Main Dishes
COWBOY CASSEROLE | This Cowboy Casserole is just thing to feed a hungry family. Great for a weeknight dinner or to bring to a potluck or pitch in, this Tater Tot Casserole is full of ground beef, vegetables, cream of mushroom soup and tons of cheese!
JOHN WAYNE CASSEROLE | The tasty dish with the weird name, this John Wayne Casserole is made with meat, cheese and just the right amount of spice to make your dinner table the happiest place on this side of the Mississippi!
CRACK CHICKEN CASSEROLE | This Cheesy Crack Chicken Casserole is loaded with tender chicken, creamy sauce, bacon and topped with a buttery cracker crust. This will be a new favorite for family dinners. And it's also a great recipe for feeding a crowd! This dish is seriously addictive! And make sure to read below for some fun tips and variations to this recipe.
CHICKEN FAJITA CASSEROLE | This easy Chicken Fajita Casserole is a great weeknight family dinner recipe! Seasoned Chicken Breasts are cooked with cheese, onions and peppers for an authentic Tex-Mex experience. It's even Keto friendly!
CRISPY CHICKEN HASHBROWN CASSEROLE | This Chicken Hashbrown Casserole is our new family favorite dinner. Cheesy Chicken is layered on hashbrowns and topped with Rice Krispies. Baked to bubbly perfection, it's perfect to feed a crowd or have leftovers for tomorrow.
DORITO CASSEROLE | Throw a twist into your taco Tuesdays with this Easy Dorito Chicken Casserole Recipe. This Mexican Chicken dish has ton of fun flavor that the whole family will enjoy.
JALAPENO POPPER CHICKEN CASSEROLE | Spice up your life with this Jalapeno Popper Chicken Casserole. Tender chicken, zesty cheese, soft noodles and jalapenos team up for a fiesta in your mouth! Perfect for family dinners, tailgating, potlucks or game day, this twist on a classic appetizer is tons of fun and easy to make.
KING RANCH CHICKEN CASSEROLE | This King Ranch Chicken Casserole is a classic Texas dish that can be found at just about any potluck, pitch in or church gathering in the Lone Star State. Layers of tortillas are baked with tons of gooey cheese, chicken, vegetables and spices.
CROCKPOT MEXICAN CASSEROLE | This easy Crock Pot Mexican Casserole will take your Taco Tuesday to a whole new level. Taco meat, enchilada sauce, tortillas, chilis, corn and black beans all work together in your slow cooker to create a fiesta on your dinner table.
RITZ CHICKEN CASSEROLE | This Ritz Chicken Casserole combines tender chicken in a creamy sauce with veggies and spices. It is baked in your oven to bubbly perfection and topped with a crispy Ritz cracker topping. You will be having seconds.
TACO LASAGNA | This easy Taco Lasagna recipe is a hit with everyone in the family. Make with tortillas, ground beef, and cheese this will be a meal you will make over and over.

BACON CHEESEBURGER TATER TOT CASSEROLE– This easy recipe is made with ground beef, cheese, bacon, tater tots and green onions to make a delicious dish for any occasion. Perfect for large crowds, potlucks, tailgating or game day recipes. Or, you could just make it for dinner tonight and have leftovers tomorrow!
WALKING TACO CASSEROLE | This Walking Taco Casserole has everything you'd expect from everyone's favorite Tex Mex snack! A cheesy layer of taco meat is topped with corn chips, more cheese, lettuce and chopped tomatoes. A fun family dinner, potluck recipe or Cinco de Mayo meal!
TUNA NOODLE CASSEROLE | This Tuna Noodle Casserole Recipe is a Classic Family Dinner just like Grandma used to make! Tender egg noodles in a creamy, cheesy sauce with hearty tuna is baked hot and bubbly in y0ur oven. Top with some breadcrumbs for a crispy finish and you have an inexpensive, quick dinner any night of the week!
Easy Casserole Recipes-Side Dishes
Delicious Breakfast Casseroles