These 51 Delicious Casserole Recipes are perfect for an easy weeknight dinner, a potluck or an office pitch-in. From Tex-Mex dishes to corned beef and cabbage, you'll find all sorts of fun and adventurous casserole recipes in this list!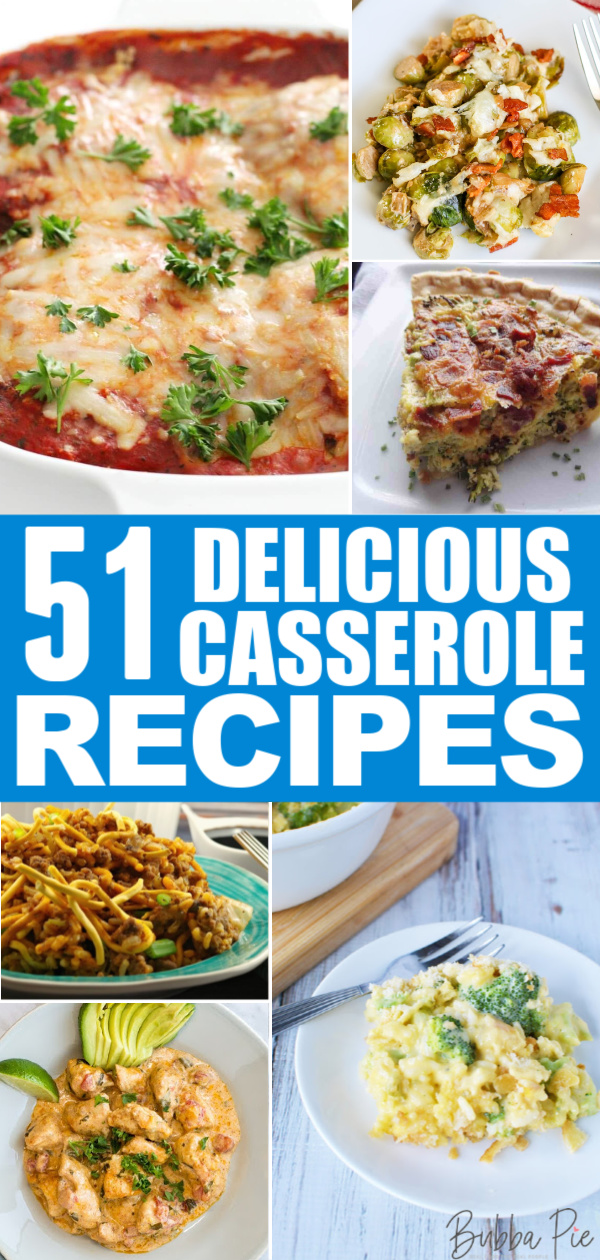 LOOKING FOR MORE CASSEROLE RECIPES? CHECK OUT:
When I was growing up, I thought casseroles were these boring dishes with some noodles, a bland white sauce, chicken and maybe a couple of peas to add some color. I detested them. But, since we've started this website, I've come across so many wonderful and fun casserole recipes. I've posted a lot of them on here.  And, the cool thing is, most of them as so simple and easy to make. So, whether you are looking for an easy weeknight dinner or something unique to bring to the potluck next week, check out these awesome delicious casserole recipes!
51 Delicious Casserole Recipes
Chow Mein Casserole | Food Meanderings
Keto Tex-Mex Casserole | Keto Cooking Wins
Easy Macaroni Corn Casserole | Bubba Pie
Chicken Taco Casserole | Keto Cooking Wins
Chicken Cauliflower Casserole | Diabetes Strong
Creamy Chicken and Quinoa Casserole | Our Home Made Easy
John Wayne Casserole | Bubba Pie
Easy Breakfast Casserole Recipes | Our Home Made Easy
Gluten Free Green Bean Casserole | Strength and Sunshine
Buffalo Chicken Casserole | Mommy Travels
Pesto Chicken Mozzarella Casserole | Melanie Cooks
Enchilada Casserole | Meals and Mile Markers
Chicken Cordon Bleu Casserole | Snappy Gourmet
Broccoli Rice Casserole | A Magical Mess
Cheesy Bacon Brussels Sprouts Casserole | Marathons and Motivation
Spinach and Sauteed Veggie Casserole | Marathons and Motivation
Corned Beef and Cabbage Casserole | Swirls of Flavor
Chile Cornbread Bake | Swirls of Flavor
Poppy Seed Chicken Casserole with Water Chestnuts | The Welcoming Table
Easy Green Chili Chicken Casserole | Whole Lotta Yum
Chicken Stuffing Casserole | Dollars and Sense
Hashbrown Taco Recipe | Who Needs A Cape?
Creamy Chicken Ziti Casserole | Who Needs A Cape?
Chicken Parmesan Casserole | Dancing Through the Rain
Italian Chickpea Casserole | Strength and Sunshine
Vegan Eggplant Parmesan | Strength and Sunshine
Bolognese Gnocchi Bake | Savory Nothings
Homemade Shepherd's Pie | Savory Nothings
Mac & Cheese Casserole with Peas, Carrots and Ham | This Mama Cooks
Spaghetti and Meatball Casserole | Cooking with Carlee
Vegan Broccoli Cheese Rice Casserole | Key To My Lime
Lemon Poppyseed Chicken Casserole | Creative Cynchronicity
Crockpot Mexican Casserole | Bubba Pie
Baked Campanelle With Meat Sauce | Stef's Eats and Sweets
Vegetarian Mexican Casserole | Piping Pot Curry
Tater Tot Casserole with Beef and Veggies | Freezer Meals 101
Sloppy Joe Casserole with Cornbread Crust | Veggie Inspired
Creamy Chicken Casserole | To Simply Inspire
Mediterranean Sausage Casserole | The World In My Pocket
Southern Sweet Potato Casserole with Pecans | Erhardts Eat
Macaroni Corn Casserole | Casserole Crissy
Cheesy Cauliflower Casserole | Casserole Crissy
Squash Casserole Recipe | Housewives of Frederick County
Cheeseburger Casserole Recipe | Crayons and Cravings
Turkey Taco Bubble Bake | Stef's Eats and Sweets
Chicken Spaghetti Casserole Recipe | Ann's Entitled Life
Pierogi Recipe | Creative Cynchronicity
The Gifted Gabber | Cheesy Beef Noodle Casserole
Cabbage Roll Casserole | The Olive Blogger
Cheesy Vegan Cauliflower Casserole | Vegan Huggs
Stuffed Pepper Casserole | Spend with Pennies