This easy Chicken Fajita Casserole is a great weeknight family dinner recipe! Seasoned Chicken Breasts are cooked with cheese, onions and peppers for an authentic Tex-Mex experience. It's keto-friendly, low carb and easy to make Gluten Free! Even better, you can prepare it ahead of time for a quick family dinner!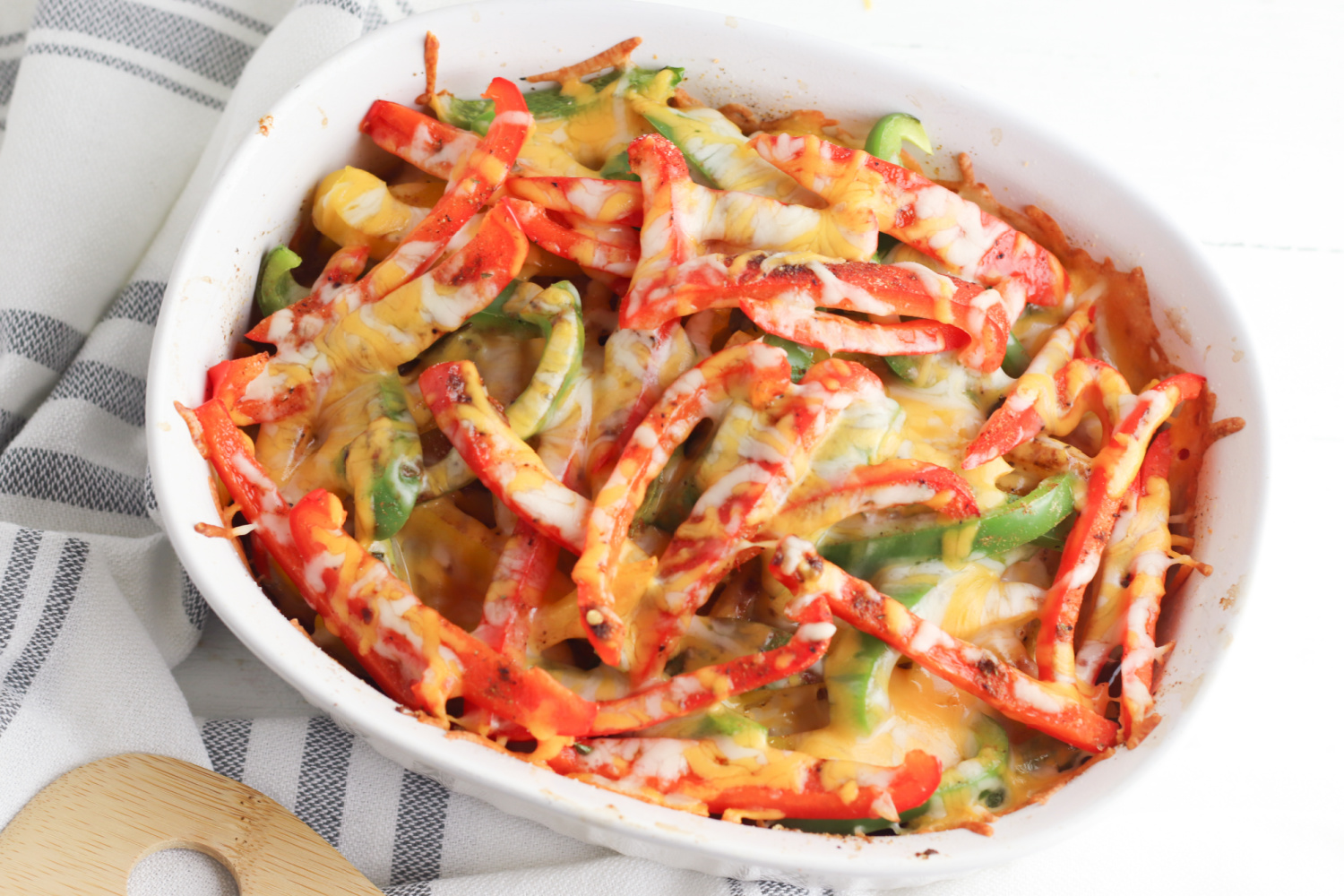 Why You Will Love Chicken Fajita Casserole
HEALTHY – Loaded with lean chicken breasts and tons of vegetables, this is a healthy family dinner that is still full of tex mex flavor!
EASY – While it may look like there are a lot of ingredients in this recipe, they are all common pantry staples that I'm willing to be you already have in your kitchen. And, a lot of our ingredients are to make our homemade Chicken Fajita Seasoning. If you don't have some of these, or don't want to get them, you can make this dish even easier by buying store-bought Chicken Fajita Seasoning.
GREAT WAY TO FEED A CROWD – Need a dish to feed your guests? Throwing a Cinco De Mayo or Mexican Themed Party? This is a great way to serve your guests fajitas. Just put some tortillas out and they can serve themselves and make their own. And this recipe is easy to scale up!
MAKE IT AHEAD OF TIME – You can do all the prep for this dish, cutting the chicken and veggies and making the seasoning, and even assembling it in the casserole dish. Let it hang out in your fridge until you are a ready for a SUPER FAST AND EASY dinner!
Chicken Fajita Casserole
We love this recipe for Chicken Fajita Casserole because it is quick, easy and full of wholesome, homemade flavors. For step-by-step instructions, check out the printable recipe card below. Here is what you will need to get started:
CHICKEN FAJITA SEASONING – We make our own Chicken Fajita Seasoning in a large bowl with Ground cumin, Paprika, Chili Powder, Garlic Powder, Dried Oregano, Salt, Onion Powder, Red Pepper Flakes and Ground Black Pepper. But you can also just buy store-bought Fajita Seasoning too! In a pinch, you could probably also just use Taco Seasoning as well!
CHICKEN – We use boneless skinless chicken breast, cut into bite-sized pieces. But you could also substitute for boneless skinless Chicken Thighs. And, if you want to keep the chicken whole, this recipe will work fine like that.
LIME – Fresh Lime Juice.
VEGETABLE OIL – You can also substitute for any other cooking oil you like. Olive oil or avocado oil would work.
RED BELL PEPPERS – We used a combination of Red Bell Pepper, Yellow Bell Pepper and Green Bell Pepper. Cut into thin strips. We liked the different colors, mostly for presentation. So you can just use one color if that is easier.
ONION – You can use a Red Onion or a Yellow Onion. Your choice.
CHEESE – We used shredded Monterey Jack Cheese. But you could also use a Mexican Blend Cheese, Mozzarella or just plain Cheddar Cheese. We believe in shredding our own cheese because it melts better than the pre-shredded stuff that you can buy at the store.
FLOUR TORTILLAS – For serving.

Storage, Leftovers and Freezing
Store leftovers in an airtight container in your refrigerator. Leftovers should be good in your fridge for about 4 days. Although the bell peppers will probably start to get soft after a day or so. This casserole reheats fine in the microwave.
I would not freeze Chicken Fajita Casserole. The bell peppers won't thaw out very well.
Notes, Tips and FAQs
GARNISH- Top with Parsley, Green Onions, Diced Tomatoes, Fresh Cilantro, Salsa, Sour Cream, Avocado or Guacamole on top!
CASSEROLE DISH- Looking for a great casserole dish? This is a fantastic option that comes with it's own lid. So you can just keep your leftovers in there without worrying about aluminum foil. Or, if you are looking for one a little more affordable, this one is great too!
ADD/SUB VEGGIES?- Yep, I know that Chicken Fajitas normally consist of chicken, bell peppers and onions. But who's to say you can't add some other fun stuff. My wife isn't a huge fan of Green Peppers, so maybe next time we can get rid of these and add a can of drained Black Beans or Corn.
KETO FRIENDLY and LOW CARB and GLUTEN-FREE – We suggest serving this with some flour tortillas, but this would also be delicious on a bed of lettuce or even just all by itself!
SERVE OVER RICE – You could also serve this over a bed of steamed rice or cauliflower rice.
HOW DO YOU KNOW IF THE CASSEROLE IS DONE? – The cheese should be melted and you should stick a meat thermometer into the chicken. The internal temperature needs to be at least 165 degrees.
LOOKING FOR MORE TEX-MEX DISHES? CHECK OUT:
I hope you enjoy this Chicken Fajita Casserole Recipe. Let your Taco Tuesdays never be boring again!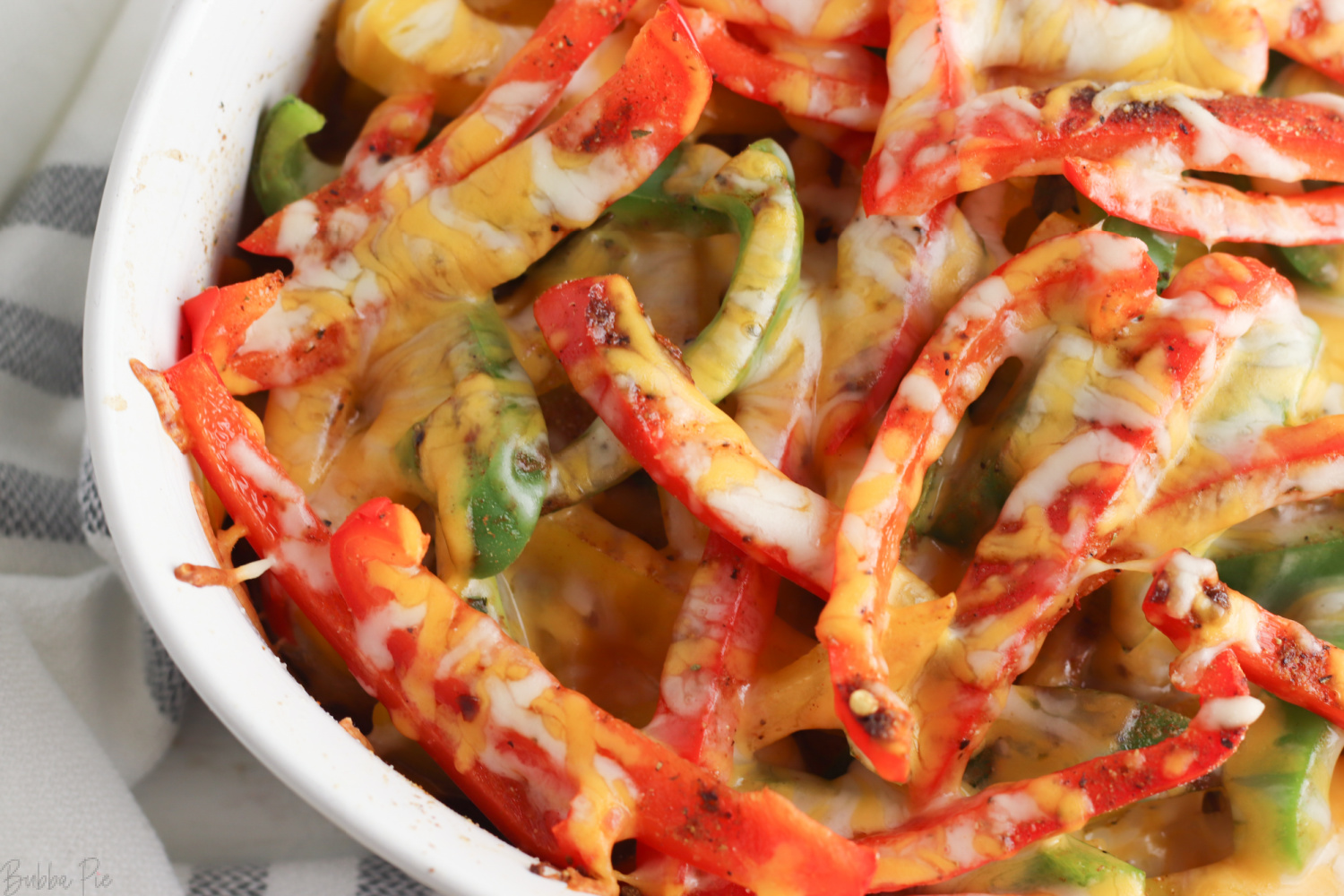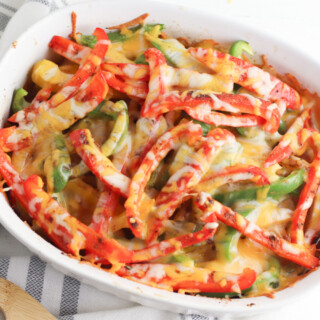 Rate this Recipe
Chicken Fajita Casserole
This easy Chicken Fajita Casserole is a great weeknight family dinner recipe! Seasoned Chicken Breasts are cooked with cheese, onions and peppers for an authentic Tex-Mex experience. It's even Keto friendly! 
Ingredients
2

teaspoons

ground cumin

2

teaspoons

paprika

1

teaspoon

chili powder

1

teaspoon

garlic powder

1

teaspoon

dried oregano

½

teaspoon

salt

½

teaspoon

onion powder

½

teaspoon

red pepper flakes

¼

teaspoon

ground pepper

1.5

pounds

chicken breast

cut into bite-size pieces

The juice of one lime

½

tablespoon

vegetable oil

1

red bell pepper

sliced into thin strips

1

yellow bell pepper

sliced into thin strips

1

green bell pepper

sliced into thin strips

1

onion

sliced into thin strips

1

cup

shredded Monterrey jack cheese

Flour tortillas for serving
Instructions
Preheat the oven to 375 degrees and grease a baking dish with nonstick cooking spray.

Combine the cumin, paprika, chili powder, garlic powder, oregano, salt, onion powder, red pepper flakes, and pepper in a small bowl.

Layer the chicken in the bottom of the baking dish. Add the lime juice, vegetable oil, and half the seasoning mixture. Toss to coat the chicken.

Top the chicken with the peppers and onions. Sprinkle the remaining seasoning mixture over the top of the vegetables.

Sprinkle the cheese over the top of the casserole.

Cover and bake in the preheated oven for 30 minutes, then remove the cover and cook an additional 5 to 10 minutes.

Serve with flour tortillas, if desired.
Nutrition
Love this recipe?
Follow @bubbapie for even more delicious recipes!!