This Crockpot Green Bean Casserole is a delicious, easy version of the Classic Green Bean Casserole Recipe. Tender Green Beans, Cream of Mushroom Soup, Milk and Spices are Slow Cooked together and topped with Crispy Fried Onions.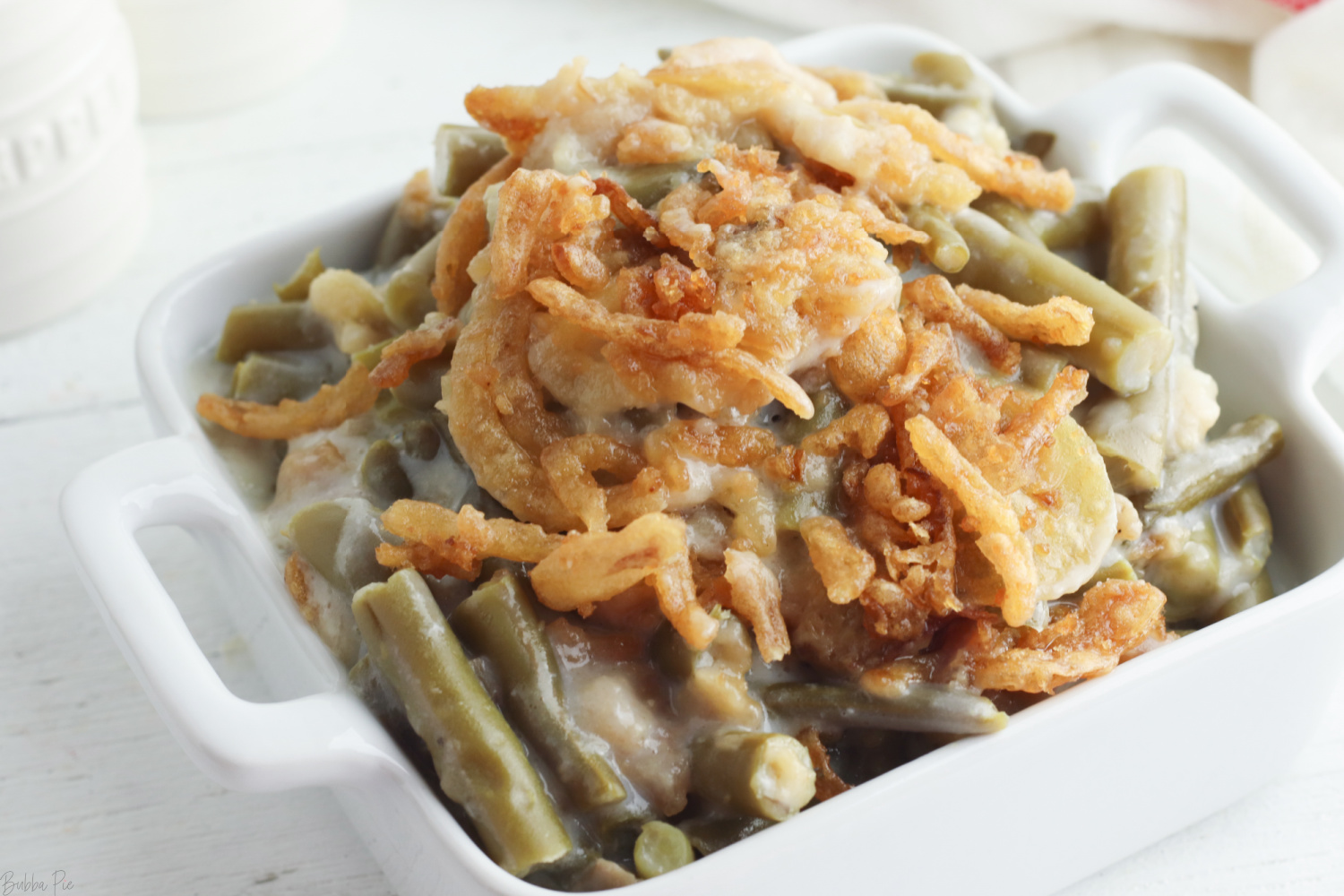 Holiday Side Dishes
One of the dishes that I always look forward to the most during Thanksgiving or Christmas Dinner is Green Bean Casserole. It seems like someone always brings this as a side dish to either Holiday occasion and I simply can't get enough of it. I often have 3 helpings of it. There is just something about the soft, tender green beans and the crispy topping that really makes my taste buds happy.
We've got a ton of Green Bean Recipes on this site, including Arkansas Green Beans, Spicy Green Beans, Bacon Wrapped Green Beans and Oven Roasted Green Beans. But our Green Bean Casserole is my favorite. So, we thought it would be fun to share a recipe for Crockpot Green Bean Casserole just in case you want to make it in your Slow Cooker.
Crockpot Green Bean Casserole
The thing I love most about this recipe is that is it SOOOO easy to put together and prepare. It only takes 6 ingredients and about 3 minutes of prep time. Then just dump it in your slow cooker and wait for your kitchen to start smelling amazing!
And, making this in your Crockpot frees up your oven. If you are making a holiday meal, we all know that oven space can dicey. Look, we've just made hosting a holiday dinner a little easier! You're welcome!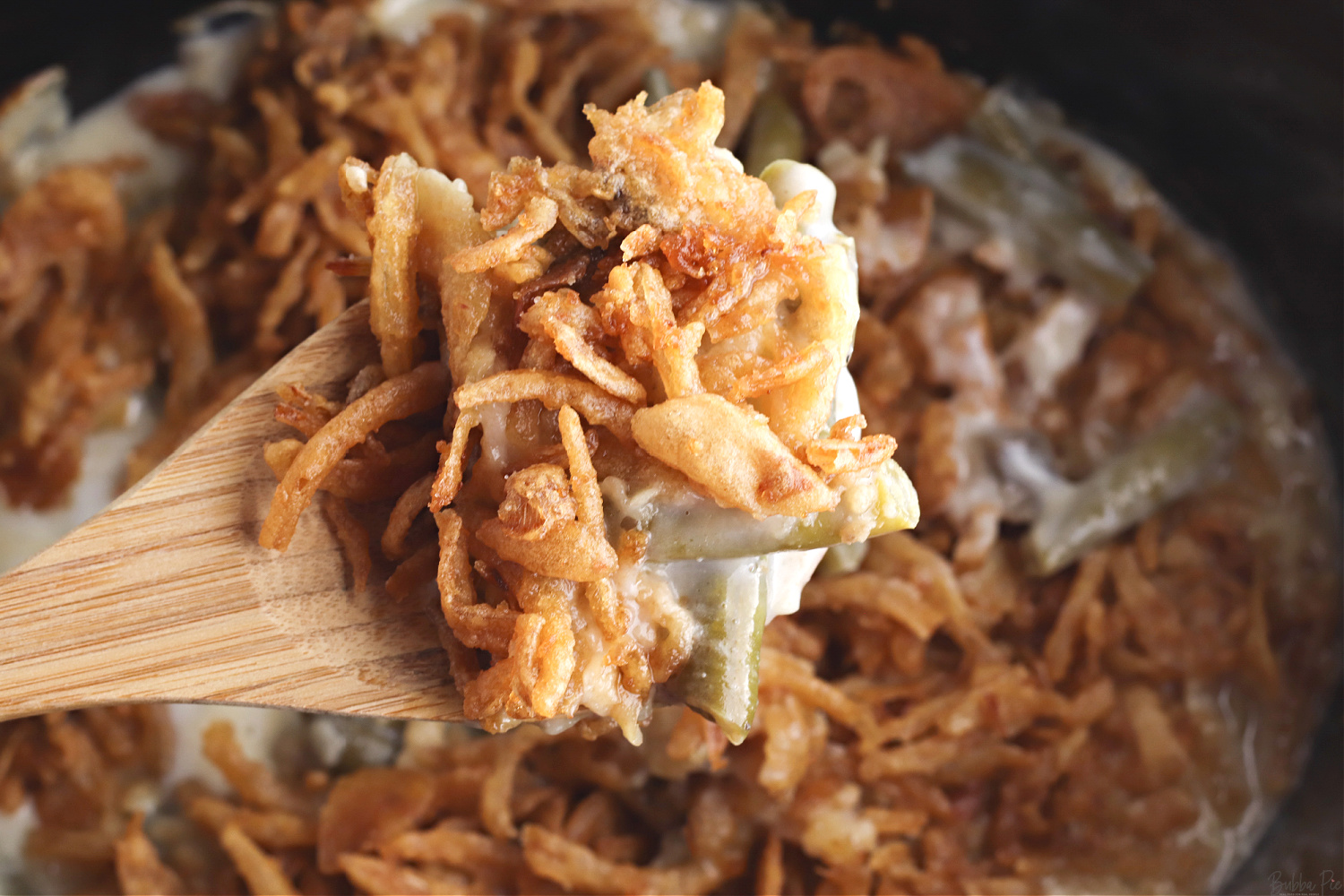 Slow Cooker Green Bean Casserole Ingredients
Ready to get started? Here are the six ingredients you will need. There is a good chance you already have these ingredients in your kitchen! For step-by-step instructions, check out the printable recipe card down at the bottom!
1 can cream of mushroom soup
1 cup milk
1 teaspoon black pepper
½ teaspoon garlic powder
2 14-ounce cans green beans, drained
1 6-ounce can crispy fried onions
salt and pepper, to taste
Can I Make This Ahead Of Time?
I wouldn't cook this ahead of time and reheat it. But you could mix everything together, put it in an airtight bowl in your fridge overnight and have it ready the next day. I would NOT put the Crispy Onions in until just before cooking.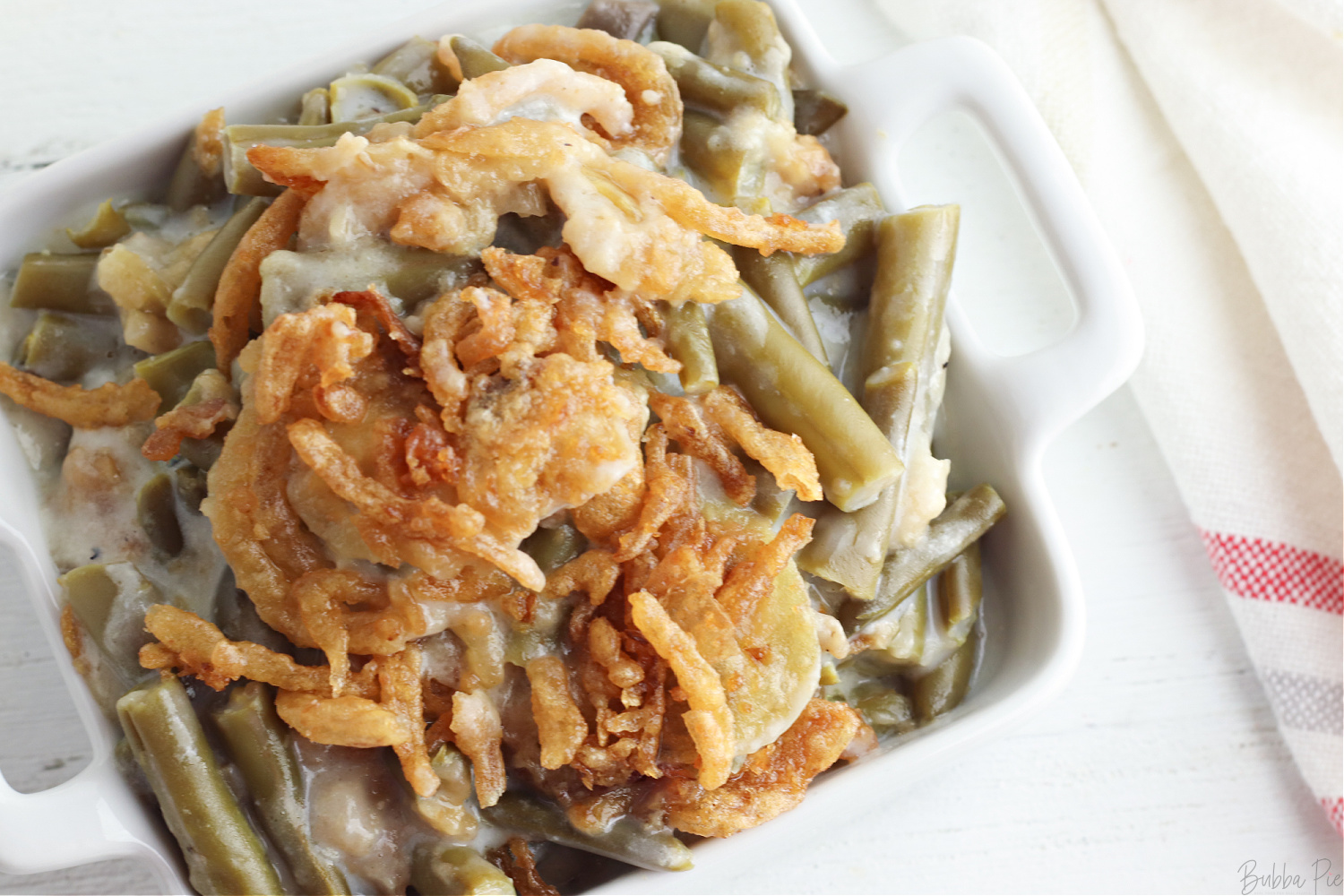 Do I Have To Use Canned Green Beans For This Casserole?
You CAN use Fresh Green Beans if you'd like. Just trim them and cook them until tender before putting in the Slow Cooker. I really wouldn't use Frozen Green Beans. While I haven't tried this, I really feel like it would make the dish too watery.
Storage and Leftovers
Store leftovers in an Airtight Container in your refrigerator. They should be good for about 4-5 day. You can reheat in your microwave. Your crispy fried onions won't ever be as crispy as they were when you first served this.
I would not freeze Green Bean Casserole.
Other Notes, Tips and Variations
EXPERIMENT WITH SPICES- We kept things pretty simple with just the Garlic Powder and the Pepper in this recipe. But if you have a spice that sounds good in here, go for it! Next time, I'll probably try adding some Onion Powder (I put Onion Powder in just about everything anyways!).
CAN YOU SUBSTITUTE THE CREAM OF MUSHROOM?- Not a fan of Cream of Mushroom? No worries, you could also use Cream Of Chicken Soup or Cream of Celery. Or even Cheddar Cheese Soup would be yummy and give this dish a whole new look and taste!
ADD SOY SAUCE – The original recipe for Campbell's Green Bean Casserole has 1 teaspoon of soy sauce in it. We skipped it in this recipe, but you can add it if you want. Some people substitute the soy sauce for worcestershire sauce.
WILL MY FRIED ONIONS BE CRISPY?– Since your not baking this in an oven like the traditional method, your Fried Onions won't be QUITE as crispy in the slow cooker. If you want to brown them a bit, you can throw them in a skillet on medium high heat. Stir it around for about 3 minutes before you sprinkle them on top of the casserole!
Tools To Help With This Recipe
I hope you enjoy this recipe for Crockpot Green Bean Casserole Recipe for you next Holiday meal. I'd love to know how it turns out for you in the comments section. Take care!
LOOKING FOR MORE HOLIDAY SIDE DISH CASSEROLES? CHECK OUT: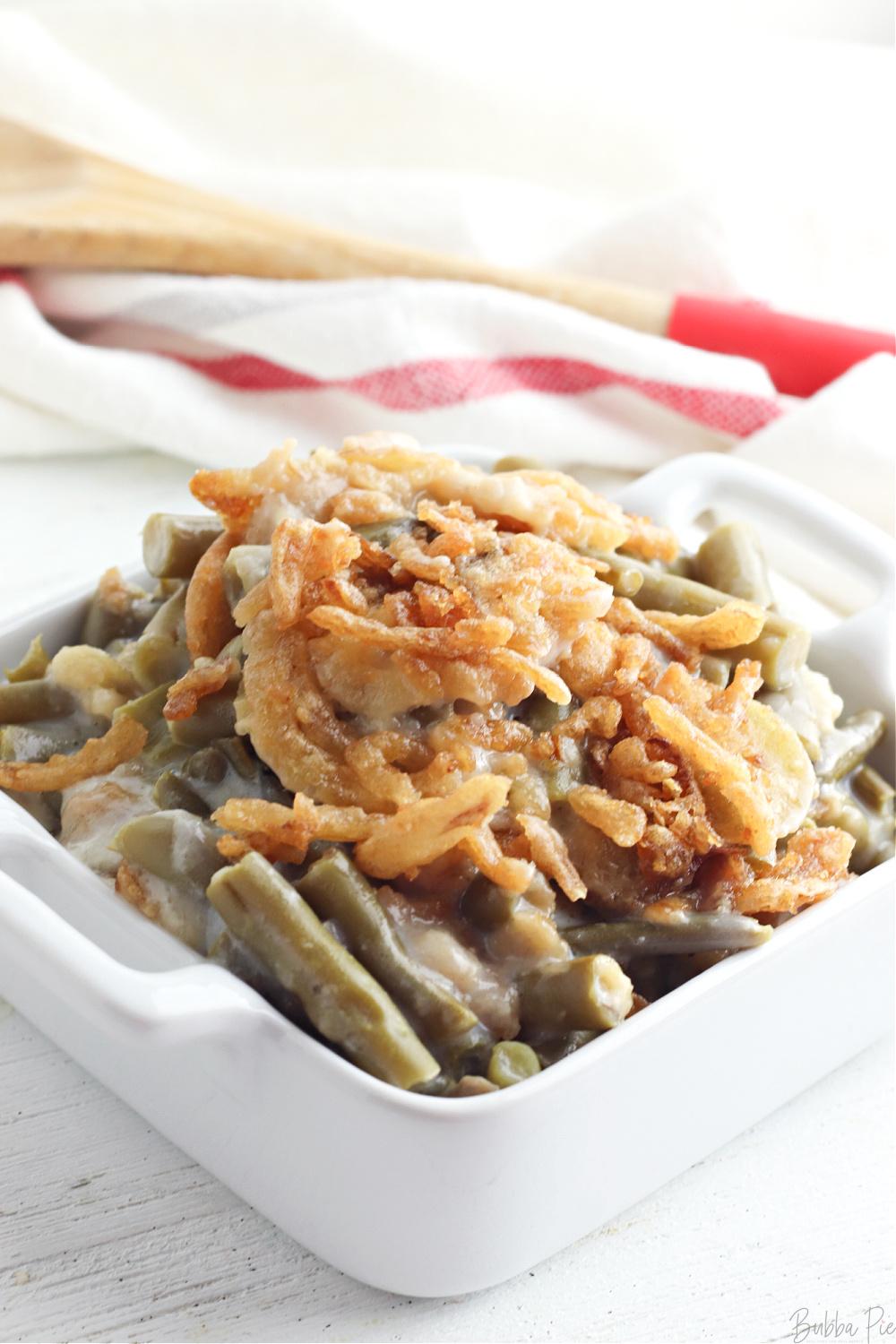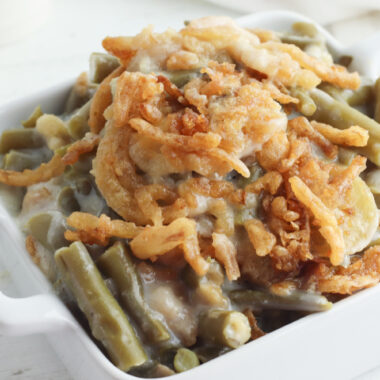 Rate this Recipe
Crockpot Green Bean Casserole
This Crockpot Green Bean Casserole is a delicious, easy version of the Classic Green Bean Casserole Recipe. Tender Green Beans, Cream of Mushroom Soup, Milk and Spices are Slow Cooked together and topped with Crispy Fried Onions. 
Ingredients
1

can cream of mushroom soup

1

cup

milk

1

teaspoon

black pepper

½

teaspoon

garlic powder

2 14-

ounce

cans green beans

drained

1 6-

ounce

can crispy fried onions
Instructions
Whisk together the cream of mushroom soup and milk until well combined.

Add the green beans and stir to coat.

Grease the bowl of a slow cooker with nonstick cooking spray. Pour the green bean mixture into the slow cooker.

Stir in half of the Fried Onions.

Set the slow cooker to cook on low for four hours or high for two hours.

Pour on the remaining Green Onions just prior to serving.
Nutrition
Love this recipe?
Follow @bubbapie for even more delicious recipes!!