This Jiffy Corn Casserole is a classic, sweet and savory side dish that goes perfectly with just about any meal from a summer BBQ to a Thanksgiving Side Dish. And using Jiffy Corn Muffin Mix makes this a simple, easy dish to prepare.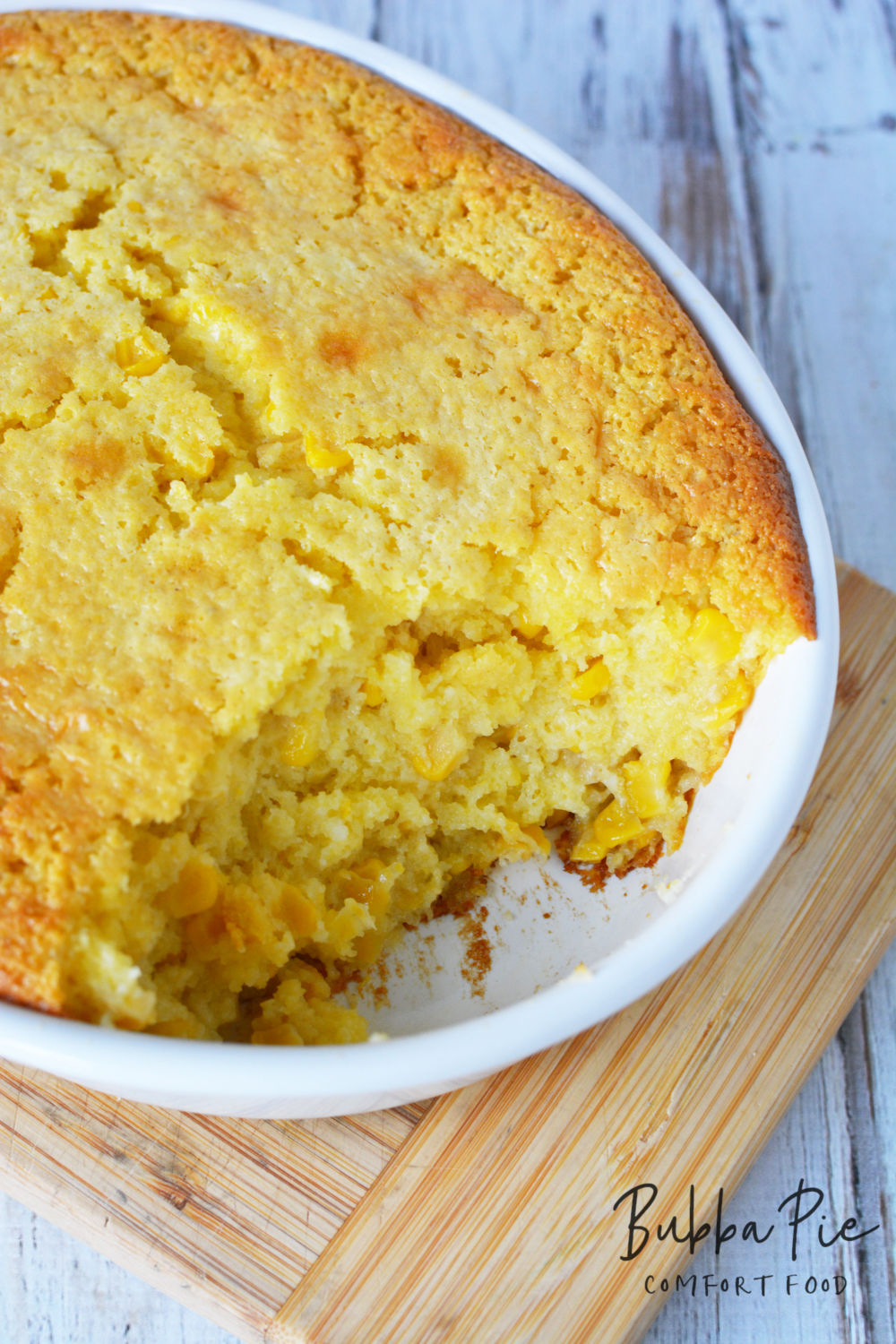 Why You Will Love Corn Pudding Casserole
EASY – Using only a couple of easy pantry staples as ingredients, this dish is so simple and only takes a couple of minutes to prepare!
VERSATILE – A good Corn Pudding Casserole can go with just about any dish and is equally perfect as a BBQ side dish or a Holiday Side Dish. It travels well and is great to bring to Potlucks and Pitch Ins!
DELICIOUS – A little sweet, a little savory and a whole lot of yummy! It's soft, moist and full of comfort food flavor!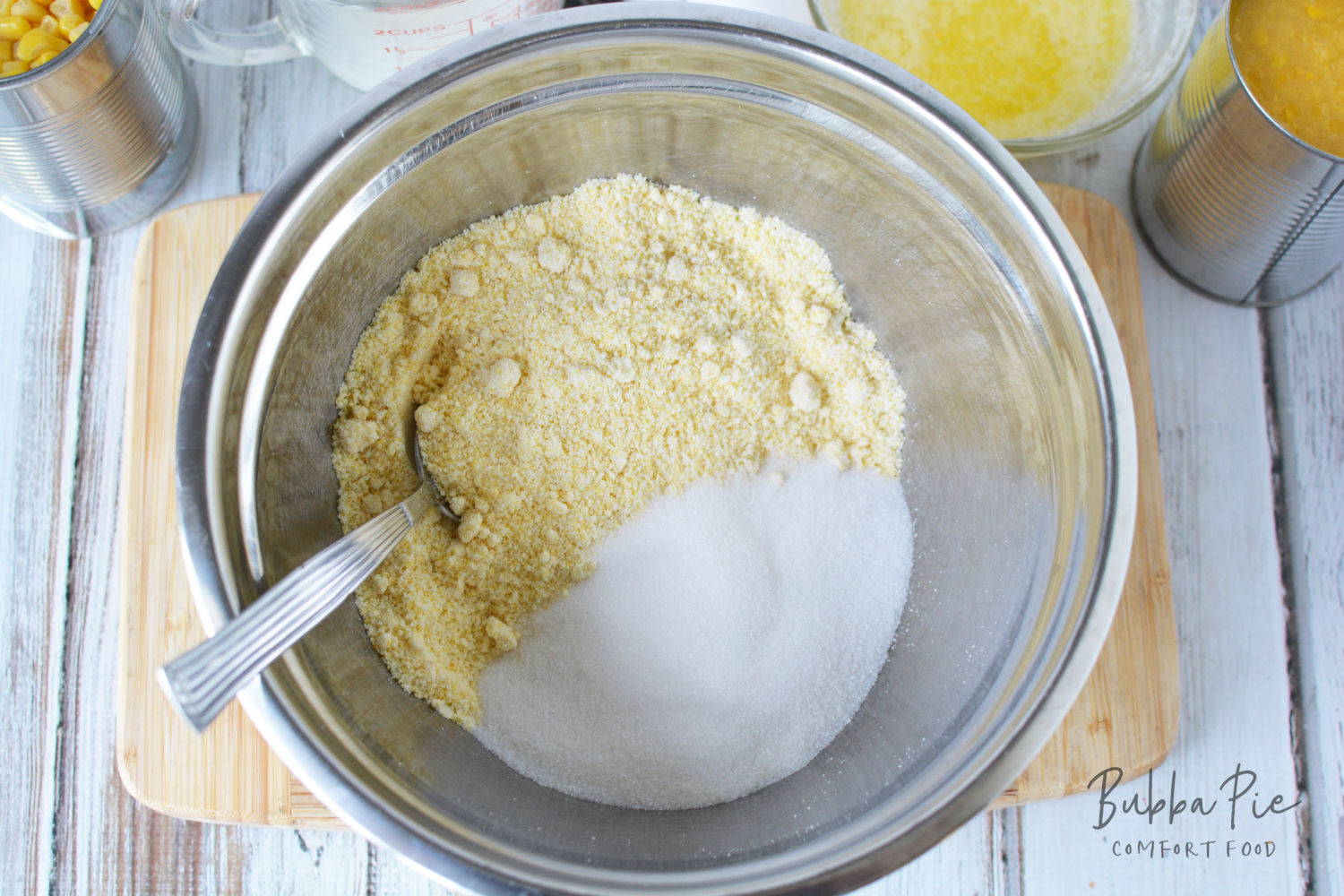 How To Make A Jiffy Corn Pudding Casserole
Like so many recipes that I've posted on here, learning how to make your own Corn Pudding Casserole Recipe was a lot easier than I thought. The key to making this super easy is by simply using a box of jiffy corn muffin mix. This is so easy to use that you really can't go wrong.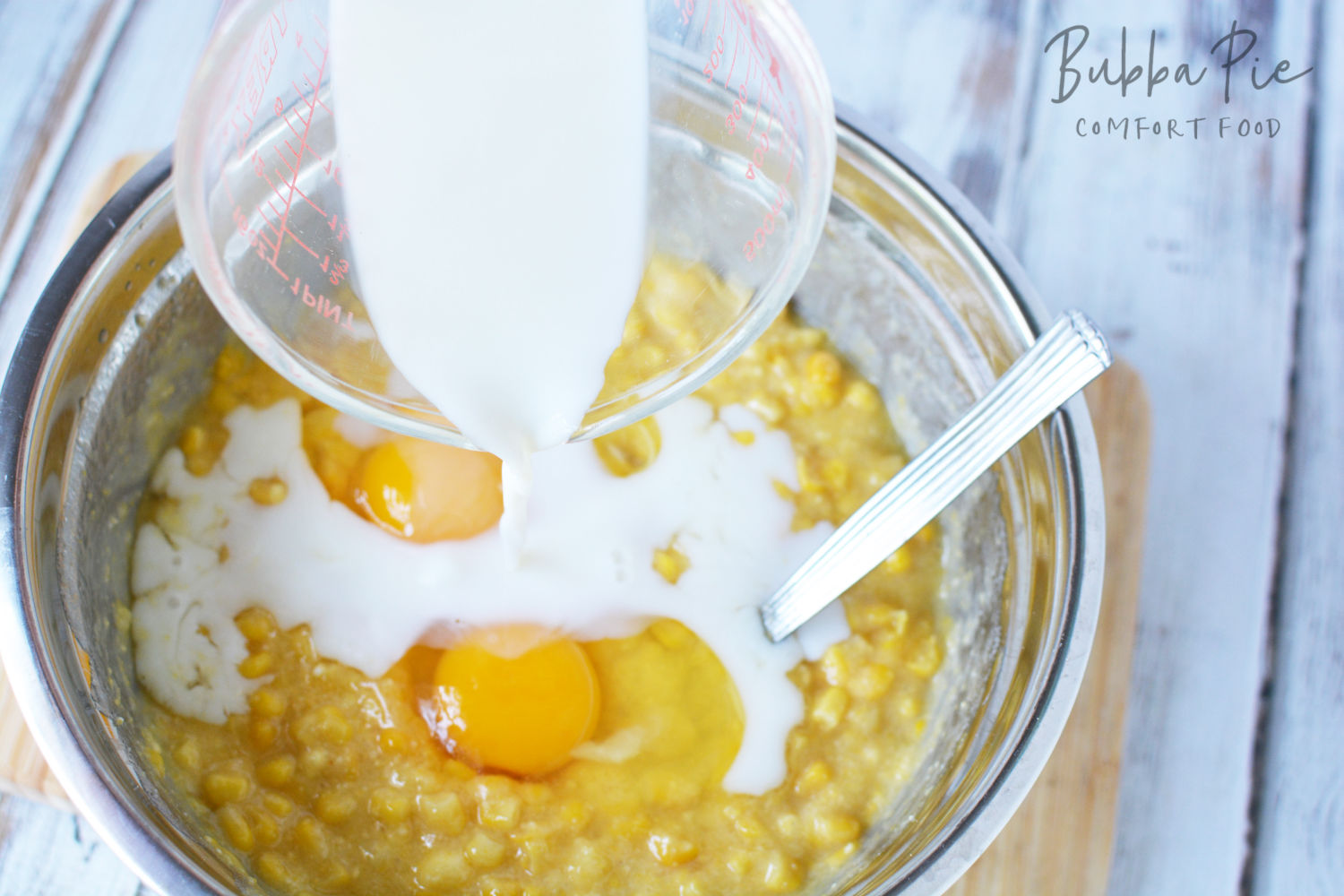 This recipe is really so easy! Just stir all the ingredients in a large bowl and then pour them in a prepared pan to bake in your oven. For step-by-step instructions, check out the printable recipe card below. But here is what you'll need to get started:
WHOLE KERNEL CORN – We use one can of corn kernels. Drained well.
CREAMED CORN – Adds the soft, creamy texture of this dish.
CORN MUFFIN MIX – The most important ingredient! This makes this recipe so easy! We love using Jiffy. But you can really use any brand.
SOUR CREAM – You can use low-fat sour cream to lighten this dish up if you'd like.
MILK – We used 2% milk. But you can use skim milk or whole milk as desired.
WHITE SUGAR – Helps give the cornbread that delicious sweetness!
BUTTER – Melted. You can use salted butter or unsalted butter.
EGGS – 2 large eggs. Room temperature.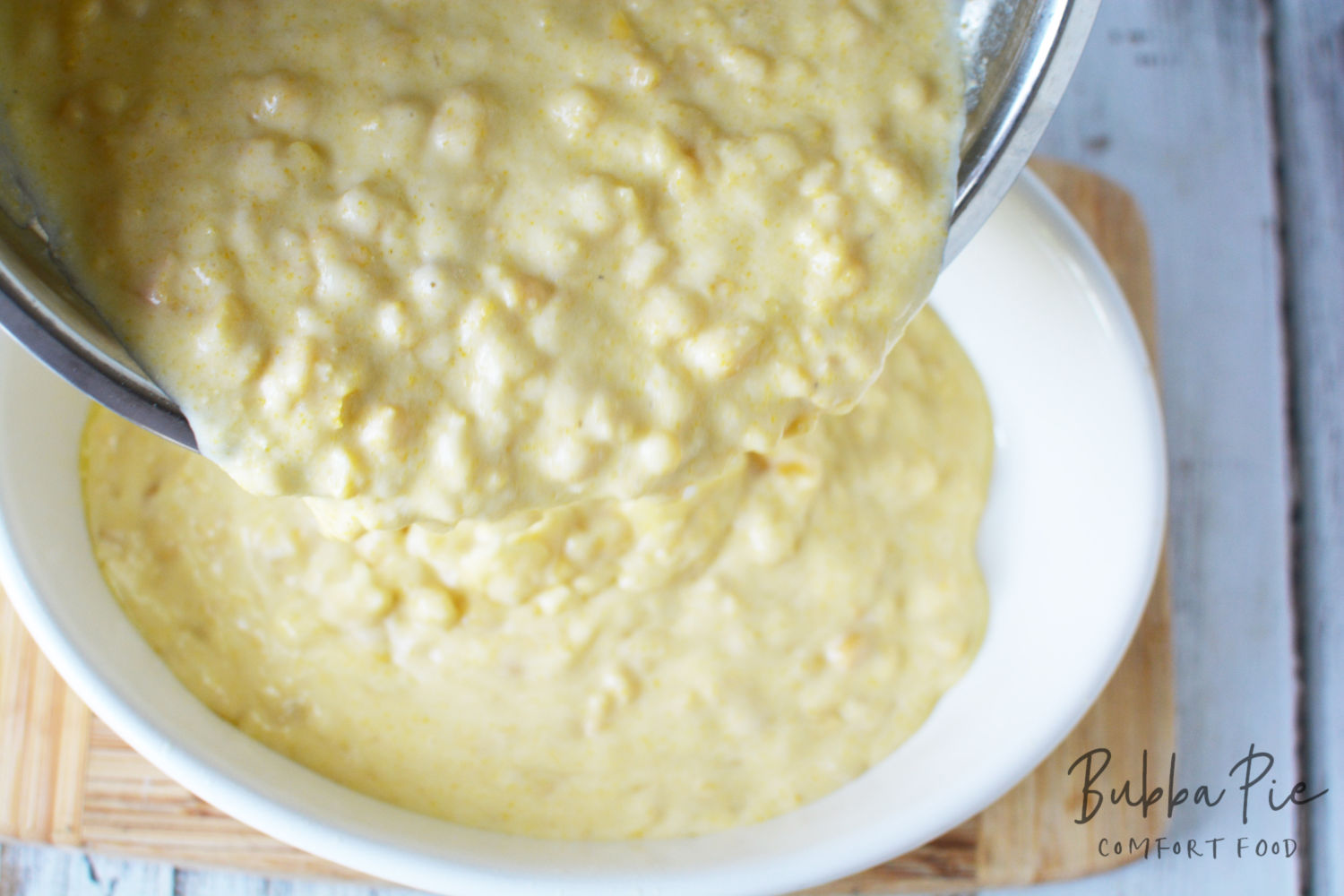 What Is The Difference Between Cornbread and Corn Casserole?
Cornmeal had been used for centuries by Native Americans and was introduced to European settlers. Cornbread was made popular around the Civil War when resources were scarce. Soldiers discovered how to take that raw cornmeal and make cheap bread out of it, resulting in Cornbread.
Corn Casserole is a mixture of cornbread ingredients with addition of some for of dairy (sour cream, butter or milk or all 3). These ingredients are combined and baked into a new dish that has become quite popular in the South and elsewhere in America.
Can Corn Pudding Casserole Be Made Ahead Of Time?
Yes! That is one of the great aspects of how versatile that this side dish is. If you are planning a big dinner party or another event, you can cook this recipe the day before. Just refrigerate it the night before and reheat it in the oven before your guests arrive. If you want your it to be super fresh, you can create the jiffy mix batter the night before and cook it as instructed on the day you want to serve it. You can serve warm, delicious and fresh for your guests!
Storage and Freezing
Corn casserole DOES need to be refrigerated. You can store leftovers in an airtight container in your refrigerator. They should be good in your fridge for 4-5 days. This recipe reheats just fine in your microwave.
You can also freeze corn pudding casserole. Just let it fully cool and put it in a freezer bag or freezer safe container. It will be good in your freezer for up to 3 months. Let it thaw in the fridge overnight.
Notes, Variations and FAQs
ADD HEAT – Give this recipe some spiciness by adding diced jalapenos, chiles or pepper jack cheese in the mixture. Or, try this Jalapeno Cornbread!
ADD CHEESE – You could also add other cheeses like cheddar cheese, monterey jack or even swiss.
ADD BACON – Cook up some bacon until it is crispy and crumble it into your Jiffy Corn Casserole Recipe.
WHAT SIZE DISH DO YOU BAKE CORN PUDDING IN? – Typically this goes into a 9×13 pan, but I wanted it to look different so I used this casserole dish. If you use a casserole dish you'll need to cook it longer as it's thicker in the pan. Typically 9×13 pan cooks for about 40-50 minutes. This dish shown cooked for 55 minutes. Just keep an eye on it and check by inserting a toothpick in the center to make sure it comes out clean.
We love our Le Creuset Casserole Dish because it comes with a lid! You can just keep your leftovers right in your baking dish in the fridge! Or, if you are looking to save a little money, this one works great too!
We hope you enjoy this Jiffy Corn Casserole Recipe. We'd love to hear how it turns out in the comment section!
LOOKING FOR MORE CORN CASSEROLES? CHECK OUT: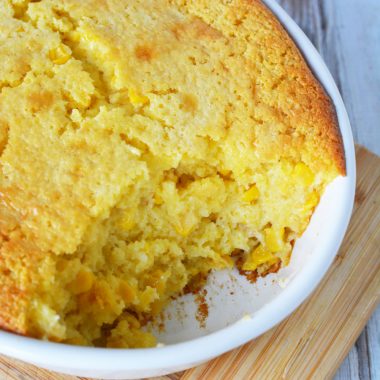 Rate this Recipe
Corn Pudding Casserole Recipe
This Corn Pudding Casserole Recipe is the perfect side dish for any occassion. Using Jiffy Corn Muffin mix makes this quick, easy and delicious.
Ingredients
1

can

15 oz, corn, drained

1

can

14.75 oz, creamed corn

1

small package

8.5 oz, Jiffy corn muffin mix

1

cup

sour cream

1/2

cup

milk

1/2

cup

white sugar

1/2

cup

melted butter

2

eggs
Instructions
Preheat oven to 350 and grease a large casserole dish or 9x13 pan.

Mix together corn muffin mix and sugar.

Add creamed corn to casserole ingredients.

Add milk, sour cream and eggs to casserole.

Pour casserole into prepared baking dish.

Bake, uncovered for 40-55 minutes or until a toothpick inserted in the center comes out clean. Let sit for 5 minutes before serving.
Nutrition
Love this recipe?
Follow @bubbapie for even more delicious recipes!!
Related Recipes: Sweet Potato Casserole with Marshmallows