Throw a twist into your taco Tuesdays with this Cheesy Dorito Chicken Casserole Recipe.  This Mexican Chicken Casserole is topped with a whole bag of crunch Dorito Chips. It will put a whole new twist on your Taco Tuesdays!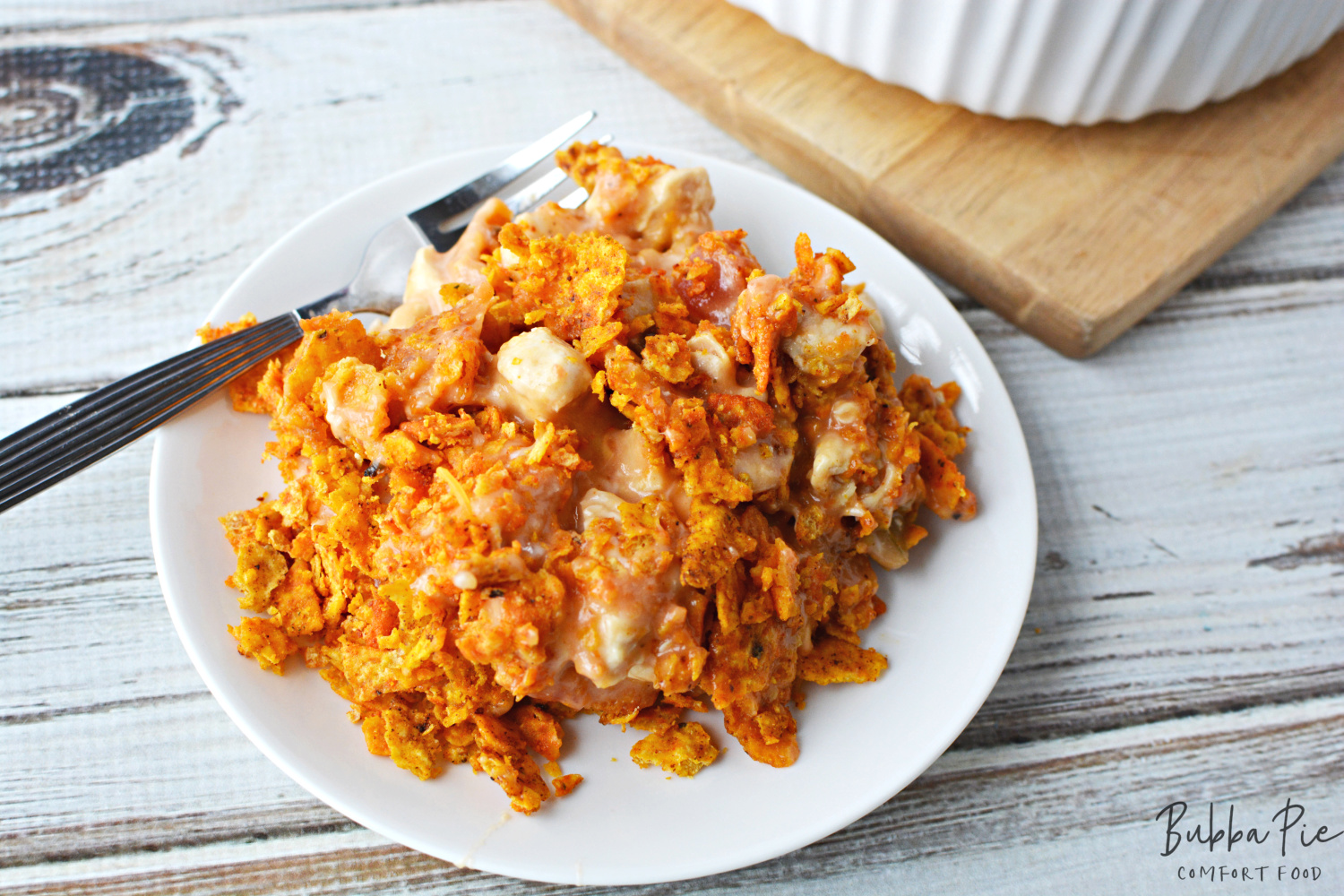 LOOKING FOR MORE CASSEROLES WITH A BIT OF SPICE IN THEM? CHECK OUT: 
Taco Tuesdays!
Every Tuesday is taco night for us.  We love to make tacos at least once a week because they are quick and easy to make and the whole family enjoys them.  It really doesn't get any more complicated than that.
But honestly, our tacos are getting pretty boring.  We cook some meat (chicken or beef), throw in the seasoning and put it on some tortillas with a side of beans.  But one of the things that we love to do here at Bubba Pie is take to take normal dishes and turn them into comfort food.  So, how can we turn your everyday tacos into a fun comfort food dish? I found this awesome idea to do just that I had to share it. Introducing Dorito Chicken Casserole!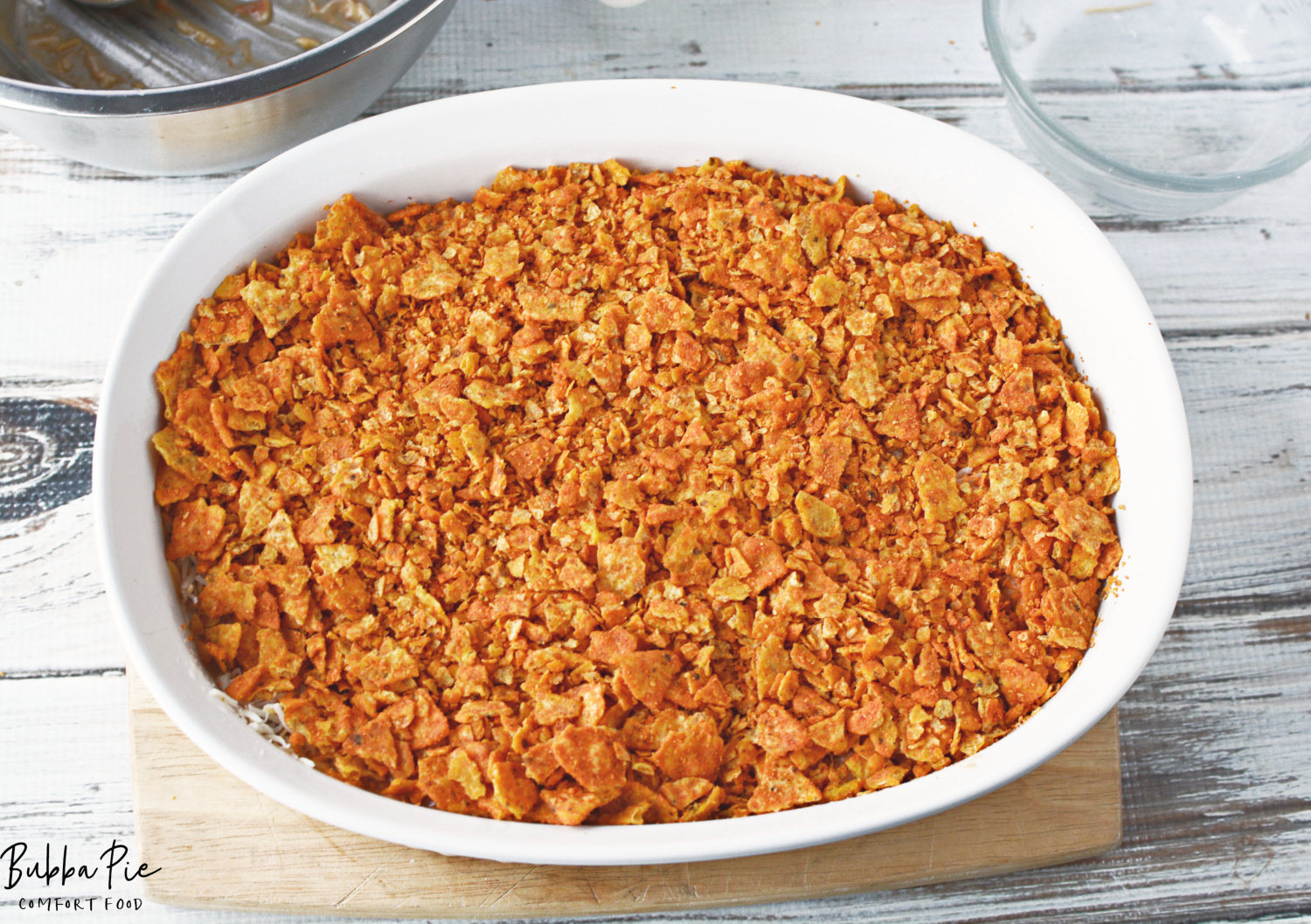 Casseroles: The Ultimate Comfort Food
Casseroles are often great comfort food options because they are usually super easy to make, can feed the whole family and you an have leftovers for lunch the next day. We've made a ton of great casseroles on this website, like our John Wayne Casserole that is loaded with meat cheese, veggies and just the right amount of spice. Or our Macaroni Corn Casserole, which is an awesome side dish for just about any occasion.
We like this Dorito Chicken Casserole because it has lots of great textures in it.  First, you have the bubbly cheese on top, then the tender chicken and finally the satisfying crunch of the Doritos!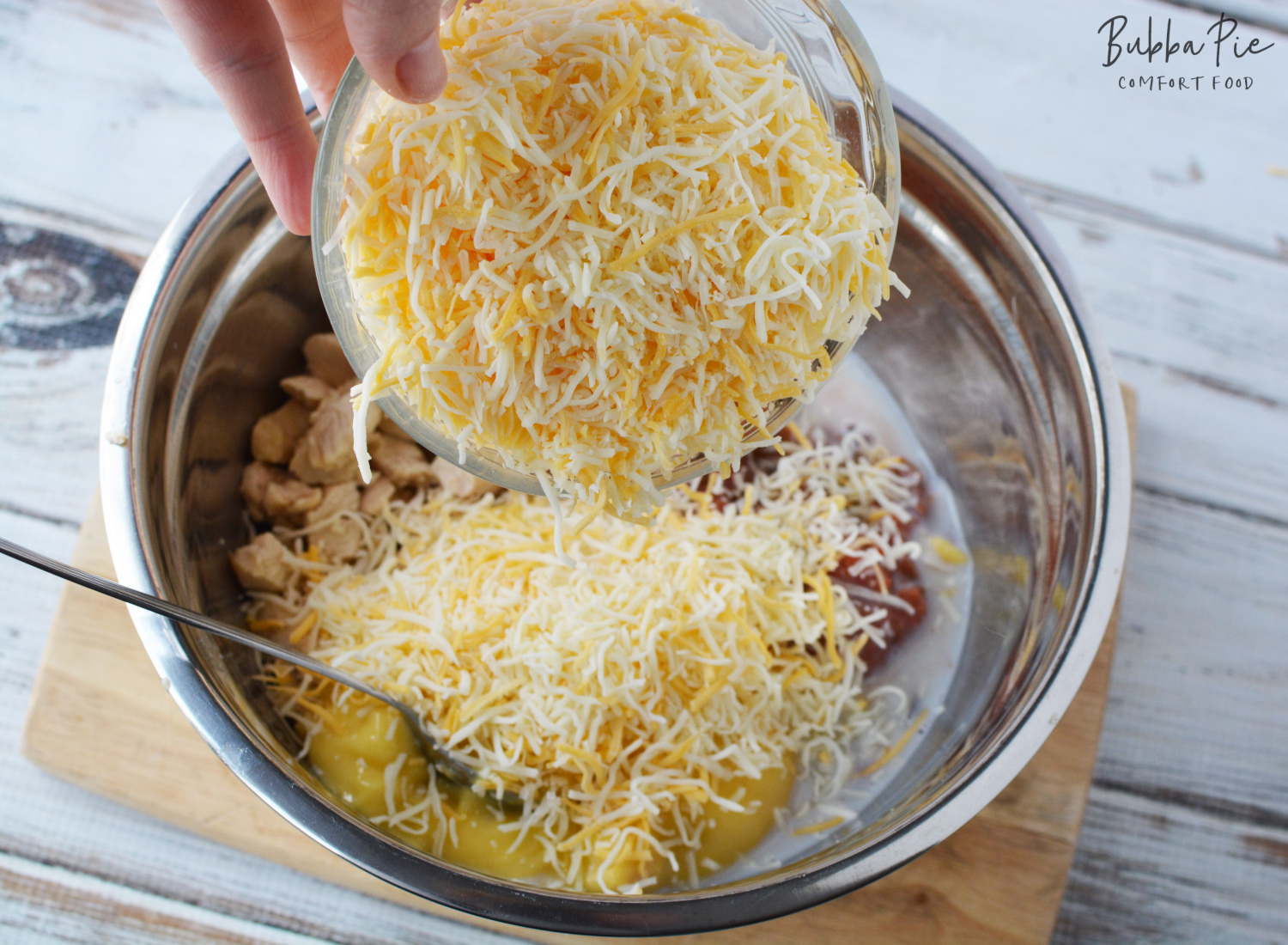 What Ingredients Will You Need For Dorito Chicken Casserole?
Nacho Cheese Doritos
Chicken, cooked
Salsa
Cream of chicken soup
Milk
Salt and pepper
Colby jack cheese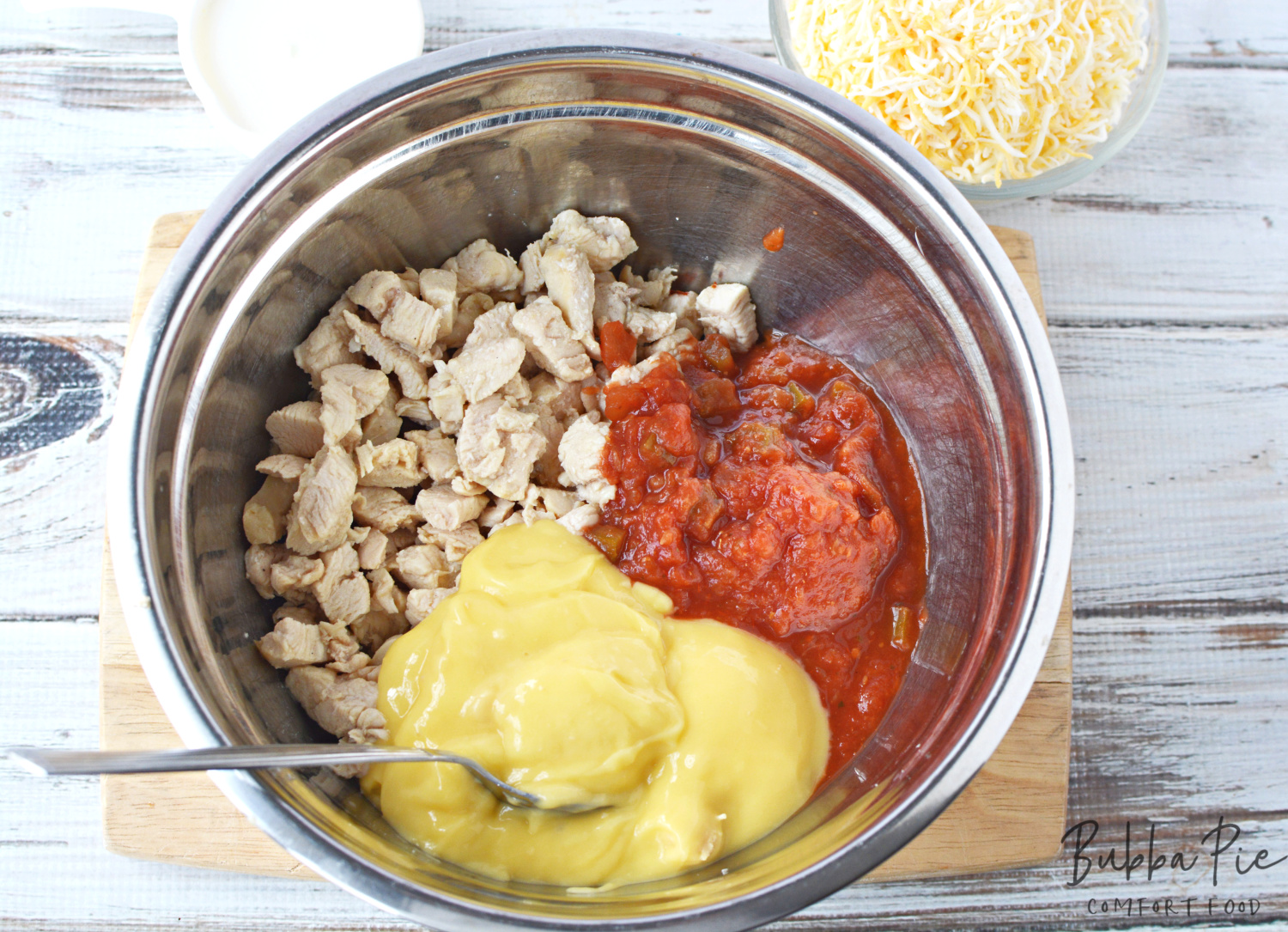 What Is The Best Kind Of Chicken To Use For Casseroles?
When adding chicken to just about any casserole, I always love to use Rotisserie Chicken. It certainly makes the final dish much more tender.
Other Ways To Make This Dish
And, as with all casseroles, there are lots of safe ways to tweak them.  For instance, you can choose between a wide variety of Doritos. Adding Ranch flavored Doritos might be really "cool"! Or, if your feeling edgy, go for the Flamin' Hot Doritos to add some serious heat! I've also come across some recipes that add Rotel Tomatoes into the mix. I haven't tried this but it that sounds pretty yummy too!
There are also some fun additional ingredient to put on top. Some sliced jalapenos would add some spice. Or, when ready to serve, sprinkle some fresh cilantro to add some color and flavor.
This recipe calls for Colby Jack cheese, but using a Mexican blended cheese would also work great!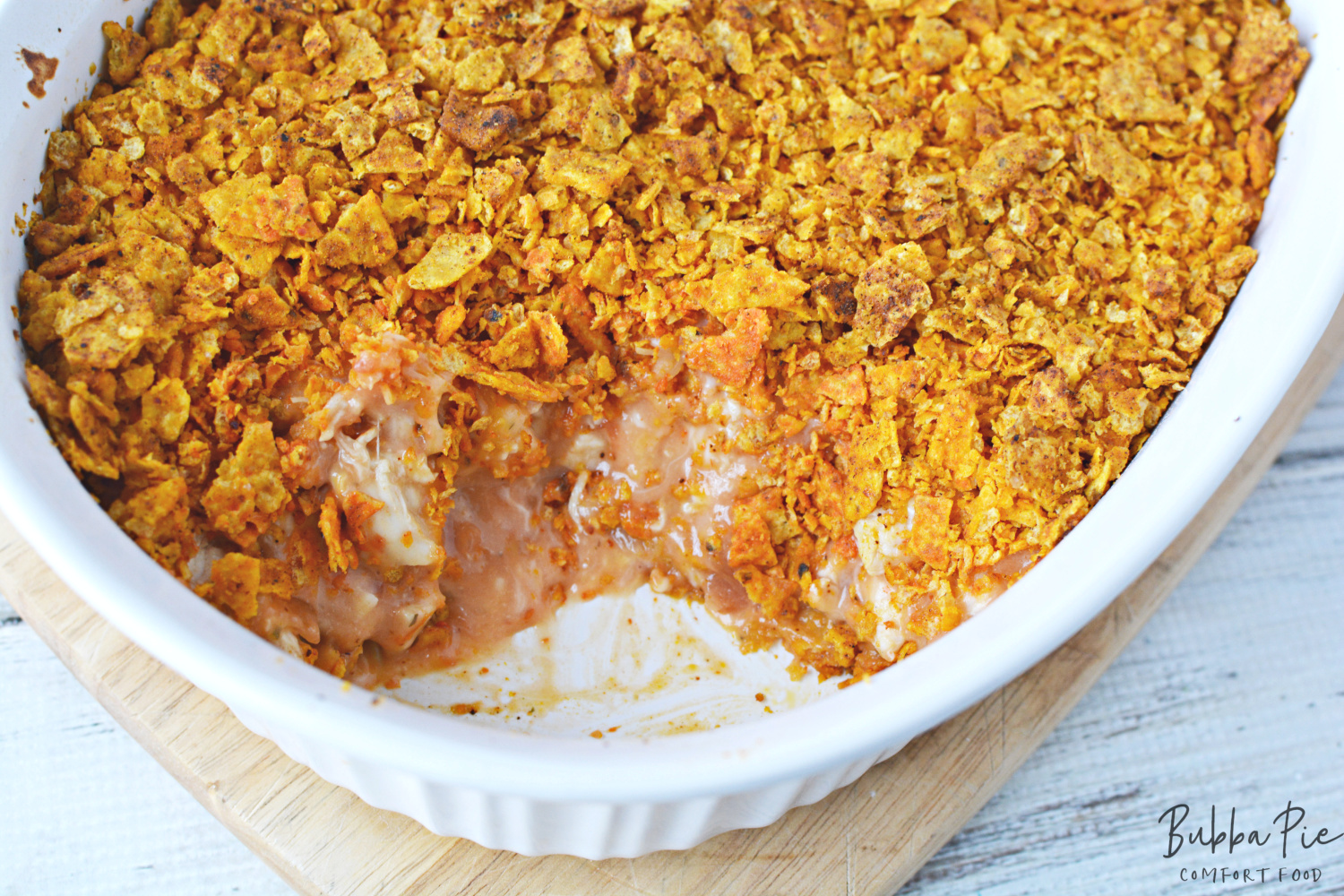 How To Serve This Recipe
This Dorito Casserole does stand just fine by itself, but it may also be delicious served on a bed of white or brown rice. I've also seen some recipes where some smaller pasta noodles are cooked and baked into the recipe!
How To Store Leftovers
We love to bake casseroles in our Le Creuset Casserole Dish because it comes with a lid! You can just keep your leftovers right in your casserole dish in the fridge! Or, if you are looking for something a little less expensive, this one works great too! 
You can also freeze this recipe and it should be good for up to 4 months in a freezer bag. When freezing casseroles, I often like to portion them out beforehand, that way I can just take the amount out that I need to defrost it for dinner that night! Reheat in the oven at the same temp as you originally baked it.
We love to use these gallon sized freezer bags. They are tough, durable and have new grip and seal technology that makes them super easy to open and close.
Enjoy!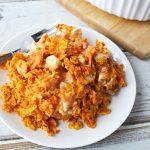 Easy Dorito Chicken Casserole Recipe
Throw a twist into your taco Tuesdays with this Easy Dorito Chicken Casserole Recipe. This Mexican Chicken dish has ton of fun flavor that the whole family will enjoy.
Ingredients
1

bag

11 oz, Dorito

3

cups

chicken

cooked

1-1/2

cups

salsa

1

can

10.5 oz, cream of chicken soup

1/2

cup

milk

salt and pepper

2

cups

colby jack cheese
Instructions
Preheat oven to 350 and grease a casserole dish with nonstick cooking spray.

Crush chips. Sprinkle half of them in the bottom of the casserole dish and set aside.

In a mixing bowl, add chicken, salsa, soup, milk, salt and pepper and 1 cup cheese and mix well.

Pour into prepared pan, on top of crushed chips.

Top with remaining 1 cup cheese and remaining crushed chips.

Bake for 20-25 minutes or until bubbly around the edges and warm in the center.
Nutrition Facts
Easy Dorito Chicken Casserole Recipe
Amount Per Serving
Calories 293
* Percent Daily Values are based on a 2000 calorie diet.