This Cowboy Casserole is just thing to feed a hungry family. Great for a weeknight dinner or to bring to a potluck or pitch in, this Tater Tot Casserole is full of ground beef, vegetables, cream of mushroom soup and tons of cheese!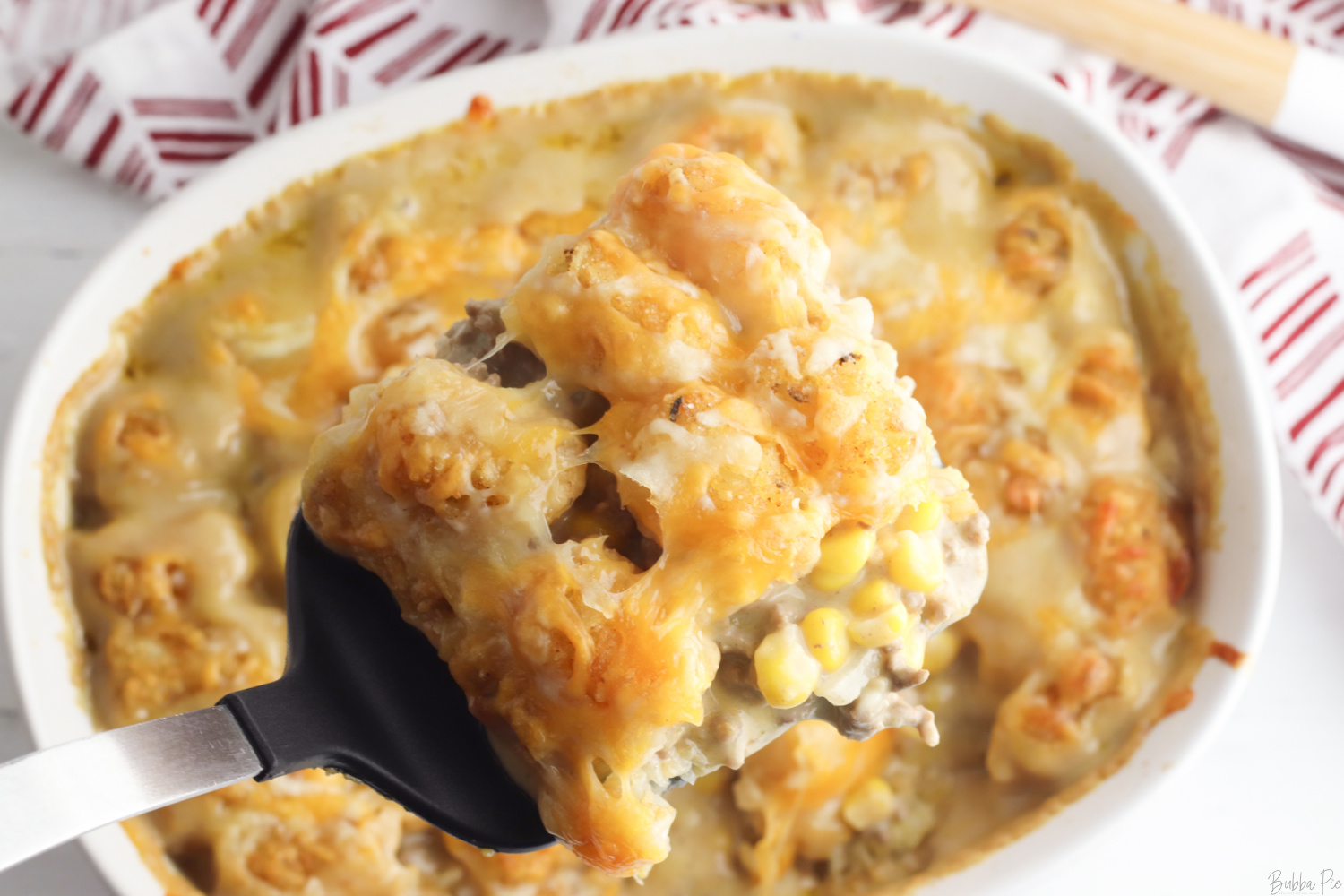 Why You'll Love This Recipe
EASY – There are really only a couple steps in this recipe to get all the delicious ingredients into your casserole dish. Then, just let the oven do all the work!
ENOUGH TO FEED A CROWD – This casserole is HEARTY! I guarantee no one will leave the table hungry!
VERSATILE – This is one of those recipes that is really hard to mess up. You can generally add, subtract, swap or substitute ingredients as needed and it will still be delicious!
Hearty Casserole Recipes
I've gotta be honest. I love a real hearty casserole that are full of rich ingredients. I'm talking about casseroles that could feed a whole army and that weigh about 15 pounds when taken out of the oven. They are perfect to make on Sunday afternoons so you can eat leftovers during busy weekday nights. Or, they are a great potluck recipe to bring and feed a crowd. I'm talking about dishes like our John Wayne Casserole or our Bacon Cheeseburger Tater Tot Casserole. That is where the idea for this Cowboy Casserole Recipe started.
What Is A Cowboy Casserole?
Generally speaking, Cowboy Casseroles consist of a tater tot layer, ground beef, vegetables and a creamy sauce, usually made out of condensed soup. One of the great things about this recipe is that you can improvise and change the ingredients to your liking. Read below for some ideas!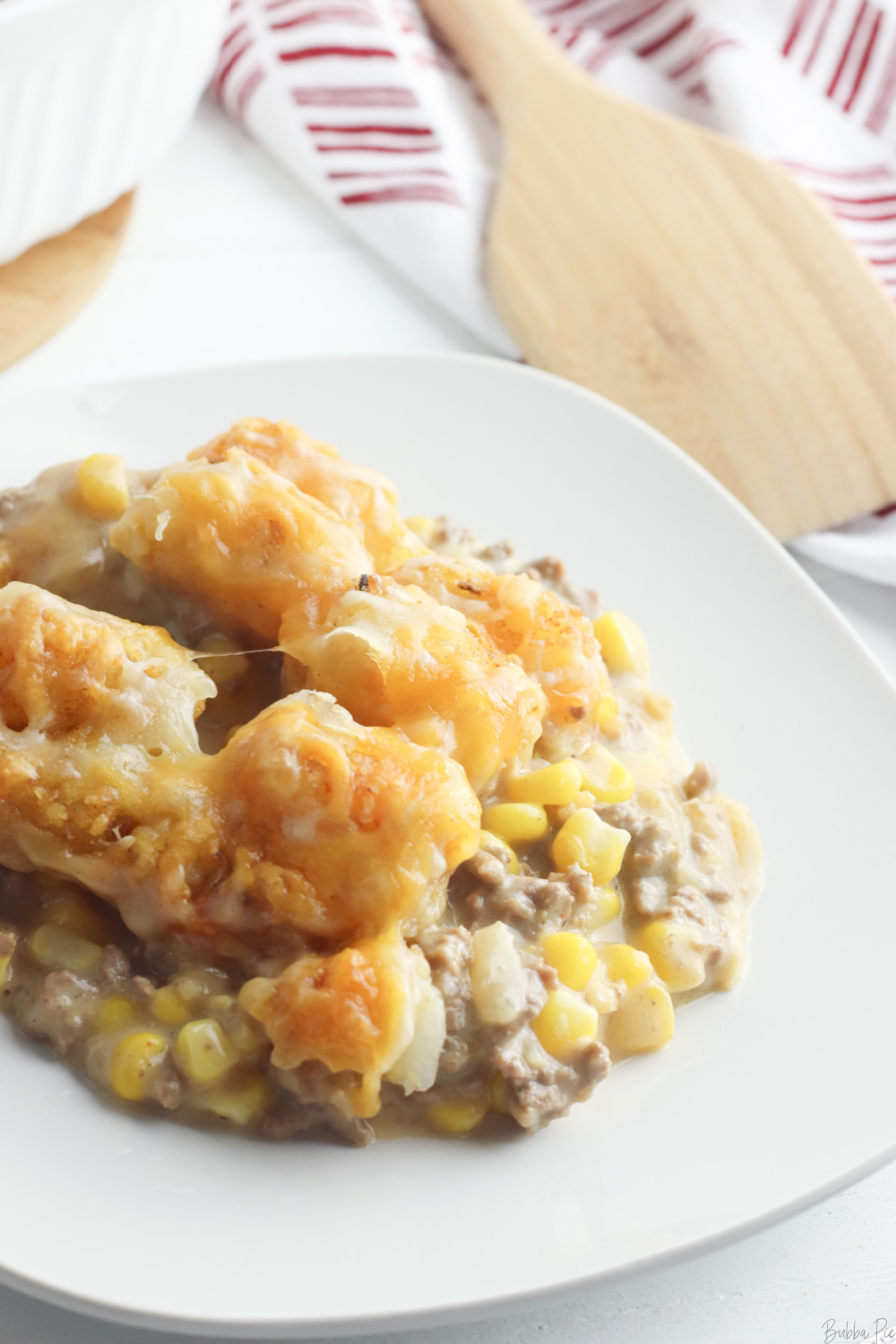 Ready to get started? Check out the recipe card below for detailed instructions, but here is what you'll need:
½ pound ground beef
1 small onion, diced
2 garlic cloves, minced
½ teaspoon black pepper
2 teaspoons seasoning salt, divided
1 cup corn
1 can cream of mushroom soup
1 cup cheddar jack cheese, divided
1/3 cup milk
¼ cup sour cream
1 package frozen tater tots
Can You Make Cowboy Casserole Ahead Of Time?
Yep! You can certainly prepare all of the ingredients and put them into your casserole dish up to a day ahead of time. Just cover it with aluminum foil and put it in your fridge until your ready to bake it.
Crockpot Cowboy Casserole
So, how can you make Cowboy Casserole in a Slow Cooker? It's super easy! Brown your ground beef as usual and layer everything in your Crockpot. Put the Tater Tots on top and cook on low for 6 hours or on high for 3-4 hours. The tater tots may not come out as crispy as if you were baking them in the oven. But you'll still get those delicious slow cooker flavors all melding together! Or, you could substitute the tater tots for peeled and diced Russet potatoes or sliced New Potatoes or Baby Potatoes.
Just wait to add the cheese until about 30 minutes, then sprinkle it on top to melt.
Storage and Freezing
Store leftovers in an Airtight container in your refrigerator. Leftovers should be good for up to 5 days. This casserole reheats great in the microwave.
To freeze, allow the casserole to fully cool and wrap it in foil or a freezer safe container. It should be good in your freezer for up to 4 months. Allow to thaw overnight in your refrigerator and reheat in your oven.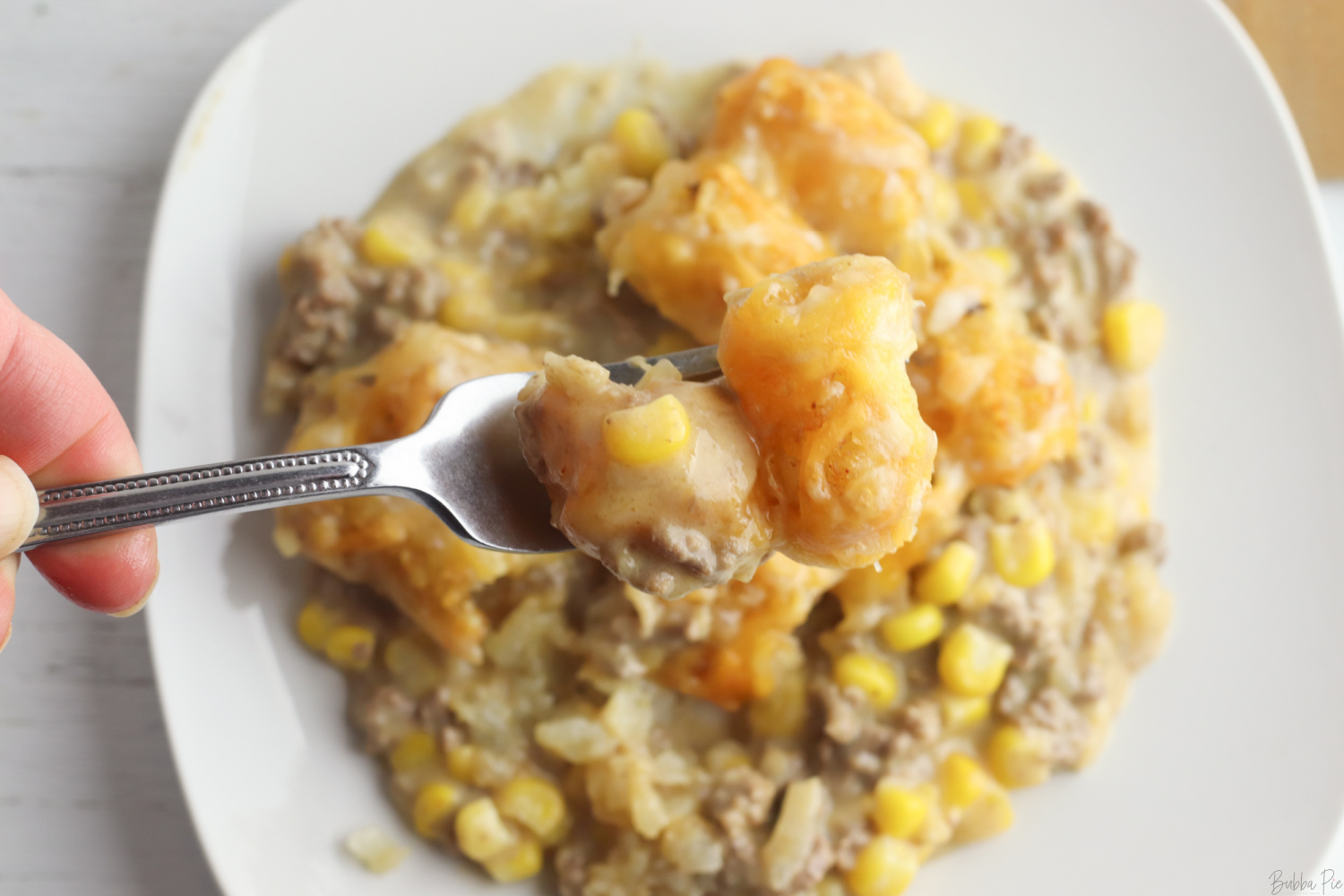 Other Notes, Tips and FAQs
FLEXIBLE- Like many casserole recipes, this one really is pretty hard to mess up. Add a little extra cheese if you want. Throw some chili powder or onion powder in there. If you think of something that might add to this dish, go for it! You can add black beans, kidney beans or pinto beans. Or thrown in a frozen bag of green beans, peas, whole kernel corn or any other vegetable that sounds good!
USE A BAKING PAN WITH A LID!- We love to use

this baking pan

because it comes with a lid! This way, you can just keep the leftovers fresh right in your baking pan! No more trying to cover it up with messy aluminum foil. Yay!

ANY GROUND MEAT WILL DO- And feel free to substitute your ground beef with any other meat. Ground turkey, ground chicken or ground pork would work fine. If you use ground chicken or ground pork, you may want to substitute for Cream of Chicken Soup as well. But you don't have to.
SPICE IT UP- You can give this Cowboy Casserole more of a Tex-Mex flair by adding some taco seasoning and water (just follow the instructions on the packet for 1/2 lb of meat). Keep the heat coming by throwing some sliced jalapenos or green chilies in there or some pepper jack cheese.
NO TATER TOTS?– No problem! You can thinly slice just about any potato you'd like and top it with those. But Tater Tots are SO MUCH easier!
TOPPINGS- Top with shredded lettuce, diced tomatoes, sliced jalapenos or drizzle some sour cream. Dab a bit of hot sauce before eating.
SUBSTITUTE CHEESE – Use a sharp cheddar cheese, monterey jack, pepper jack, swiss or any combination of cheese that sounds good!
CAN YOU SUBSTITUTE CREAM OF MUSHROOM SOUP?– Not a huge fan of Cream of Mushroom Soup? You can sub for any condensed cream soup that sounds good to you. Cream of celery would work well. If you don't want to use canned soup, you can certainly use a homemade Cream of Mushroom Soup. This recipe is quick, easy and full of real, authentic ingredients!
Tools To Help With This Recipe
ALSO, TRY OUT OUR COWBOY PASTA SALAD, IT'S LOADED WITH GROUND BEEF, BACON, BLACK BEANS AND CORN! IT'S ONE OF OUR MOST POPULAR PASTA SALAD DISHES!
I hope you enjoyed this Cowboy Casserole Recipe. I'd love to hear how it turned and if you improvised anything on it. Enjoy and thanks for reading!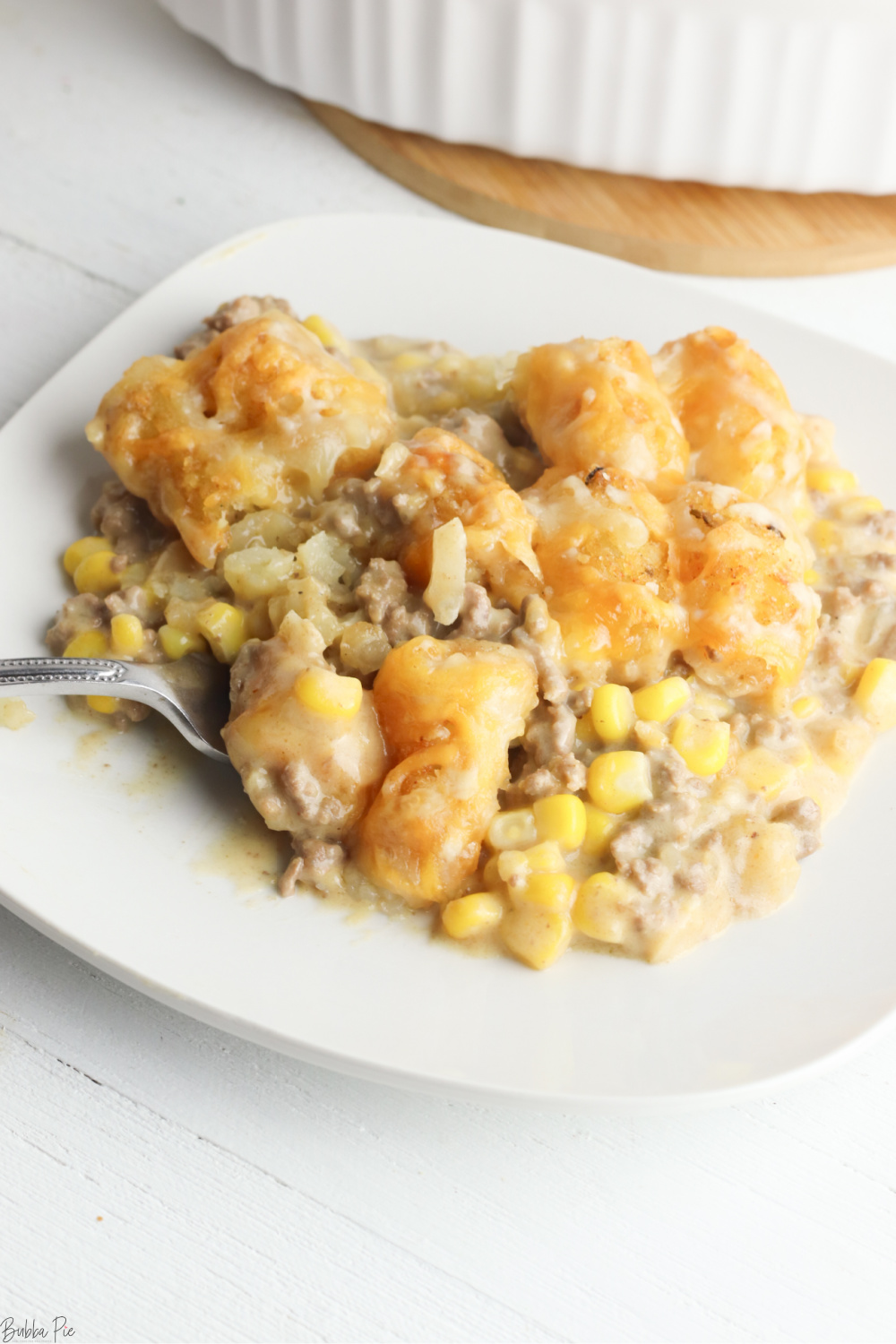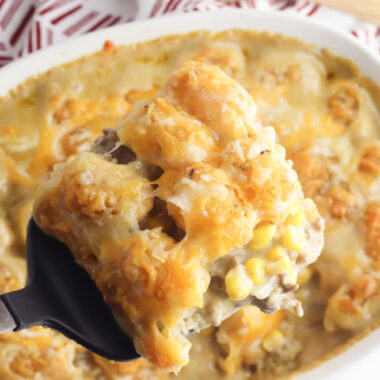 Rate this Recipe
Cowboy Casserole
This Cowboy Casserole is just thing to feed a hungry family. Great for a weeknight dinner or to bring to a potluck or pitch in, this Tater Tot Casserole is full of ground beef, vegetables, cream of mushroom soup and tons of cheese!
Ingredients
½

pound

ground beef

1

small onion

diced

2

garlic cloves

minced

½

teaspoon

black pepper

2

teaspoons

seasoning salt

divided

1

cup

corn

1

can cream of mushroom soup

1

cup

cheddar jack cheese

divided

1/3

cup

milk

¼

cup

sour cream

1

package frozen tater tots
Instructions
Preheat oven to 375 degrees and prepare a 9x13 baking dish by greasing with nonstick cooking spray.

In a large skillet, brown the ground beef with the onion and garlic over medium heat. Season beef mixture with black pepper and one teaspoon seasoning salt.

When the beef is cooked through, drain and remove from heat and add the corn, cream of mushroom soup, milk, sour cream, and ½ cup of cheese. Stir to combine.

Pour the mixture into the prepared baking dish and top with a single layer of tater tots. Season the tater tots with remaining teaspoon of seasoning salt.

Place the dish in the preheated oven and bake for 40 minutes, then remove from oven and top with remaining cheese. Return the dish to the oven and bake for 10 more minutes, until cheese is melted.
Nutrition
Love this recipe?
Follow @bubbapie for even more delicious recipes!!