This Walking Taco Casserole has everything you'd expect from everyone's favorite Tex Mex snack! A cheesy layer of taco meat is topped with corn chips, more cheese, lettuce and chopped tomatoes. A fun family dinner, potluck recipe or Cinco de Mayo meal!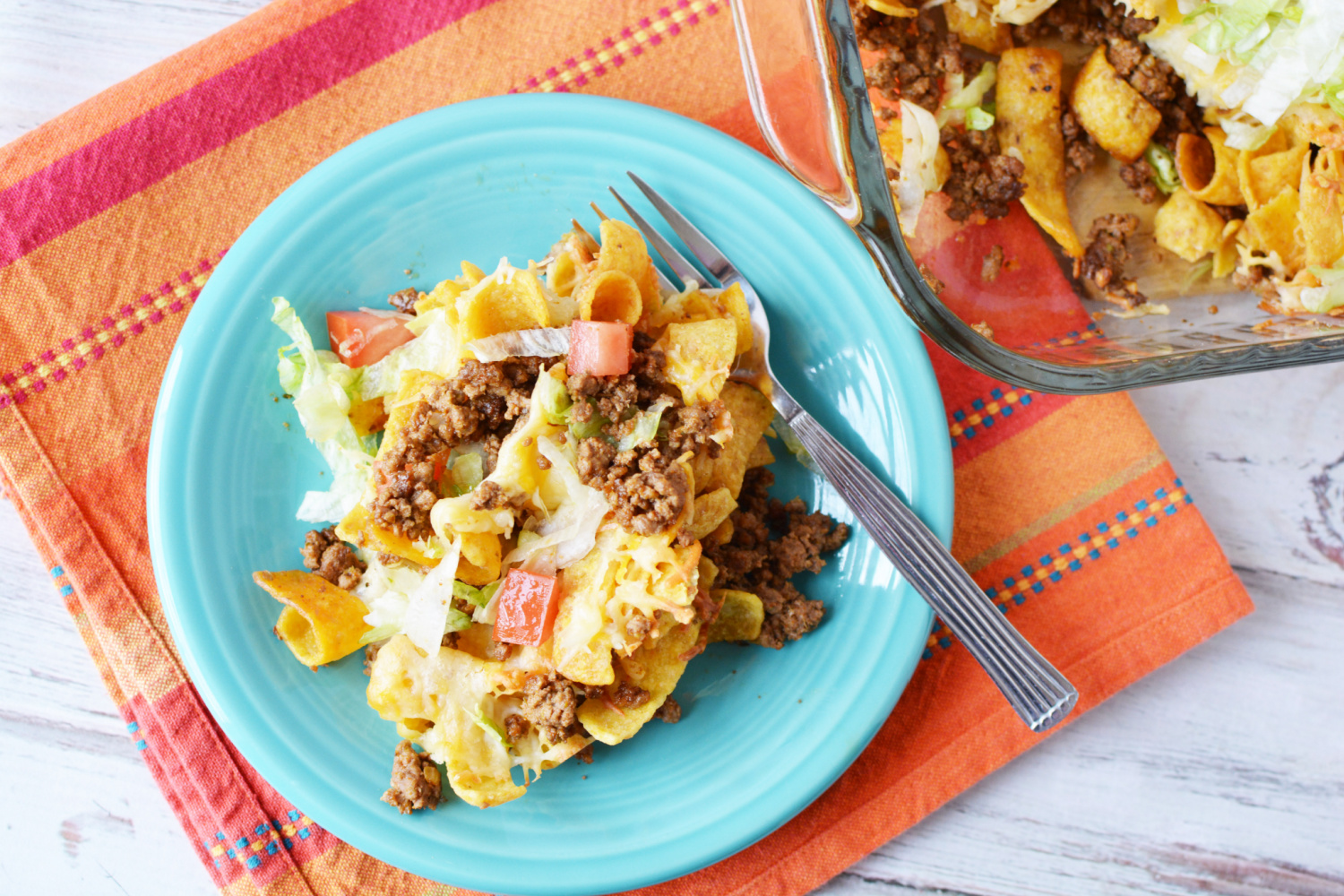 Why You'll Love This Taco Casserole with Fritos
EASY – With just 10 minutes of prep, this is a quick and simple family dinner! It's basically impossible to mess it up! Add or subtract ingredients to your tastes. You can't go wrong!
FUN – Looking for a fun recipe for the next Cinco De Mayo, or just looking to spruce up your next Taco Tuesday. This is a fun, new casserole recipe full of Tex Mex flavor!
VERSATILE – We love our Walking Taco Casserole Recipe just like we describe it here. But there are lots of ways to liven this baby up. Read below for some inspiration!
What Is A Walking Taco?
So, what IS a walking taco? If you haven't ever heard or tried one, they are pretty awesome. Generally speaking, it's when you take a bag of Corn Chips (like Fritos) and load in your favorite taco ingredients into the bag. It's a great way to enjoy a taco on-the-go. They are great for tailgating parties, game day celebrations or camping trips.
Today, we are going to make a Walking Taco Casserole. Why, because, making awesome dishes into casseroles is what we do!
Walking Taco Casserole
This is one of those recipes that you can dress up just about any way you'd like. It's a lot like our Frito Pie Casserole with just a few changes. Really, all you need is a bag of some sort of chips. Otherwise, let your imagination run wild! Below, I'll include some suggestions of ways to improvise this recipe a bit. And for step-by-step instructions, check out the recipe card below. But, to get started, here are the ingredients that we use:
GROUND BEEF – Any kind and percentage of leanness you prefer works. We used 80/20 lean beef. If you want to lighten this dish up, you can also use ground chicken or ground turkey.
TACO SEASONING – One packet. Any brand. Or make your own homemade taco seasoning.
CREAM CHEESE – Cubed. If you want to trim some calories, you can go for low fat cream cheese.
CORN CHIPS – Fritos Corn Chips or any other brand. If you can't find corn chips, you could substitute for tortilla chips or even Doritos.
SHREDDED CHEESE – Mexican blend cheese, cheddar cheese, monterey jack cheese or even pepper jack cheese for a little extra kick! Whatever you'd like! We always recommend shredding our own cheese instead of buying the preshreded cheese at the store. It melts better if you shred your own.
CHOPPED LETTUCE – Adds a satisfying fresh crunch to every bite!
CHOPPED TOMATOES – You can really use any sort of tomatoes you want.
SOUR CREAM – Substitute with low fat sour cream or even greek yogurt to make this dish lighter.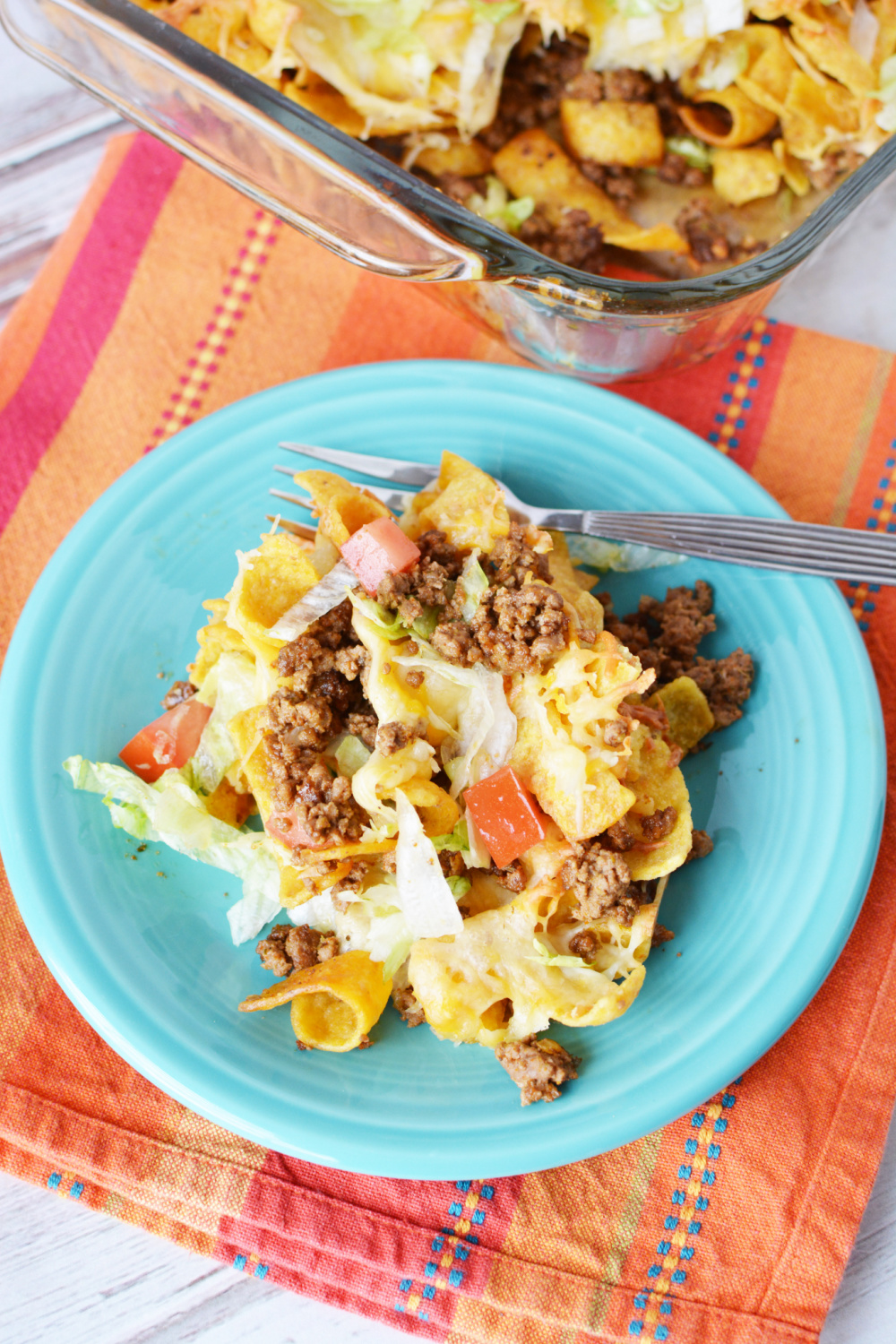 Can You Make This Casserole Ahead Of Time?
Well… Yes and no. The longer all these ingredients sit together in a casserole dish, the less crunchy those corn chips will be. And we are putting fresh lettuce and tomatoes on top. So this is one I'd really try to make right before serving. If you are really trying to save some time, you can probably brown your ground beef and keep that in your casserole dish. Then load the chips and cheese on just before putting it in the oven.
We often use our Le Creuset Casserole Dish because it comes with a lid! This would be perfect for this recipe.
Or, if you are looking for something a little less expensive, this one works great too!
Storing and Freezing Leftover Walking Taco Casserole
For the same reason listed above, leftovers just won't be as good on this casserole as maybe some other ones because those corn chips could get soggy. But, if you don't mind that, this Walking Taco Casserole should be good in your fridge for the standard 3-4 days.
You could also freeze it. I like to freeze my casseroles in individual portions in freezer bags. That way, I can just take out and prepare the portions I need. We love to use these gallon sized freezer bags. They are tough, durable and have new grip and seal technology that makes them super easy to open and close.
Taco Casserole with Fritos Toppings
Some fun toppings you may want to add are:
OLIVES
GREEN CHILES
AVOCADO
GUACAMOLE
GREEN ONIONS
DICED ONIONS
CILANTRO
SALSA
BLACK BEANS
JALAPENO SLICES
BLACK OLIVES
PICO DE GALLO
Notes, Tips and Variations
CHANGE TOPPINGS: Corn chips like Fritos are usually used. But you can sub for Doritos or Tortilla Chips as well! In fact, if Doritos sound good to you, you've gotta try our Dorito Chicken Casserole!
MAKE IT HEALTHIER: Trying to trim some calories? Try subbing ground turkey for the ground beef. You can also use low fat cream cheese, low fat shredded cheese or low fat sour cream. Or, instead of sour cream, you could use yogurt.
FOR MORE MEXICAN INSPIRED RECIPES, CHECK OUT:
I hope you enjoy this Walking Taco Casserole. Let me know how it turns out for you in the comments! Happy eating!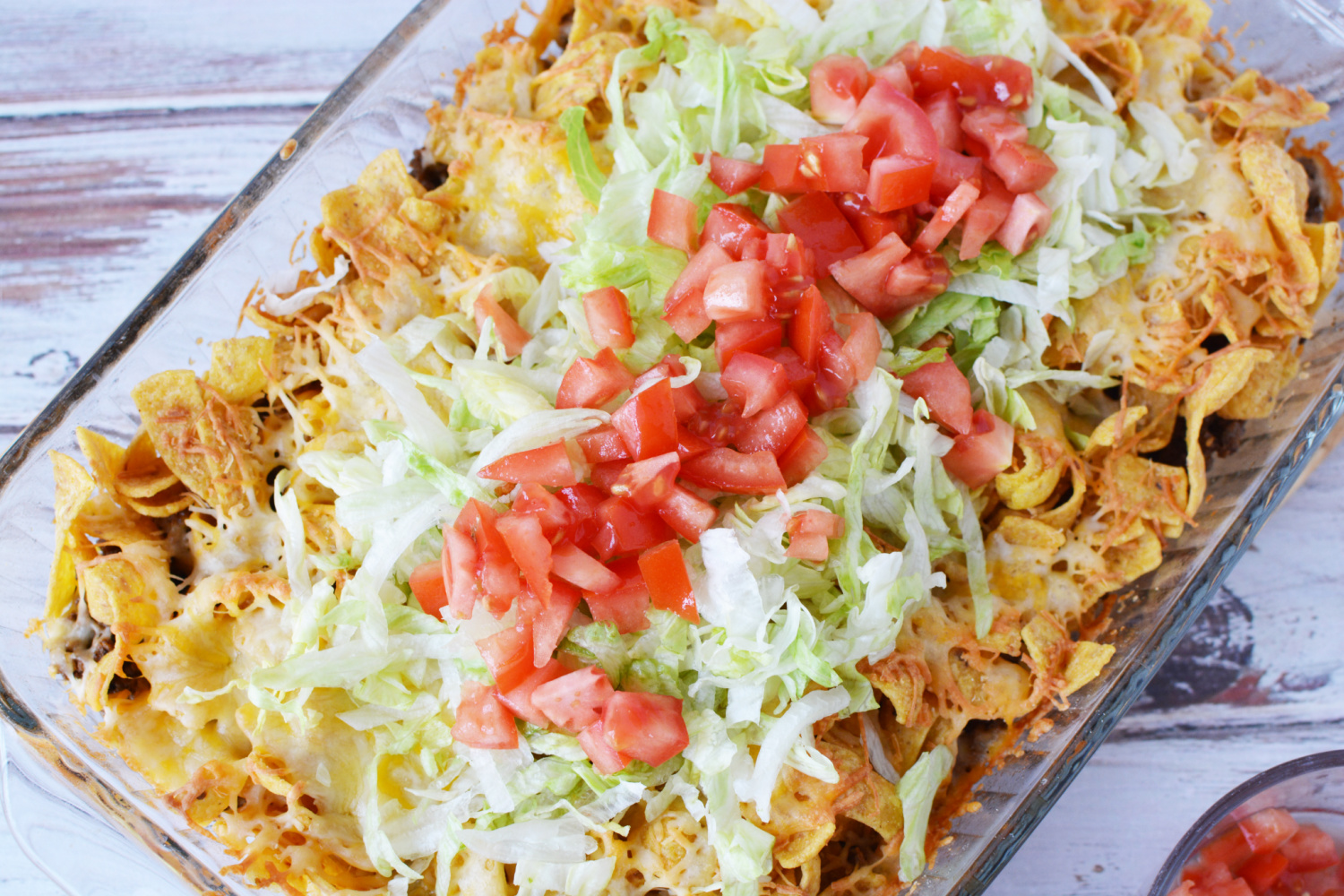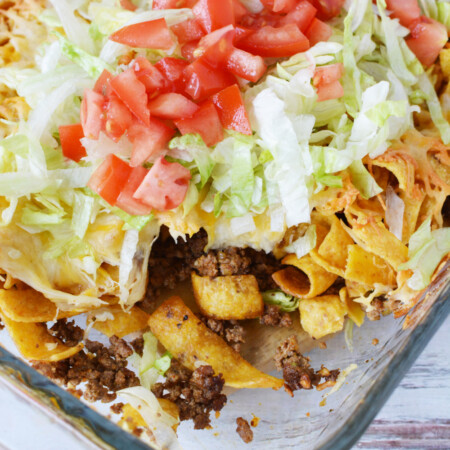 Rate this Recipe
Walking Taco Casserole
This Walking Taco Casserole has everything you'd expect from everyone's favorite Tex Mex snack! A cheesy layer of taco meat is topped with corn chips, more cheese, lettuce and chopped tomatoes. A fun family dinner, potluck recipe or Cinco de Mayo meal!
Ingredients
1

lb

ground beef

1

packet taco seasoning

3

ounces

cream cheese

cubed

1

bag

9.25 oz, corn chips

8

ounces

shredded cheese

chopped lettuce

chopped tomatoes

sour cream
Instructions
Brown beef in a large skillet until no longer pink. Drain grease.

Add taco seasoning and cream cheese and continue to heat over medium heat, stir ground beef mixture constantly until cheese is melted and completely mixed together.

Preheat oven to 350 and grease a 9x13 baking dish with nonstick cooking spray. Spread beef in the bottom of the dish.

Sprinkle with chips and cheese. Bake for 20 minutes or until heated through and cheese is melted.

Serve topped with shredded lettuce and tomatoes and sour cream on the side.
Nutrition
Love this recipe?
Follow @bubbapie for even more delicious recipes!!