This Taco Lasagna Recipe is the perfect thing for Taco Tuesday or any time of the week. Dive into your next family dinner with this easy taco casserole that mixes all your favorite Mexican flavors just like a lasagna dish! While this recipe uses tortillas, I've also included instructions to use real pasta noodles as well!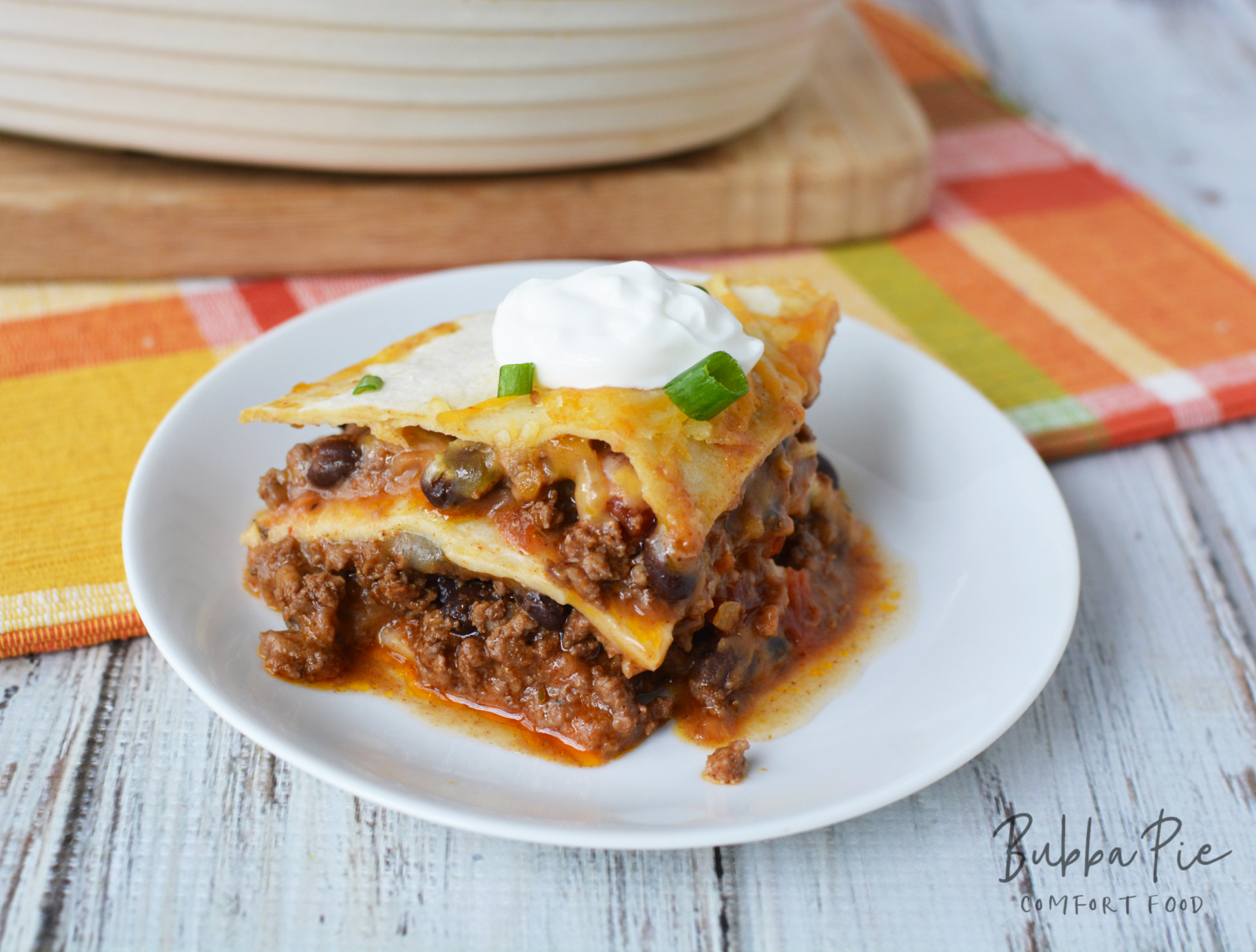 LOVE MIXING MEXICAN AND ITALIAN CUISINES? ALSO CHECK OUT OUR TACO SPAGHETTI! 
An Easy Family Dinner? Tacos For The Win!
The greatest thing about Taco Tuesday is that it never fails to come back around every single week.  Our weekly culinary excursion to the south of the border works out great for my family.  I have some picky eaters at the table but everyone here loves Mexican food.  Not only that, but tacos are always super easy and quick to make! Gotta love it!
There are also several different ways you can do your tacos.  You can make it with ground beef, chicken or even ground turkey.  You can do hard tacos, soft tacos or nachos.  If my husband and I are feeling healthy, we sometimes put all of our taco fixings on a bed of lettuce and it is delicious!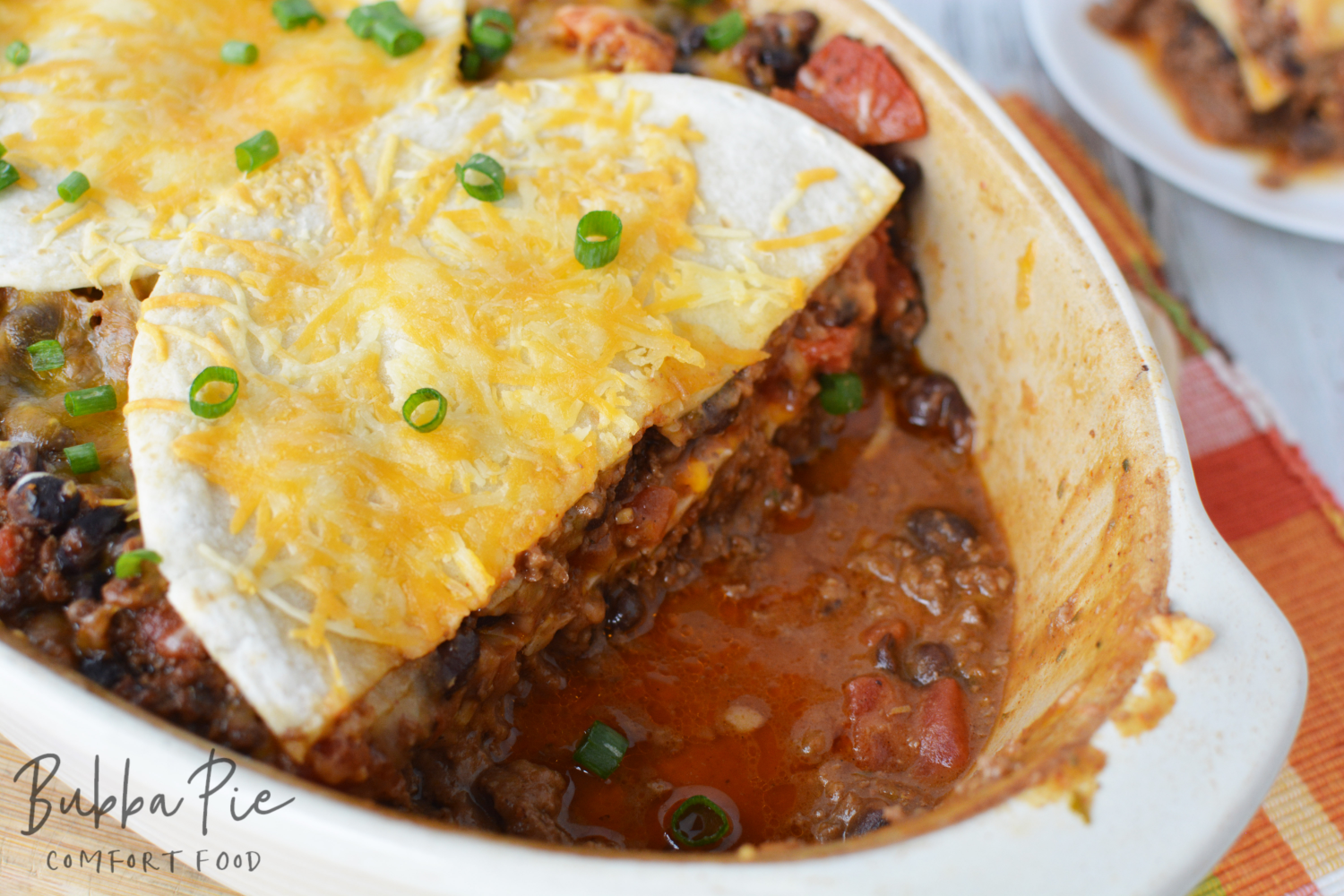 In my constant quest to discover all things taco, it was only a matter of time before it occurred to me to try out Taco Lasagna.  This Mexican casserole is easy to make, yummy to eat and you will always have some leftovers for the rest of week. With just a couple ingredients and a little prep, you'll be diving into to a whole new kind of Taco Tuesday.
Great Cinco De Mayo Recipes
This would also make a great recipe to celebrate Cinco de Mayo! Looking for some other Latin Inspired dishes?  Check out our delicious Crock Pot Mexican Casserole. This easy casserole recipe stuffs all your favorite taco fixings in with tortillas and enchilada sauce. On the lighter side, we also have this sweet and (slightly) spicy Mexican Fruit Salad. But, I'd say my favorite recipe for Cinco de Mayo is this Mexican Street Corn Salad. I've made this several times and it is AMAZING!
Taco Lasagna Recipe
This recipe turned out fantastic! I was worried that the tortillas at the bottom would get a little soggy with the tomatoes on the meat on top of them.  But they really didn't at all.  I think the key is adding that layer of refried beans. It insulated the tortillas and kept them intact.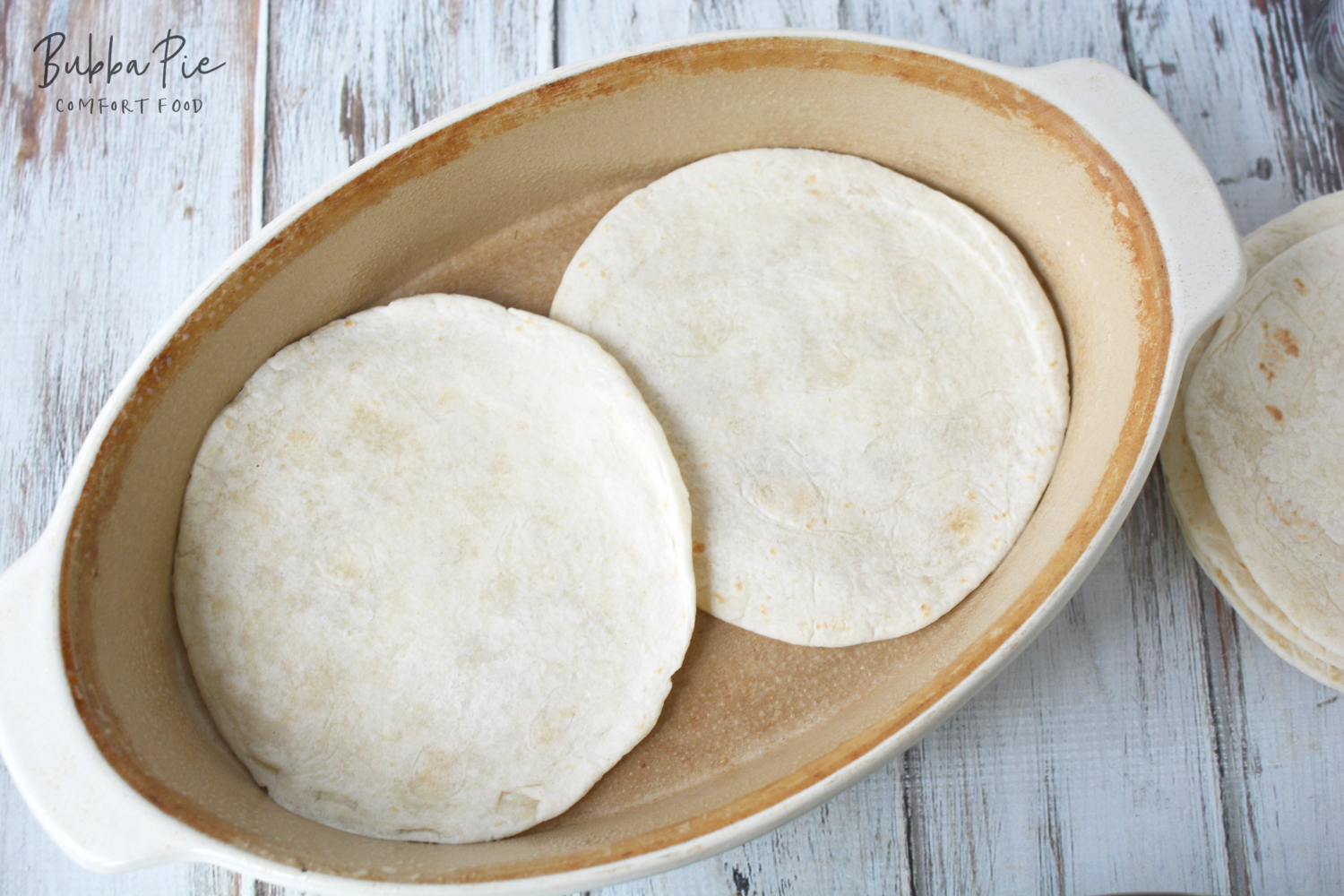 Just like a lot of recipes that I try to share on this page, you probably already have a large amount of these ingredients already in your kitchen.  I love recipes like this that you don't have to make any special trips to the store for.
I used the Mexican blend of shredded cheese but you can probably use any cheese you'd like.  Just don't forget the dollop of Sour Cream on the top!
Can You Use Real Pasta In Taco Lasagna?
Yep! You sure can!  A lot of these recipes do use tortillas as their "pasta" layer. But if you really want to mix Italian and Mexican Cuisine together, try using Lasagna noodles where the tortillas would be. You can use no-boil, oven ready Lasagna noodles if you're in a hurry (or feeling lazy). Or you can boil them before putting them in the recipe!
Can You Freeze Taco Lasagna?
Absolutely, this recipe is a great one to make ahead of time and freeze. Simply let the Lasagna cool a bit and you can wrap it up right in it's pan as long as it is freezer safe. But, I'd suggest cutting out individual servings and wrapping them up that way. Now you can take out exactly what you will need to defrost when you need it!
Some Items To Help With This Recipe
Great Toppings Ideas
This recipe has sour cream and green onions on top and we love that. But, there are some other ideas that would work great too!
Guacamole
Sliced Jalapenos
Bacon
Salsa
Sriracha Sauce
Cilantro
Parsley
Crema Fresca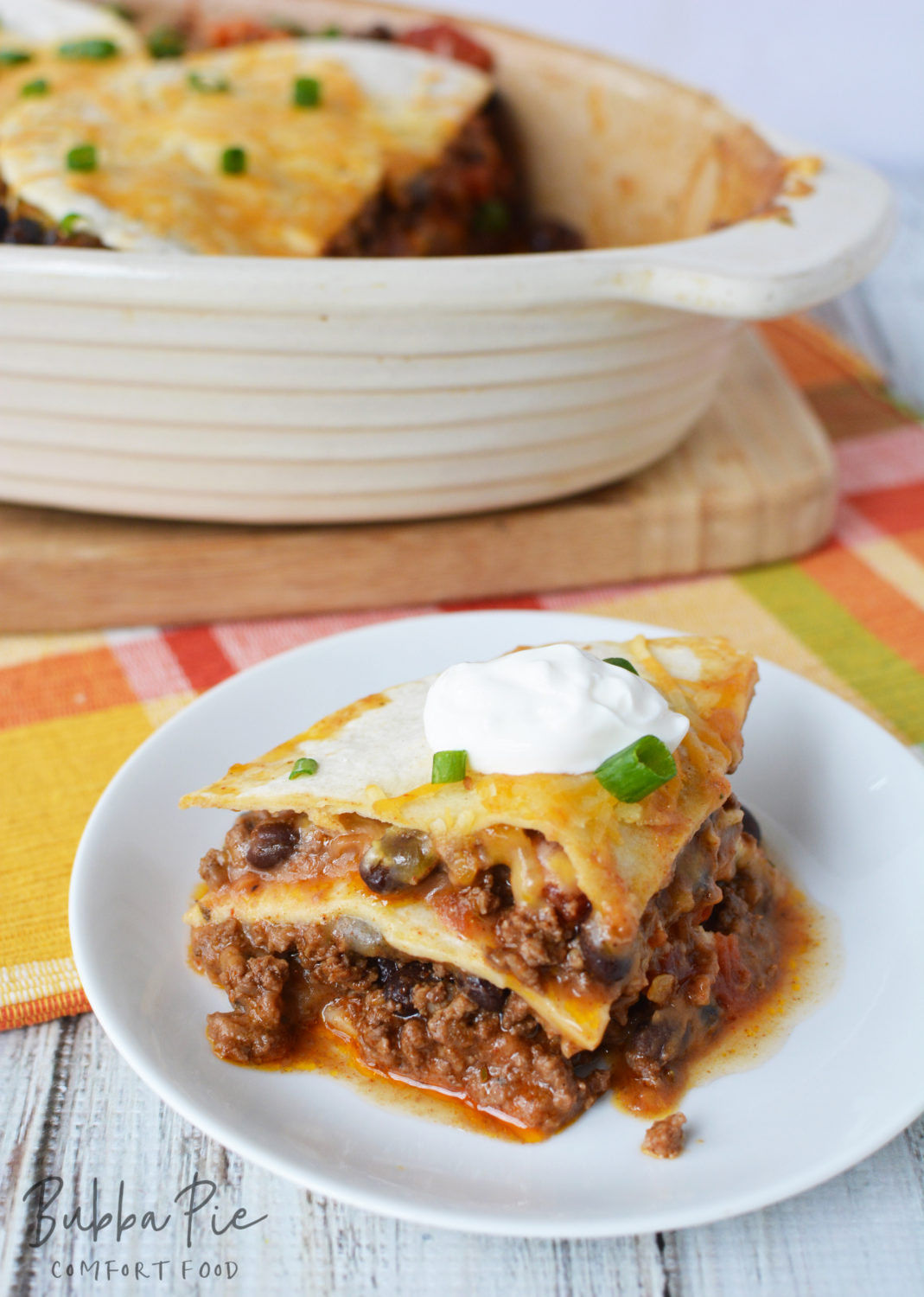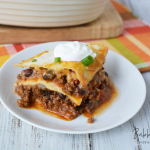 Taco Lasagna Recipe
This Taco Lasagna Recipe is the perfect thing for any time of the week. Dive into your next taco Tuesday with great taco casserole for the whole family.
Ingredients
1

lb

ground beef

1

packet taco seasoning

1

can

15 oz, black beans, drained

1

can

15 oz, diced tomatoes

1

can

16 oz, refried beans

6, 8

' soft flour tortillas

3

cups

shredded cheese

chopped green onions

optional for serving

sour cream

optional for serving
Instructions
Preheat oven to 350 and grease a casserole or 9x13 pan with nonstick cooking spray. Set aside.

In a large skillet, heat beef until browned. Drain grease and return to pan. Add one packet taco seasoning and mix well, heating for 1-2 minutes combining seasonings.

Add beans and tomatoes and heat for an additional 2-3 minutes or until warm. Remove from heat.

Place 2 tortillas into prepared pan and spread half the can of refried beans on top.

Add half of the beef mixture and 1 cup of cheese. Repeat with another layer. Top with remaining shells and remaining cheese.

Bake for 20-25 minutes or until center is warm. Let set for five minutes before cutting and serving with chopped onions and sour cream.
Nutrition Facts
Taco Lasagna Recipe
Amount Per Serving
Calories 759
* Percent Daily Values are based on a 2000 calorie diet.