This Easy Oven Baked French Toast is the perfect twist on our favorite breakfast recipe. Soft bread baked with eggs, cinnamon, butter and brown sugar are the perfect start to any morning!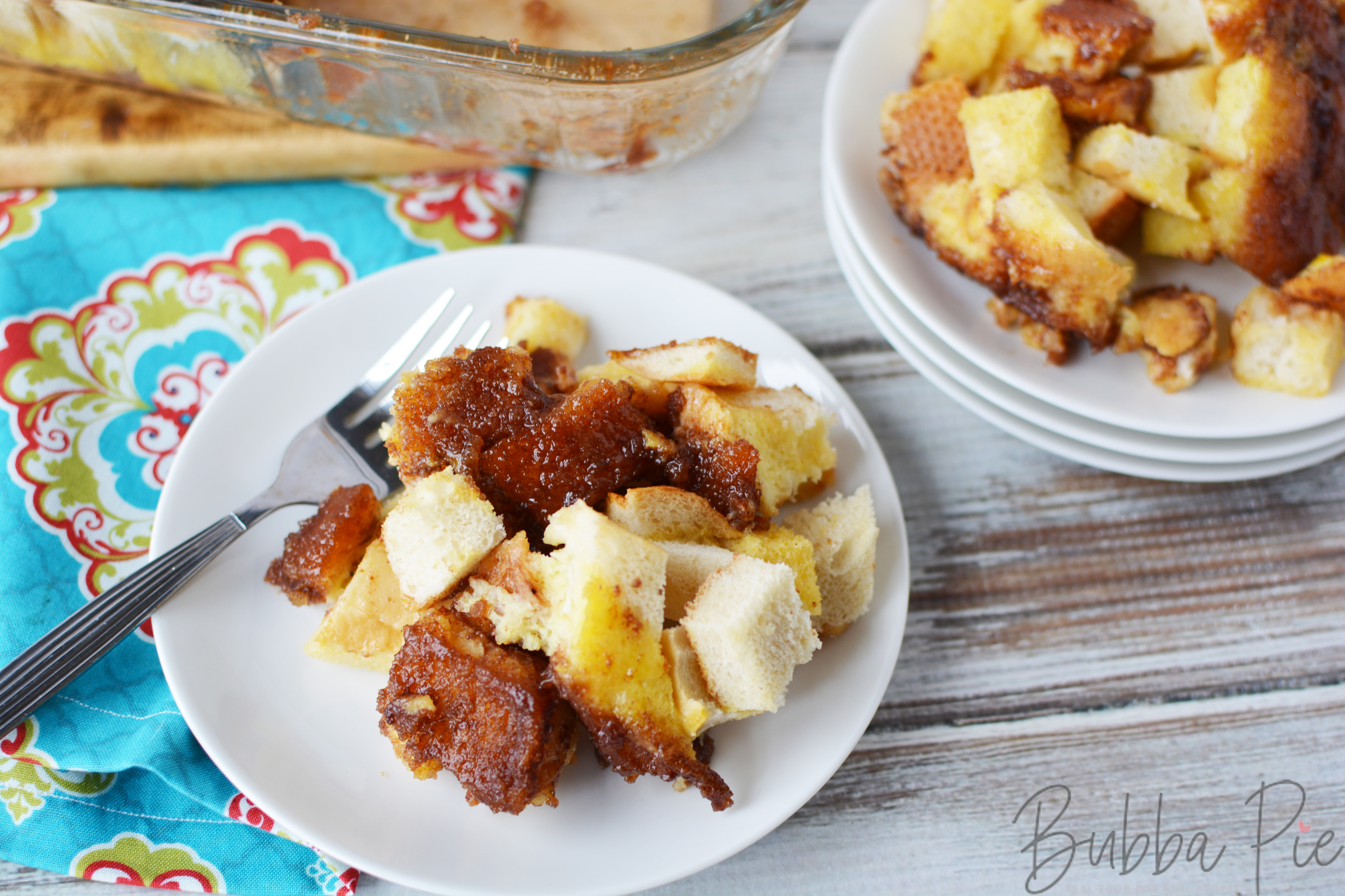 Why You'll Love This Recipe
EASY – With just a handful of common ingredients and a few steps, you don't need to wake up at the crack of dawn for a homemade, baked delicious breakfast treat! And you can get all that French Toast Flavor without having to make individual slices of toast. Just dump everything into a Baking Pan! This is a great recipe for beginning bakers and cooks. Or a great first recipe for the kids to help with!
GREAT TO FEED A CROWD – Family in for the Holidays? Guests staying the night? This is a great breakfast casserole bake to feed a crowd. I promise, no complaints! And it's a GREAT brunch recipe!
MAKE AHEAD – You can even prepare this Oven Baked French Toast Ahead of time and just pop it in the oven in the morning. It's great to let the French Toast Custard sink into the bread for a couple hours!
What Is Oven Baked French Toast?
This is basically a French Toast "casserole" that you can bake in your oven. It's also sometimes called a French Toast Bake. These "Breakfast Bakes" are great for feeding larger crowds or just to try something different. Or, they are great to make on Sunday night and just reheat throughout the week. If you want to mix things up even more, try out this Cinnamon Roll French Toast Bake. Or, for something with some fresh fruit, try this Blueberry Breakfast Casserole!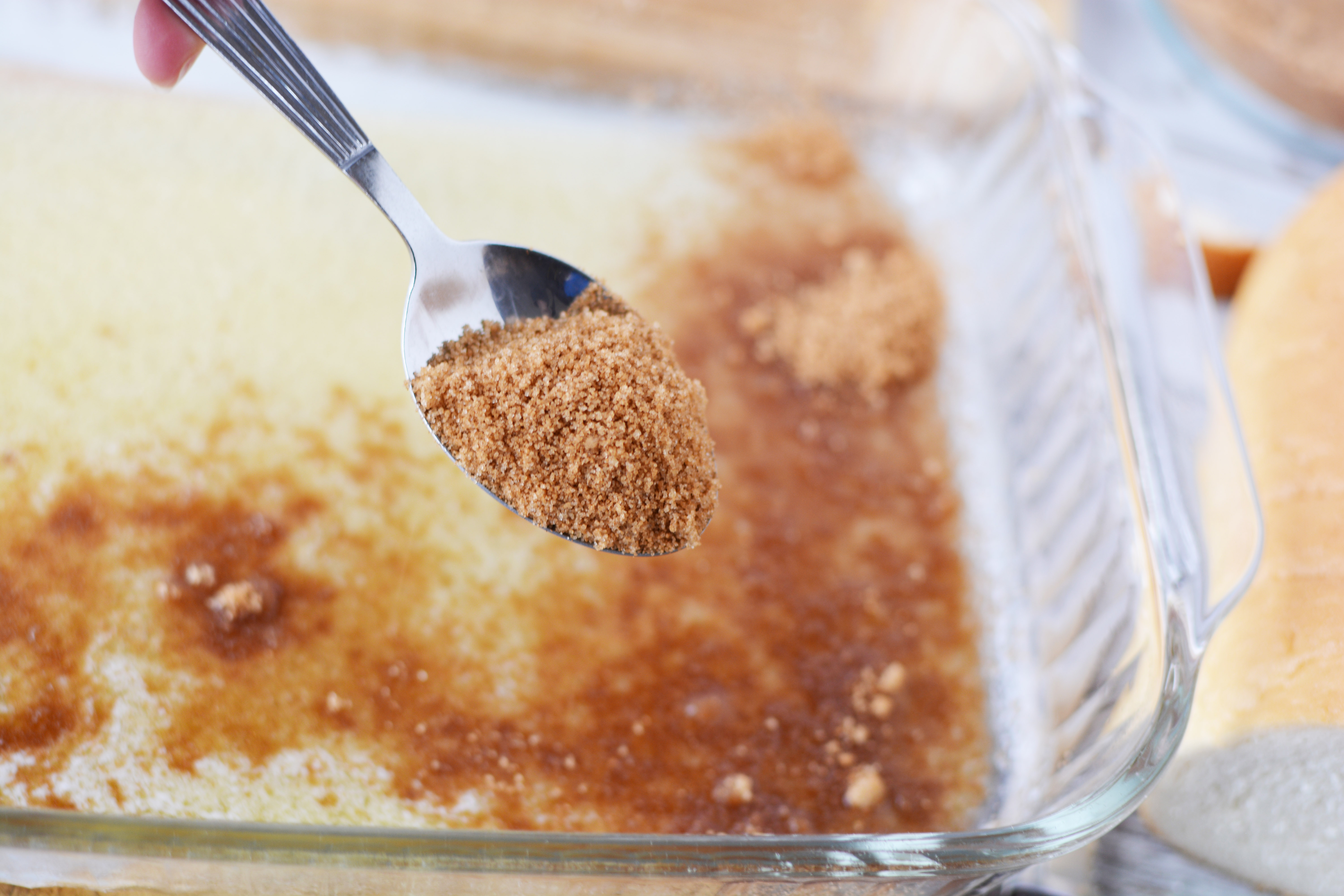 Oven Baked French Toast
Really, you'll just need about the same ingredients that you'd need to make traditional French Toast Recipe. No curveballs here! You probably already have these ingredients in your kitchen or fridge! For step-by-step instructions, check out the printable recipe card below. But here is what you'll need to get started.
BUTTER – Unsalted. No need to soften or melt. We will be putting this into our pan cold and letting it melt in the oven. Trust me…
BROWN SUGAR – Brown sugar combined with cinnamon and butter? Ummm.. yes please!
GROUND CINNAMON – Read above.
BREAD – Any harder, crustier day old bread is best. Soft, fresh bread will get mushy on you.  We used one loaf of Italian Bread. But you can also use French Bread or Sourdough Bread. For slightly softer bread, you can also try Brioche and Challah. In a pinch, you can also just tear up some sandwich bread and that will work fine.
EGGS – If possible, let your eggs come to room temperature.
MILK – We used 2% milk. But you can substitute for Half and Half or even heavy cream if you want to thicken the sauce up a bit. If you are looking to keep this recipe dairy free, you can go with Almond Milk.
VANILLA EXTRACT – We are big advocates of using quality vanilla extract. Don't get the cheap, store brand stuff.
SALT – Works well to balance the sweetness of this dish.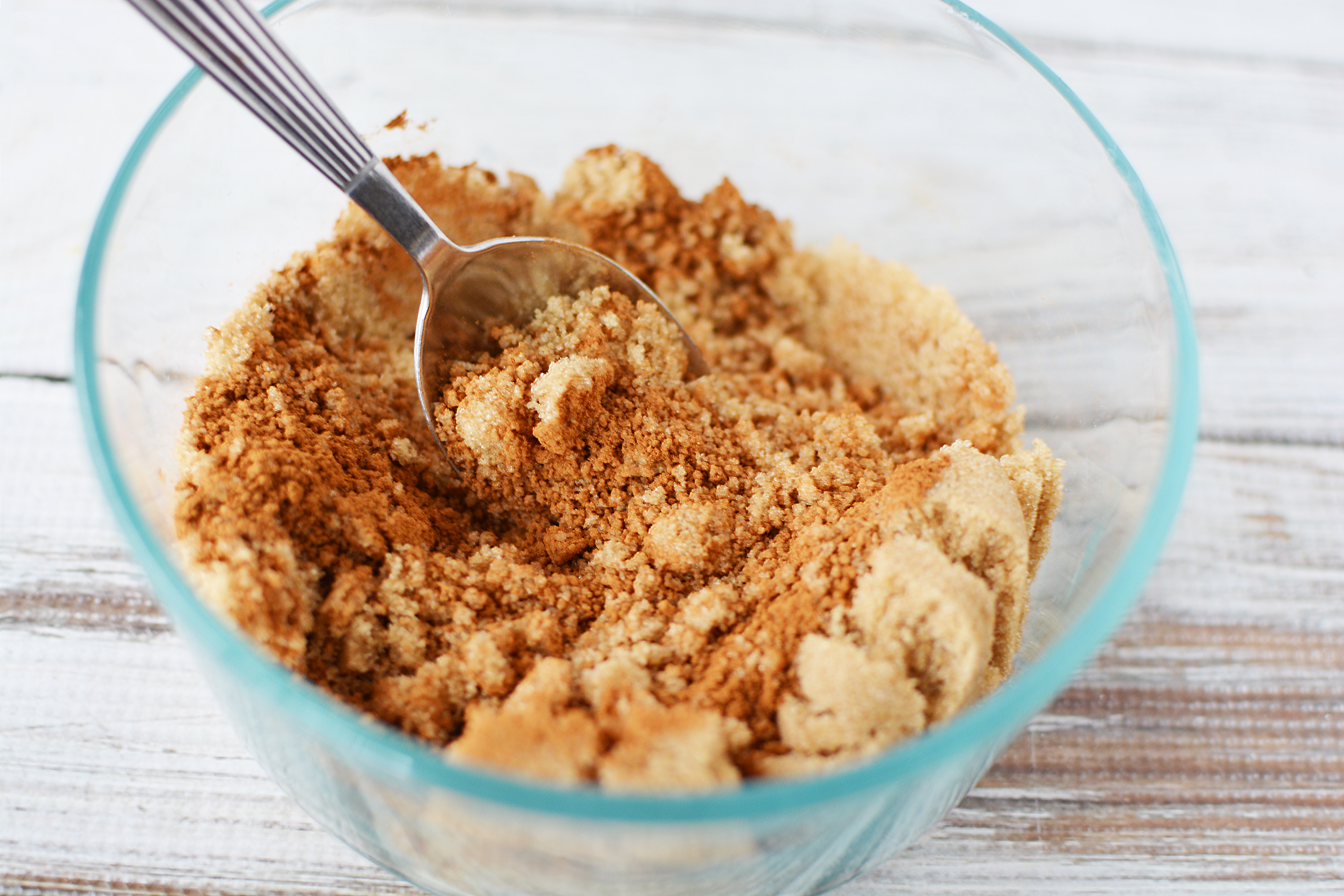 How To Dry Out Bread Quickly
Oh no! You are craving this recipe but all you've got in the kitchen is delicious, soft fresh bread!?!?! No worries, you can actually dry out fresh bread pretty easily. Just slice or cube up the bread (however you want to cut it) and put it on a baking sheet in the oven. Bake it at 350 degrees for about 15 minutes. You'll have some nice, dry bread on your hands that is perfect for this recipe!
Can You Make This Ahead Of Time?
Yes! In fact, you want to let the custard soak into your bread for at least 30 minutes. But, a couple hours or even overnight is fine! So go ahead and make it, cover it and stick it in the fridge. Then, when you need it, just pop it in the oven!
Leftovers, Storage and Freezing
Store your leftovers in an Airtight Container in your refrigerator. This recipe reheats just fine in the microwave. Or, you can pop it in the oven for a couple minutes.
You can also freeze Oven Baked French Toast. Just allow it to fully cool and store it in a freezer safe container or ziplock baggie. You can also cut it into individual servings and freeze separately. This way, you can only thaw out what you need.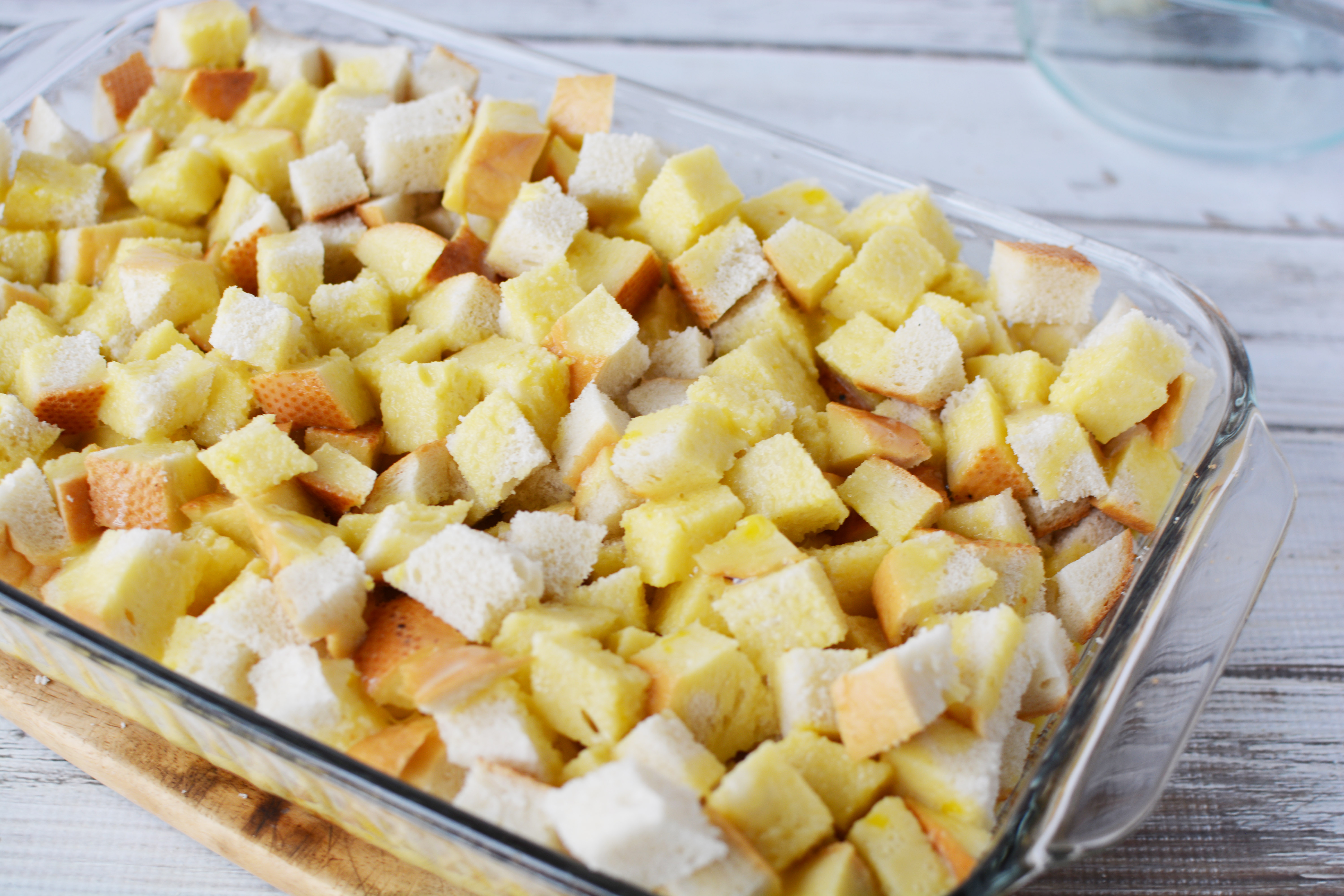 Toppings For Oven Baked French Toast
Alright! You've got this French Toast Bake fresh and hot out of the oven. Now it's time to dress it up a bit! There are SO MANY fun ways and options to add flair to this recipe. Here are some ideas to get started:
MAPLE SYRUP (REAL maple syrup!)
POWDERED SUGAR
FRESH BERRIES (Blueberries or Raspberries are great!) 
SLICED BANANAS
NUTS (sliced almonds, crushed walnuts or pecans)
A DRIZZLE OF HONEY
WHIPPED CREAM 
CHOCOLATE CHIPS
Notes, Tips and Suggestions
UPSIDE DOWN? – This is sort of an "upside down cake" in that you will be inverting it out of the baking dish before serving. This really helps with the presentation and all that ooey gooey yummy cinnamon stuff  just belongs on top of his dish!
SLICES OF BREAD? – This recipe will also work if you want to use bread slices instead of cubes.
I hope you enjoy this recipe. I think it could also be a great breakfast recipe for the holidays as well. I"m sure that a lot of us have family in town this time of year. This would be a great idea to surprise everyone one morning! Enjoy!
LOOKING FOR MORE BREAKFAST TREATS? CHECK OUT: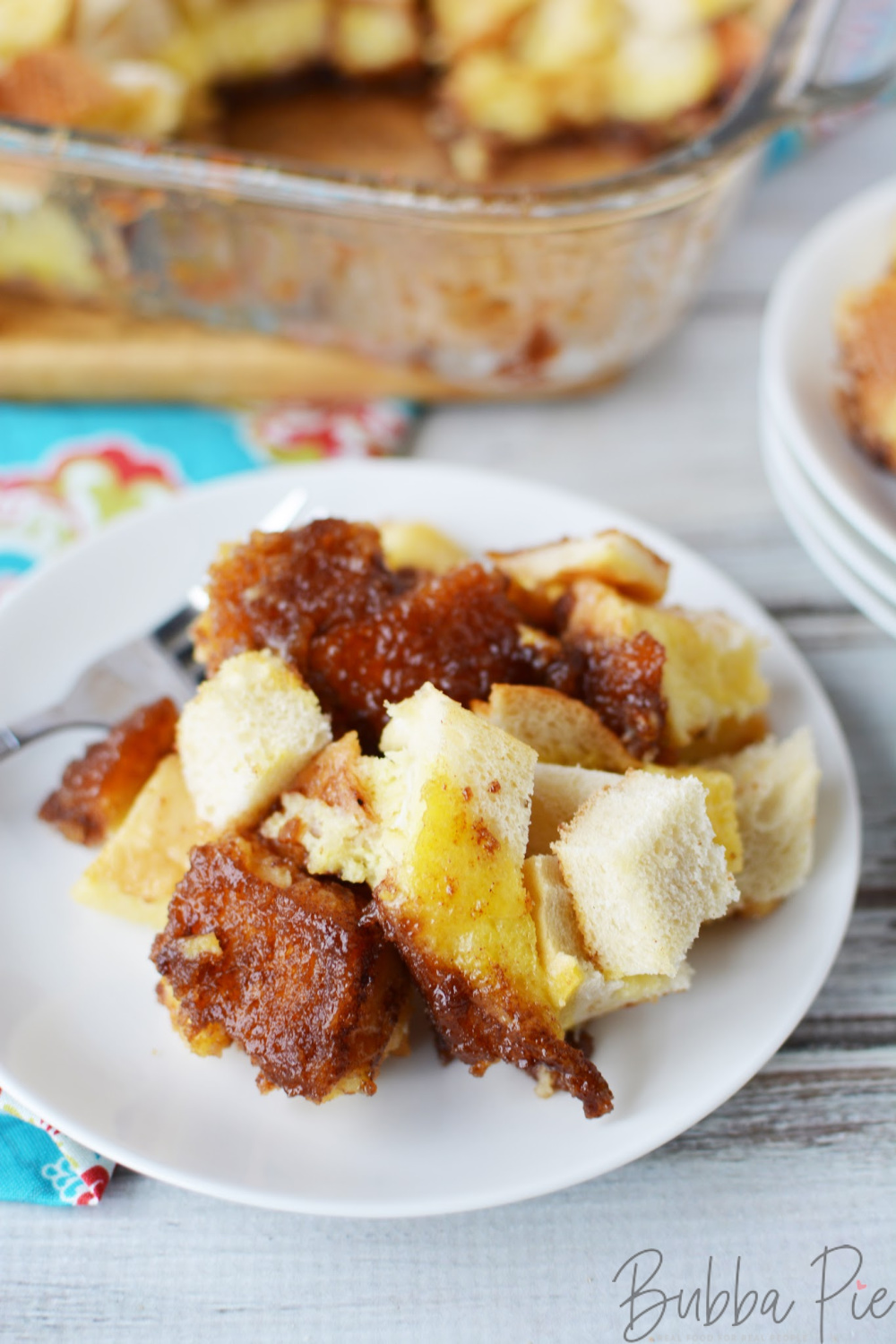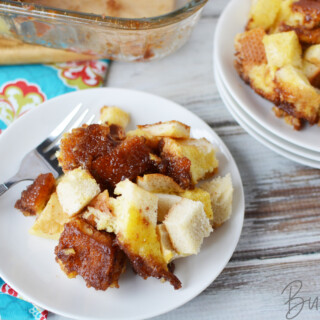 Rate this Recipe
French Toast Bake
This easy French Toast Bake is the perfect twist on our favorite breakfast recipe. Soft bread baked with eggs, cinnamon, butter and brown sugar are the perfect start to any morning!
Ingredients
Ingredients:

1/2

cup

1 stick, butter

3/4

cup

brown sugar

1

tablespoon

ground cinnamon

1

loaf bread

I used a 16 oz loaf of Italian bread cut into 1/2″ cubes

6

eggs

1/2

cup

milk

1

teaspoon

vanilla

1/2

teaspoon

salt
Instructions
Cut butter into 1/2″ cubes and place at the bottom of a 9×13 pan. Place into a cold oven and preheat oven to 350. As the oven preheats the butter will melt. Leave butter to melt for 5-6 minutes and remove from oven. Stir until completely melted.

In a small bowl, mix brown sugar and cinnamon.

Sprinkle on top of butter.

Cut bread into small cubes.

In a separate mixing bowl, add eggs, milk, vanilla and salt. Whisk well.

Pour egg mixture evenly over bread. Bake, uncovered, for 25 minutes or until egg in center is set. Let set for five minutes before serving. To serve, scoop out of the bowl and flip over so the brown sugar is on the top.
Notes
Make sure that you are turning the French Toast Bake upside down so that the brown sugar/cinnamon is on top. This really helps with the presentation and I think it tastes better this way. If you'd like, you can top with powdered sugar and/or some fresh whipped cream! And as always, used all natural/organic syrup. Life is too short to use that stuff with all the high fructose corn syrup!
Nutrition
Love this recipe?
Follow @bubbapie for even more delicious recipes!!