This Crock Pot Cheesy Potatoes Recipe is the perfect side dish for a dinner party or any family dinner. Hash browns are cooked to tender perfection in your Slow Cooker with Cream of Potato Soup, Milk, Sour Cream and Cheddar Cheese.  Only 5 ingredients! This is a super easy recipe and they taste delicious!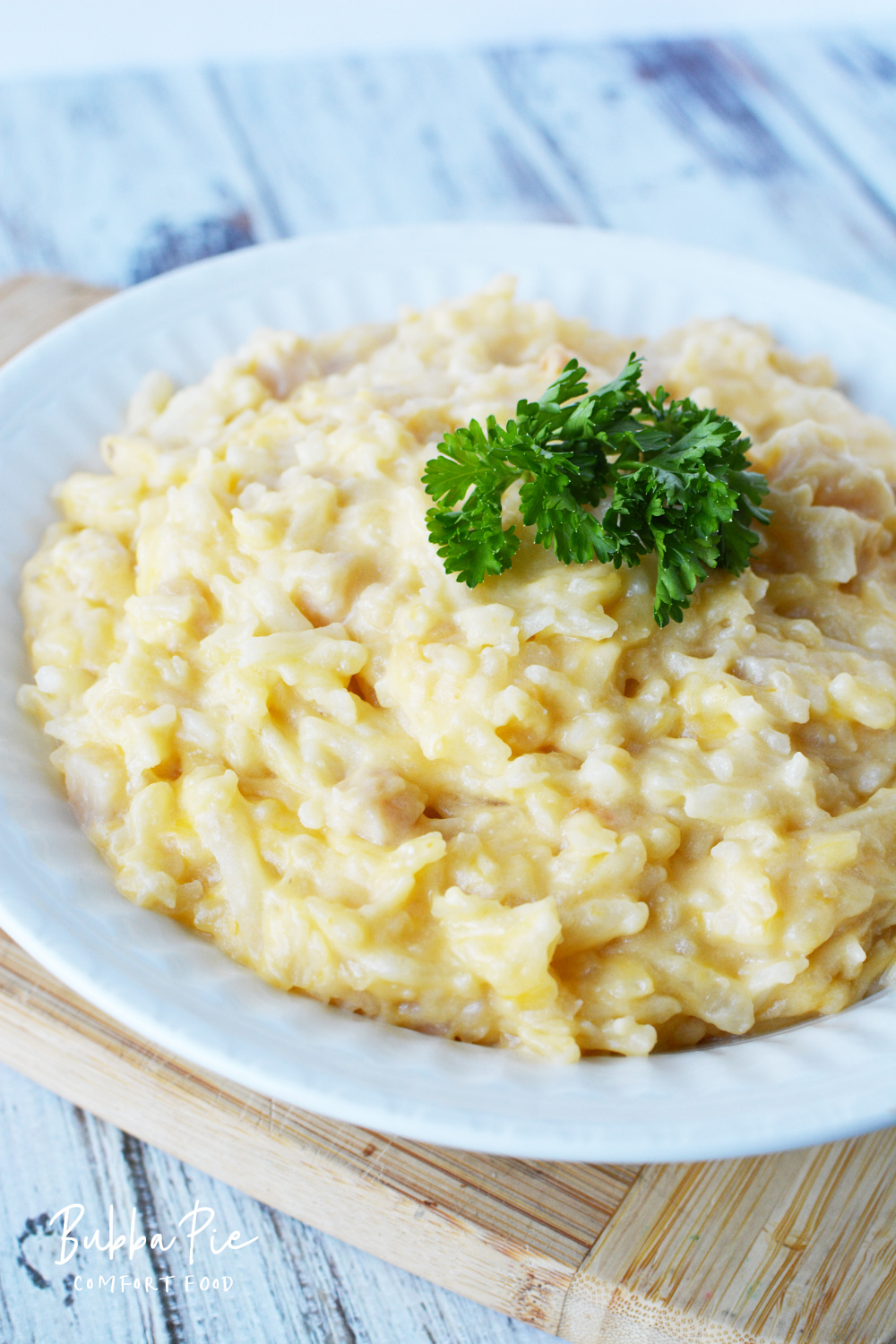 Finding The Perfect Side Dish Recipe
I absolutely love going to dinner parties and pitch-ins.  I think it is so cool when everyone brings their own dish to share.  Food is important in our lives.  Every family has their own traditions and favorite recipes that show up on their dinner table.  It is great when we have the opportunity to share this special food with friends or coworkers.
What Can You Make With Potatoes?
I"ve noticed that many side dish recipes have the potato as the star of the dish. There are just so many things that you can do with a potato and there are several different kinds of potatoes that all have their merits. From Sweet Potatoes to Red Potatoes to Mashed Potatoes!
But I've always had a soft spot for Hash Browns. They are crispy and soft at the same time, with just the right amount of saltiness. Yum! So, we thought we'd share a recipe that features Hash Browns as the ingredient for this side dish. Introducing, our Crock Pot Cheesy Potatoes Recipe!
Crock Pot Cheesy Potatoes
I love these Cheesy Potatoes because you can make them in your Slow Cooker. This means they are SO easy to prepare and will always come out cooked perfectly. And another awesome thing about Crockpots is that they will travel well to wherever you need to bring them!
Not only are they great to bring to social gatherings, they can also make an easy side dish for family weeknight dinners! And you'll probably have leftovers for lunch tomorrow!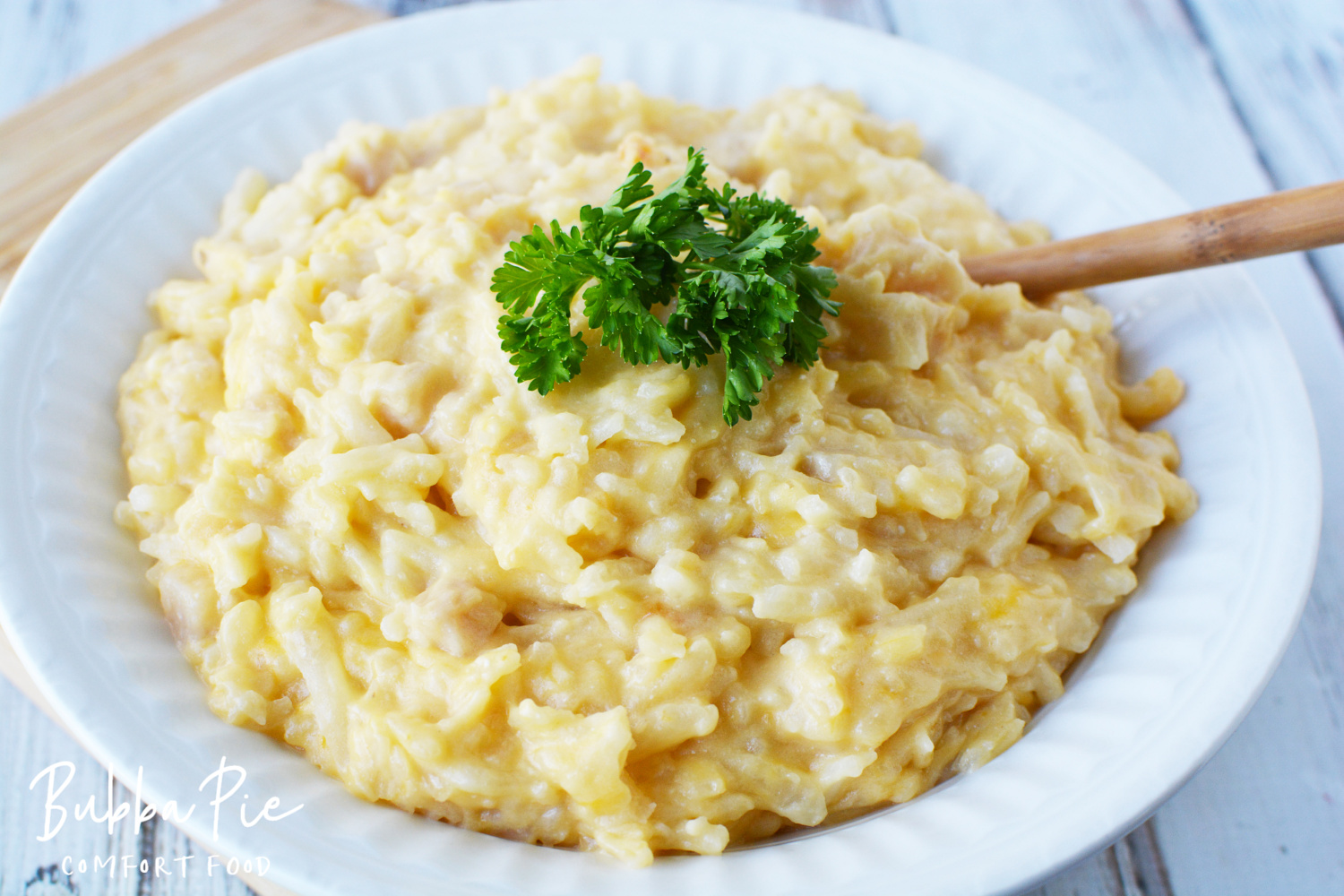 I am also always on the lookout for a side dish that I can make for dinner on weekday nights.  These slow cooker cheesy potatoes are perfect for that as well.  I love to make a lot of my dinners in my
Crockpot.
  It is just so easy to set it and forget it!  While you can certainly make your main course in your slow cooker, I often like to make my side dishes in there as well.  The great advantage to a lot of these side dishes is that they often make great leftovers too. My husband and I work from home and often eat last night's leftover for dinner.  These Crock Pot Cheesy Potatoes would work perfectly for a light lunch as well.  They are one of those things that taste just a wonderful (if not better!) reheated in the microwave the next day.
Can You Make This Dish Ahead Of Time?
Absolutely! That is the awesome thing about Crockpots, you can make your dish earlier and just keep it on warm until you are ready to serve it! In fact, I'd advise getting a head start on this recipe. While it is easy, it is not "quick". You'll need at least 4 hours in the Slow Cooker to get them cooked properly.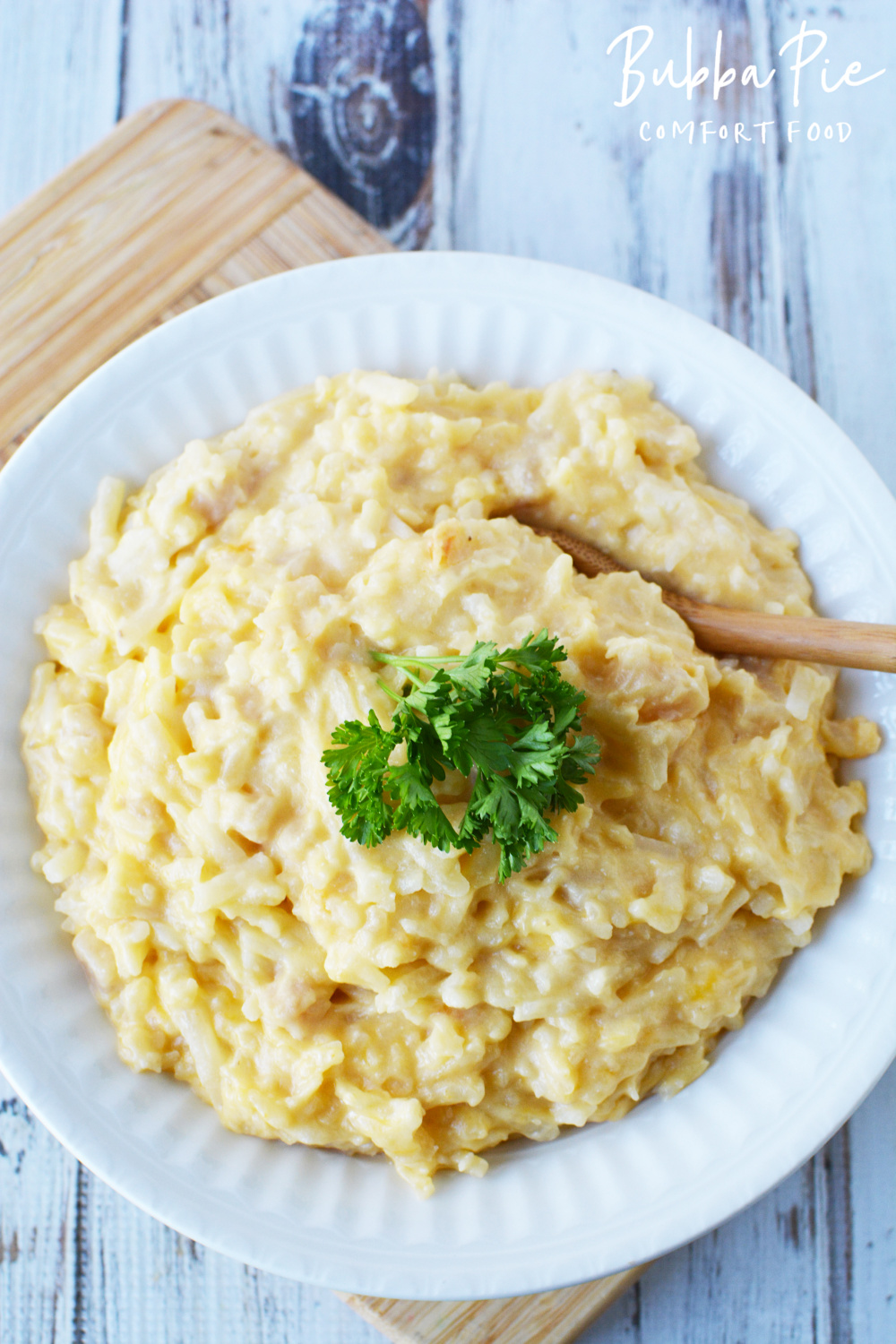 Can I Use Homemade Hash Browns Instead of Frozen?
You probably could do this. Frozen Hash Browns are often dryer than fresh homemade ones. So, I'd be a little concerned about this. I'd get my homemade hash browns patted down as much as possible before adding them. You could use a cheese cloth if you have one. If your recipe is looking a little dry during the cooking process, you can always add a little water or more milk!
You can also just dice up a fresh potato if you would like to. But, obviously, depending on how small you dice them, it may take a bit longer to cook.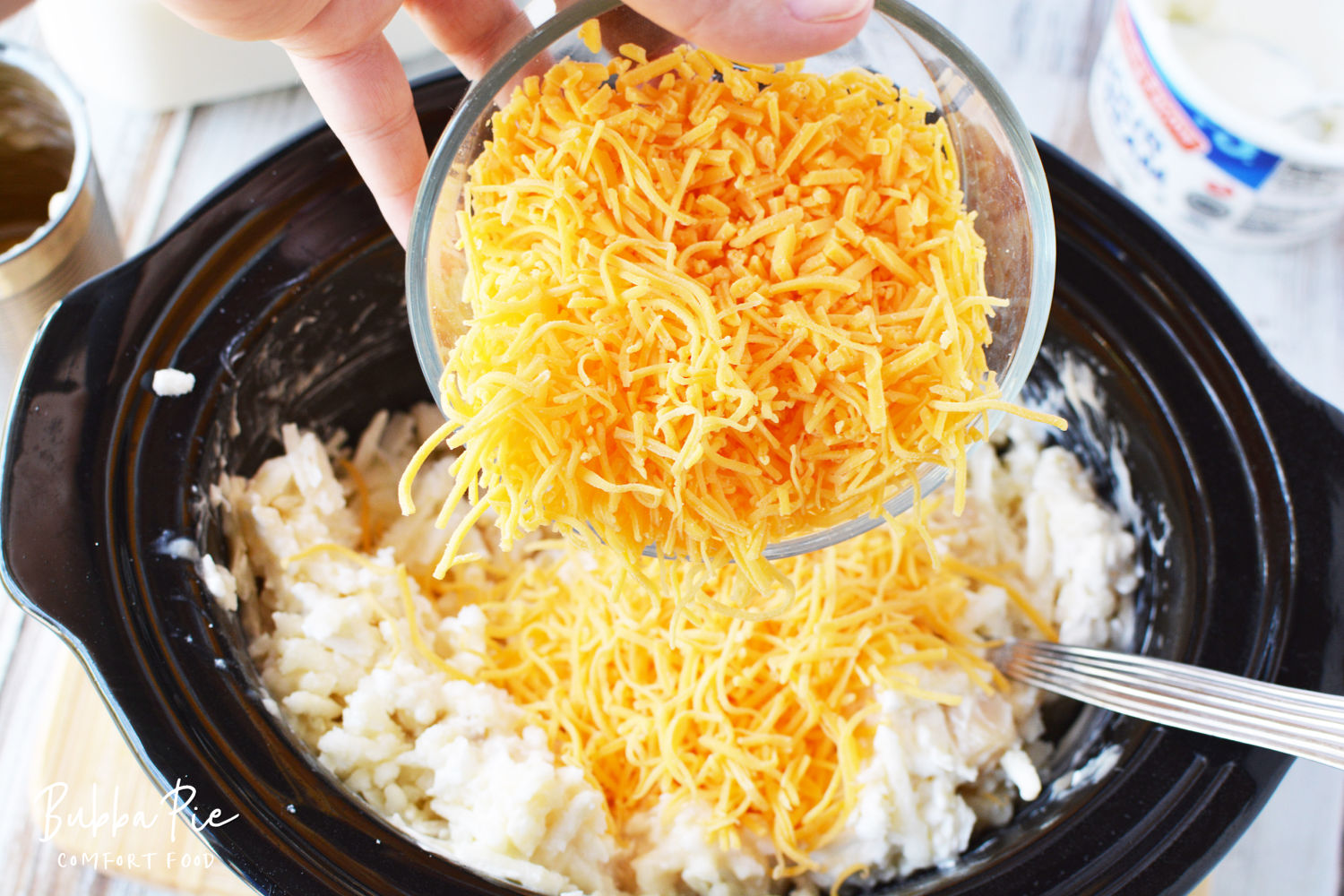 How To Make Crock Pot Potatoes with Cheese
This recipe couldn't be simpler.  Just take a large bowl and mix in your ingredients.  Stir them up to make sure they are completely combined.  Grease your crock pot and then put in your cheesy potato mix and cook on low for 4 hours.  These slow cooker cheesy potatoes are the perfect side dish for any occasion that the whole crowd will love!
What Are Some Other Good Hash Brown Recipes?
I never realized that hashbrowns not only taste delicious by themselves, they  actually make a really awesome ingredient in other dishes.
Other Notes and Variations
When you have cheese and potatoes together as the base of your dish, there are so many things you can do to give it a little extra flair if you want to:
Try another cheese? Maybe mix in a little shredded swiss cheese or some pepper jack?
Add Pork! Some nice bits of crispy bacon folded in would be unbelievable. Just add them after they are finished cooking. Or, you could throw in some cubed ham!
You can use low fat milk and cheese if you need to shave off some calories.
Do you like onion? Dice up 1/2 cup of onion and add this to your Crock Pot.
This recipe is also perfect as a Thanksgiving side dish, you can use your slow cooker and not take up much needed space on the stove or in the oven!
I hope you enjoy this Crock Pot Cheesy Potatoes Recipe. Let me know how it turns out in the comments!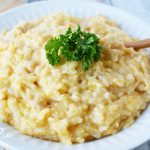 Crockpot Cheesy Potatoes
These Crock Pot Cheesy Potatoes are the perfect side dish for a dinner party or any family dinner. They are quick and easy and taste delicious!
Total Time
4
hours
5
minutes
Ingredients
30

oz

frozen hash browns

16

oz

sour cream

10.75

oz

condensed cream of potato soup

2

cups

shredded cheddar cheese

1/2

cup

milk
Instructions
Generously grease a slow cooker with nonstick cooking spray. Set aside.

In a large bowl, combine hash browns, sour cream, soup, cheddar cheese and milk. Mix well. Spoon into prepared crock and heat on low for 4 hours.
Nutrition Facts
Crockpot Cheesy Potatoes
Amount Per Serving
Calories 579
* Percent Daily Values are based on a 2000 calorie diet.