These 31 Summer Cookout Side Dishes are all perfect for your next party, BBQ, tailgate or picnic. Easy to make, easy to share and delicious to eat, check out below for some great side dish recipe ideas for your next cookout! We've got everything from Fruit and Vegetable dishes to Pasta Salads and Potato Salads!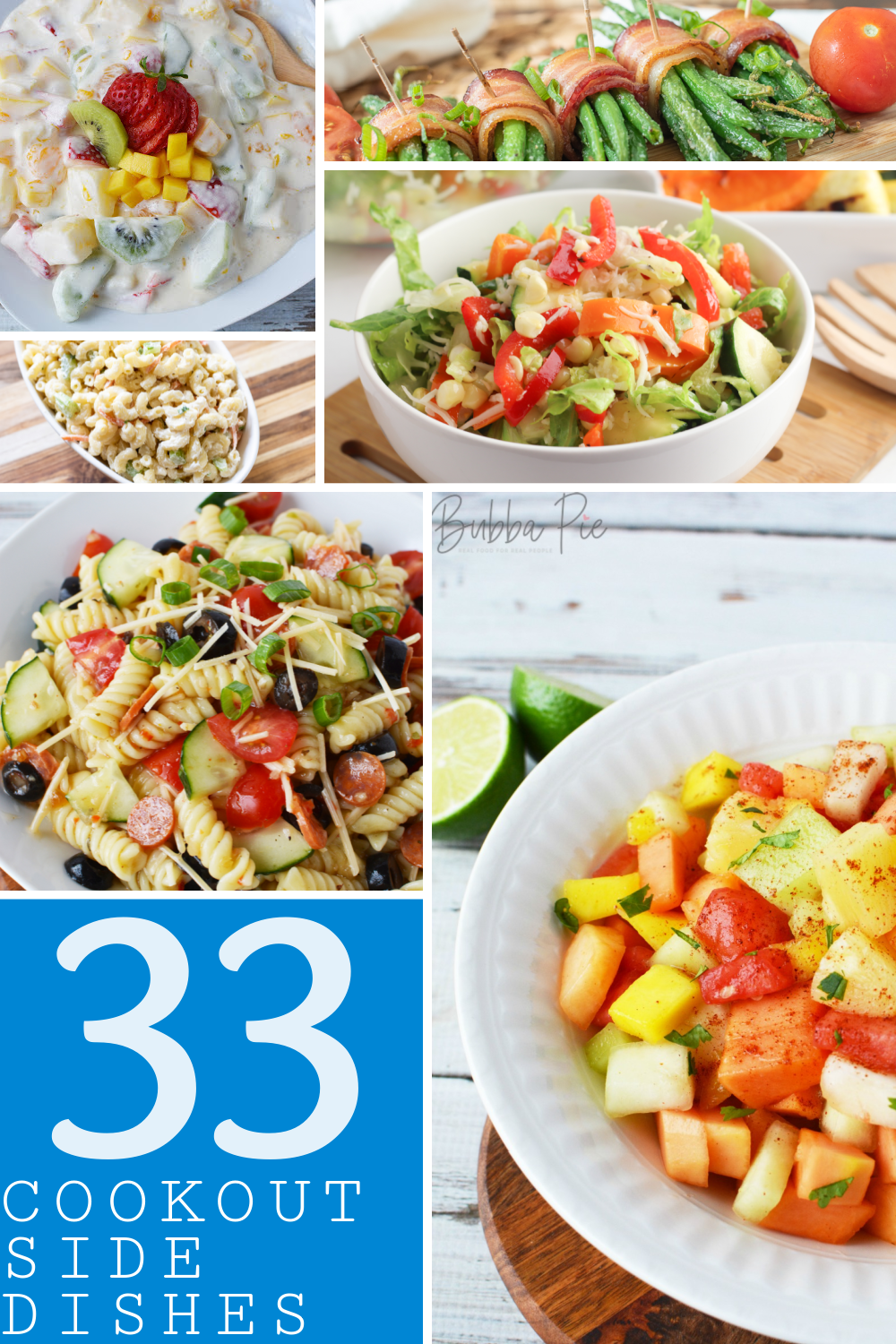 ALSO BE SURE TO CHECK OUT:
What Makes A Great Summer Side Dish?
When thinking about recipes to bring to a cookout or BBQ, what are some important things to consider?
WHAT IS THE MAIN COURSE?- Some of these side dishes have meat in them. If your main course is heavy on the meat (as a lot of BBQs are!) you may not want to choose one of these. In this case, I'd love to bring along a simpler pasta salad or potato salad. Or even a lighter fruit salad.
WHERE IS THE COOKOUT AT?– Are hosting the party or traveling to some else's house? Is this a tailgating party in a parking lot? Will there be a refrigerator or cooler available to keep your side dish cool if needed? Electricity to plug in your slow cooker?
IS THERE A THEME TO THE PARTY?- Are you celebrating Cinco De Mayo? Then this Mexican Street Corn Salad or Mexican Fruit Salad would be perfect! Is it a Luau or tropical themed party? Then you may want to consider this Hawaiian Macaroni Salad or Hawaiian Cheesecake Salad! A side dish a fun and easy way to add a little flair and flavor to any themed party to make it even more fun!
ARE THERE ANY DIETARY RESTRICTIONS?- Often, some people at your Cookout may be vegetarians, vegans or be practicing a gluten free, Keto or Whole30 diet. Sometimes, eating side dishes may be their only choices if the main course doesn't jive with their eating practices. So bringing something like this Grilled Vegetable Salad or this  Corn and Tomato Salad would a perfect, safe choice!
Otherwise, swing for the fences on your side dish! A lot of times, the side dish is my favorite part of the meal, especially when it's something a little different or new! If you are looking for some inspiration, check out some of my ideas below!
33 Fun and Easy Cookout Side Dishes