These Bacon Wrapped Green Beans are an elegant, classy yet easy side dish recipe. Vibrant, fresh and tender green beans are wrapped in crispy bacon and brushed with a Maple Glaze. A perfect, gluten free offering of veggies for any holiday meal like Thanksgiving or Christmas!
Why You Will Love Bacon Wrapped Green Beans
EASY – With just a couple of common ingredients and a few steps of preparation, you can have this delicious dish that works as a side dish or an appetizer.
ELEGANT PRESENTATION – What can I say? Sometimes we eat with our eyes. And the presentation of these Bacon Wrapped Green Beans is sure to impress your guests!
BACON – Yeah…. It's wrapped in bacon. Everything is better wrapped in bacon, right? And then we brush some real maple syrup on top for a sweet and savory combination that will make your taste buds happy!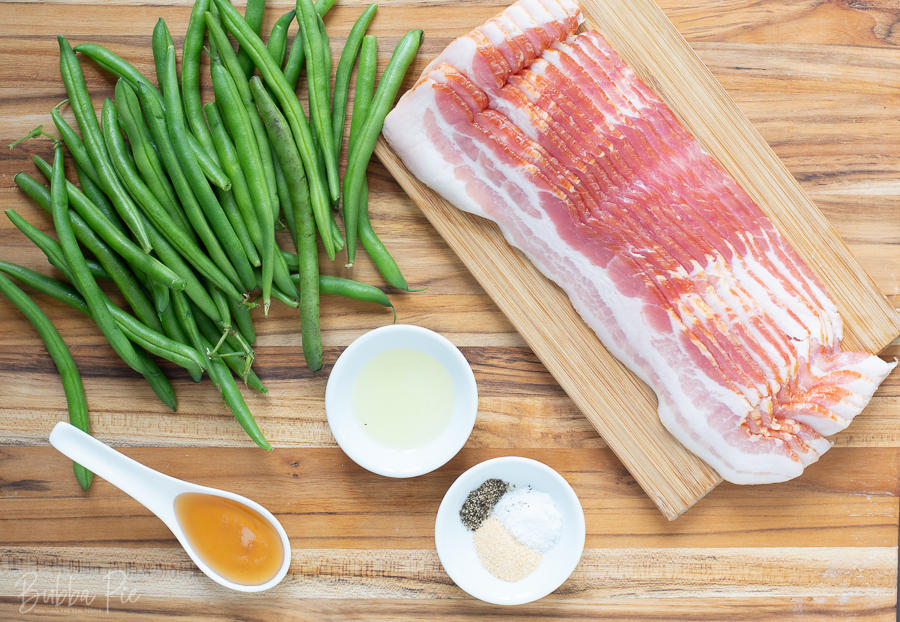 Bacon Wrapped Green Beans
When I was getting ideas for my version of this recipe, I saw that a lot of people sprinkled brown sugar on top of the bacon before roasting this recipe. That sounds great, but I wanted to try something a little bit different. So, instead of a Brown Sugar Glaze, we are going to brush some real maple syrup on the bacon. The result is a nice glaze on top that isn't too strong or sugary. It's SOOOO good! I love it when I have a good idea and it works out well!
Ready to get started? Here is what you will need:
GREEN BEANS – You'll want to use French Green Beans (hericots verts) for this recipe. They should be pretty easy to find. If you can't you can use regular, just try to make sure they are as straight as possible and all about the same size so they will all bake the same. And you WILL need to blanch them for this recipe. More on that below.
BACON – Thin cut bacon is best for this recipe so that they have that nice crisp to them!
GARLIC POWDER – Because everything is better with a little garlic. You'll be seasoning your green beans with this. If you don't have garlic powder, you can sub with garlic salt. You just may need to back off on the salt you are adding.
SALT AND PEPPER – To taste.
OLIVE OIL – Mixed with your seasonings, this will help your green beans roast to delicious perfection!
MAPLE SYRUP – The REAL stuff here, not the fake stuff. Trust me. If you don't have maple syrup, you could substitute with honey.
What Are The Best Green Beans To Use?
When making Bacon Wrapped Green Bean bundles, I heard that it's best to have long, thin Green Beans. The best kind of Green Beans to achieve this result are French Green Beans, or if you wanna be fancy, haricots verts. I could NOT find these in my grocery store. So I just got the thinnest and straighest ones I could find in the bulk produce section.
After making this recipe, I can attest that being long and straight is important. But the thickness didn't seem to make that much of a difference in my end result.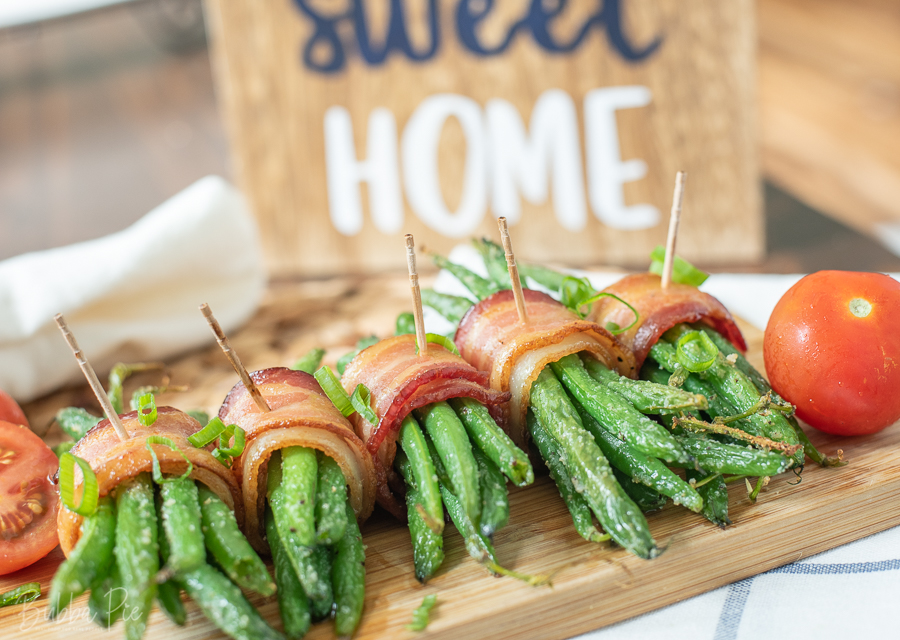 Do You Need To Blanch Your Green Beans?
Yes, you really should blanch your Green Beans for this recipe. Seriously, it is NOT hard. Just boil your green beans for about 2 minutes, put them in a strainer to drain them and then plunge them in a bowl of ice water. That's it. Super easy. This will make your recipe both taste and look so much better.
Can You Make Green Bean Bundles Ahead Of Time?
Yep! That is one of the best things about this recipe. This is especially true on busy holidays in your kitchen. You can make Bacon Wrapped Green Beans up to 24 hours ahead of time. Just blanch the green beans, par cook the bacon and wrap everything up and put them on a baking sheet. Once you are ready to cook, just brush with the maple glaze and throw them in a preheated oven!
Bacon Wrapped Green Beans: Notes Tips and Variations
BROWN SUGAR-If you want to use Brown Sugar instead of Maple Syrup, go ahead. Just sprinkle about 3 TBSP of Brown Sugar on top before cooking.
USE REAL MAPLE SYRUP- Seriously, use the real stuff. I'm always good to cut costs and corners where possible. But some things have no substitutions. Real Maple Syrup is one of those things.
I hope you enjoy these bundles of Bacon Wrapped Green Beans. They look so awesome on the Thanksgiving Table, they would even be a great Easter Dessert too! It's a simple, classy and delicious way to eat your vegetables.
LOOKING FOR MORE BACON WRAPPED RECIPES? CHECK OUT:
FOR MORE GREEN BEAN RECIPES, CHECK OUT: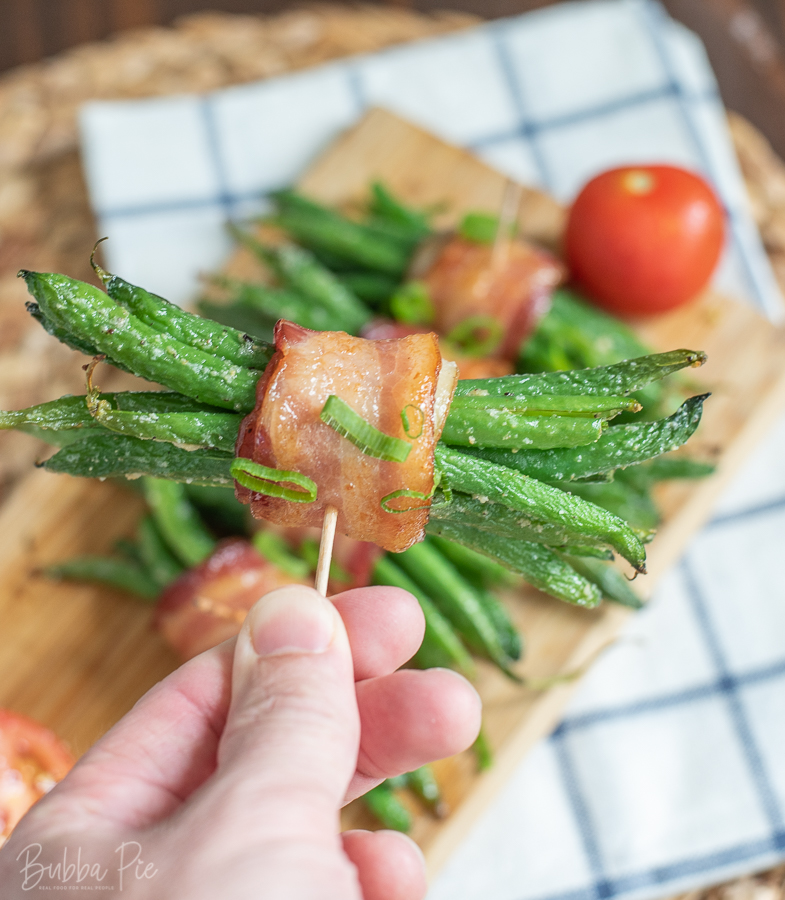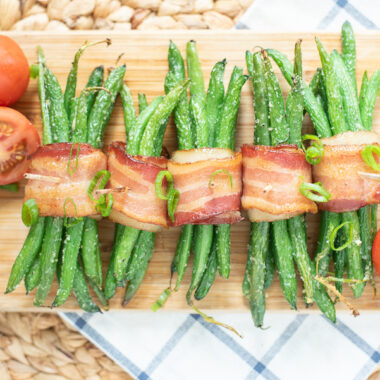 Rate this Recipe
Bacon Wrapped Green Beans
Oh, Bacon Wrapped Green Beans, where have you been all my life? These fresh Green Beans are coated in olive oil and seasonings then wrapped in Bacon coated with Maple Syrup. Roast them all in the oven and you will have a Green Bean Recipe that will wow your guests during Thanksgiving, the Holidays or any special occasion! 
Ingredients
1

lb

of Green Beans*

10

Slices

of Bacon

1/2

tsp

Garlic Powder

1/2

tsp

Salt

1/4

tsp

Pepper

1

Tbsp

Olive Oil

1

Tbsp

Real Maple Syrup
Instructions
Preheat your oven to 400 degrees, get a large pot of water boiling and get a large bowl filled with ice water.

Once water is boiling, cook Green Beans for about 2 minutes, or until they turn bright green. Strain the water out and immediately put into Ice Bath.

Lay bacon on baking tray and cook for about 10 minutes. Bacon should just start be cooking and not yet be crispy. Take bacon out of the oven and pat with a paper towel to remove grease.

In a small sized bowl, drizzle Olive Oil over Green Beans.

Add the seasonings and make sure everything is evenly coated.

Wrap about 8-10 green beans into a bundle with each piece of bacon. Put the seam side of the bacon down and put a toothpick through the whole thing.

Brush each bundle with Maple Syrup.

Bake in oven at 400 degrees for 12-14 minutes.
Nutrition
Love this recipe?
Follow @bubbapie for even more delicious recipes!!