These Spicy Green Beans are an easy, delicious Chinese Side Dish. This is our take on a famous P.F. Chang's Recipe. We made this super simple and easy to make. And, boy, do they have some heat!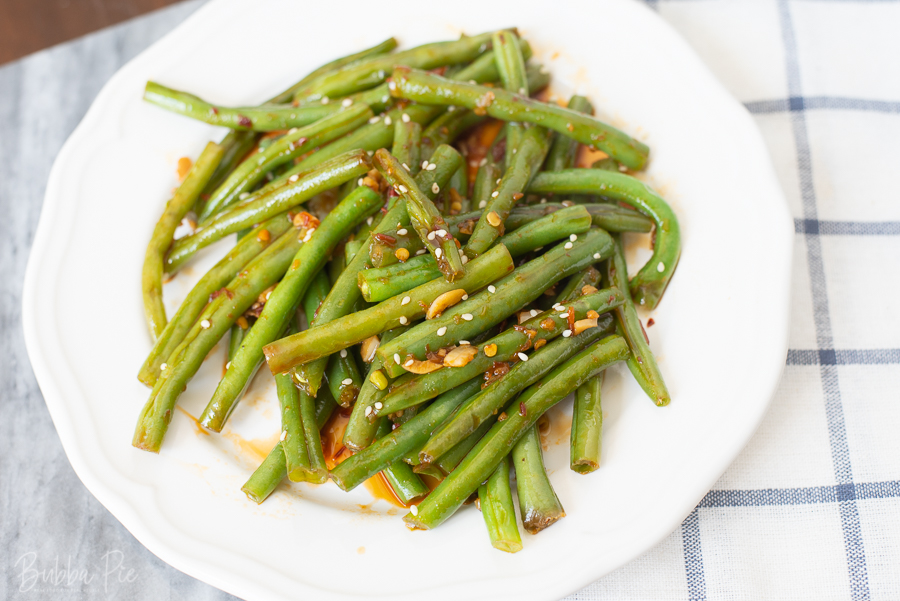 What Are Spicy Green Beans?
I must admit, I've been adding Sriracha sauce to just about everything lately. My kids are starting to make fun of me. I've come to the conclusion that just about everything is better with a little kick to it. This is especially true with vegetables. The best way to take any vegetable dish up a notch is to make it a little spicy!
Then I remembered P.F. Chang's most famous appetizer, their Chili Garlic Green Beans. The same company that makes my beloved Sriracha Sauce (Huy Fong Foods) also makes an awesome Garlic Chili Paste called Sambal Oelek. It's super easy to find in the Asian Food Sections of most grocery stores. And I just happened to have some in my fridge. So, today, I decided to make my own version of Spicy Green Beans! Spoiler alert: They turned out awesome.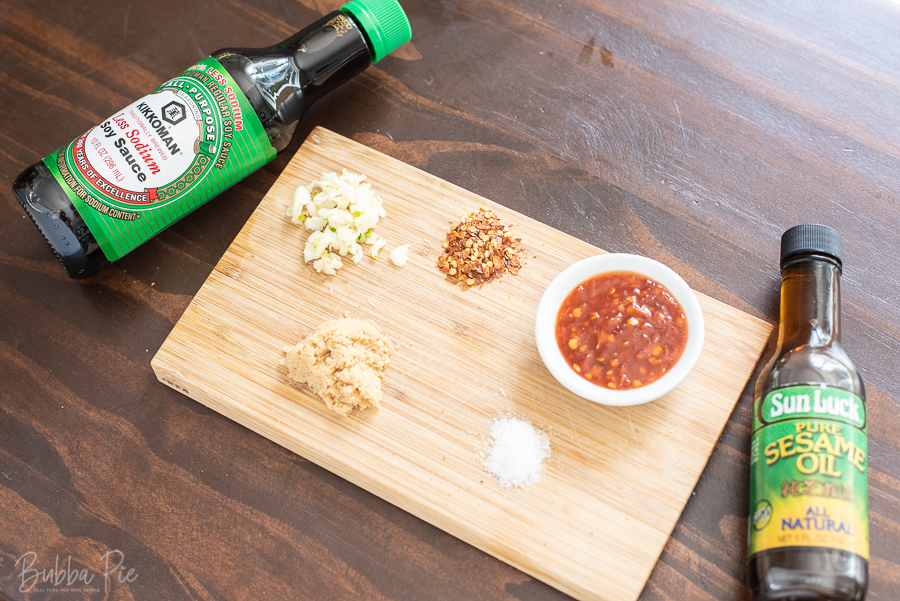 Spicy Green Beans Recipe
I did quite a bit of research online to develop this recipe and was amazed that there were TONS of different versions of this dish. Some people blanched or cooked their Green Beans and THEN mixed in with their spicy sauce. Some used a Garlic Chili Paste, some used Red Pepper Flakes, some used both (me too!). So, I decided to try out some hybrids of these recipes to see what I could come up with. I'm super happy with the delicious, authentic Asian flavors and can't wait to share it with you! Here is what you'll need:
GREEN BEANS – Look for fresh green beans and cut them so they are all about the same size so they cook at the same rate.
RED PEPPER FLAKES – This is where you can really adjust the heat of this dish. We used just 1/2 teaspoon and it provided plenty of heat!
GARLIC – Fresh, minced garlic. It works so well with the spiciness of this dish!
SOY SAUCE – Any brand will do. Go with the reduced sodium if you are concerned about salt content!
GARLIC CHILI PASTE – This is the Sambal Oelek I mentioned above. If you need to substitute for Sriracha, you can. But the presentation will be a bit different. Again, you can adjust this to your desires. We used 1 tablespoons and it was perfect for us.
BROWN SUGAR – A little sweet with the heat!
SESAME OIL – Putting sesame oil in your dishes really gives it that extra nudge towards an authentic tasting Asian dish. So, you'll really need to keep this ingredient in there and I wouldn't advise substituting it for anything.
MAZOLA CORN OIL – Sub vegetable oil or olive oil if needed.
WATER
SALT AND PEPPER – To taste.
How To Prepare Green Beans For Cooking
The most time consuming part of this recipe is preparing your Green Beans for cooking. On one end, every Green Bean has a rough tip that was attached to the plant it grew on. Everyone probably has their own method for getting this tip off. What I do is this. After I drain them and rinse them in a strainer (always wash your Green Beans!), I lay them out on a large cutting board to that the rough tips are all on the same side. I then just take a large, sharp knife and cut the tips off! Pretty easy! I dry them all off in a large, dry, clean towel and I'm ready to go!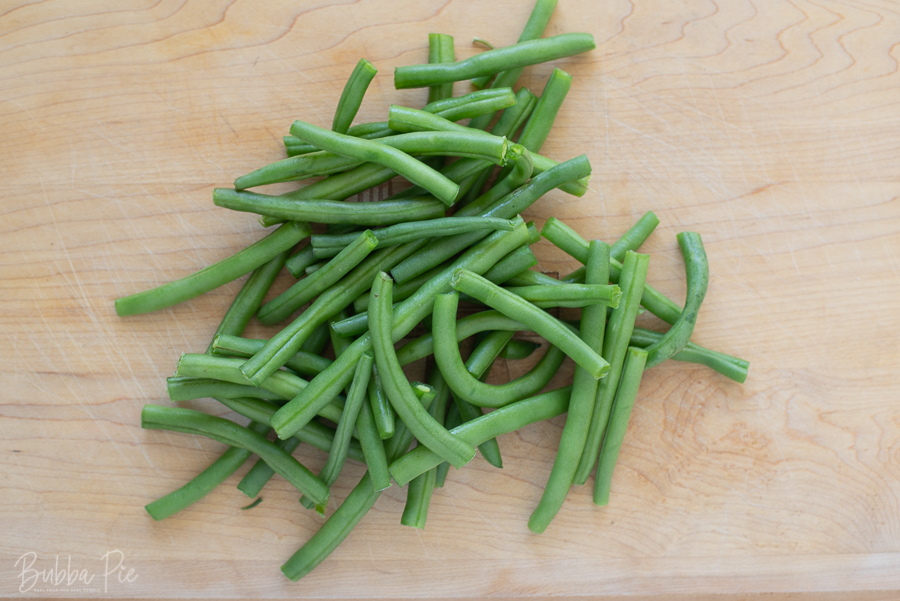 What To Serve These Green Beans With?
These Spicy Green Beans would go great with just about any side dish. From Bisquick Chicken Fingers to French Dip Sliders. Or, you could add some spicy flair to the holidays! They would be a great pairing with a Traditional Ham Recipe for Thanksgiving or Christmas! The spiciness of this dish would be a great contrast with the sweetness of a ham!
Notes, Tips and Variations
Be Prepared- Have all you ingredients measured and ready to be added to this dish. Have your Soy Sauce mixture all ready to go, your garlic minced, etc. This is a pretty simple recipe, but the timing IS important.
Too Much Heat?- I'll be honest, as evidenced from my addiction to Sriracha Sauce, I REALLY love spicy food. My wife ate these and said they were almost too spicy for her. She still loved them, but they were right on the edge. The good news is that it's super easy to make these a little more mild. Simply skip the Red Pepper Flakes or cut the amount in half!
Garnish Ideas – Garnish with sesame seeds, sliced almonds or green onions.
Tools To Help With This Recipe
LARGE SKILLET OR WOK – You'll need plenty of room in your pan to stir all the green beans and ingredients. So use a large skillet or, even better, get a Wok!
IF YOU ARE LOOKING FOR MORE ASIAN INSPIRED RECIPES, CHECK OUT OUR EMPRESS CHICKEN, VOLCANO CHICKEN OR SHRIMP MEI FUN!
I hope you enjoy this recipe for Spicy Green Beans. Let me know how it turns out for you in the comments section!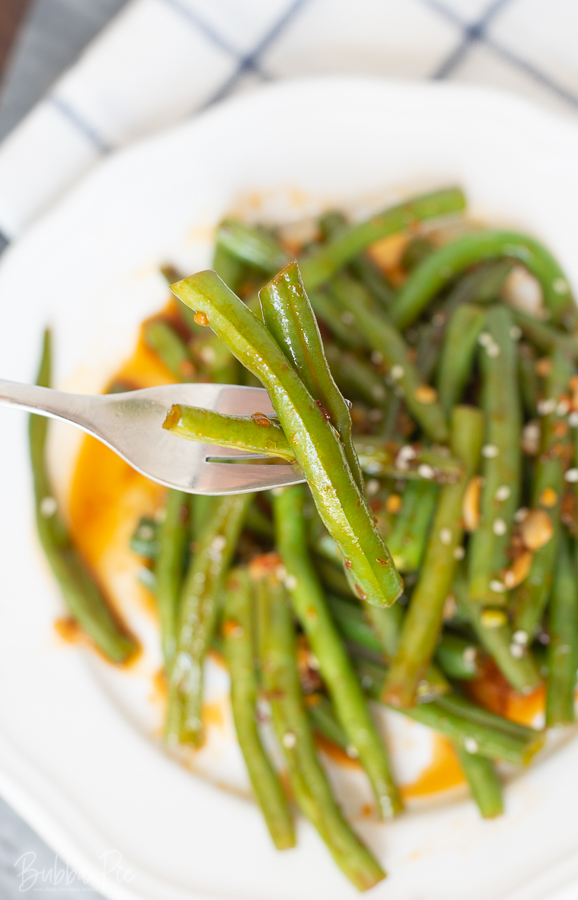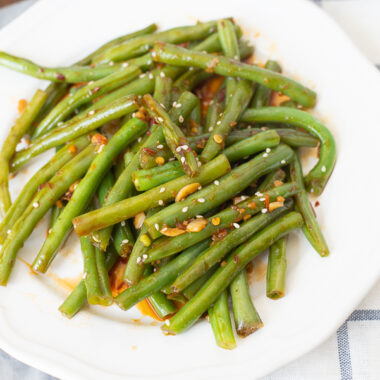 Rate this Recipe
Spicy Green Beans
Looking for a new to serve a Classic Vegetable Side Dish? Check out these Spicy Green Beans! This is our take on a famous P.F. Chang's Recipe. We made this super simple and easy to make. And, boy, do they have some heat!
Ingredients
1

lbs

Green Beans

1/2

tsp

Red Pepper Flakes

3

Cloves

Garlic

Minced

2

Tbsp

Soy Sauce

1

Tbsp

Garlic Chili Paste

2

Tsp

Brown Sugar

1

Tbsp

Sesame Oil

1

Tbsp

Mazola Corn Oil

1/4

Cup

Water

Salt and Pepper To Taste
Instructions
Prepare Green Beans by rinsing, cutting and drying them.

In a small bowl, mix together Soy Sauce, Red Pepper Flakes, Brown Sugar, Salt, Pepper and Water.

Cook Green Beans in Oil for 3-4 minutes, until they start turning bring green.

Add Garlic and Garlic Chili Paste to Skillet and cook for about 3 seconds.

Add Soy Sauce mixture to dish and cook for another 4 minutes. Serve immediately.
Nutrition
Love this recipe?
Follow @bubbapie for even more delicious recipes!!