These Cajun Deviled Eggs put a fun and spicy twist on this classic recipe. Red bell peppers and cajun spices team make these hors d'oeuvres an appetizer to remember!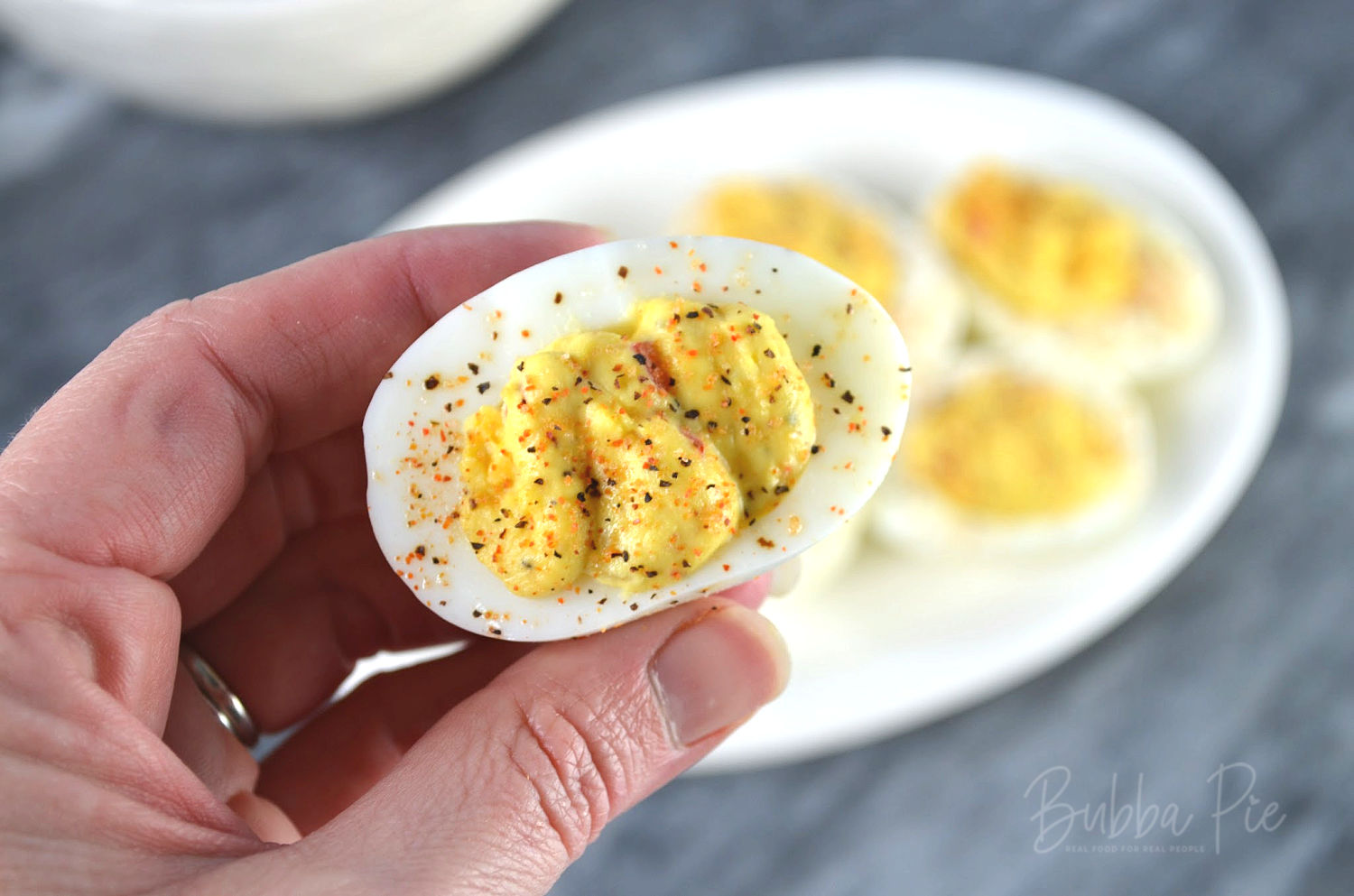 My grandma has had a deviled egg recipe for as long as I can remember. Although she passed away  a couple of years ago, I love that her memory can live on every time I bring her classic recipe to a party, pitch-in or holiday feast.
But sometimes, it is fun to take tradition and add a little modern flair to it. I'm sure my grandma would approve! So, with that inspiration, I thought it would be fun to make spicy version of her deviled eggs and thus these Cajun deviled eggs are the perfect recipe!
Spicy Eggs? We Love Them!
My husband is famous for putting a TON of hot sauce on his eggs. He loves spicy scrambled eggs, spicy fried eggs and spicy omelettes.  So, I'm assuming he would love a spicy deviled egg! Eggs go great with a little bit of heat (or, for my husband A LOT of heat). This Cajun Deviled Egg recipe has just the right amount of heat for me. It's not overpowering but it definitely gives this dish a little kick!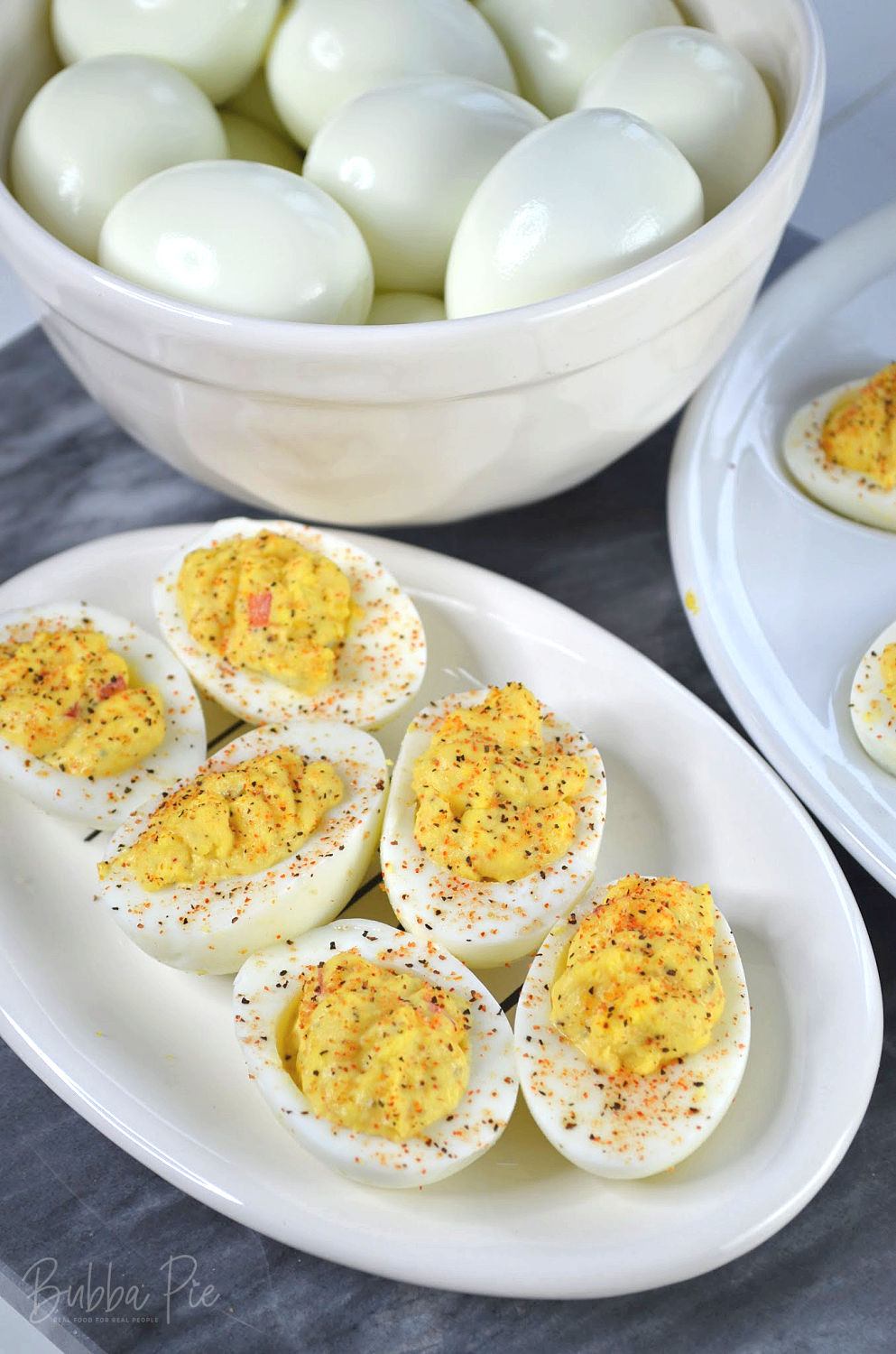 Can You Make Hard Boiled Eggs In An Instant Pot!
Yep! In fact, ever since I got my Instant Pot about 3 years ago, making eggs in my pressure cooker has been my favorite way to cook them. They always come out perfectly cooked and they are so EASY to peel! Please check out my recipe to learn this super easy way to make Hard Boiled Eggs in your Instant Pot.
Can You Make Deviled Eggs Ahead of Time?
Sure! In fact, I like making mine a couple hours before I serve them to let them sit and firm up in the refrigerator for a while. I certainly wouldn't make them DAYS ahead of time, but the night before would be fine.
What Ingredients Do You Need For Cajun Deviled Eggs?
It's super simple! Just 6 easy ingredients and you'll be on your ready to make this fun hors d'oeuvres.
boiled eggs
mayonnaise
mustard
diced celery
diced red bell pepper
Cajun seasoning
Make these Cajun Deviled Eggs next time you need to bring an appetizer or an hors d'oeuvres to an event. I promise they will be a crowd pleaser. And don't forget to let me know how the recipe turned out in the comments section!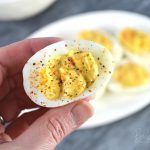 Cajun Deviled Eggs
These Cajun Deviled Eggs put a fun and spicy twist on this classic recipe. Red bell peppers and cajun spices team make this hors d'oeuvres an appetizer to remember!
Ingredients
6

hard boiled eggs

¼

cup

mayonnaise

1

tablespoon

mustard

1

tablespoon

diced celery

1

tablespoon

diced red bell pepper

1

tablespoon

Cajun seasoning

divided
Instructions
Cut hard boiled eggs in half lengthwise and remove the yolks. Place all yolks in a small mixing bowl and smash with the back of a fork. Add mayo, mustard, celery, bell pepper and ½ tablespoon Cajun Seasoning and mix well.

Place a sandwich baggie inside a large drinking cup (or use a piping bag) and fill it with the egg mixture. Snip off the corner of the bag and pipe filling into eggs.

Sprinkle the tops with the remaining Cajun seasoning.
Nutrition Facts
Cajun Deviled Eggs
Amount Per Serving
Calories 165
* Percent Daily Values are based on a 2000 calorie diet.