These Zucchini Corn Fritters take just minutes to prepare and are perfect as a side dish, appetizer or snack! Crispy on the outside and soft and tender inside, they are packed with healthy veggies and full of flavor!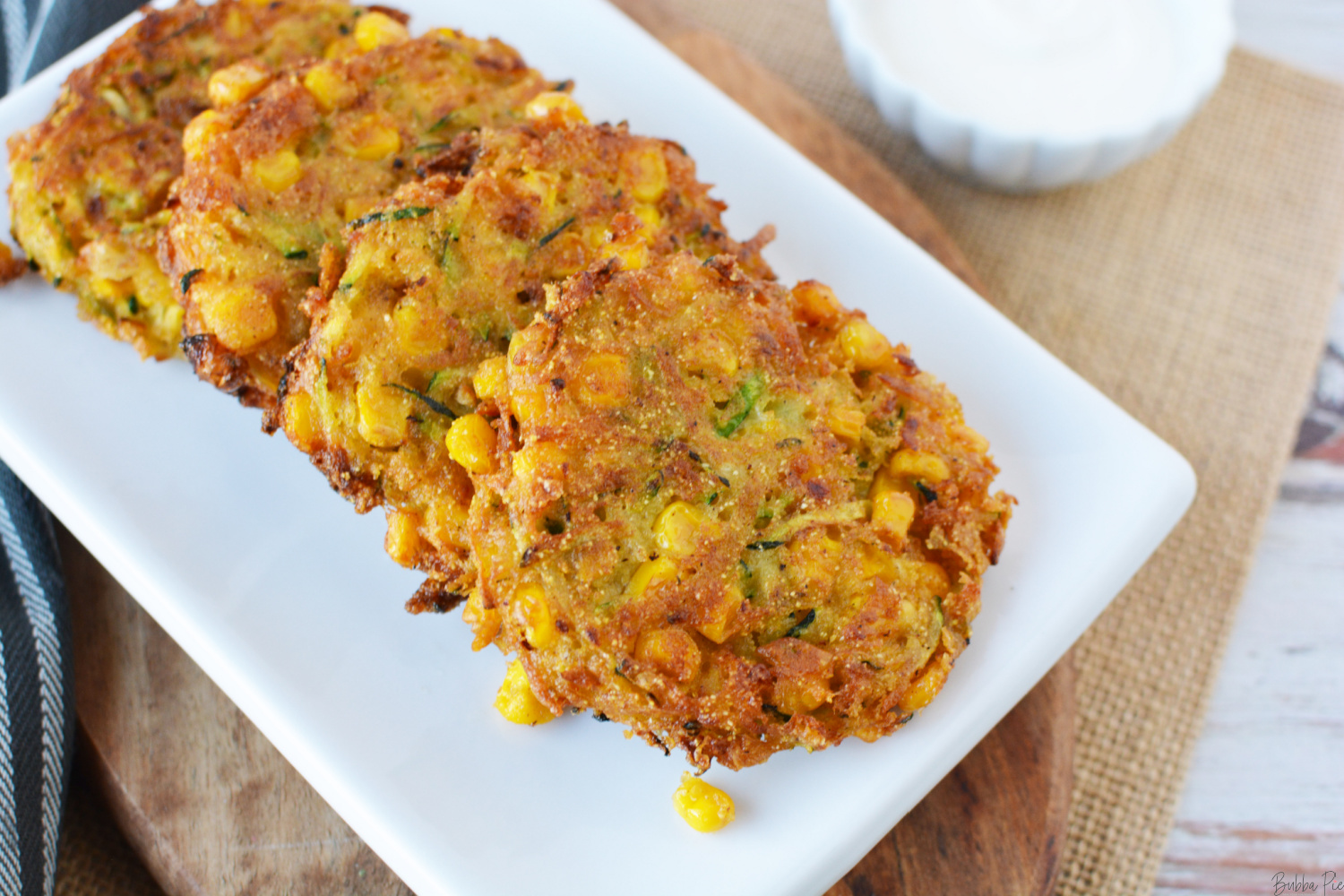 Why You'll Love This Recipe
DELICIOUS – Crispy outside, soft and tender inside. A little sweet, a little salty. These Zucchini Corn Fritters are a symphony for your mouth! They look absolutely delicious, and they are perfect for so many occasions.
WHOLESOME – We love putting Zucchini in so many recipes. It's one of those ingredients that can sort of hide along with just about anything else and give your dish a healthy boost of vegetables! We've made Banana Zucchini Muffins, Bisquick Zucchini Quiche and even Chocolate Zucchini Cake (it's delicious!).
QUICK AND EASY – This recipe can be completed in under 20 minutes. And it's so versatile. You can use it as an appetizer, side dish or just a tasty snack. And you can dress them up however you'd like! We have some suggestions below.
Zucchini Corn Fritters
These delicious little fried pancakes combine the sweetness of corn with the savoriness of our special blend of spices. The Zucchini, cornmeal and onions give it a great texture and adds flavor too! Ready to get started? Here is what you'll need. Check out the recipe card below for the full recipe!
BUTTER – Salted or unsalted. Your choice.
ONION – We used yellow onion in this recipe because it's a little sweeter and milder. But you can use red onion if you'd like. Just make sure to really dice them up as fine as possible.
GARLIC – Minced.
ZUCCHINI SQUASH – 3 cups. You don't want to shred your Zucchini too fine. You want them to be the consistency of hash brown. And, I can't stress this enough, you really need to get the moisture out as much as possible.
SALT AND PEPPER – To taste.
CANNED CORN – Drained. You can use frozen corn, just make sure it's thawed and, again, get as much moisture out as possible.
FLOUR – All purpose flour works. You can make this gluten free by buying Gluten Free Flour.
YELLOW CORNMEAL – Helps sweeten the dish and gives it that delicious, addictive texture!
BAKING SODA –
BUTTERMILK – A binding agent that helps keep everything together.
VEGETABLE OIL – Vegetable oil. We are using this to fry the fritter. You can use whatever oil you'd like. We also sometimes use Canola Oil.
What To Top Your Zucchini Corn Fritter With?
Honestly, these Zucchini Corn Fritters don't need anything to dress them up. They are awesome just as they are. But some ideas for toppings could be:
Sliced Avocado
Sour Cream
Greek Yogurt
Sriracha Sauce
Salsa
Parsley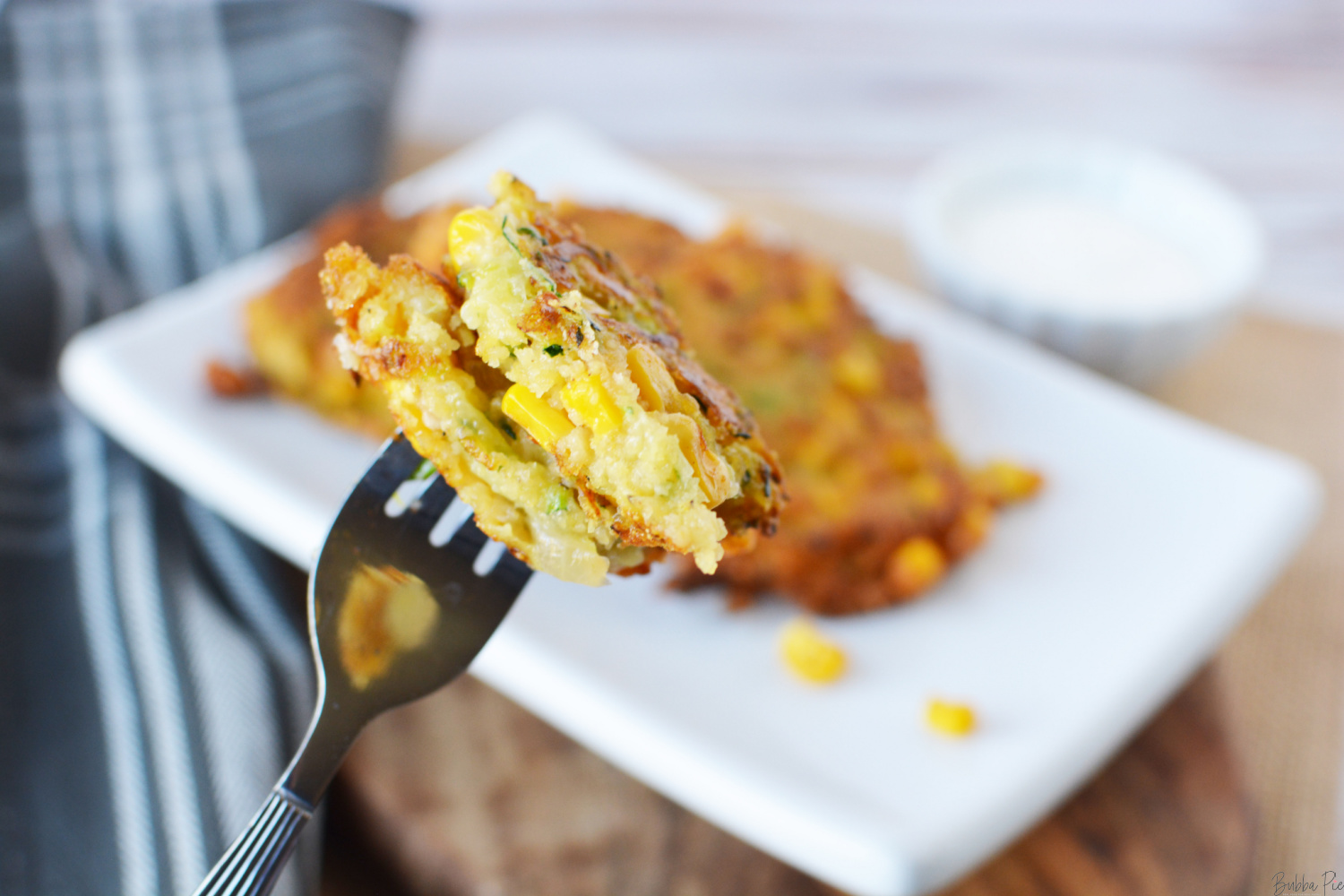 Can You Use Frozen Corn?
Yes! Any corn will actually do for these Fritters. Fresh corn of the cob, canned corn or even frozen corn kernels! Just make sure to thaw out and get rid of the excess water from the corn before cooking if you are using frozen corn!
Storage and Freezing
Keep your leftover fritters in an Airtight Container in your refrigerator. They should be good for 3-4 days. You can freeze zucchini corn fritters, although they probably won't ever be as tasty as they were when you first made them.
To freeze, allow them to cool and separate them with parchment paper and put them in freezer bags. The should be good for up to 4 months in your freezer. Allow to thaw in your fridge and reheat on skillet on medium heat until heated through.
Notes, Tips and Suggestions
GET THE MOISTURE OUT! – Get as much water as possible out of your Zucchini! There is more in there than you think! If there is too much moisture, these Fritters will be too soggy and fall apart. Use a paper towel to press or squeeze the liquid out. Or, some people like to put their shredded Zucchini into a strainer or colander and then sprinkle it all with a little salt. Toss it around to distribute.
USE A FOOD PROCESSOR – Yes, it's more to clean. But it made it so easy. Or you can use a cheese grater. We used the shred blade in our food processor and the zucchini came out great. Whatever you prefer!
ADD CHEESE – Add some fresh parmesan or mozzarella cheese to these fritters to give it a boost of flavor. Cheddar cheese would work too.
FEEDING A CROWD? – This recipe is easy to double (or triple) if you are feed a large amount of people.
FRYING ADVICE – Make sure oil is nice and hot before adding the fritter batter. This will help to ensure they don't stick. Also, you a nice, large frying pan so that you have plenty of room to work.
NO EGG? – Some recipes use eggs as their binding agent. We use the buttermilk to bind everything together and find that it works fine.
I hope you enjoy these Zucchini Corn Fritters. Let me know how they turn out for you in the comments section!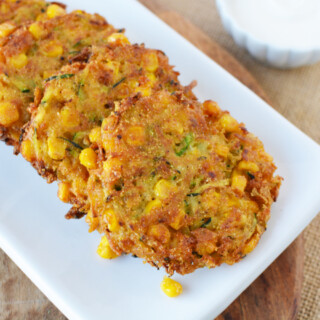 Rate this Recipe
Zucchini Corn Fritters
These Zucchini Corn Fritters are a sweet and savory pancake that works great as a side dish or an appetizer. Healthy, vegetarian friendly and tasty, they are easy to make and go great with just about any meal!
Ingredients
1

tablespoon

butter

1

small onion

diced

1

tablespoon

minced garlic

2

zucchini squash

shredded, about 3 cups

salt

1

can

15 oz, corn, drained

1/2

cup

all purpose flour

1/2

cup

yellow cornmeal

1

teaspoon

salt

1/4

teaspoon

black pepper

1/4

teaspoon

baking soda

3/4

cup

buttermilk

vegetable oil to fry

sour cream

optional for serving
Instructions
Place shredded zucchini in a bowl and sprinkle with salt. Toss. Let stand for 10 minutes. Drain zucchini by placing a paper towel on the top of the bowl and pressing a separate bowl on top of that, so the paper towel soaks up the water.

Add butter, onion and garlic to a skillet and cook until onion is tender, about 3-5 minutes. Add corn to pan and cook for 1-2 minutes more. Stir in zucchini.

Add flour, cornmeal, salt, pepper and baking soda to a bowl and mix well. Stir in buttermilk and mix. Combine with zucchini mixture and mix well.

Heat a skillet with 1/4 inch of vegetable oil until hot. Use a 3 tablespoon portion scoop to scoop zucchini mix into skillet. Gently press to flatten to about 1/2 inch. Fry on both sides, about 5 minutes each, until golden brown. Drain on paper towels.

Repeat until all fritters are cooked and serve immediately with sour cream if desired.
Love this recipe?
Follow @bubbapie for even more delicious recipes!!