This Classic Creamed Corn Recipe is the perfect side dish for just about any occasion. From a summer cookout with friends to a Holiday celebration with loved one, this easy side dish can be ready in just minutes!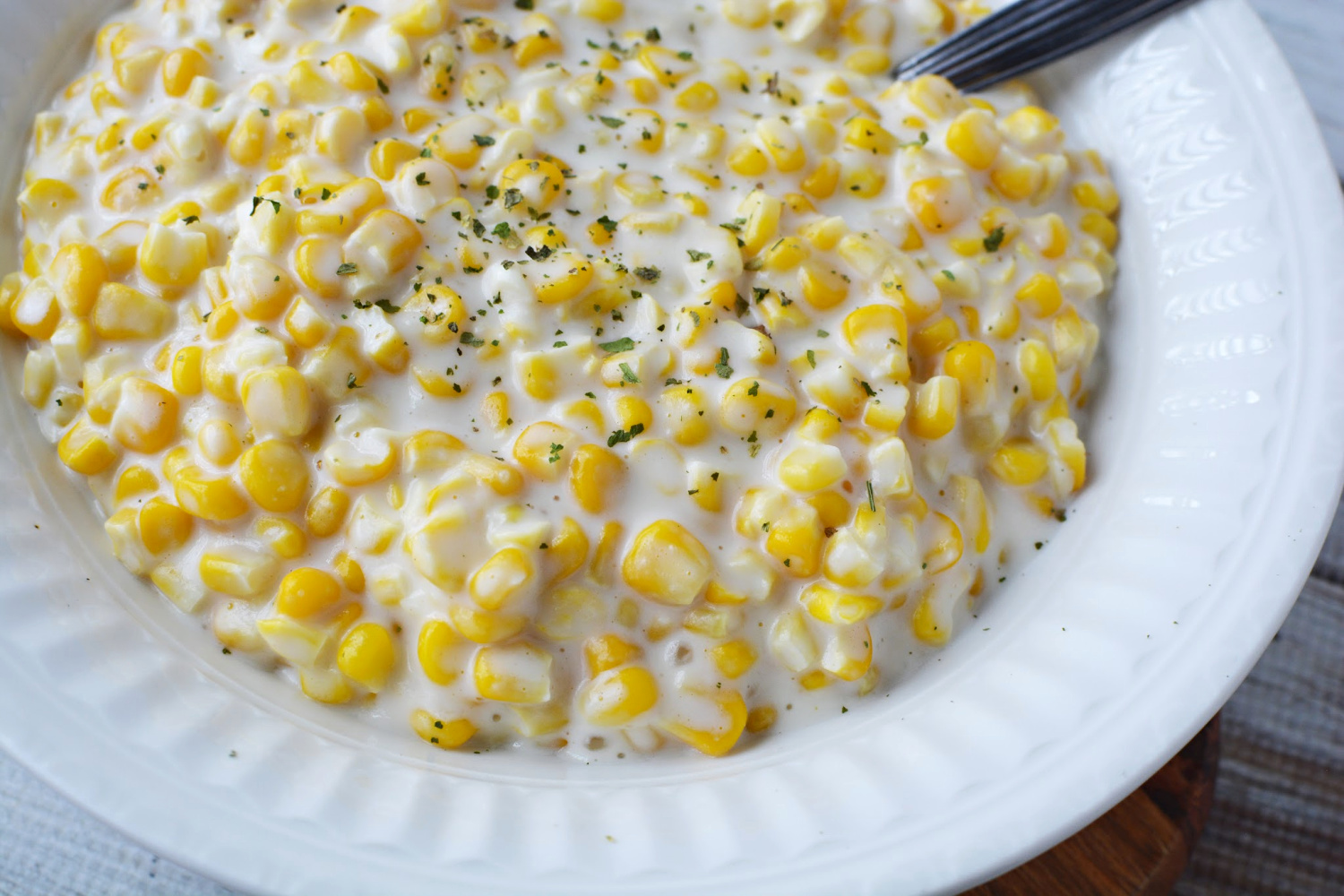 Why You'll Love This Recipe
CLASSIC TASTE – Everyone loves an old fashioned recipe that has been around for ages! It's just pure, simple comfort food.
VERSATILE – Creamed corn goes with just about any meal and any occasion. From a formal holiday meal to a casual fun summer cookout. This is a great recipe to always have on hand!
EASY – With only a couple of common pantry ingredient and 15 minutes from start to finish, this is a super fast and easy recipe!
Classic Creamed Corn Recipe
Often times, the side dish is actually my favorite part of the meal. This happens a lot of Thanksgiving, I'm really not a HUGE fan of turkey, but I love all those green bean casseroles, Scalloped Potatoes, and Biscuits! Those are the dishes that I often go back to gets seconds on!
So, here at Bubba Pie, we are always on the lookout for some great side dishes to go along with our main courses. One classic side dish that always stands out is Creamed Corn. This southern staple is creamy, sweet and comforting. And is it incredibly quick and easy to make all in one pan on your stovetop. Yes, it's a great holiday side dish, but goes great with chicken, pork, beef or any main dish!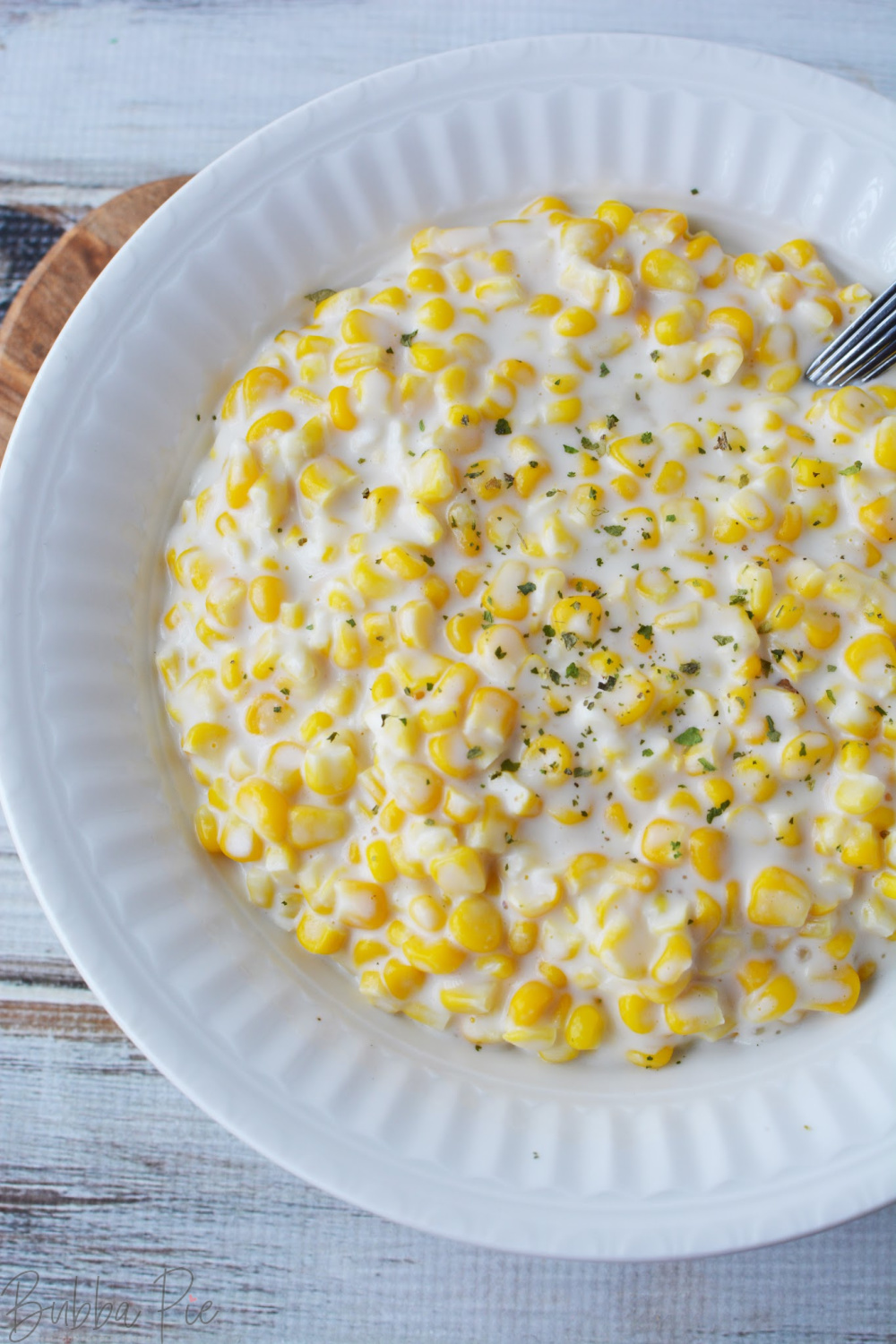 How To Make Creamed Corn
For step-by-step instructions, check out the printable recipe card below. But here is what you'll need to get started.
Creamed Corn Ingredients
BUTTER – Unsalted butter. We recommend a higher quality butter for this dish.
FLOUR – Any all purpose flour will do. If you want to make this dish gluten-free, you can always use Gluten Free Flour.
SALT
HALF AND HALF -If you absolutely need to, you can sub for 2% milk. But it just won't be as yummy! Alternatively, you can also use heavy cream to make this a little richer and thicker.
WHITE SUGAR – This is the secret ingredient of creamed corn. It's what gives it that subtle addictive sweetness.
FROZEN CORN -Canned corn can work too. Just make sure that you drain it thoroughly.
Can You Use Fresh Corn For Creamed Corn?
Yep! Especially if it is the middle of summer and you've got some fresh corn on the cob, put it to good use! Just slice the corn kernels off the cob and put it into the recipe. Fresh Corn will most certainly take more time to cook than frozen or canned corn. So you will need to adjust the cooking time.
Storage, Freezing and Leftovers
Store leftovers in your refrigerator in an airtight container. This dish reheats just find in the microwave.
Yes, you can freeze creamed corn. Just allow it to fully cool and put in a freezer safe container. Store in your freezer for up to 3 months. Allow to thaw in your fridge overnight.
Notes and Variations
SEASONINGS – This is one of those recipes that can be seasoned to your preference. I'd definitely have salt and pepper available to your guest for them to use if needed. If you want to add a little complexity to the flavor, you could sprinkle a little nutmeg into the corn mixture. Or, if you want to add some heat, go for some cayenne pepper. Adding some nice crispy bacon to the completed recipe just before serving may also be something worth trying!
GARNISH – We put some parsley on top of our recipe to add a little color. Or simply some ground black pepper. It would also be nice to have some parmesan cheese out for your guests to sprinkle on if they'd like. Putting scallions on top would also be a great idea!
WHAT IF MY SAUCE IS TOO THIN? – Many times, you can just keep cooking the creamed corn over a low heat and it will thicken up on it's own. If needed, you can make a cornstarch slurry by combining equal parts cornstarch and water. Slowly add it until you get the desired consistency.
I hope you love this Homemade Creamed Corn Recipe. Let me know how it works out for you in the comment! Enjoy!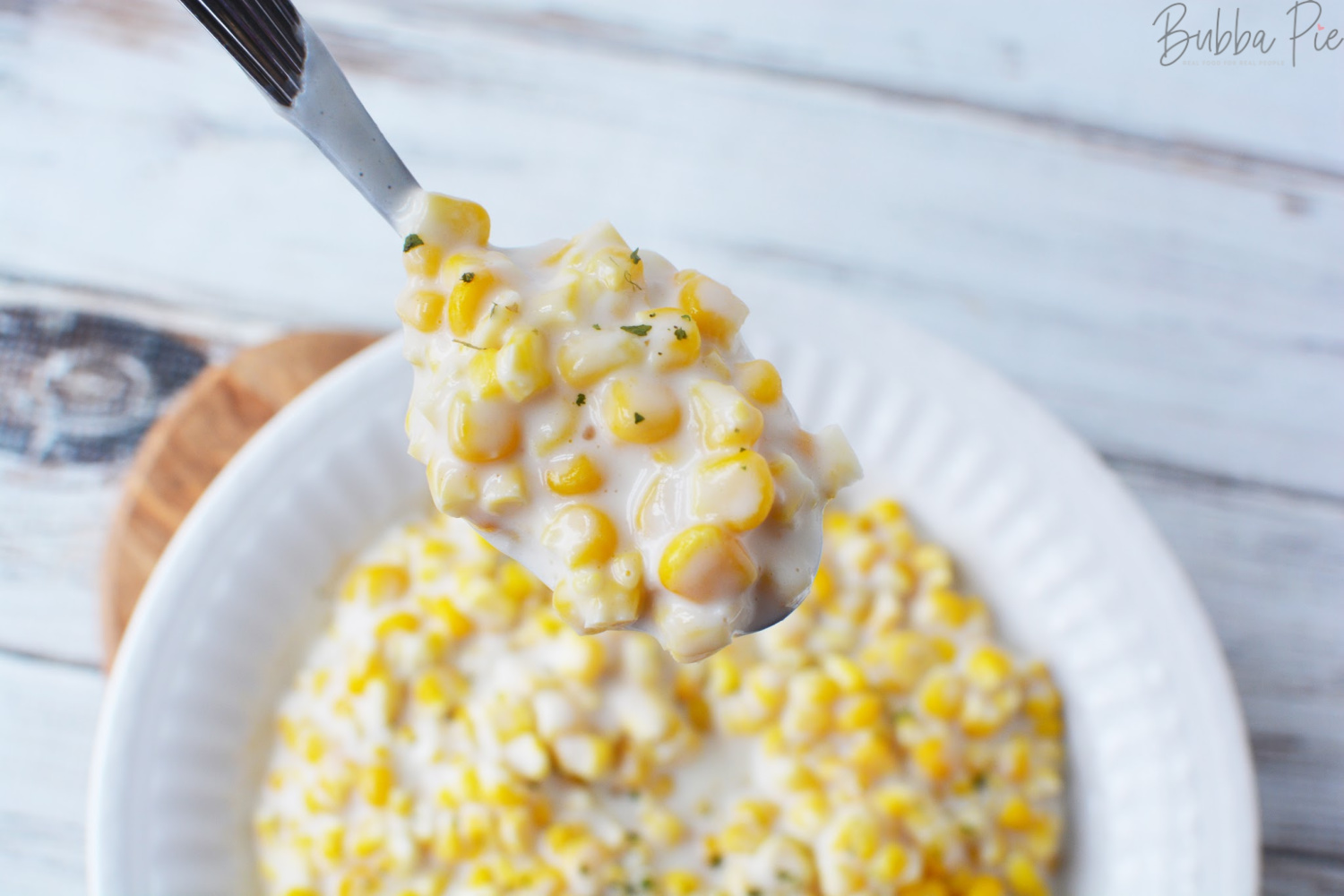 ALSO CHECK OUT OUR RECIPES FOR: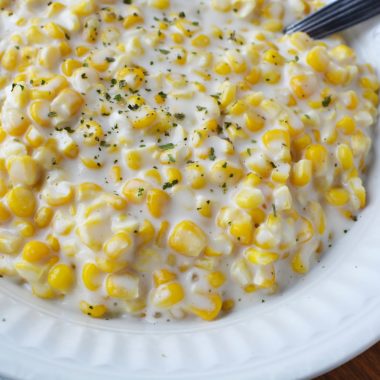 Rate this Recipe
Classic Creamed Corn Recipe
This Classic Creamed Corn Recipe is the perfect side dish for just about any occasion. From a summer cookout with friends to a Holiday celebration with loved one, this easy side dish can be ready in just minutes!
Ingredients
2

tablespoons

butter

2

tablespoons

flour

1

teaspoon

salt

1

cup

half and half

1

tablespoon

white sugar

1

package

16 oz, frozen corn
Instructions
In a saucepan, melt butter over low heat.

Stir in flour, salt and half and half.

Heat over medium heat, whisking constantly until mixture begins to thicken and bubble.

Stir in corn and sugar and continue to heat over medium low, stirring frequently until corn is no longer frozen and mixture is hot.
Nutrition
Love this recipe?
Follow @bubbapie for even more delicious recipes!!