This fresh blend of corn, tomatoes, red onion, balsamic vinegar, olive oil and other seasonings will be your new go-to summer salad! This Corn and Tomato Salad is great for parties, picnics and cookouts! Sweet corn, juicy tomatoes and crisp onions works so well together and it's totally vegan and vegetarian friendly!
ALSO CHECK OUT: 33 SUMMER SIDE DISH RECIPES!
The weather is beautiful and you are enjoying the outdoors with friends and family. You've got the grill fried up and now you just need the perfect side dish!
This Fresh Corn and Tomato Salad is just the thing! It goes great with chicken, burgers, brats, hotdogs, fish or anything on your smoker!
Fresh Side Dishes Rule!
Often times, we don't do anything too fancy on the grill. Hamburgers, hot dogs, brats… you know, the usual. But I do have a weak spot for a great, fresh, summer side dish. Sure, there is nothing wrong with the old fashioned Potato Salad. But there are so many other great side dishes for a picnic that you could make. And we've shared some awesome one's on this website. For instance, we love this Macaroni Salad With Ham and Cheese! The soft macaroni noodles and cheese coexists perfectly with the salty ham. And we also love this Rotini Pasta Salad. Fresh veggies mixed with zesty Italian Dressing and Pepperoni. Yes please! But sometimes you may not want pasta in your salad, this Mexican Fruit Salad would do just the trick! If you're looking for another fresh side dish without pasta, we've got this Corn and Tomato Salad that we want to share with you.
Corn and Tomato Salad
We love this Tomato and Corn Salad because it is so easy to make, looks delicious and is so light and fresh. The sweetness of the corn is balanced perfectly by the acidity of the balsamic vinegar and tomatoes.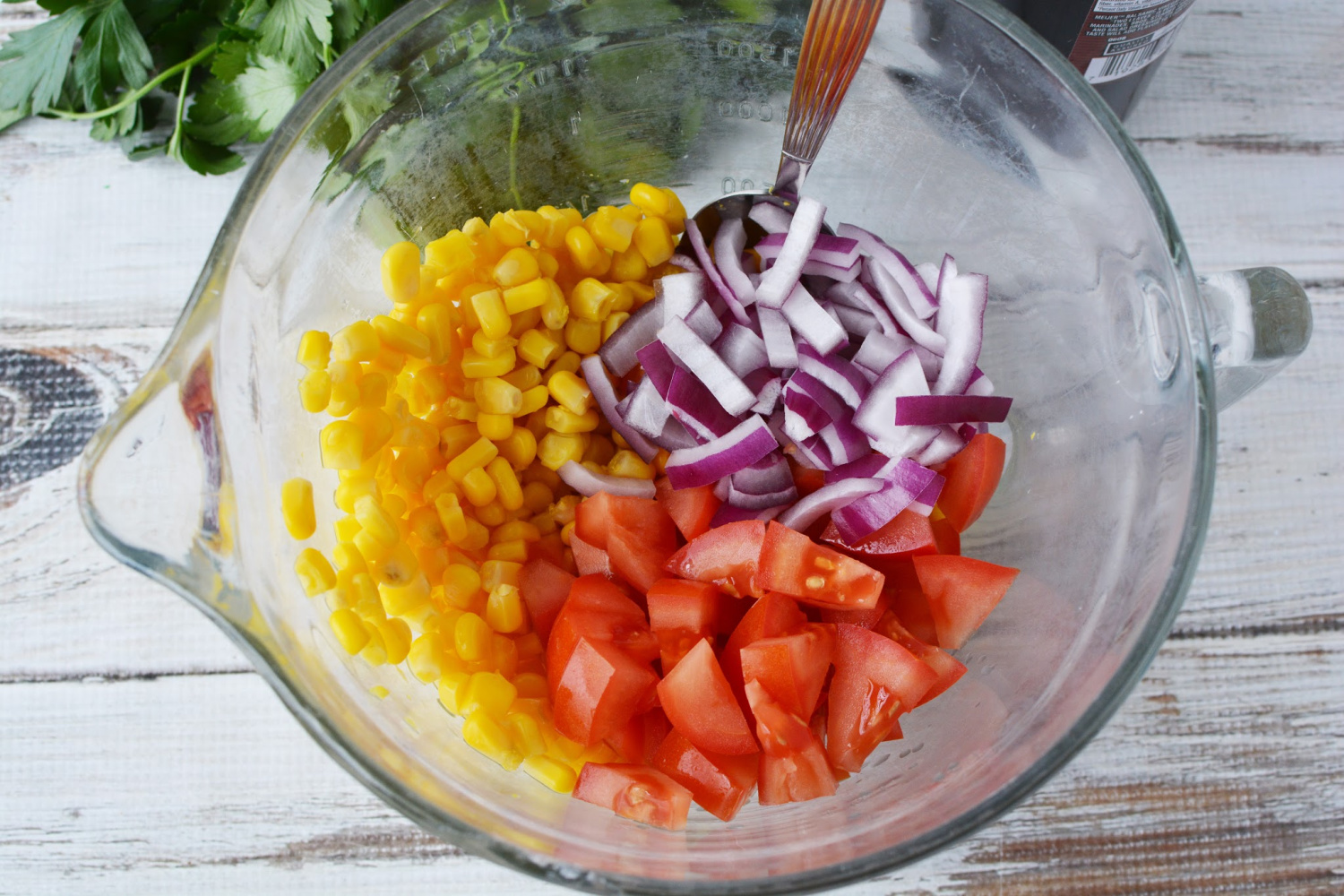 What Ingredients Will You Need?
TOMATOES – We chopped up some fresh, large tomatoes. But Grape, Cherry or Roma Tomatoes will work as well.
CORN – Canned corn. Drained. See my notes below on using fresh corn. You can also char your corn kernels in a skillet before adding it to this salad. It will be an extra step but will add a lot to the presentation and flavor.
ONION – Diced Red Onion is perfect for this recipe. You can also use chopped green onions or scallions.
PARSLEY – FRESH parsley. Chopped. You could substitute this for cilantro if you'd like.
BALSAMIC VINEGAR – The base of our homemade balsamic dressing.
OLIVE OIL – Balances the acidity of the vinegar and the tomatoes.
GARLIC – Fresh, minced garlic.
SALT AND PEPPER – To taste. Don't be shy with figuring out exactly the amount that tastes good for you in this recipe. The right amount of salt and pepper can really make or break dishes like this. We used one teaspoon of salt and 1/4 teaspoon of pepper.
Can You Use Fresh Corn For This Vegetable Salad?
Yes! You can! We used canned corn here because we like things cheap and easy (hey! What's wrong with that?!?!). But, during the summer here in the Midwest, our fresh corn is delicious. To use fresh corn cobs, I'd take about 4 stalks of corn and remove the husks. Cook them in a skillet with 2 tablespoons of olive oil over a medium heat. Cook until tender, about 8 minutes.
Do You Need To Make This Recipe Ahead Of Time?
We suggest that you let all the ingredients sit together in the fridge for at least 20 minutes in order for the flavors to get to know each other. But, probably, the longer the better (up to a point!). I like to make this morning of our gathering, cover it in a bowl and stick it in the fridge until I'm ready to serve.
Other Notes and Variations
ADDITIONS – To make this salad go a little further, add Avocado, Black Beans, Jalapenos, Bell Peppers, Feta Cheese Crumbles or Crispy Bacon.
TOPPINGS AND GARNISHES – Top with fresh cilantro, green onions, chives or red pepper chili flakes.
LIME JUICE – Squeeze some fresh limes on your salad to help keep it fresh if it will be out for a while.
Items To Help With This Recipe
MIXING BOWLS– Make sure you have a nice, large bowl to toss your ingredients in. We love this set of mixing bowls. Super colorful, easy to clean and 7 different sizes for an affordable price!
SERVING BOWLS– This set of three different size serving bowls are perfect for any occasion.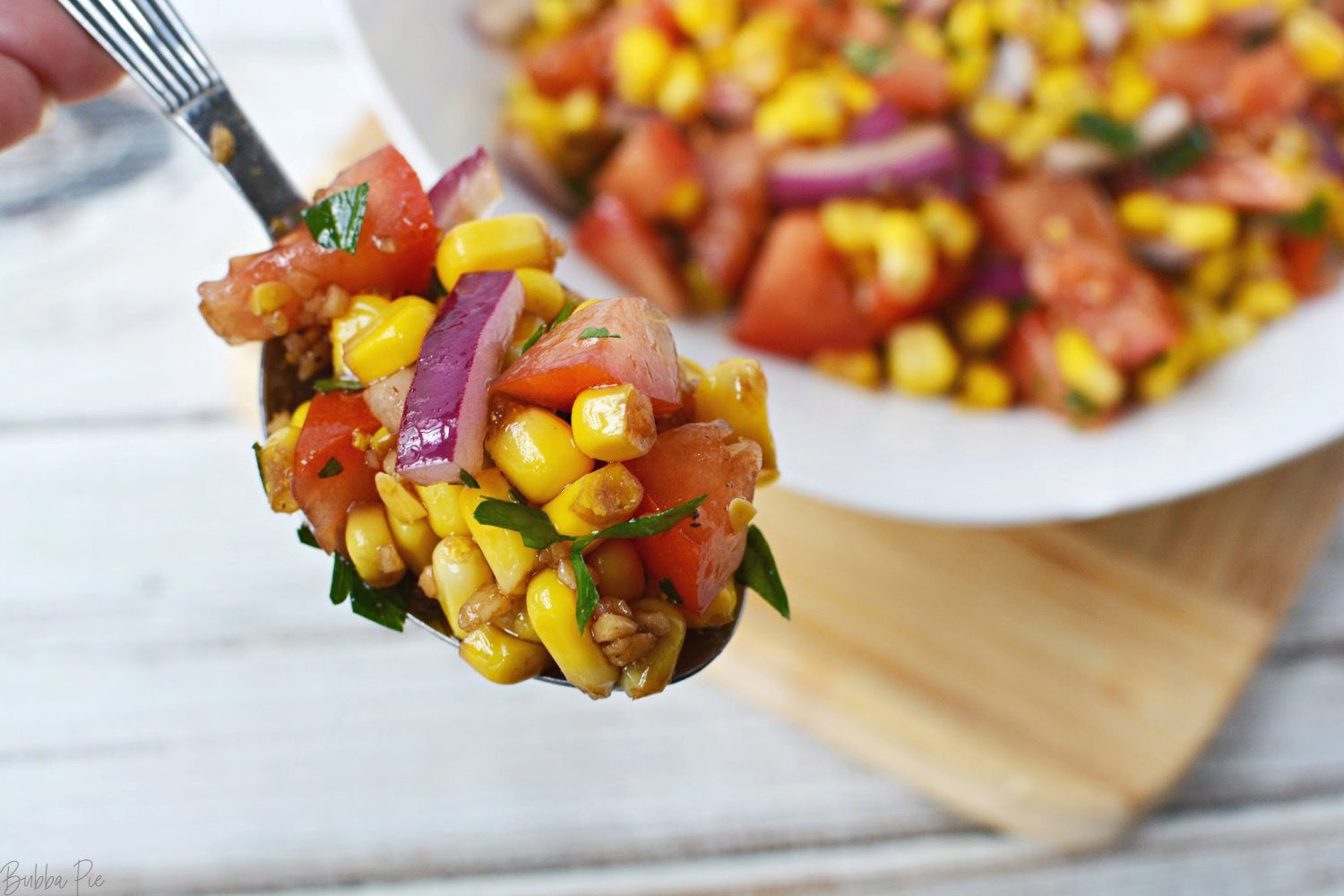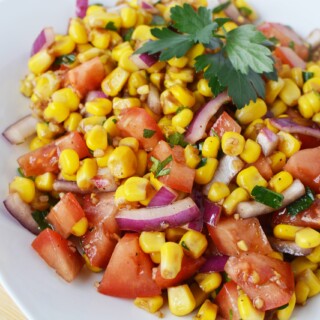 Rate this Recipe
Corn and Tomato Salad
This fresh blend of corn, tomatoes, red onion, balsamic vinegar, olive oil and other seasonings will be your new go-to summer salad! This Corn and Tomato Salad is great for parties, picnics and cookouts!
Ingredients
3

large tomatoes

chopped

2

cans

15 oz each, corn, drained

half of a red onion

diced

2

tablespoons

chopped fresh parsley

1/4

cup

balsamic vinegar

2

tablespoons

olive oil

1

tablespoon

minced garlic

1

teaspoon

salt

1/4

teaspoon

pepper
Instructions
Add tomatoes, corn and onion to a mixing bowl and mix well. Stir in parsley.

In a separate bowl, whisk together vinegar, oil, garlic, salt and pepper.

Pour over corn and tomatoes. Mix well.

Let stand for 20 minutes for flavors to mingle or refrigerate covered.

Stir well before serving. Add additional salt and pepper to taste if necessary.
Notes
There are numerous ways to spruce this salad up to your own specifications. The most important and obvious is add salt and pepper to your liking. I've found that just the right amount can really elevate a dish, this is especially true when working with vegetables. Other ideas include:
Add 1/4 cup of fresh basil.
Use cilantro instead of parsley
Add some diced avocado
Use halved grape tomatoes instead of chopped tomatoes.
Nutrition
Love this recipe?
Follow @bubbapie for even more delicious recipes!!