These Oven Roasted Green Beans are a super simple side dish using only 4 ingredients. Fresh, tender green beans are roasted to perfection with olive oil, garlic and parmesan cheese. Perfect as a holiday side dish, or just a healthy side for a family dinner!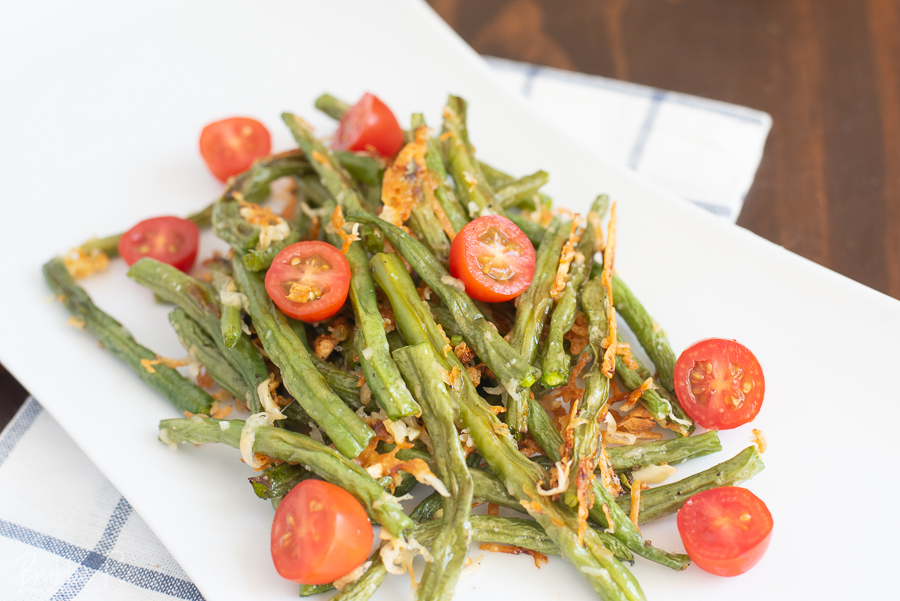 Why You Will Love Oven Roasted Green Beans
EASY – With only a handful of ingredients and a couple minutes of preparation, this is a super easy and simple dish that comes out looking so elegant, everyone will think you spent a lot more time on it! It's a fun and easy way to get your veggies!
HEALTHY – High in fiber and some essential vitamins. Green Beans can be good for your bone health and digestive system. They contain no cholesterol at all, so they are also heart healthy. We we roast them with olive oil, which is loaded with heart-healthy fats and antioxidants.
VERSATILE – This is a great recipe to have, not only because it's so quick to put together, but because it's a great side dish for so many occasions. These roasted green beans are perfect for a formal holiday dinner, or a laid back BBQ with friends and neighbors!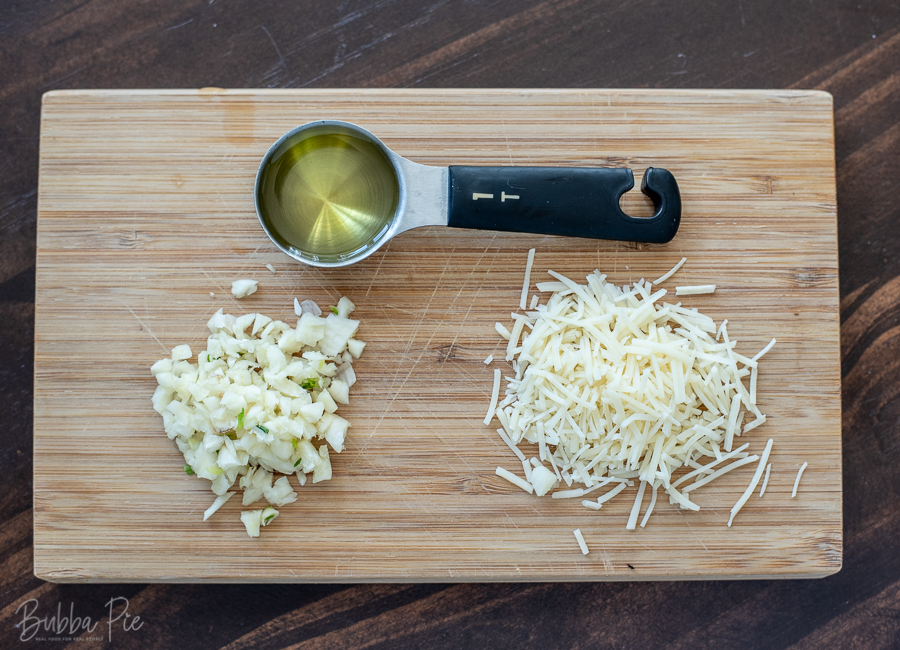 Oven Roasted Green Beans
Listen, you really don't need to do anything to special to Green Beans to get them tasting delicious. For step-by-step instructions, check out the printable recipe card below. But here is what you'll need to get started.
GREEN BEANS – You want to be really picky about selecting your green beans at the store. You want very fresh green beans. They should have a bold, vibrant green color without any blemishes on the skin.
GARLIC CLOVES – minced garlic roasted with the green beans really brings out the flavors of these vegetables.
OLIVE OIL – We like to use olive oil, but you can substitute for any other oil that you'd like.
PARMESAN CHEESE – Shredded Parmesan Cheese is sprinkled on top. When it is roasted in the oven, it crisps up and gives much add texture and flavor.
SALT AND BLACK PEPPER – As needed to taste.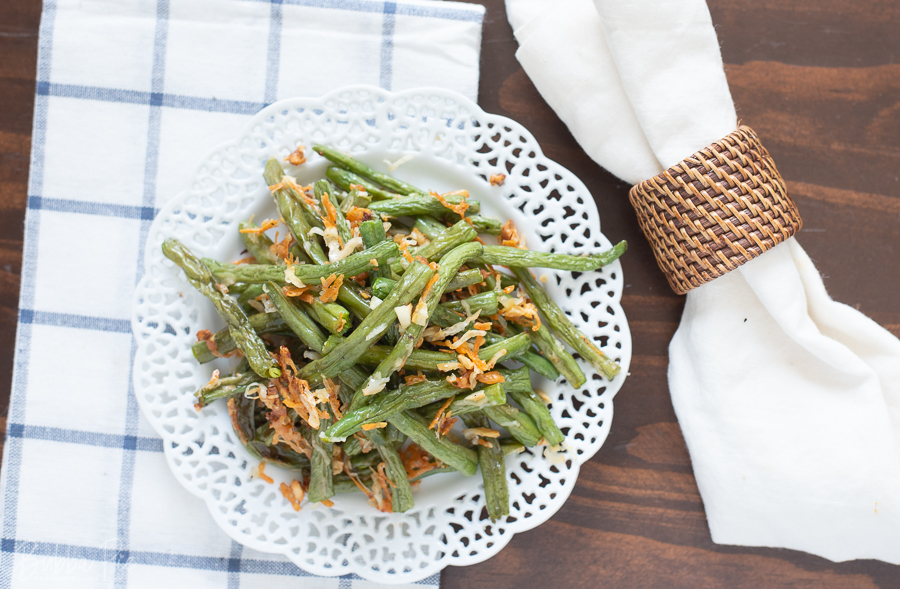 What Can I Serve These Oven Roasted Green Beans With?
These Oven Roasted Green Beans will go great with just about any main course. From a casserole dish like this King Ranch Chicken Casserole to a quick and easy weeknight dinner like these Bisquick Chicken Tenders.
But, of course, it goes best with Traditional Holiday Meals like Ham and Turkey.
Best Way To Prepare Green Beans
As we all know, the most time consuming part of making a dish with Green Beans is preparing them to cook. One end of the Green Bean has a rough tip on it, where it had grown from the plant. The easiest way that I have found to trim green beans is to rinse them all out together in a strainer under cold water. Once you are done with that, lay as many as you can side-by-side on a cutting board. Make sure they are situated so that all the rough ends are on the same side. Get a long, sharp knife and cut the tips off!
Make sure you completely dry your Green Beans before tossing them in oil and cooking them. I like to get a clean, dry kitchen towel and put them in that!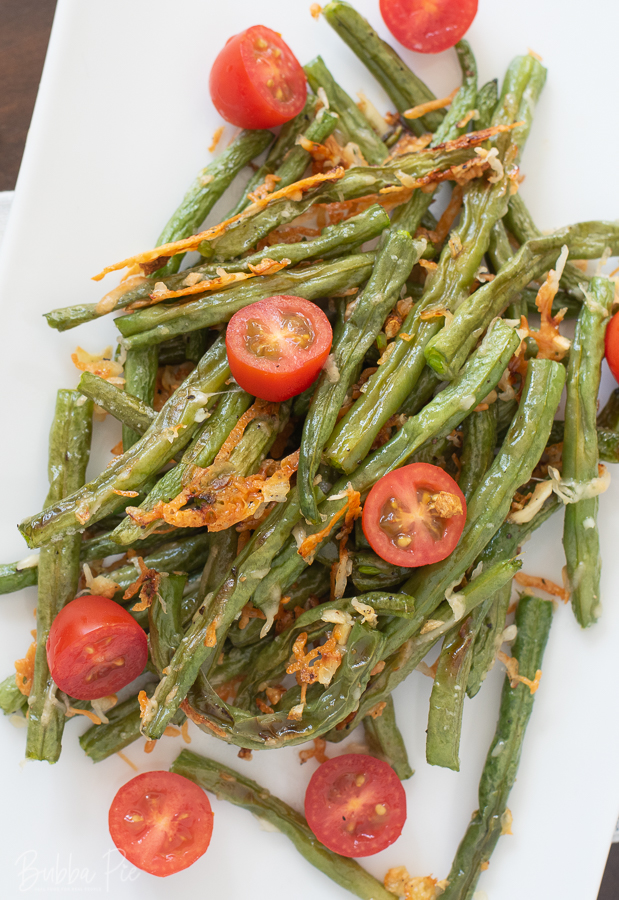 Notes, Tips and Variations
TOMATOES – After my Oven Roasted Green Beans were done, I added some fresh, sliced Cherry Tomatoes to the dish. This gives it some color and freshness, you don't need to do this. Or, you could even try putting the tomatoes in the oven and roasting them with the Green Beans!
ALL OVENS VARY – My Green Beans were done right at 18 minutes. You want to take them out just when your cheese is starting to turn golden brown on top. Don't keep them in too long and burn your garlic!
DOUBLE THIS RECIPE- If you are serving a larger crowd, this recipe is super easy to double. But you may need to use two baking sheets.
BROIL AT THE END FOR CHARRED GREEN BEANS – I did broil my Oven Roasted Green Beans on the low setting for the final minute of baking. This gave them an extra crispiness. But you don't have to do that.
I hope you enjoy this recipe for Oven Roasted Green Beans! If you give then a try, I'd love to hear how they turned out in the comments section. Thanks for reading!
LOOKING FOR ANOTHER GREEN BEAN RECIPE? CHECK OUT: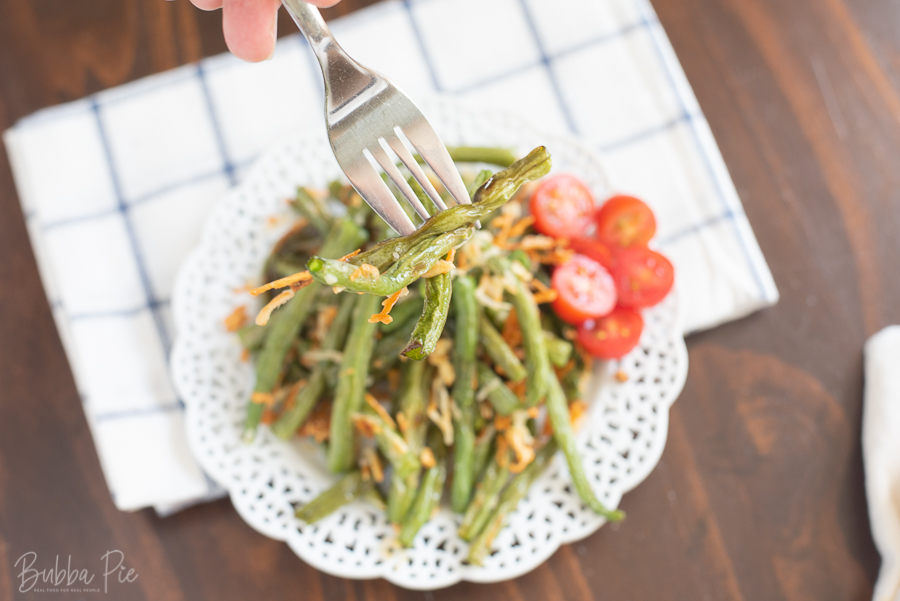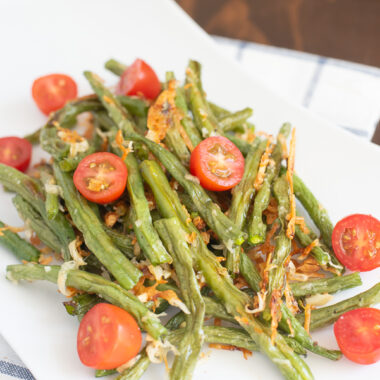 Rate this Recipe
Oven Roasted Green Beans
These Oven Roasted Green Beans a super simple to make and only take 4 ingredients. Perfect for a holiday side dish, these Green Beans are baked in the oven with some Olive Oil, Parmesan Cheese and Fresh Garlic. You need to add this to your Thanksgiving table this year!
Ingredients
1

lb

Green Beans

3

Garlic Cloves

Diced

1

Tbsp

Olive Oil

3

Tbsp

Parmesan Cheese

Shredded

Salt and Pepper to Taste
Instructions
Preheat oven to 400 degrees.

Prepare Green Beans by rinsing, cutting and drying them.

In a Medium Sized Bowl, mix the Green Beans with Garlic and Olive Oil.

Line a baking sheet with parchment paper, lay the Green Beans out in a single layer.

Sprinkle Parmesan Cheese on top of Green Beans.

Bake for 16-20 minutes, or until Cheese becomes golden brown on top.
Nutrition
Love this recipe?
Follow @bubbapie for even more delicious recipes!!