This Bacon Ranch Pasta Salad is going to be your new favorite side dish for cookouts, BBQs, potlucks and tailgating parties. Tender pasta is combined with crunchy bacon and a ranch sauce for a taste that is seriously addictive!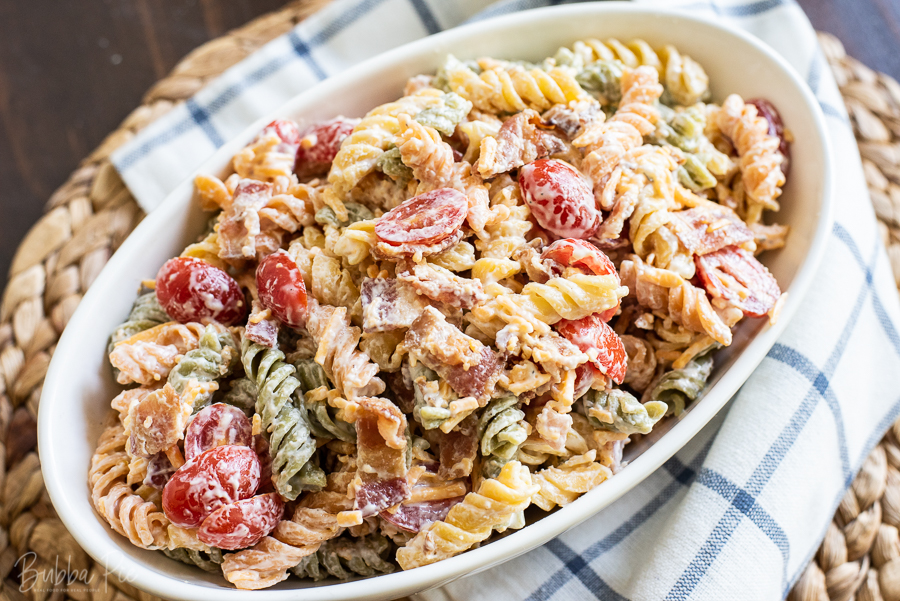 Why You Will Love Bacon Ranch Pasta Salad
EASY – This perfect side dish just takes a couple of minutes to throw together. You can cook the pasta ahead of time for even more of a head start! This is also a great recipe to make ahead of time and tastes even more delicious after sitting in the refrigerator overnight.
DELICIOUS – I mean, seriously, "Bacon" and "Ranch". Do I really need to say anything else?
NEW – There are a ton of "old fashioned" pasta salad recipes out there. But we love this one because it introduces a new spin on a classic recipe without getting too outside the box.
EASY TO IMPROVISE – We love this recipe just as written, but there are lots of ways to liven it up even more. And it's basically impossible to mess this recipe up! See below for some inspiration!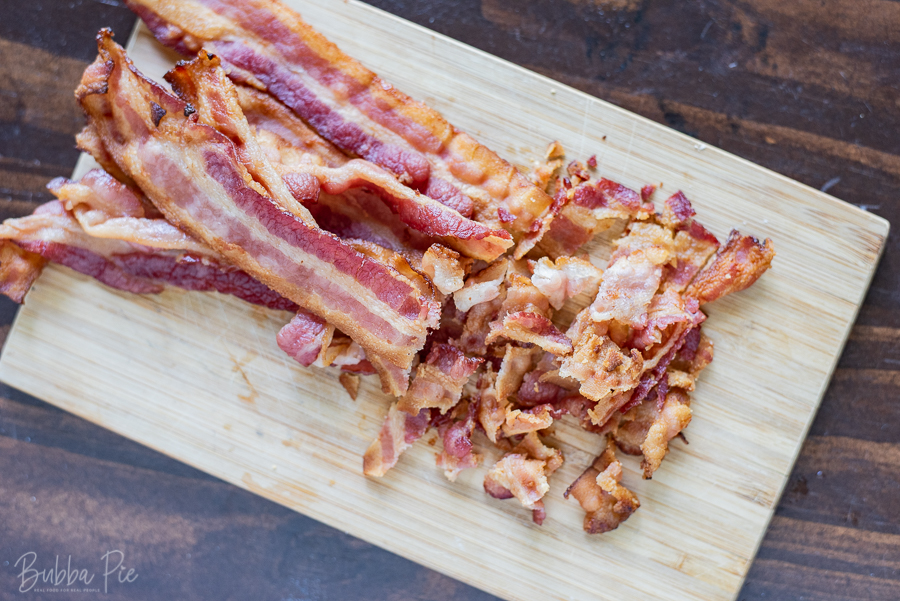 Bacon and Ranch Pasta Salad
This recipe is so easy to make. Just mix some ingredients, cook your pasta and get you bacon really crispy. Throw it all in together and let it chill in the fridge for a bit. For step-by-step instructions, check out the printable recipe card below. But here is what you will need to get started:
BACON – We recommend using higher quality, thick cut bacon for this recipe. Cook it in your desired method (it seems we all have our own favorite way to cook bacon). But you want to make sure it gets nice and crispy.
MAYONNAISE – If you are looking to shave some calories off the recipe, you can use low-fat Mayo. But it may alter the taste a bit.
SOUR CREAM – Ditto on the low-fat Sour Cream.
MILK – Add…. Ditto on the low-fat Milk!
TOMATOES – Any smaller variety, like Cherry Tomatoes or Grape Tomatoes. You could probably use a high quality Roma Tomato and dice that up. Just make sure it's not too watery.
CHEESE – We used shredded cheddar cheese. But you can use any kind that sounds good to you.
RANCH MIX – Any brand of store bought Ranch Mix Packets will do. We used Hidden Valley Ranch.
SEASONINGS – Garlic Powder and Onion Powder. You can also salt and pepper to taste.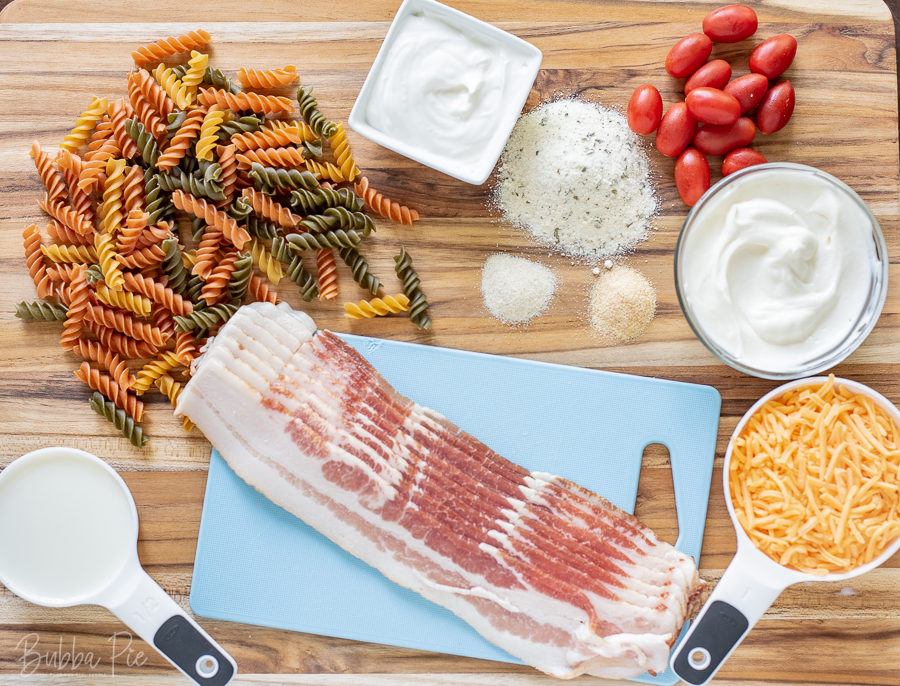 Storage, Freezing and Leftovers
Your pasta salad shouldn't be left out in room temperature for more than an hour or two. This time gets shorter if you bring it outside on a hot day.
Store leftovers in an airtight container in your refrigerator. Leftovers should be good for up to 4 days. But the bacon may start to get soft before that time.
I would not freeze Bacon Ranch Pasta Salad.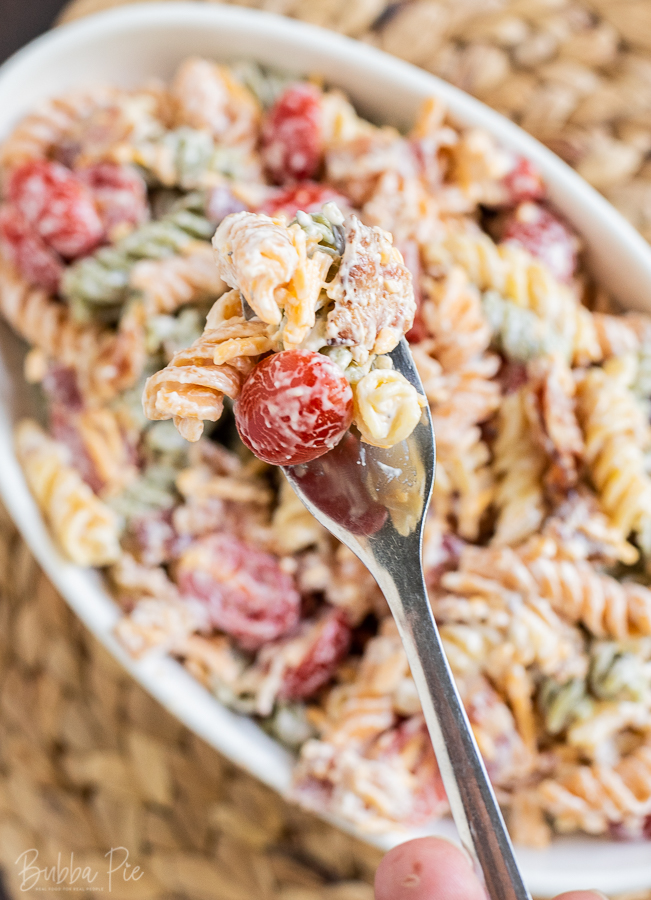 Bacon and Ranch Pasta Salad: Notes, Tips and Tricks
AL DENTE: Cook the pasta to al dente. You want it to stay nice and firm so that it won't get to soggy when mixed with all the other ingredients.
WHERE ARE THE OLIVES?: You may see some other recipes that put black olives in their dish. I am not a fan of black olives. That is the only reason that I left them out. If you want to put a 4.25 ounce can of black olives in this recipe, go for it! I won't hold it against you.
ADD PEAS: Give this dish a little extra color and flavor with some peas. Simply let some frozen peas thaw out and toss them in with the bacon, tomatoes and cheese at the end.
AVOCADO: Do you love avocado? I do! It might be a good idea to top this Bacon Ranch Pasta Salad with some fresh sliced avocado.
CUBED CHEESE: Instead of shredded cheese, go for cubed cheddar cheese in this recipe. This can give it a little more texture and bursts of cheesy flavor!
CRISPY BACON: This recipe is best with the bacon nice and crispy. Make sure you are cooking it enough. It doesn't matter if you cook it on the stove top or the oven. Me, I like to broil my bacon in the oven on low for about 10 minutes. I flip them halfway through.
PLAY WITH THE PASTA: We used Tri-Colored Rotini Pasta for this recipe. But feel free to give it a try with another type of pasta that strikes your fancy. Macaroni, penne, farfalle, bowties… Shells would be fun too!
I hope you enjoy this recipe for Bacon Ranch Pasta Salad. Let me know how it turns out for you in the comments.
LOOKING FOR MORE PASTA SALAD RECIPES? CHECK OUT: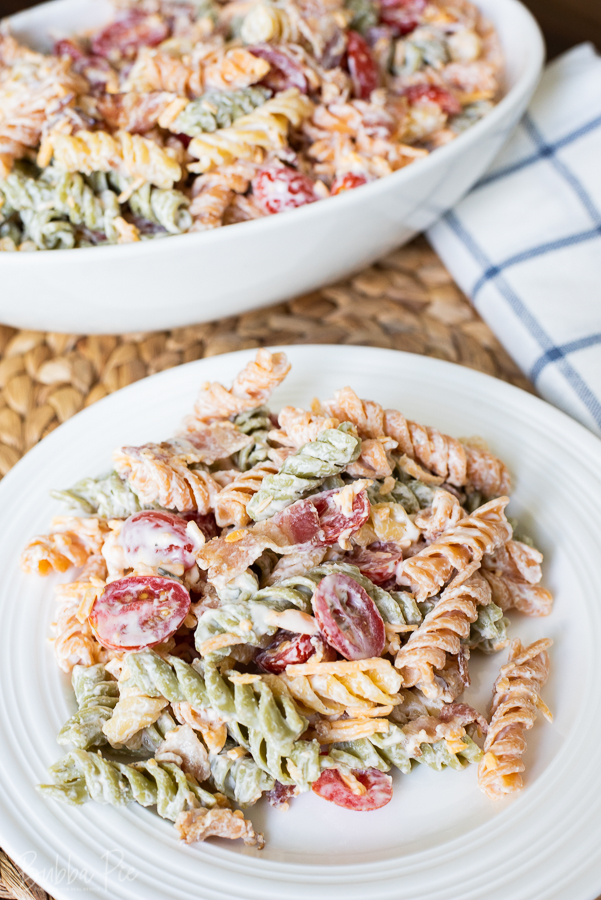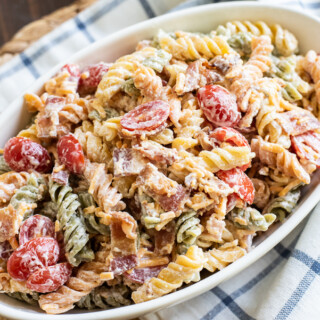 Rate this Recipe
Bacon Ranch Pasta Salad
This Bacon Ranch Pasta Salad is going to be your new favorite side dish for cookouts, BBQs and tailgating parties. Tender pasta is combined with crunchy bacon and a ranch sauce for a taste that is seriously addictive!
Ingredients
12

ounces

Tri-Colored Rotini Pasta

10

strips

Bacon

3/4

cups

Mayonnaise

1/4

cup

Sour Cream

1/2

cup

Milk

3/4

cups

Cherry or Grape Tomatoes

1

cup

Shredded Cheddar Cheese

1

package

Ranch Mix

1/2

tsp

Garlic Powder

1/2

tsp

Onion Powder
Instructions
Cook pasta in boiling water for about 8 minutes or until Al Dente.

In a large bowl, combine Mayonnaise, Sour Cream, Milk, Ranch Seasoning, Garlic and Onion Powder.

Cook bacon until it is nice and crispy. Chop into small pieces.

Rinse pasta in cold water to cool it off. Pour it into the bowl with the wet ingredients and mix together.

Add bacon, tomatoes and cheese, mix together.

Put in the refrigerator for no less than two hours.
Nutrition
Love this recipe?
Follow @bubbapie for even more delicious recipes!!