These Ranch Roasted Potatoes are an easy side dish any meal! From a weeknight dinner to a fancy holiday meal, this dish will go with just about anything. With only three ingredients, they are full of flavor and are perfectly crispy!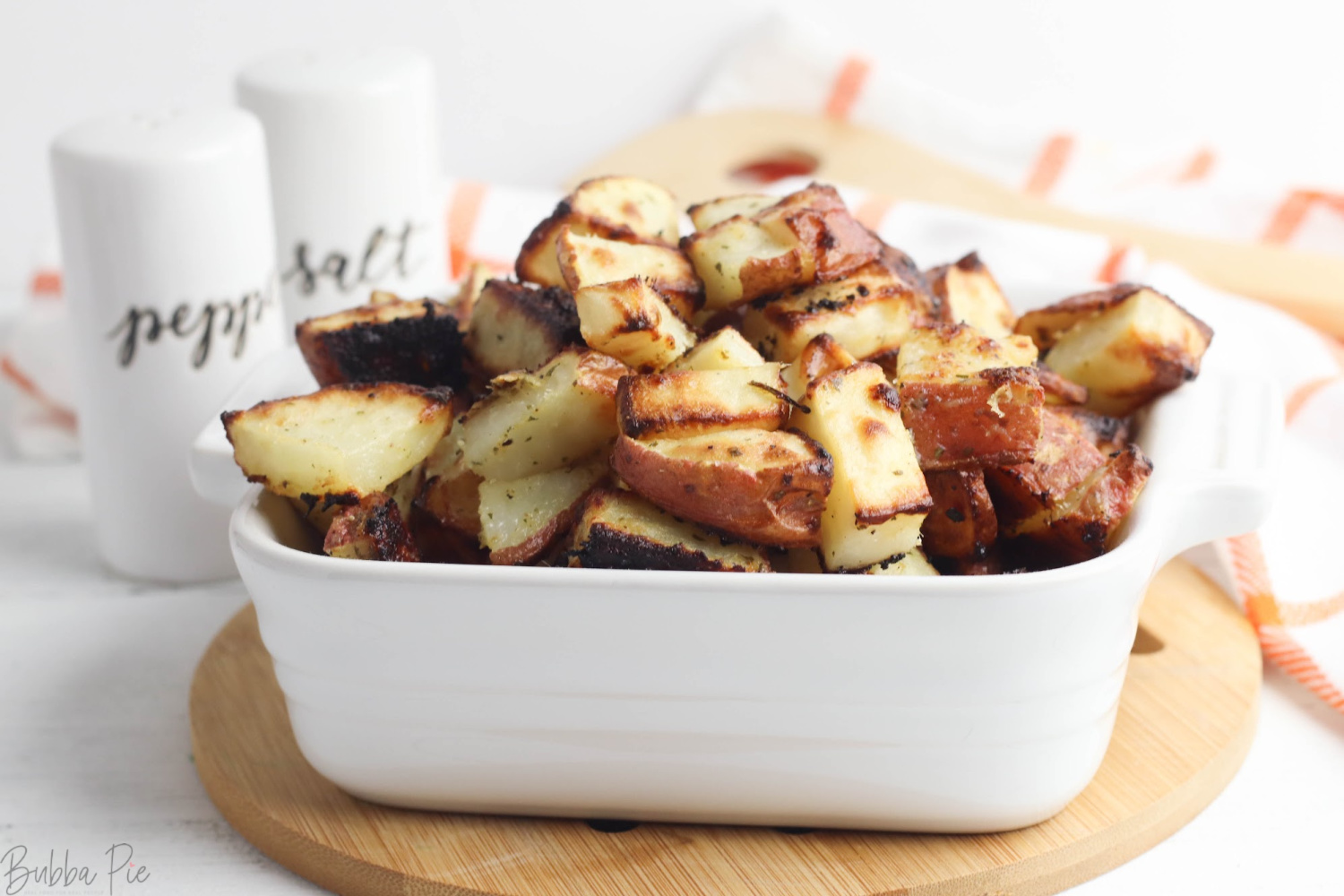 Who Doesn't Love Ranch?!?!
Actually, my brother doesn't like ranch.. But he is the ONLY one I know that doesn't love to dip just about anything in Ranch Dressing! With just about anything, if you cover it in Ranch, it simply becomes better! And that is certainly true of the potato! I love dipping my french fries in some Ranch! So, I knew these Roasted Ranch Potatoes would be a hit!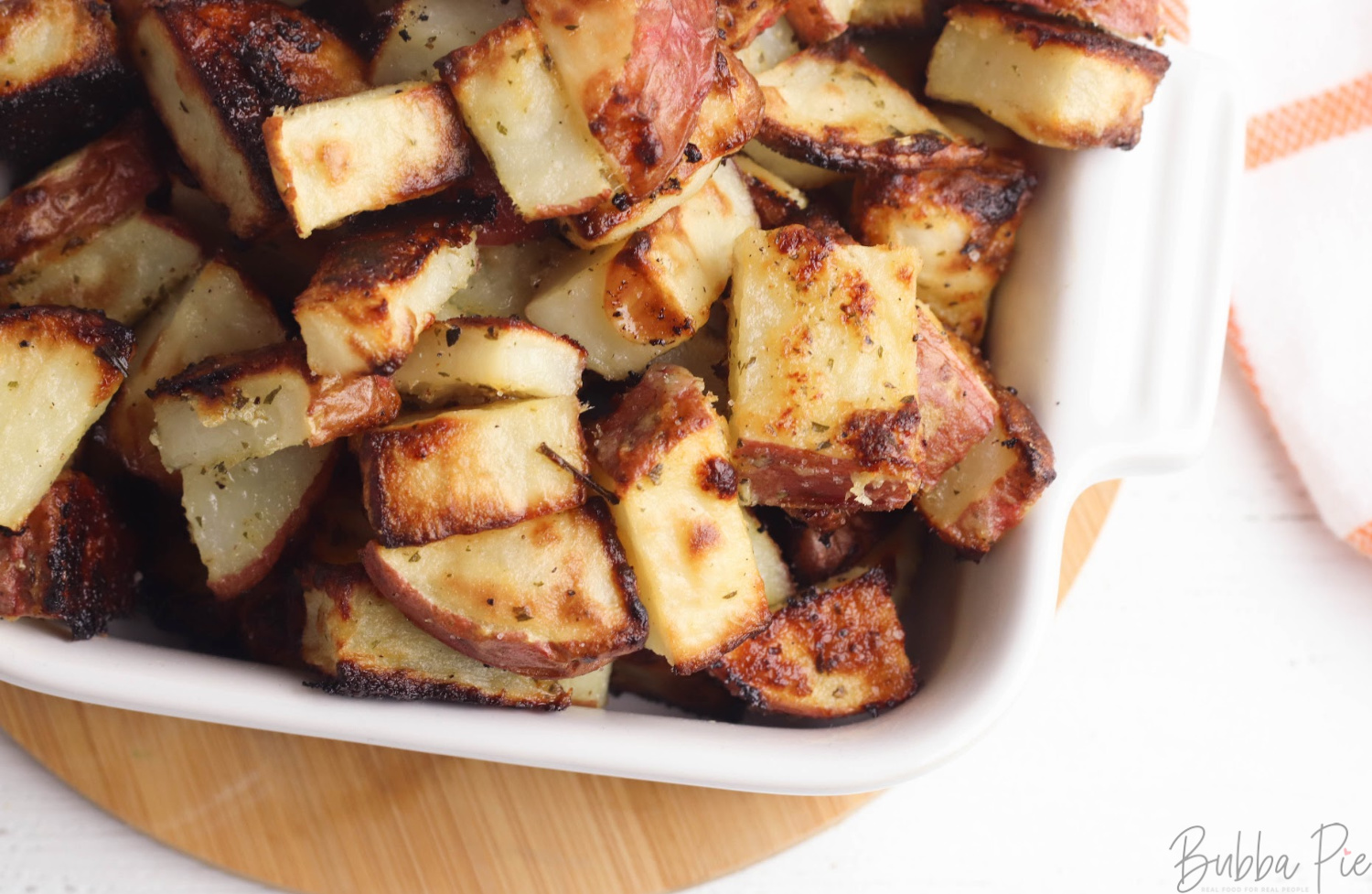 Ranch Roasted Potatoes
The good news is that you only need three ingredients to make these Ranch Roasted Potatoes.  And the better news is is you probably already have them in your kitchen! Just grab some olive oil, ranch seasoning and salt to taste (optional) and your ready to go!
These are great because you can make them during the summer to go with some grilled chicken, as a quick side for a busy weeknight meal or even bring them as a side dish to a holiday potluck or pitch-in! They will go with just about anything for any occasion!
Do You Need To Use Red Potatoes?
We used Red Baby Potatoes for this recipe. But Yellow Baby Potatoes will work fine as well. Or, if you just have some Russets or Bakers, you can chop them up into smaller pieces and make this dish. Just make sure the potatoes aer all as close to the same size as possible so they have the same baking time.
It also doesn't matter if you keep the skin on or take it off. Either works.
Air Fryer Recipe
Roasting these Potatoes works great! But they are also delicious in the Air Fryer. Simply treat the potatoes as directed in the recipe. But cook in a preheated Air Fryer at 400 degrees for 17-20 minutes.
Notes, Tips and Variations
ADD BACON OR GARLIC? – If you are looking for even more flavor, you can add crumbled, crispy bacon to this recipe. Or add 1 tsp of Garlic Powder to the Ranch Seasoning. Or, even better, take a clove of garlic and finely mince it and toss it with the oil and Ranch Seasoning before roasting.
USE ZIPLOCK BAG– Rather than mixing the potatoes in a large bowl, you could shake them to coat in a large Ziplock Baggie.
AVOID STICKING – When putting them on the baking sheet, make sure to use a cooking spray, parchment paper or silicone mat to avoid them sticking to the baking sheet.
Let me know how they work out for you. Enjoy!
LOOKING FOR MORE POTATO DISHES? CHECK OUT OUR: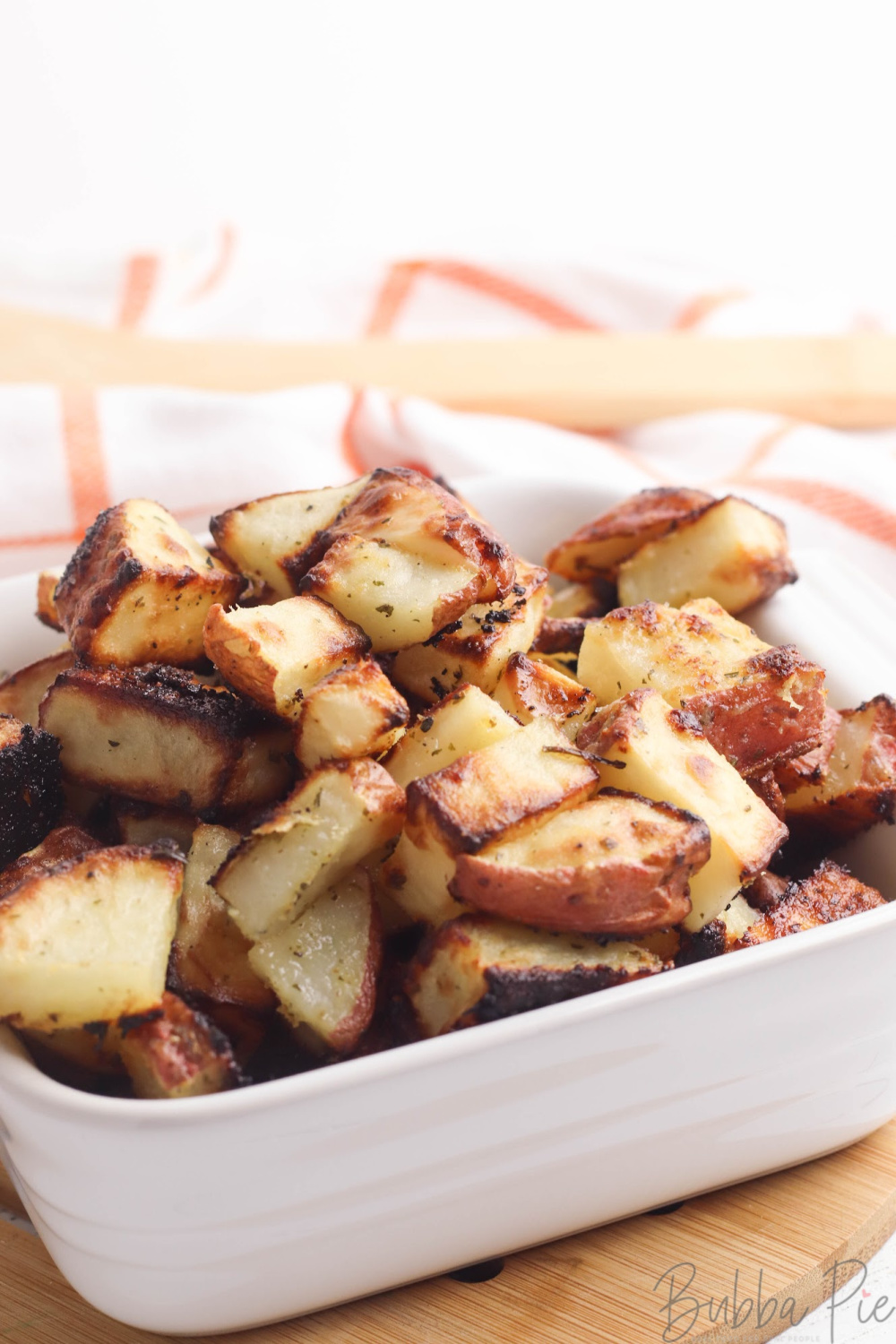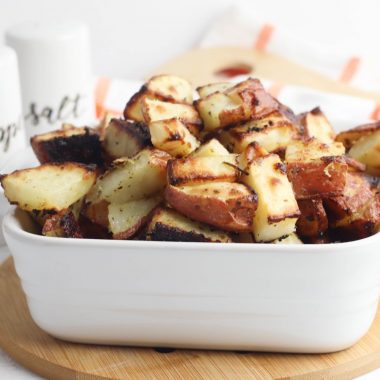 Rate this Recipe
Ranch Roasted Potatoes
These Ranch Roasted Potatoes are the perfect side dish any meal! From a weeknight dinner to a fancy holiday meal, this dish will go with just about anything. These baked Red Potatoes have a zesty taste of ranch to make everyone have to go back and get seconds!
Ingredients
2

pounds

red potatoes

cut into bite-sized pieces

1

tablespoon

olive oil

1

package ranch dressing mix

Salt to taste
Instructions
Preheat oven to 400 degrees.

Place Potatoes in bowl. Add olive oil and stir to coat.

Season with ranch dressing mix. Stir to coat the potatoes in seasoning.

Spread the potatoes in a single layer over a large baking sheet. Sprinkle salt on top to taste.

Bake in preheated oven for 30 minutes, until potatoes are golden brown.
Nutrition
Love this recipe?
Follow @bubbapie for even more delicious recipes!!