This Easy Creamed Spinach Recipe is a classic homemade side dish recipe that works for just about any occasion, from the Holidays to a weeknight family meal!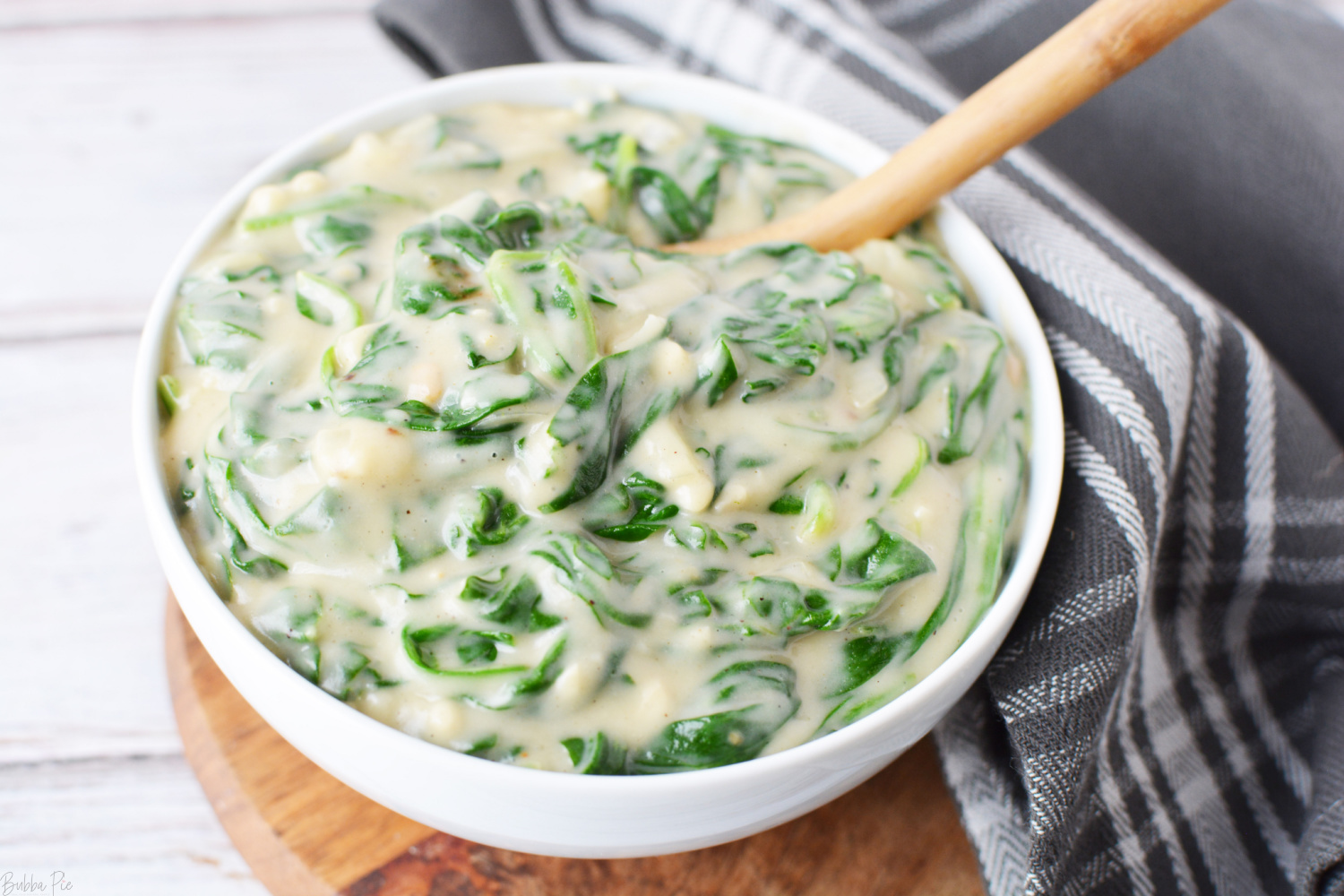 Creamed Spinach
Even if you aren't a huge fan of Spinach (disclaimer: I LOVE spinach) you will love this recipe. It's creamy, rich, silky and smooth and full of flavor! I promise you won't even consider this a "Spinach" dish after you've tried it.
I love that it's packed with basic, wholesome, hearty and homemade ingredients that you probably already have in your kitchen! And it's something that you can stir together in minutes.
It's a popular Holiday Side Dish, but it's really at home on your dinner table anytime during the year! And it's a Low Carb dish too, so it's great if you are trying to reduce carbohydrates.
Vegetable Side Dishes
We are always on the lookout for fun versions of classic, homemade comfort food here at Bubba Pie. One of our favorite dishes to look for are side dishes. We often love them just as much, if not more, that a main course!
And vegetable side dishes rule! From Honey Glazed Carrots, and Cheesy Fried Grit Cakes to Cauliflower Au Gratin and Green Bean Casserole, the perfect side dish can make all the difference!
Two of our most popular Vegetable Side Dishes is our Creamed Peas and Creamed Corn. So, we thought we'd share a similar recipe today with our Classic Creamed Spinach!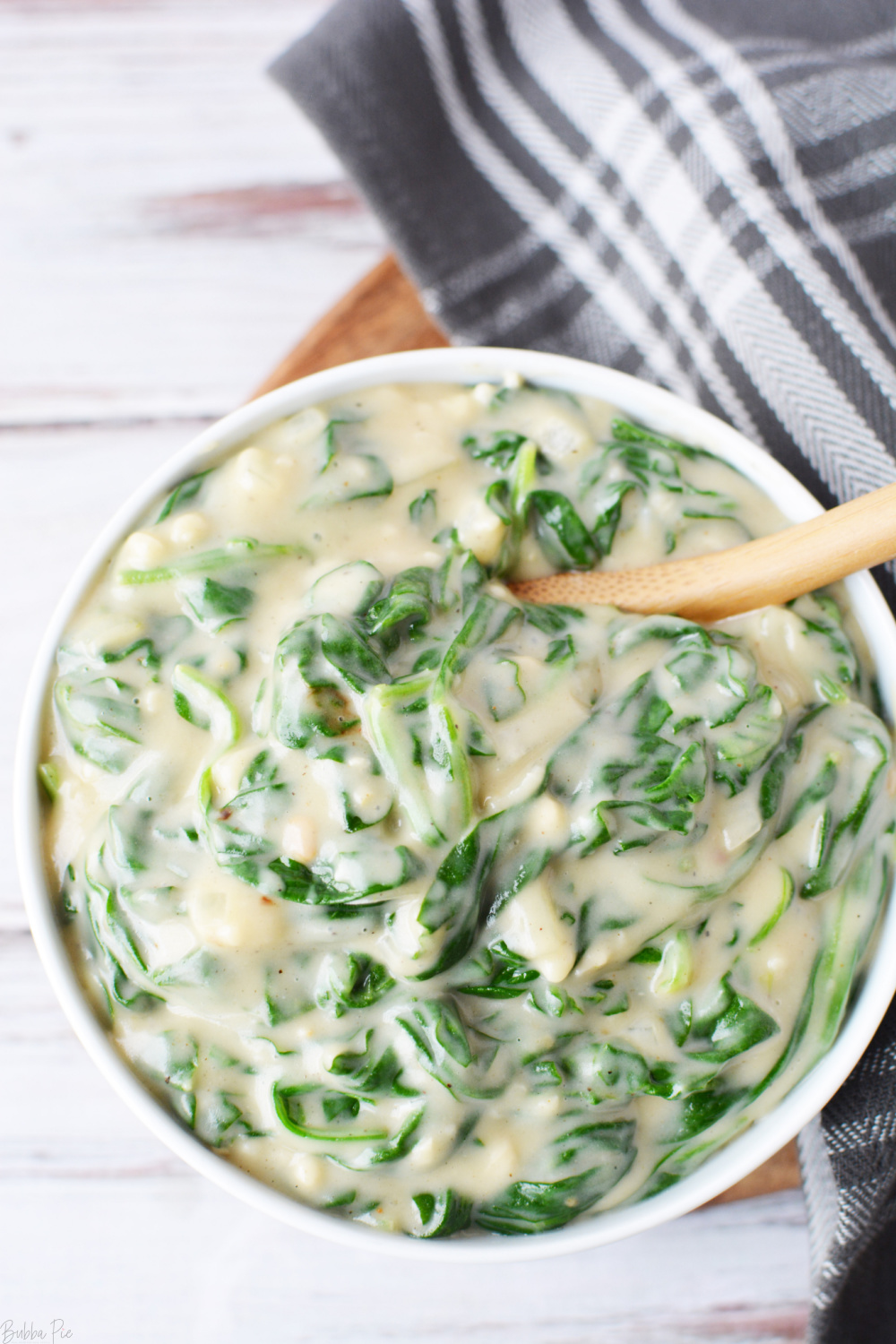 HERE ARE THE INGREDIENTS YOU'LL NEED TO GET STARTED:
1/2 stick, 4 tablespoons butter
4 tablespoons flour
1/4 cup diced onion
1 tablespoon minced garlic
1 cup whole milk
salt and pepper
pinch ground nutmeg
2 tablespoons butter
1 package, 8 oz, fresh spinach
What To Serve With Creamed Spinach
This side dish goes with so many meals, from formal holiday fare to laid back cookouts in your backyard. We like to serve ours with Pork Chops, Salmon, Ham and it goes great with Thanksgiving Turkey!
Creamed Spinach Notes, Tips and Suggestions
CAN YOU USE FROZEN SPINACH?– Yep! You sure can. Just make sure you thaw it out and get as much moisture out as possible. You can thaw frozen spinach pretty quickly by running it under warm water. Make sure you drain it, squeeze it and pat it with a paper towel.
MAKE IT EXTRA CREAMY?- We used whole milk for this recipe. You can sub for half and half or even heavy cream to make this dish even creamier. Obviously, the scale in your bathroom may not appreciate this substitution, but your taste buds will. I would not sub for anything "skinnier" than whole milk in this recipe (2%, non-fat, etc.. ).
SALT AND PEPPER-  This is one of those recipes that when we say "salt and pepper to taste" we really mean it. Putting the right amount of salt and pepper in this dish can really make it shine. So, don't be shy about tasting it as you are seasoning it!
LEFTOVERS?– Keep leftovers in your refrigerator in an airtight container. Reheat them in the microwave. It's great to throw leftovers into some pasta! I would not freeze this recipe.
GARNISH – This recipe is great to top with cheeses. Parmesan cheese would be delicious!
ADD HEAT – Some people like to add a pinch of cayenne pepper to this dish to add a little kick!
Tools To Help With This Recipe
I hope you enjoy this Creamed Spinach Recipe. Let me know how it turns out in the comments below! Happy Eating!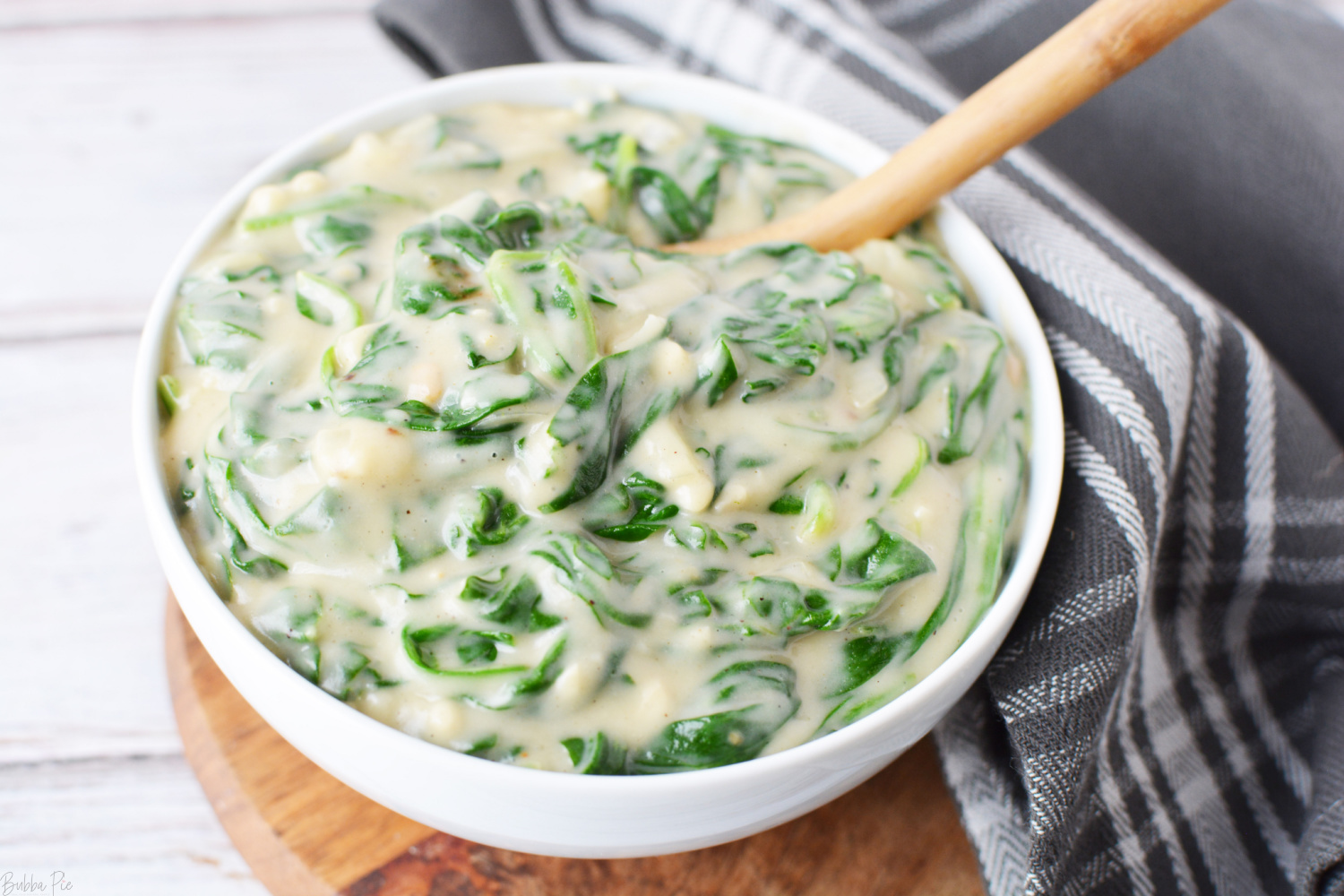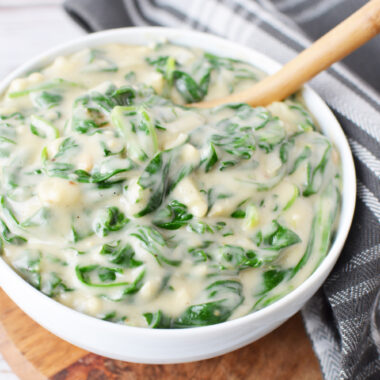 Rate this Recipe
Creamed Spinach
This Creamed Spinach is a classic homemade side dish recipe that works for just about any occasion, from the Holidays to a weeknight family meal!
Ingredients
1/2

stick

4 tablespoons butter

4

tablespoons

flour

1/4

cup

diced onion

1

tablespoon

minced garlic

1

cup

whole milk

salt and pepper

pinch

nutmeg

2

tablespoons

butter

1

package

8 oz, fresh spinach
Instructions
Add butter and flour to a skillet and heat until hot and thick, about 3 minutes. Add onion and garlic and cook for 1 minute more.

Add milk and heat on low, whisking frequently until thickened. Season with salt, pepper and nutmeg.

In a separate skillet, add butter and spinach and heat until wilted.

Add to the cream mixture and mix well. Cook on low until heated through. Serve immediately.
Love this recipe?
Follow @bubbapie for even more delicious recipes!!