Check out these 19 Fun and Easy BBQ Desserts! The weather is getting warmer and it's about time to fire up that grill and invite friends and family over! From Pretzel Salads and Lemon Tarts to Dessert Salads and No Bake Pies, here are some of our Favorite Cookout Desserts!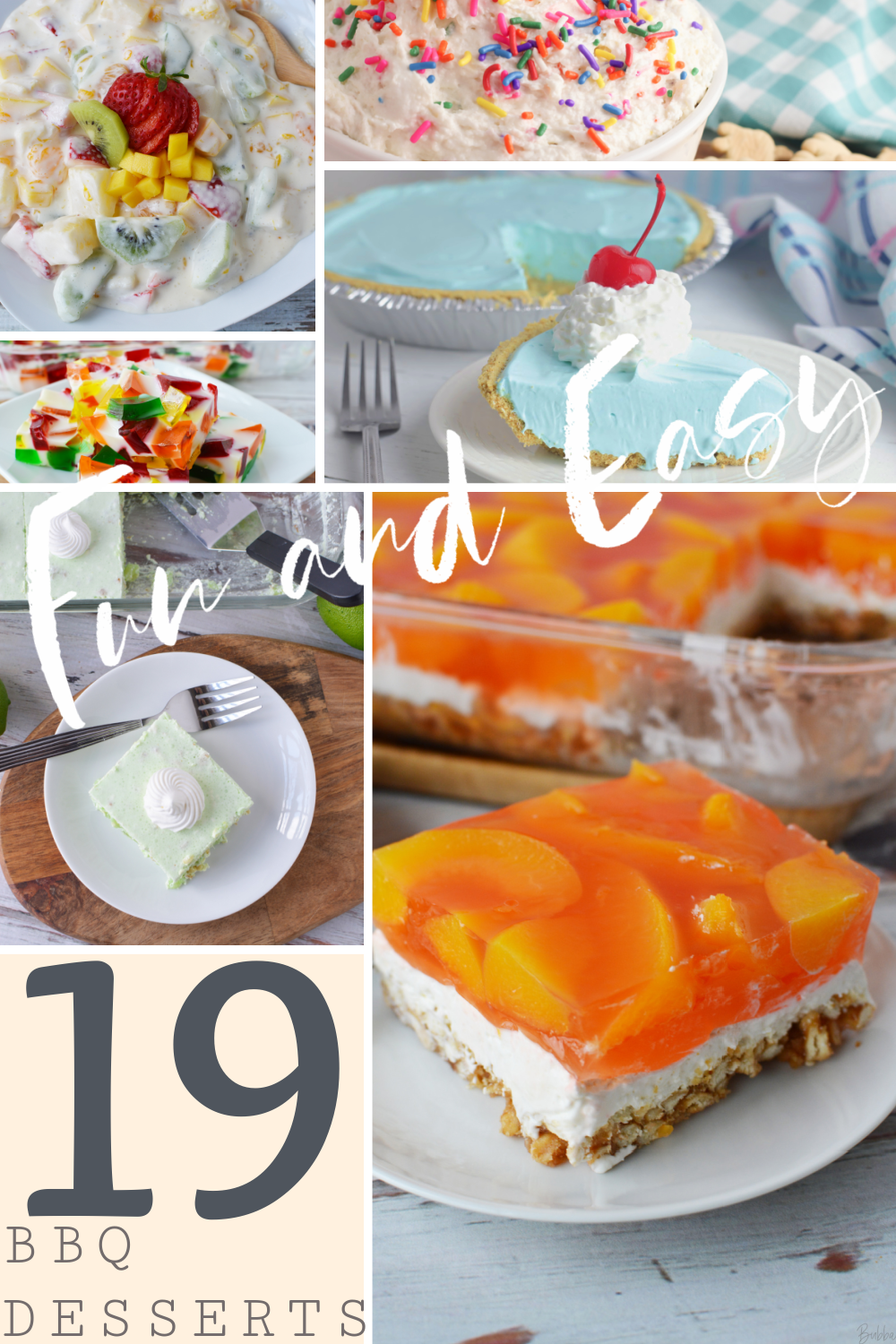 ALSO CHECK OUT:
We live here in the Midwest, and when the weather starts to finally get warmer, and the sun spends a lot less time behind the clouds, we look for any excuse to be outside!
There is no better excuse to be outside than to hang out with loved ones on our deck, enjoying food, music, conversation and laughter!
Often during cookouts and BBQs, a lot of attention is paid to what is going on the grill. Or even what sides you'll be having! Here at Bubba Pie, we'd like to cry foul to all that! What about the dessert!?!?! Over the past couple years, we've shared a TON of desserts that would be perfect for a cookout! Whether they are nice and cold or perfectly light or fruity, all these dessert recipes will hit the taste buds just right on a summer day outside. Take a look below and let us know in the comments which one you're most excited about trying out!
19 Fun and Easy BBQ Desserts
NO BAKE KOOL-AID PIE– This No Bake Kool Aid Pie uses just four ingredients and is so easy and simple to make. Light, creamy Kool Aid and Whipped Topping are layered onto a crispy graham cracker crust. Yum! Only takes 4 ingredients and 10 minutes of prep! We used Mixed Berry Kool Aid mix but you can use any flavor you want!
NO BAKE BANANA CREAM PIE– This quick and easy banana cream pie recipe will give you an old fashioned dessert in no time! Using vanilla instant pudding mix and a premade graham cracker pie crust makes this recipe a breeze! Top with with fresh bananas or even vanilla wafers, coconut flakes or chocolate chips for some added flair!
LIME JELLO SALAD- This Lime Jello Salad is an old fashioned dessert just like grandma used to make! Lime Jello mixed with cream cheese, crushed pineapple and a whipped topping. Light, fluffy and perfectly sweet and tangy, it's  an easy no bake dessert that is perfect for picnics, cookouts, pitch ins or potlucks.
EASY FINGER JELLO– Perfect for little hands and big hands alike, this Finger Jello is a classic treat that is easy to make and tweak for whatever occasion you need! It's wiggly, jiggly and full of fun fruit flavor!
STRAWBERRY PRETZEL SALAD– Check out Grandma's Strawberry Pretzel Salad Recipe! This delicious dessert has a light Strawberry topping layered on a crispy pretzel crust. The combination of sweet and salty makes my taste buds happy! This is a great dessert recipe for any occasion, from a holiday celebration to a fun summer picnic!
CARAMEL APPLE SALAD– This Caramel Apple Salad would be a great Fall recipe, but is great anytime of the year. Crisp, tart apples, pudding, peanuts, pineapple all with a nice whipped topping mixed in, topped with sweet and sticky caramel. What's not to love!?!
MEYER LEMON COOKIES– These Meyer Lemon Cookies are slightly chewy with nice, crisp edges. They are perfectly sweet with just the right amount of tart, zest and fresh citrus flavors! A perfect dessert for any cookout or BBQ! You won't be able to have just one!
PEACH PRETZEL SALAD– This Easy Peach Pretzel Salad is a simple, delicious dessert for just about any occasion. The sweet, light and creamy Jello and Whipped Topping pairs perfectly with the crunchy, salty Pretzel Crust.
HOMEMADE ICE CREAM SANDWICHES– This Homemade Chocolate Ice Cream Sandwich Recipe is the perfect cool treat for these hot summer days. Soft and chewy chocolate cookies sandwich smooth vanilla ice cream (or whatever flavor you prefer!). Enjoy them right away or freeze them for later!
MINI STRAWBERRY LEMON TARTS– Using only 6 ingredients, this Mini Strawberry Lemon Tart Recipe is a fantastic dessert option for any occasion. From a formal holiday dinner to a casual summer picnic, this mix of tart lemon custard and fresh sweet strawberries is delicious! And, made as mini tarts, they are easy to serve and share!
PINEAPPLE DREAM DESSERT– This Pineapple Dream Dessert Is a light, fluffy and delicious treat that is perfect for just about any occasion. It's a SUPER easy dessert that takes just minutes to put together with a cream cheese layer, graham cracker crust and light whipped topping!
FUNFETTI DIP– This Funfetti Dip is an easy, yummy BBQ dessert! It's a no bake dessert dip with colorful sprinkles, cake mix and tons of sweet flavor! Great for birthday parties, baby showers, graduation parties or any festive occasion!
NO BAKE BIRD'S NEST COOKIES– These easy No Bake Easter Treats are made with Vanilla Oreos and topped with candy eggs to look just like cute little bird nests.
NO BAKE BLUEBERRY CHEESECAKE– This blueberry no bake cheesecake is so easy! Don't worry or stress about your cheesecake cracking with this recipe! It comes out so light, smooth and creamy, it will change the way you think about cheesecakes! We use a store bought blueberry topping for this version, but I also included a recipe if you want to making your own!
NO BAKE PEANUT BUTTER COOKIES– These classic Peanut Butter No Bake Cookies are easy to make with simple ingredients.  They are the perfect quick dessert to prepare when you are short on time.
NO BAKE STRAWBERRY JELLO COOL WHIP PIE– This Strawberry Jello Cool Whip Pie is a super easy No Bake Recipe that makes it one of our favorite BBQ desserts! It uses only 4 ingredients (and one of those is water!). You can prep it in under 15 minutes and it makes the perfect summer dessert recipe for cookouts, picnics and fun family gatherings!This Strawberry Jello Cool Whip Pie is a super easy No Bake Recipe that uses only 4 ingredients (and one of those is water!). You can prep it in under 15 minutes and it makes the perfect summer dessert recipe for cookouts, picnics and fun family gatherings!
BROKEN GLASS JELLO– This Broken Glass Jello will definitely turn heads at your next birthday party, pitch in, potluck or picnic. Everyone will ask how in the heck you made it! Secret: It's not that hard at all, it just takes a little planning! 4 colorful different flavors of Jello Cubes are suspended in unflavored gelatin to make this fun and delicious chilled dessert that is perfect for any occasion! Read below, and we will walk you through the whole process!
HAWAIIAN CHEESECAKE SALAD– This easy Hawaiian Cheesecake Salad Recipe mixes exotic tropical fruit with a delicious creamy cheesecake filling. This recipe is so quick and easy and only used a handful of ingredients to transport your taste buds to your very own Hawaiian paradise!
PINEAPPLE  PRETZEL SALAD– This light, fluffy Pineapple Pretzel salad has the perfect combination of sweet pineapple and salty pretzels.  A wonderful spin on the classic strawberry dessert salad, it is the perfect dessert recipe for any occasion.
We hope you enjoy the great weather, the cookouts, the picnics and, best of all, all these yummy BBQ desserts!
Happy Eating!