This classic recipe for Creamed Peas is as easy as it gets! Ready in minutes, frozen peas are cooked on your stovetop in a creamy, white sauce for a deliciously smooth and slightly sweet old fashioned side dish! Perfect for the Holidays!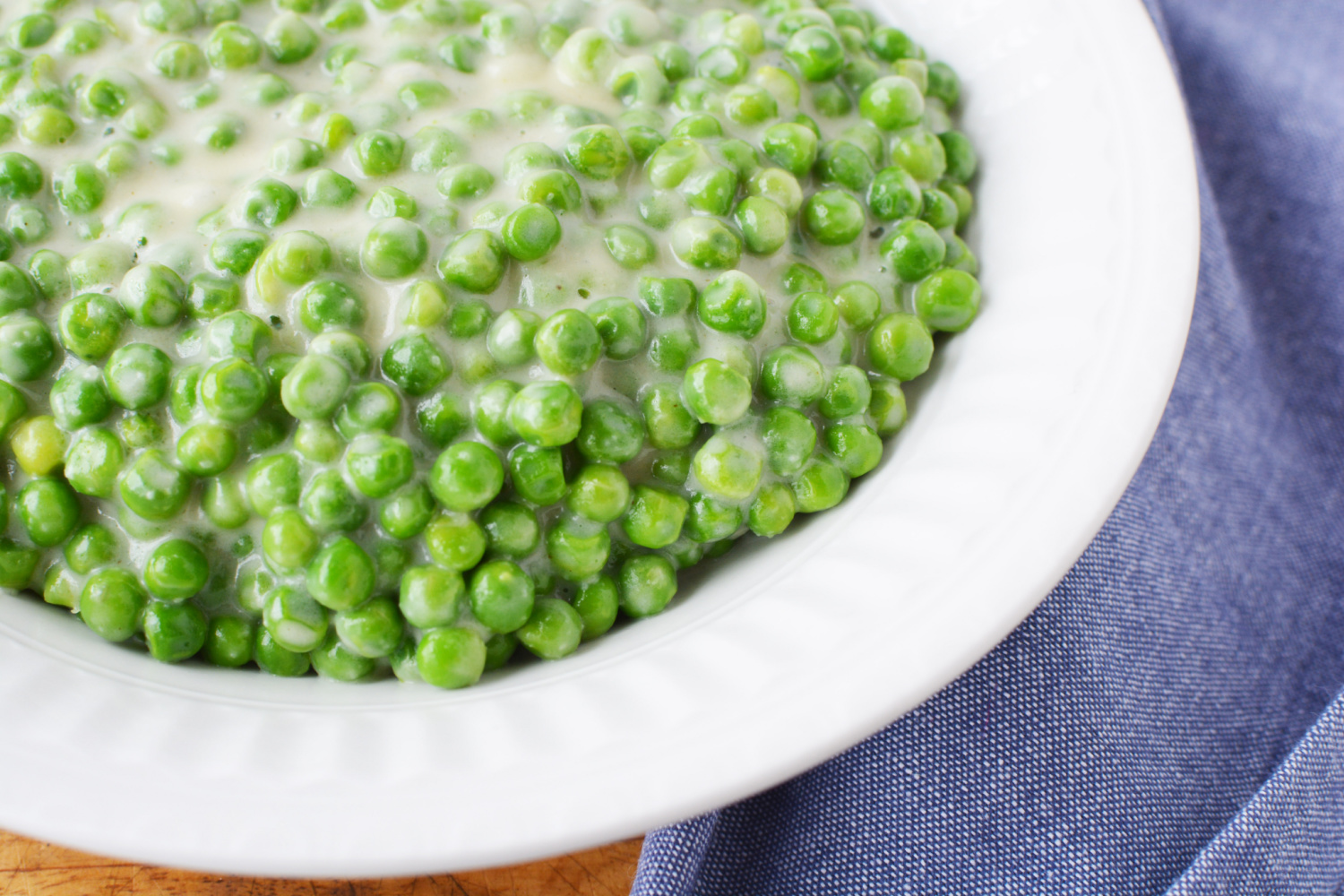 Why You Will Love Creamed Peas
CLASSIC RECIPE – This old fashioned dish has been around forever.
PERFECT FOR THE HOLIDAYS – Whether it's Thanksgiving or Christmas, this side dish will sit perfectly beside Turkey, Ham or any other main dish.
DELICIOUS – Creamy peas are swimming in a slightly sweet sauce but also balanced with savory flavors and spices. You've gotta try this believe it!
What Are Creamed Peas?
Peas have often been a favorite here at our house. My daughter calls them "little green balls" and they are the vegetable that has surprisingly gotten little blowback when it appears on a plate during dinner.
But Creamed Peas are even better! These peas are cooked on a skillet with broth and butter, then finished with a creamy, white sauce!
Like all recipes that have been tossed around America for decades, it seems like everyone has their own take on a Creamed Peas Recipe. Some people use canned peas, some use frozen (like us)! Some make more of a "roux" sauce by mixing flour and butter and some use lots of cream and even cheese!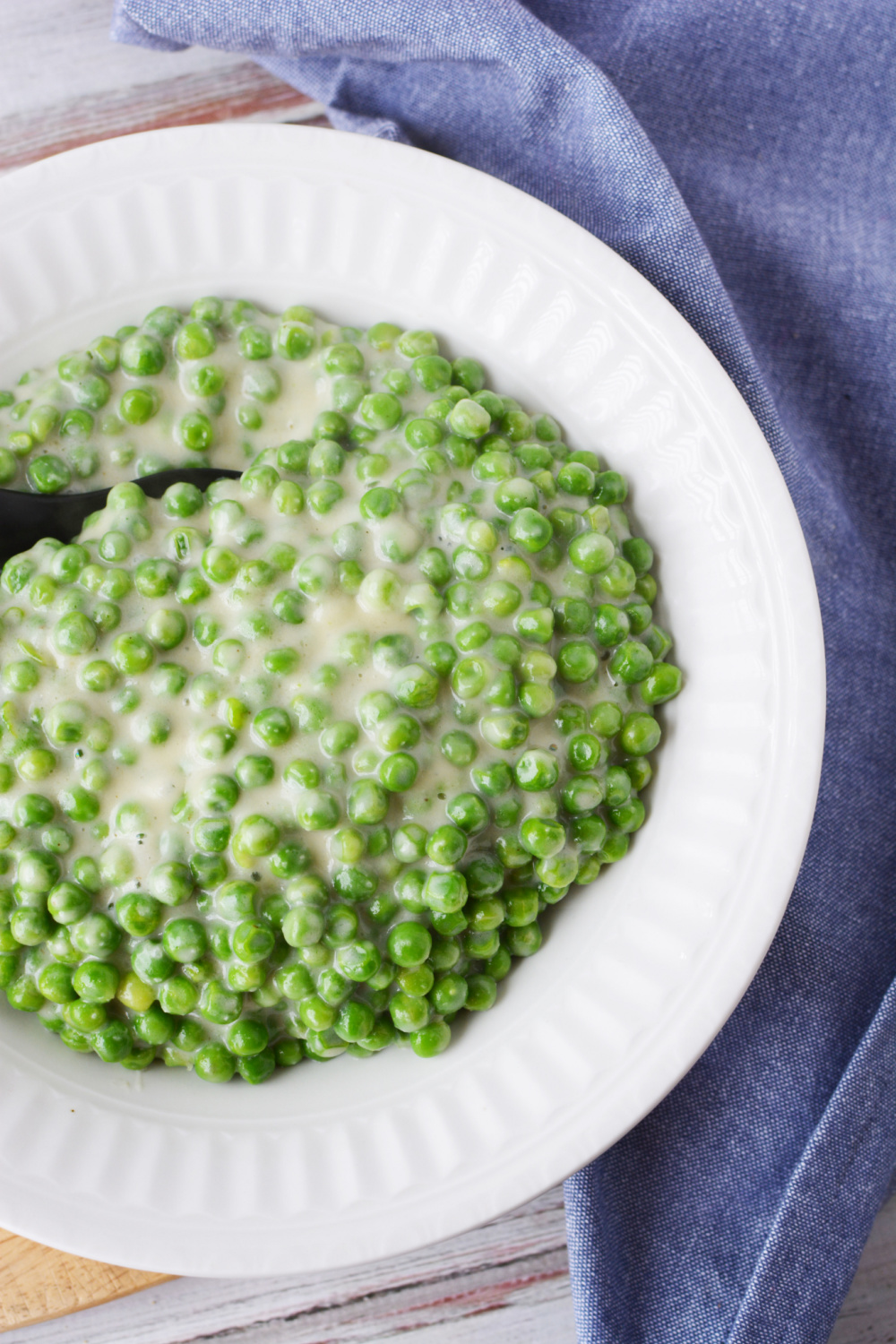 Creamed Peas Recipe
Here at Bubba Pie, our version of this side dish is pretty simple and straightforward with a light, creamy white sauce with hints of garlic and onion! And, since we don't use flour to make a roux in this recipe, it's gluten-free!
Ready to get started? Here is what you'll need:
FROZEN PEAS – No need to thaw your peas. They will cook right in the skillet! For a super shortcut, you can use the "steam in a bag" peas and heat them up in the microwave. Once cooked, just mix them with the other ingredients.
CHICKEN BROTH – Cooking our peas in chicken broth gives it an extra boost of flavor. But, you can get away with just cooking them in water.
BUTTER – Melt butter when cooking the peas. Salted or unsalted, whichever you prefer. Just remember, we will be adding some salt later.
HEAVY WHIPPING CREAM – This really gives the white sauce that white cream sauce it's delicious texture. If you are really worried about the calories, you can sub for half and half. But we recommend sticking with Heavy Cream.
SEASONINGS – We season these creamed peas with salt, pepper, garlic powder and onion powder. You can omit any of these if they don't sound good. We added the salt and pepper to taste. Or, to give this dish a little extra flavor nudge towards the Holidays, you can also add a little nutmeg!
Can You Use Fresh Peas for Creamed Peas?
Yep! You can if you can find them! Using fresh peas to make creamed peas would work just fine. Just be aware, fresh peas may take a little longer to cook through. Make sure they are completely cooked in this recipe!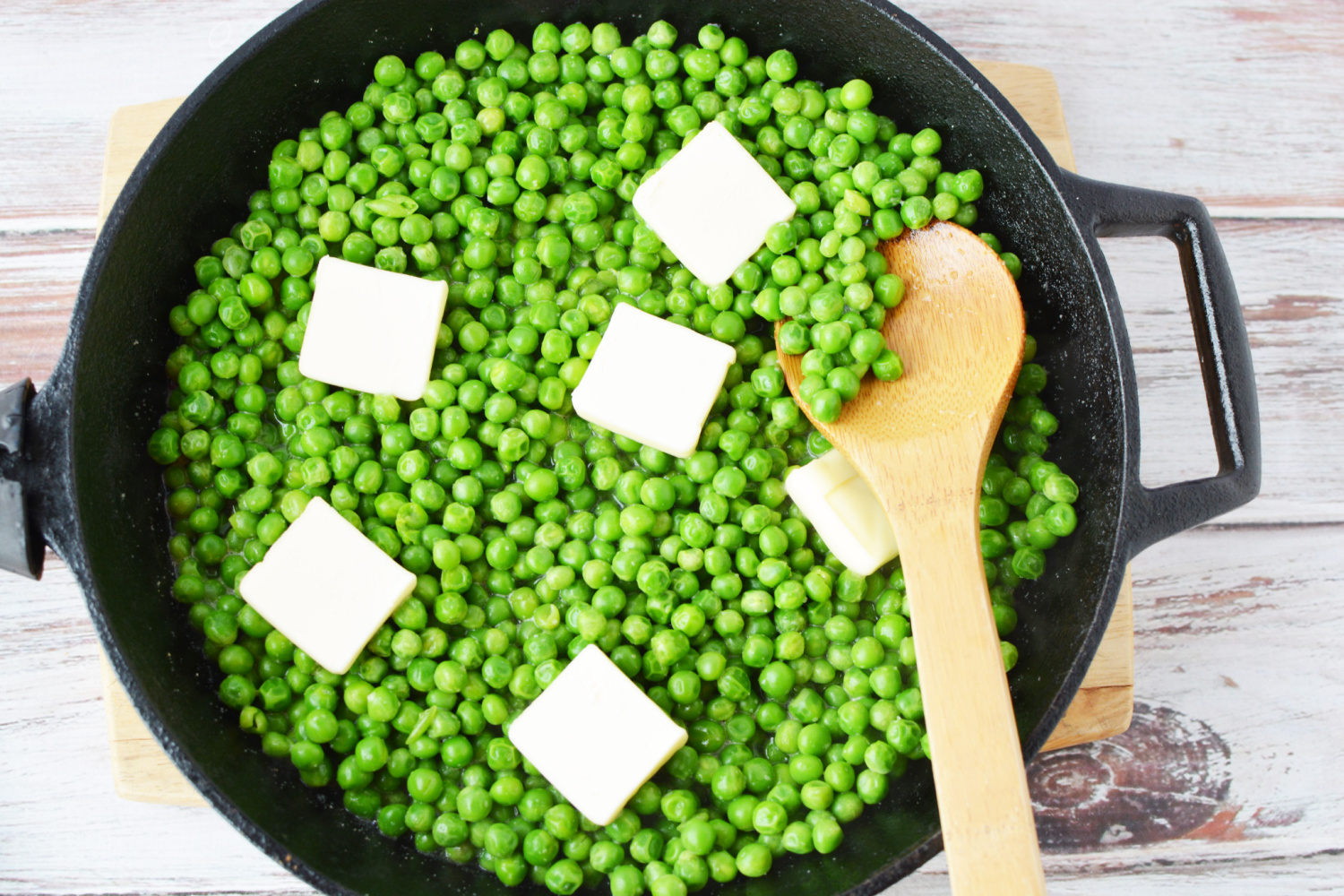 What To Serve with Cream Peas?
This easy, classic side dish goes with so many different meals! Some great options would be:
Storage and Freezing
Any leftovers should be good in your refrigerator in an airtight container for 3-4 days.
Anything with a cream based sauce typically isn't great for freezing. We haven't tried freezing this but would advise against it.
Notes, Tips and Variations
ADD MEAT – Adding some bacon or cubed ham in the peas would be delicious!
ADD VEGETABLES – like carrots or pearl onions. I've also heard of people mixing potatoes into creamed peas.
NEED MORE? – This recipe is super easy to double if feeding a larger crowd!
Tools To Help With This Recipe
LARGE SAUCEPAN – Make sure you have a large enough sauce pan to comfortable fit and stir all the ingredients.
I hope you enjoy this recipe for Creamed Peas! Let me know how it works out for you in the comments section!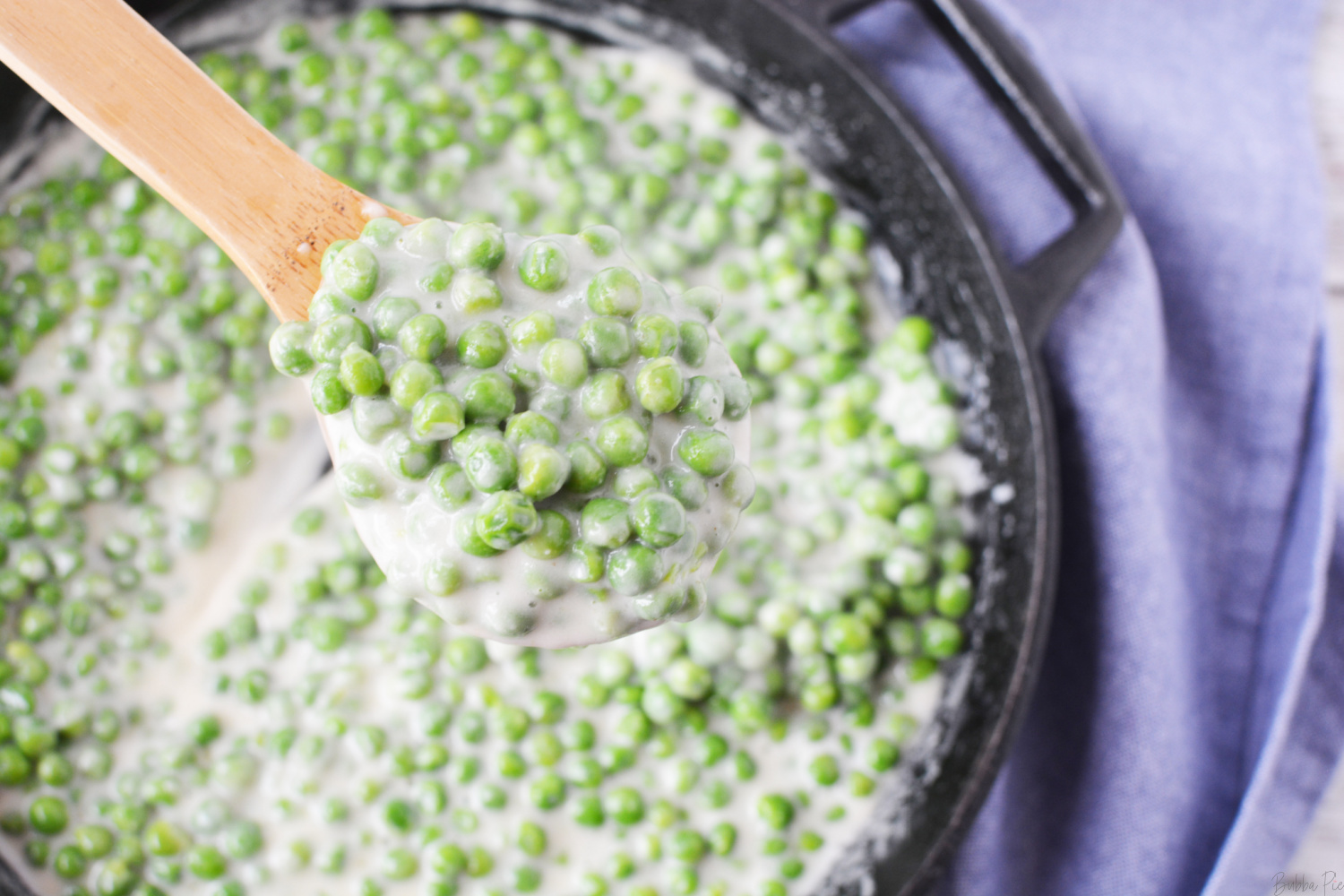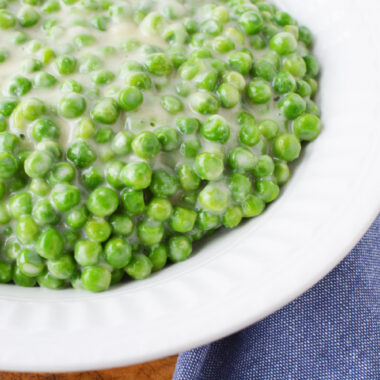 Rate this Recipe
Creamed Peas
This classic recipe for Creamed Peas is as easy as it gets! Ready in minutes, frozen peas are cooked on your stovetop in a creamy, white sauce for a deliciously smooth and slightly sweet old fashioned side dish!
Ingredients
1

bag

16 oz, frozen peas

2/3

cup

chicken broth

or use water

3

tablespoons

butter

1/3

cup

heavy whipping cream

1/2

teaspoon

salt

1/2

teaspoon

garlic powder

1/2

teaspoon

onion powder

1

tablespoon

sugar
Instructions
Add peas and broth to a pan and cook on medium high until it begins to boil.

Reduce heat and stir in butter.

Whisk together whipping cream, salt, garlic powder, onion powder and sugar and mix well.

Pour over peas and heat on medium high until thick and bubbly, about 3 minutes.

Serve immediately.
Nutrition
Love this recipe?
Follow @bubbapie for even more delicious recipes!!