This Caramel Apple Salad has crisp, tart apples, pudding, peanuts and pineapple covered with a light whipped topping. Drizzle some caramel over everything and what's not to love!?! This makes a great recipe for the Fall or a fun summer cookout with friend and family.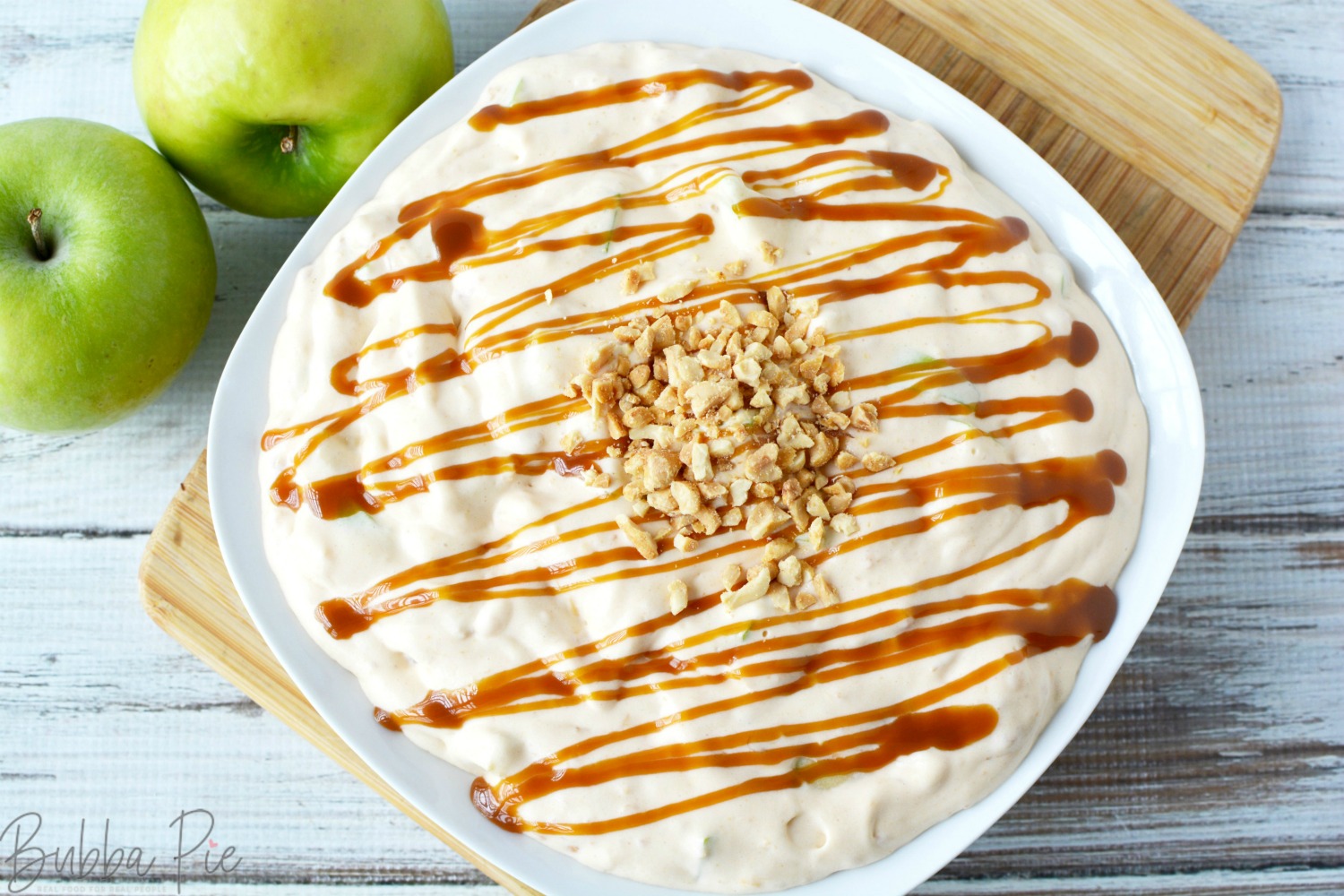 LOOKING FOR MORE DESSERTS LIKE THIS? CHECK OUT: 19 SUMMER DESSERTS PERFECT FOR A BBQ!
Light, Fresh Dessert Recipes
While a super rich chocolate cake definitely has it's place (seriously, it does!), I've come to really appreciate a nice light dessert that won't completely fill me up. Many times, these desserts revolve around fruit. We've got several of these recipes here at Bubba Pie, and we love them all. We are huge fans of the sweet and salty combo of both are Pineapple Pretzel Salad and our Strawberry Pretzel Salad. And this Hawaiian Cheesecake Salad is so different and exotic, it will be certain to wow your guests! Finally, this No Bake Banana Cream Pie is light, fluffy and creamy with a crispy graham cracker crust!
One of the best things about the Fall, especially here in the Midwest, that it is apple season. There are some many delicious apples around that can make so many different tasty dishes. Some of my favorite desserts are made out of apples.
What Is A Caramel Apple Salad
Nothing says fall quite like that fun treat of an apple on a stick covered in caramel, nuts and sometimes all sorts of other things! A cool twist on that treat is to make this Caramel Apple Salad. The great thing about this dish is that it is SO easy to make and even easier to share and eat. This is a great idea for smaller kids. Instead of giving them each a candy apple and hoping for the best, you can dish some of this on a plate and give them a fork. I promise they will love it just as much!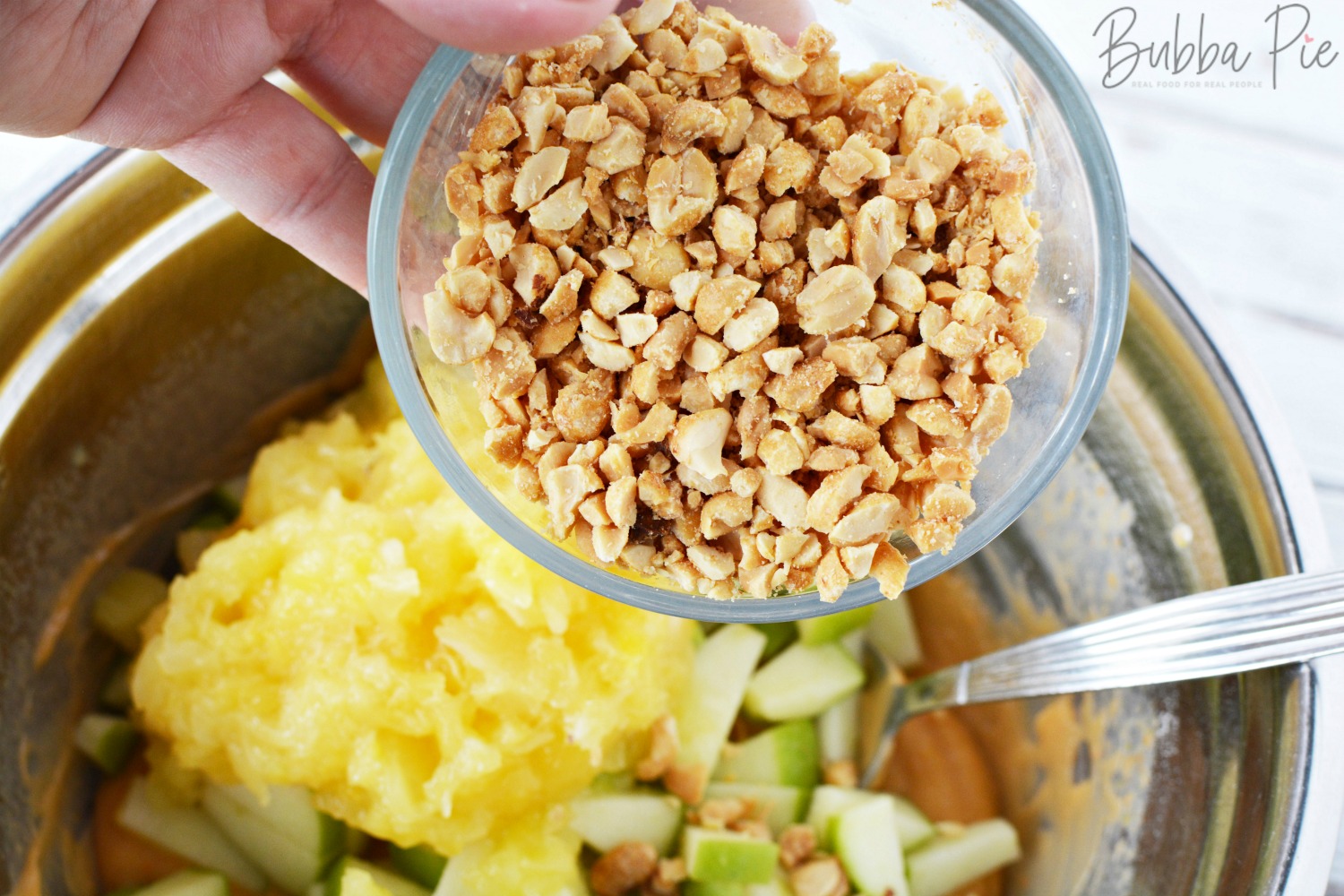 This would also be a great thing to bring to a potluck or pitch in. In looks great on the table spread and will be one of the first dishes to be emptied out! I'd also recommend this as a great option for a picnic or to use it as a camping salad. You can just put everything in a ziplock bag until you need it!
How To Make Caramel Apple Salad
It's a super simple process! For step-by-step instructions, check out the printable recipe card below. But here is what you'll need to get started.
Caramel Apple Salad Ingredients
INSTANT BUTTERSCOTCH PUDDING MIX – If needed you can substitute sugar free butterscotch pudding mix. If you absolutely can't find or don't have butterscotch, you can substitute Instant Vanilla Pudding Mix.
MILK – We used 2% milk. But you can use anything you'd like.
CRUSHED PINEAPPLE – I've heard of people draining the pineapple or putting it in the pudding mixture with the juice in the can. Both have seemed to work. We didn't drain our and it was delicious.
APPLES – We used Granny Smith Apples. Read more about apples below!
WHIPPED TOPPING – You will need to thaw it out first. Cool Whip works great. You can also use lite cool whip if you'd like.
PEANUTS – We chopped up some dry roasted peanuts.
CARAMEL TOPPING – The sort of caramel sauce you would put on ice cream.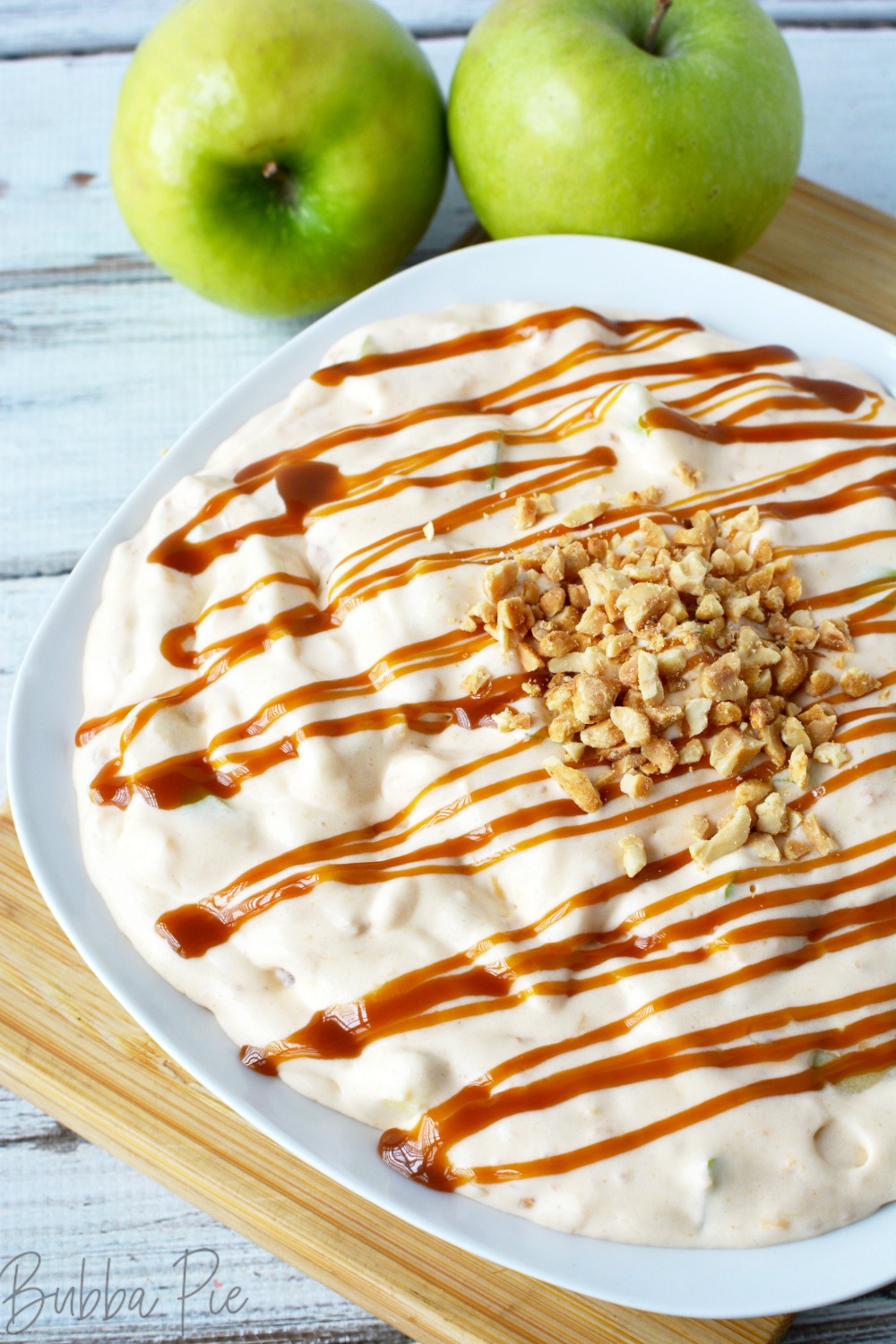 What Is The Best Apple To Use In A Caramel Apple Salad?
We use Granny Smith Apples for this recipe and I've seen a lot other recipes do the same. So that is certainly a safe bet. But any apple that is nice and crisp and won't brown after being diced will do. This includes Honeycrisp, Fuji or Pink Lady apples.
Also, you can choose to peel the apples or not peel them. It is completely your preference.
Can You Make This Beforehand?
Absolutely! In fact this recipe will need at least 4 hours in the fridge, so it's not a bad idea to make it the night before.
Adding Candy Bars To This Recipe
I have seen some recipes use candy as well. Twix, Mars, Snickers Bars and Milky Ways are all great ideas. But most of the times is seems like people like to make a Snickers Caramel Apple Salad.
If using a candy bar, I'd recommend freezing it. Once frozen, put the candy bar in a ziplock baggie and pound with a mallet. This will break it up into pieces for you.
While these versions sound delicious, we feel that this Caramel Apple Salad tasted fantastic just as it is! But, you may want to use this as more of a dessert salad. If that is the case, go for it!
Other Notes, Additions and FAQs
MORE ADD-INS – Other ingredients that you can add into this salad would be chocolate chips, mini marshmallows, toffee bits, coconut flakes, chopped walnuts or chopped pecans.
WHAT SIZE SHOULD THE APPLES BE? – You really can chop them up to be any size you'd like! I like my chopped apples on the smaller end.
Enjoy this Caramel Apple Salad Recipe any time of the year. But it is especially great during the Fall holidays!
LOOKING FOR OTHER DELICIOUS DESSERTS AND TREATS THAT USE APPLE FLAVORS? CHECK OUT: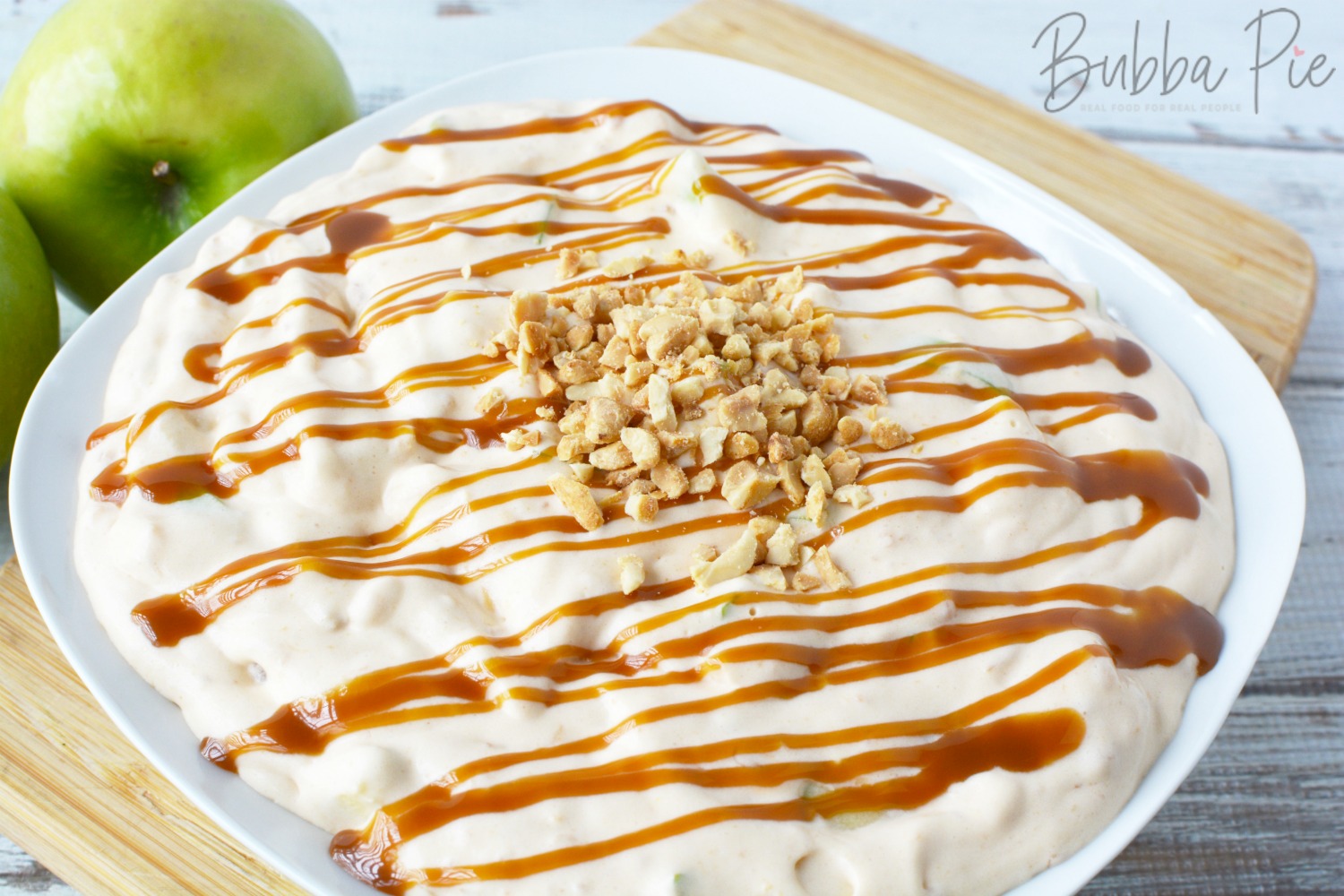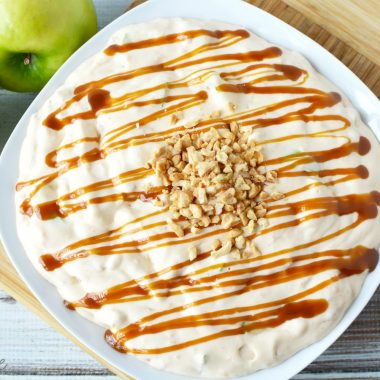 Rate this Recipe
Caramel Apple Salad
This Caramel Apple Salad would be a great Fall recipe, but is great anytime of the year. Crisp, tart apples with a nice whipped topping mixed in with sweet and sticky caramel. What's not to love!?!
Ingredients
1

package

3.4 oz, instant butterscotch pudding

2

cups

milk

1

can

8 oz, crushed pineapple

2

cups

chopped granny smith apples

1

tub

8 oz, whipped topping, thawed

3/4

cup

chopped dry roasted peanuts

divided

1/4

cup

caramel ice cream topping
Instructions
Add pudding and milk to a mixing bowl and whisk until combined well. Refrigerate for 5 minutes to firm up.

Add pineapple, apples, and 1/2 cup of the peanuts to the bowl. Mix well.

Fold in whipped topping.

Refrigerate, covered, for 4 hours or overnight.

Top with caramel and remaining 1/4 cup chopped nuts before serving.
Nutrition
Love this recipe?
Follow @bubbapie for even more delicious recipes!!