This Strawberry Pretzel Salad is a classic Dessert Recipe that's been around for decades! Salty, crunchy pretzel crust is layered with a light whipped filling and topped with Strawberry Jello. Just like grandma use to make!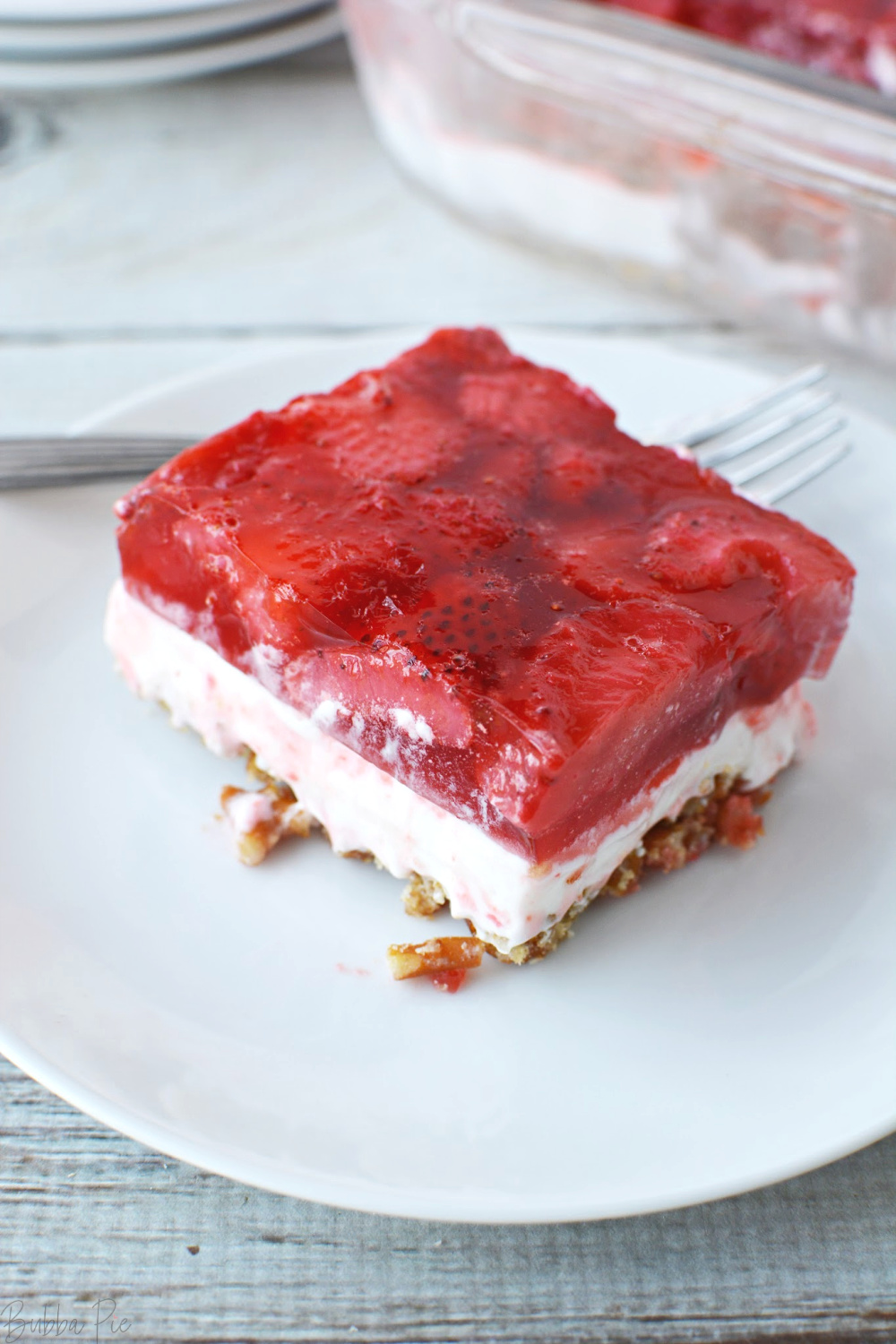 Why You Will Love Strawberry Pretzel Salad
OLD FASHIONED – There is just something about simple, old fashioned recipes that have been around for generations. Grandmas have been making this for decades, I swear if you bring it to your cookout, at least one person will be delighted by the nostalgia and tell you a family story about it!
MAKE IT AHEAD OF TIME – This is a great dish to make ahead of time. It does just great hanging in your fridge overnight until it's ready to serve.
DELICIOUS – There is a reason that this recipe has been passed down through the generations. The crispy pretzel crust, the sweet creamy center and the light strawberry topping combine to make a delicious dessert! It reminds me a lot of our Strawberry Roll Cake or our Strawberry Crunch Cake!
ALSO TRY OUT OUR PEACH PRETZEL SALAD AND OUR PINEAPPLE PRETZEL SALAD!
What Is A Pretzel Salad?
A Pretzel Salad is a kind of "dessert salad". But, let's be honest, it's not really a salad at all. What, exactly, is a Dessert Salad? I'm pretty sure that I know what a dessert is and I'm pretty sure that I know what a salad is. But, put them together and it doesn't make much sense. In fact, it seems that Kraft/Heinz (the people that own Jell-O) are shying away from the term. The call this recipe either Strawberry Pretzel Dessert Bars or Strawberry Pretzel Dessert Squares.
My grandma used to love to make dessert salads like this strawberry salad and her famous Lime Jello Salad. Dessert Salads are usually made with any combination of whipped topping, jellos, fruits, vegetables, cookies, pretzels or other sweet ingredients (like cheesecake, etc.). Often they ARE served as desserts, but they have been used as side dishes as well.
Pretzel Salads are usually made up of a jello, fruit, a whipped layer and a pretzel crust. Soft and crunchy, sweet and salty, delicious and yummy!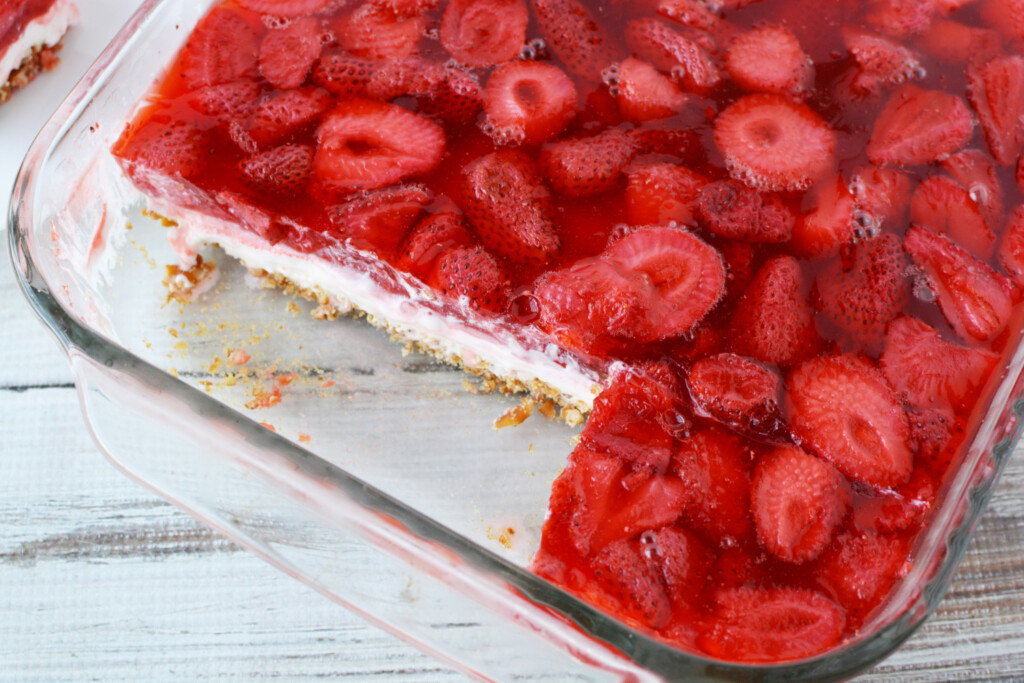 What Will You Need To Make A Strawberry Pretzel Salad?
There are usually three layers to a Pretzel Salad: the pretzel crust, the whipped filling and the jello. I'll break down the ingredients you need for each layer:
Crust Ingredients:
PRETZELS – We will be crushing the pretzels. So it doesn't really matter what kind you use. You'll just want them nice and salty. Use a durable ziplock baggie to crush your pretzels. We love to use these gallon sized freezer bags. They are tough, durable and have new grip and seal technology that makes them super easy to open and close. Just seal them in a bag and use a rolling pin to crush them. You can also use a food processor, but that involves cleaning more dishes.
BUTTER – Melted. Unsalted. We will be getting plenty of salt from the pretzels.
SUGAR – We used white sugar for this recipe. But some recipes call for brown sugar. You can use either.
Cream Cheese Filling Ingredients:
WHIPPED TOPPING – Any brand will do. We used Cool Whip. Just make sure that it is fully thawed so it's much easier to fold in. And make sure you thaw it in the fridge, not room temperature! You can try subbing for reduced fat or lite whipped topping. But, we haven't tried it so can't say how it will work.
CREAM CHEESE – Softened. Once again, you can use light or fat free cream cheese, but the results of your cream cheese mixture may be slightly different.
SUGAR – White sugar to mix in and sweeten the whipped layer. You'll want to stick with white sugar here and not sub brown sugar.
Jello Layer Ingredients:
STRAWBERRY JELLO – Obviously, this is a STRAWBERRY Jello Salad, so we are using Strawberry Gelatin. If you want to use different flavors, go for it. The sky is the limit.
WATER – To use to make the Jello.
FROZEN SLICED STRAWBERRIES – Thawed. Can you use fresh strawberries for a pretzel salad? Yep! Sure can!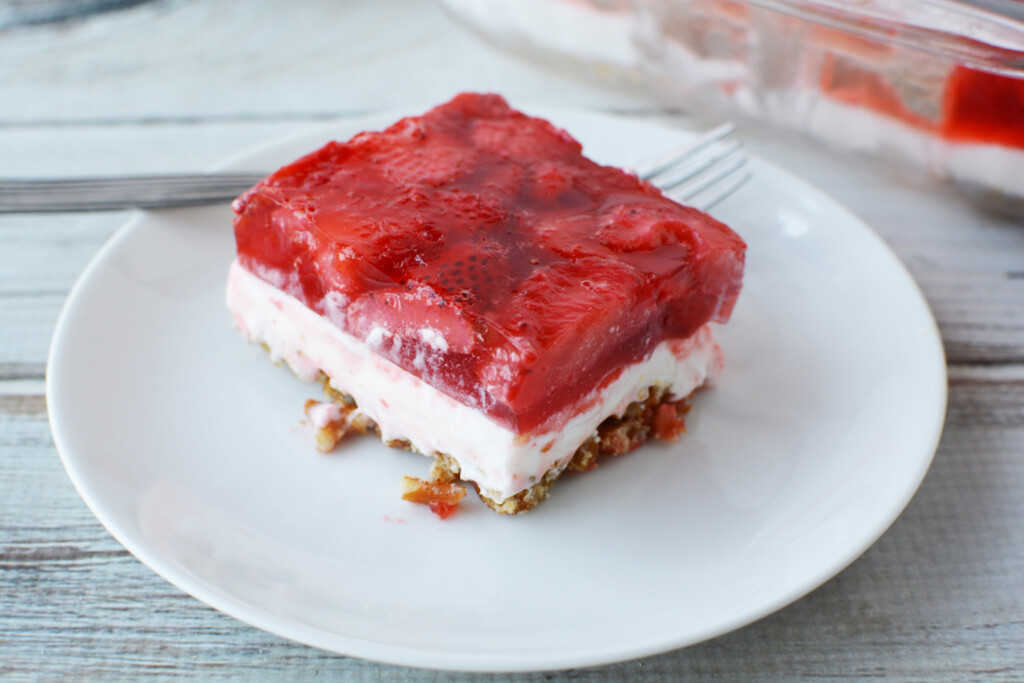 How To Make Strawberry Pretzel Salad
For further step-by-step instructions, check out the printable recipe card below. But here is a brief overview.
Crush the pretzels, add butter and sugar and press into a 13″X9″ Baking Pan. Bake in the oven at 350 degrees for 10 minutes. Allow to cool completely.
Make the Cream Cheese Layer by combining Cream Cheese, Sugar and Whipped Topping. Layer on cooled Pretzel Crust. Let chill in the refrigerator for at least 2 hours.
Make the gelatin topping by combining Jello and Water until no longer grainy. Then add your strawberries and let it chill for two hours. You can be doing this while the cream cheese layer is chilling.
Once it is chilled, layer it on the cream cheese layer and put it in the fridge for at least another 4 hours or overnight.
Can You Make Strawberry Pretzel Salad The Night Before?
Yep. In fact, I recommend it! While this recipe is pretty easy, it does take some time. First, you have to bake the pretzel crust in the oven. Then you have to let the pretzel crust fully cool after it gets out of the oven and before adding the whipped layer. Then you need to let that chill in the fridge for 2 hours before adding the jello topping. Then you have the let THAT cool in the fridge at least 4-6 hours. So… yeah, this isn't something I'd wait to the last minute to make.
Can You Use Whipped Cream Instead of Whipped Topping?
If you want to make your own whipped cream and use that, you can. We haven't tried it, but have read that it can sometimes make your pretzel layer a little more soggy. You'll want to maybe refrigerate that cream cheese layer a little longer in the fridge to let it firm up. Also try adding a little more sugar to it.
Is Strawberry Pretzel Salad Gluten Free?
Not this version. But it can easily be made gluten free by substituting for Gluten Free Pretzels!
Other Notes and Tips For This Pretzel Salad
We love to use

this baking dish

because it comes with a lid! This way, you can just keep the leftovers fresh right in your baking pan! No more trying to cover it up with messy aluminum foil!

You can use just about any pretzels for this recipe. But the smaller and thinner they are, the easier they are to crush.
As I mentioned above, make sure you let each layer cool/chill enough before moving on to the next layer or you'll be sorry. Trust me.
If you wanted to sprinkle some mini-marshmallows on top of this recipe, no one would be mad at you.
LOOKING FOR MORE LIGHT DESSERTS PERFECT FOR THE SUMMER? CHECK OUT: 19 FUN AND EASY DESSERTS FOR YOUR NEXT COOKOUT.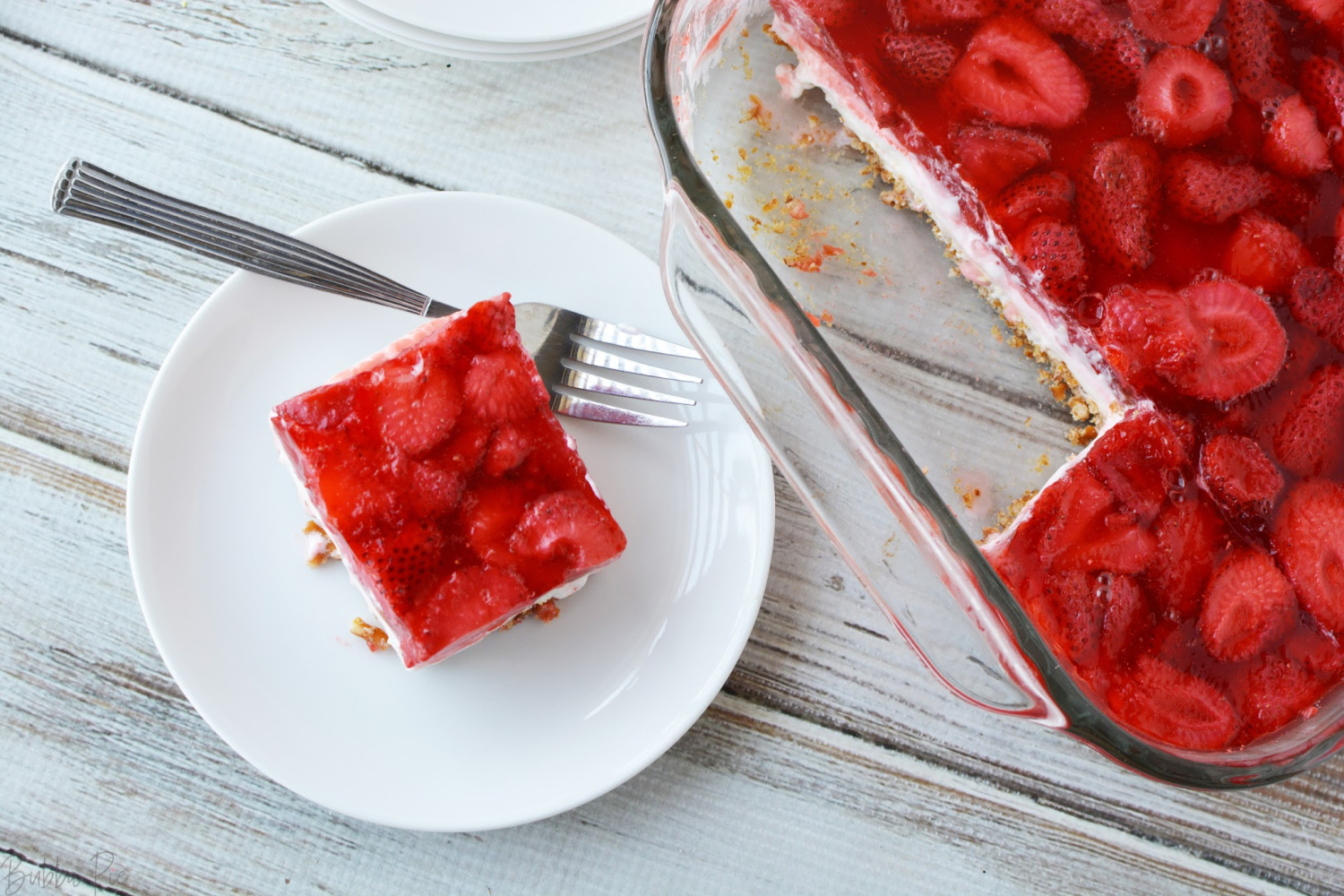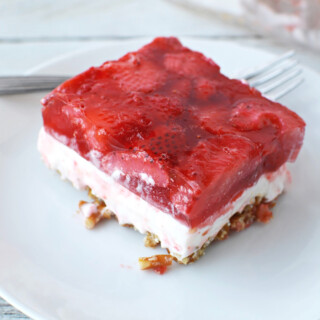 Rate this Recipe
Grandma's Strawberry Pretzel Salad Recipe
Check out Grandma's Strawberry Pretzel Salad Recipe! This delicious dessert has a light Strawberry topping layered on a crispy pretzel crust. The combination of sweet and salty makes my taste buds happy! This is a great dessert recipe for any occasion, from a holiday celebration to a fun summer picnic!
Ingredients
Crust Ingredients:
2

cups

crushed pretzels

3/4

cup

melted butter

3

tablespoon

sugar
Filling Ingredients:
1

tub

8 oz, whipped topping, thawed

1

brick

8 oz, cream cheese, softened

1

cup

white sugar
Strawberry Topping Ingredients:
2

packages

3.4 oz, strawberry jello

2

cups

boiling water

20-24

ounces

of frozen sliced strawberries

thawed
Instructions
Crust Directions:
Add pretzels, butter and sugar together in a mixing bowl. Mix well and press into a 9x13 pan. Bake at 350 for 10 minutes. Cool completely.
Filling Directions:
Beat cream cheese, whipped topping and sugar together in a bowl. Spread on top of crust. Refrigerate.
Strawberry Topping Directions:
Mix jello and water in a bowl and mix until no longer grainy. Stir in strawberries and mix well. Refrigerate for about 2 hours. Pour mixture on top of cream layer and spread evenly. Refrigerate 4-6 hours or overnight.

Slice into 18-24 slices. Store leftovers covered and in the refrigerator.
Nutrition
Love this recipe?
Follow @bubbapie for even more delicious recipes!!