This Homemade Ice Cream Sandwich Recipe is the perfect cool treat for these hot summer days. Soft and chewy chocolate cookies sandwich smooth vanilla ice cream (or whatever flavor you prefer!). Enjoy them right away or freeze them for later!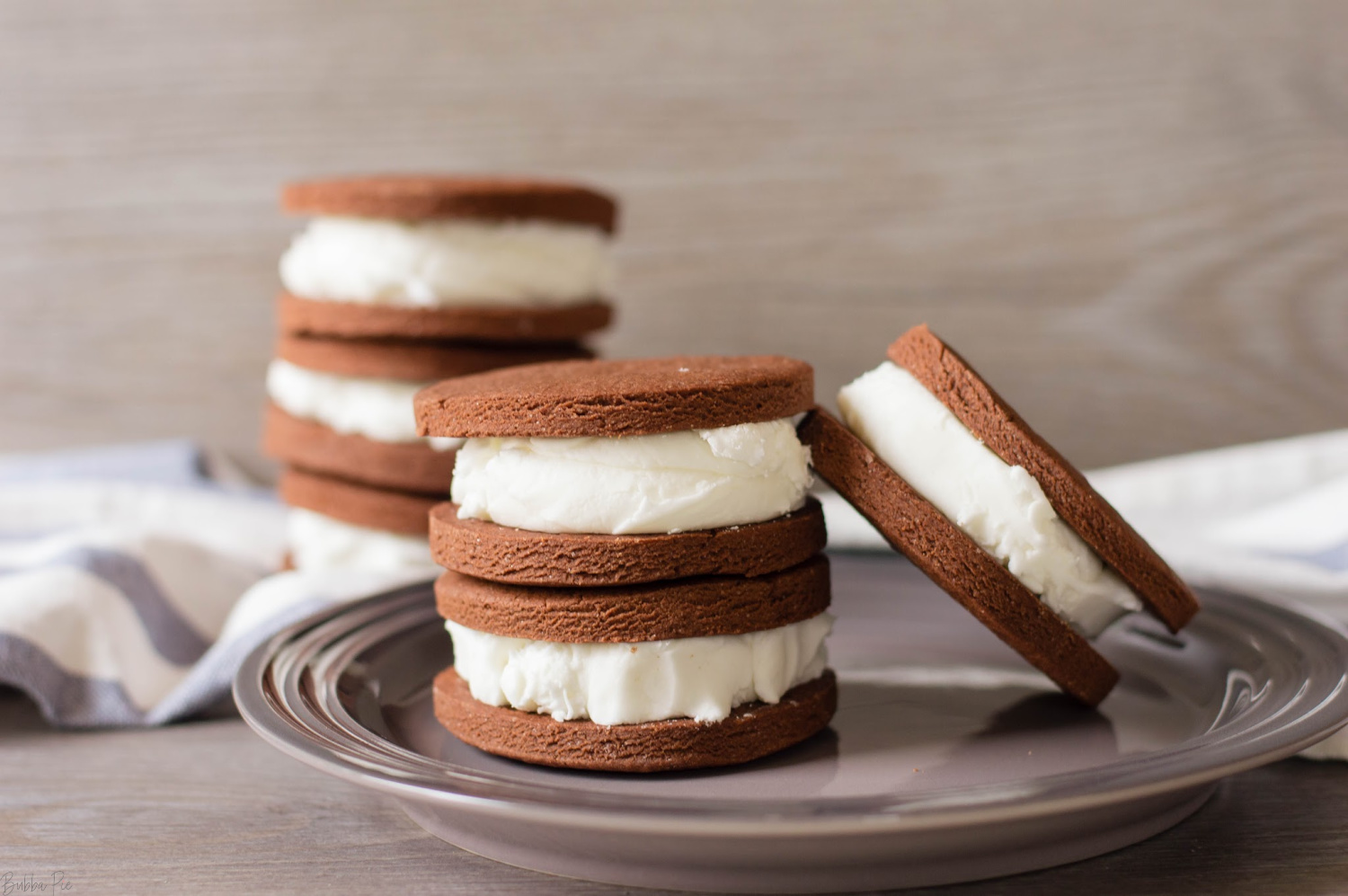 Why You'll Love This Recipe
NOSTALGIA – Eating a delicious Chocolate Ice Cream Sandwich always brings back fond memories of the endless summer days of childhood. I'm sure we all remember unwrapping those store bought Ice Cream Sandwiches as a kid. All of my friends at theirs in different ways. Come would take the chocolate wafer off the top, some would start lickeing the ice cream out of the middle. And some would just start munching on the whole thing!Now, you can make your own, delicious homemade version of this classic dessert.
HOMEMADE – Sure, it's easy to get store-bought ice cream sandwiches. But, our recipe is full of homemade, natural ingredients. So you can be sure there are no additives or preservatives in them.
MAKE-AHEAD – A great recipe to make ahead of time and let them chill in your freezer for just about as long as you want! Make a batch and you'll have a delicious frozen treat ready whenever you want one!
KID FRIENDLY – This is a great beginner's baking recipe for new bakers! It's a perfect recipe to let the kids help out on!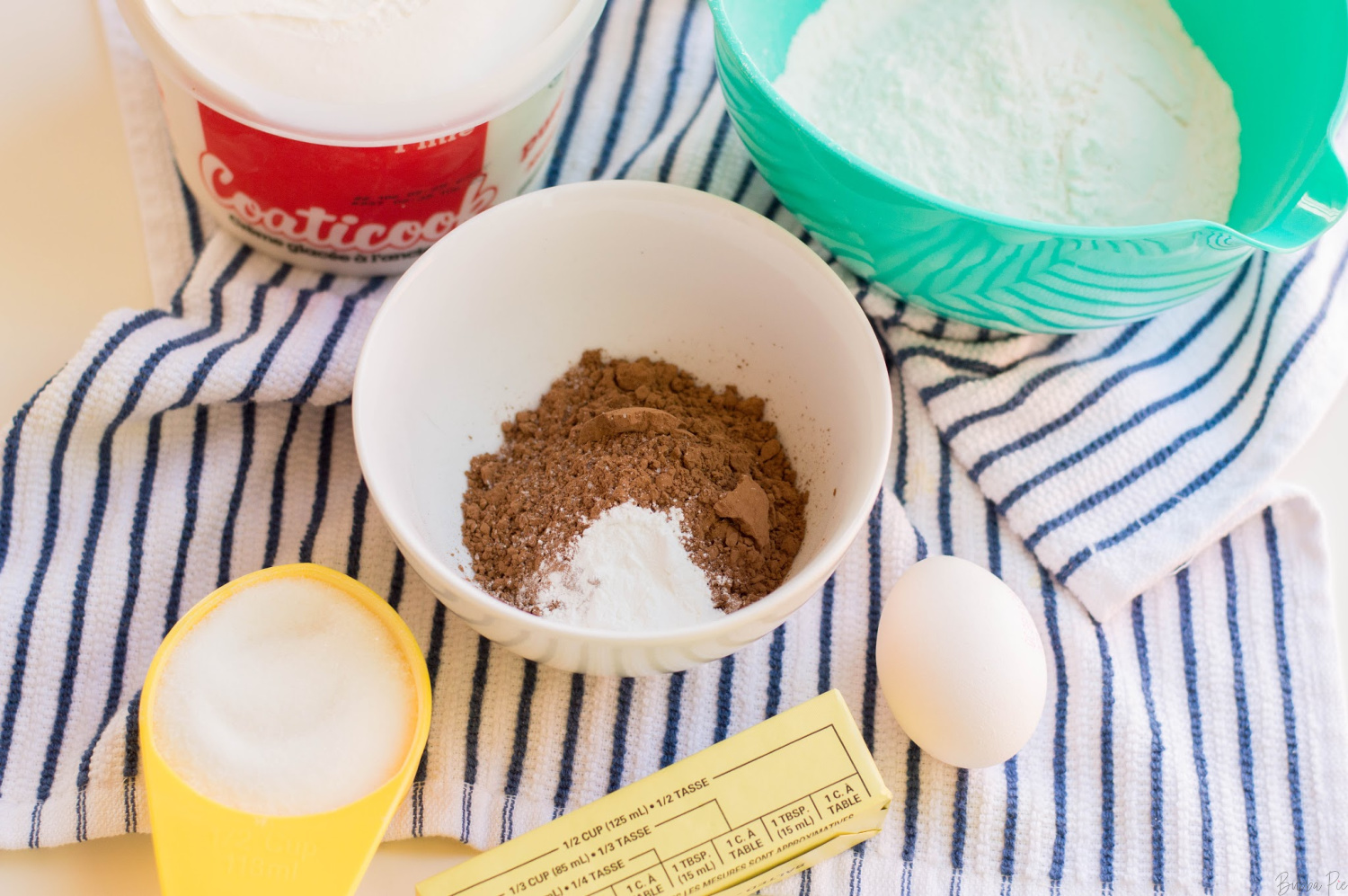 Chocolate Ice Cream Sandwich
It's pretty easy and straightforward to make this Chocolate Ice Cream Sandwich Cookie Recipe. For step-by-step instructions and measurements, check out the printable recipe card below. But here is what you'll need to get started.
FLOUR – Any brand of all purpose flour will do. You can try using Gluten-Free Flour if needed.
COCOA POWDER – You really want to use a high-quality cocoa powder for this recipe. We think Ghirardelli is a fine brand that is usually pretty easy to find in the grocery store.
BAKING POWDER – To help our chocolate cookies rise a bit and become perfectly chewy.
SALT – Salt is ALWAYS important to bake with to help balance the sweet flavors.
GRANULATED SUGAR – White sugar.
BUTTER – Unsalted. Make sure you let the butter soften before using.
EGG – One large egg at room temperature.
VANILLA EXTRACT – Again, we are fans of using quality vanilla extract.
CIRCULAR COOKIE CUTTER – About 2.5 inches in diameter.
VANILLA ICE CREAM – Softened. You can also use any flavor ice cream you'd like!
Notes, Tips and Variations
Improvise with Ice Cream- We used just plain Vanilla Ice Cream for this recipe. But there is nothing wrong with exploring different flavor combos, or using your favorite ice cream. My son is a chocolate fanatic and I'm sure he'd be just fine with chocolate ice cream along with the chocolate cookies! Or mint chocolate chip would be tasty too!
Storing These Ice Cream Sandwiches- You can easily wrap these in parchment paper or plastic wrap and store them in your freezer to enjoy whenever you want to. Just make sure that you are wrapping them EXTREMELY well in the paper or they will get freezer burn.
Chocolate Chips- Add some chocolate chips to this recipe. Either you can bake some chocolate chips into the cookie. Or, better yet, roll the cookies in mini chocolate chips to coat on the ice cream!
I hope you enjoy this recipe for Chocolate Ice Cream Sandwiches. Please let me know how it works our for you in the comments. Thanks!
LOOKING FOR MORE DESSERTS LIKE THIS? CHECK OUT: 19 FUN AND EASY BBQ DESSERTS!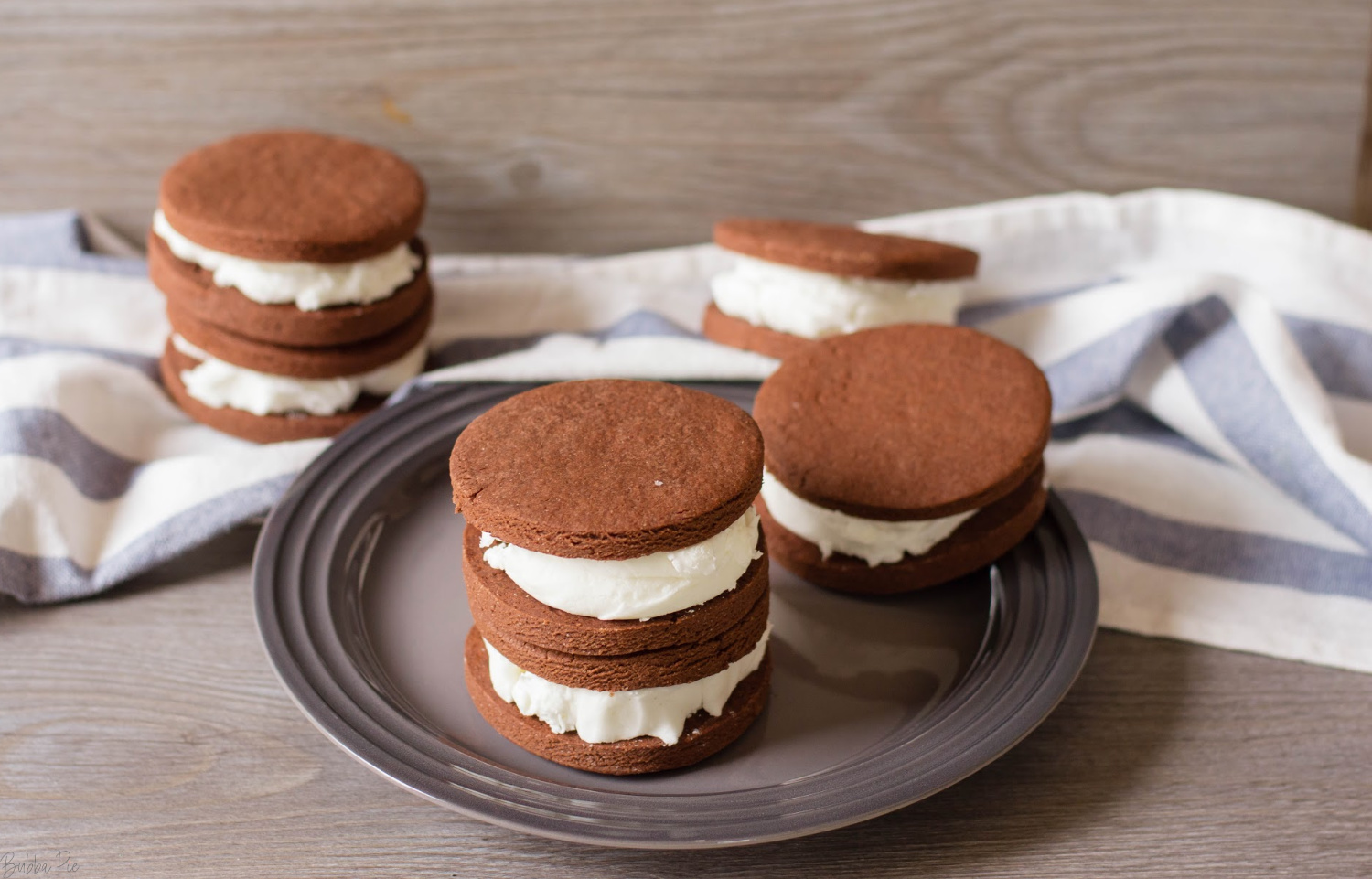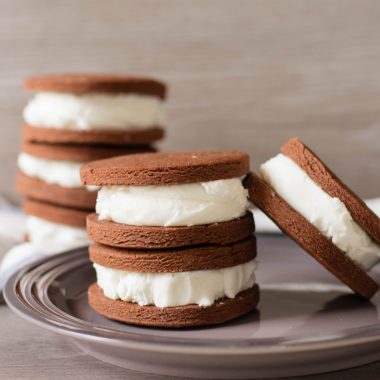 Rate this Recipe
Chocolate Ice Cream Sandwich
This Homemade Chocolate Ice Cream Sandwich Recipe is the perfect cool treat for these hot summer days. Soft and chewy chocolate cookies sandwich smooth vanilla ice cream (or whatever flavor you prefer!). Enjoy them right away or freeze them for later!
Ingredients
1 ½

cups

a/p flour + extra for rolling

7

tbsp

high quality cocoa powder

1

tsp

baking powder

½

tsp

salt

½

cup

granulated sugar

½

cup

unsalted butter

softened

1

large egg

room temperature

1

tsp

vanilla extract

Circular cookie cutter

about 2 ½ inches in diameter

12

scoops vanilla ice cream

about 6 cups
Instructions
Preheat oven to 350 degrees. Line a baking sheet with parchment paper and set aside.

In a medium-sized bowl, sift together dry ingredients: flour, cocoa powder, baking powder and salt.

In a separate bowl, cream together sugar and butter. Add egg and mix well, followed by the vanilla extract.

Slowly add dry ingredients into wet ingredients and mix.

Once cookie dough forms, wrap in plastic and chill in the refrigerator for about one hour. Remove the dough from the refrigerator.

Roll out cookie dough until it's about ½ an inch thick. Use cookie cutter to cut out circles of the cookie dough.

Place gently on lined baking sheet. Bake for 6-8 minutes. Allow to cool on a wire rack.

Add ice cream (about 2 scoops) to one cookie and sandwich with another cookie. Serve and enjoy!
Love this recipe?
Follow @bubbapie for even more delicious recipes!!