These Coconut Chocolate Chip Cookies are a fun, sweet twist on a classic recipe! Slightly crispy edges and a soft, gooey center, all livened up with sweetened coconut flakes.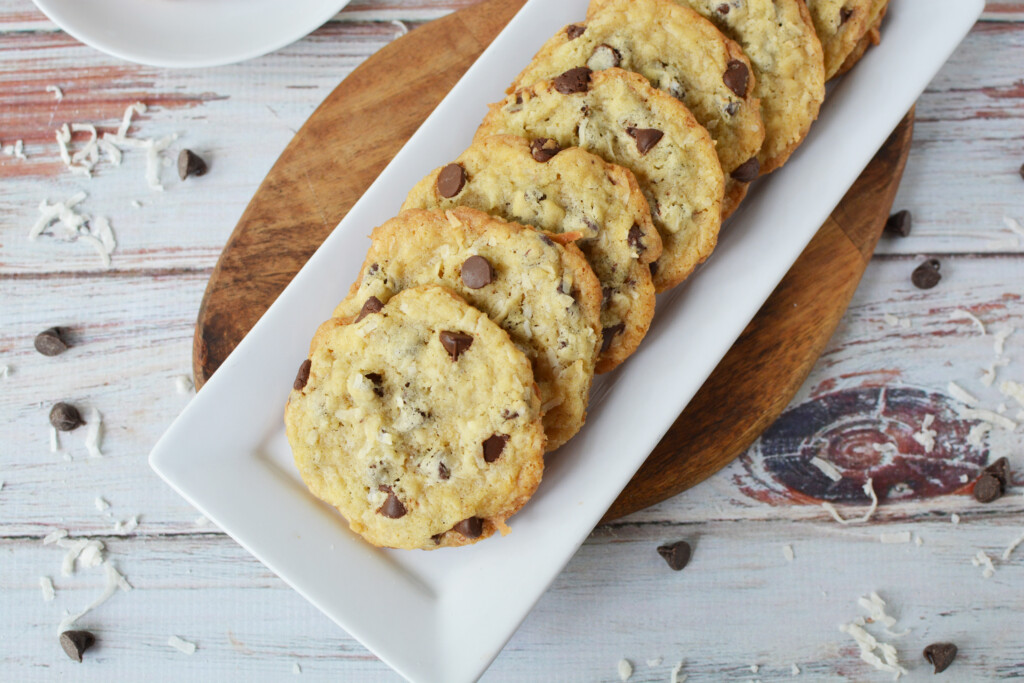 Why You Will Love Coconut Chocolate Chip Cookies
We've all had the classic Chocolate Chip Cookie. And, here at Bubba Pie, we've delved into many versions of that. We've made Crisco Chocolate Chip Cookies to our Toll House Pie (basically a pie version of a Chocolate Chip Cookie. Yeah, it's that awesome).
While chocolate chips on their own are delicious. Mixing Coconut into the equation can push it over the top. When you make recipes with coconut flakes in them, it gives them a nice chewy texture, without any over-the-top sweetness. Just a nice, subtle coconut flavor.
We first thought about mixing chocolate and coconut after making these Hello Dolly Bars, which do the same. But there was something simple, elegant and brilliant about combining coconut into a delicious chocolate chip cookie recipe!
Coconut Chocolate Chip Cookies
The ingredients are all pretty simple! For step-by-step instructions, check out our printable recipe card below. But here is what you'll need to get started.
FLOUR – Any brand of all purpose flour. Just make sure you are measuring carefully and scraping the top of the measuring cup.
BAKING SODA – A leavening agent that gives these cookies their texture.
SALT – It's always important to cook with salt to balance out the sweetness of the cookies. If you are using salted butter, you can omit the salt.
BUTTER – It's important to get the butter as soft as possible. We use unsalted butter. If you are using salted butter, see the note on salt above.
SUGAR – We use a mix of granulated sugar and light brown sugar. We love brown sugar for the richness of flavor. But using all brown sugar would make these too dark.
LARGE EGGS – Again, try to bring your eggs to room temperature.
VANILLA EXTRACT – We always recommend using a high quality vanilla extract in any baking recipe. Don't get the cheap stuff.
CHOCOLATE CHIPS – We use semi-sweet. But you can use milk chocolate, dark chocolate or any sort of chocolate chips that sound good to you.
COCONUT FLAKES – You can use sweetened or unsweetened shredded coconut flakes. Whatever you prefer. We like sweetened!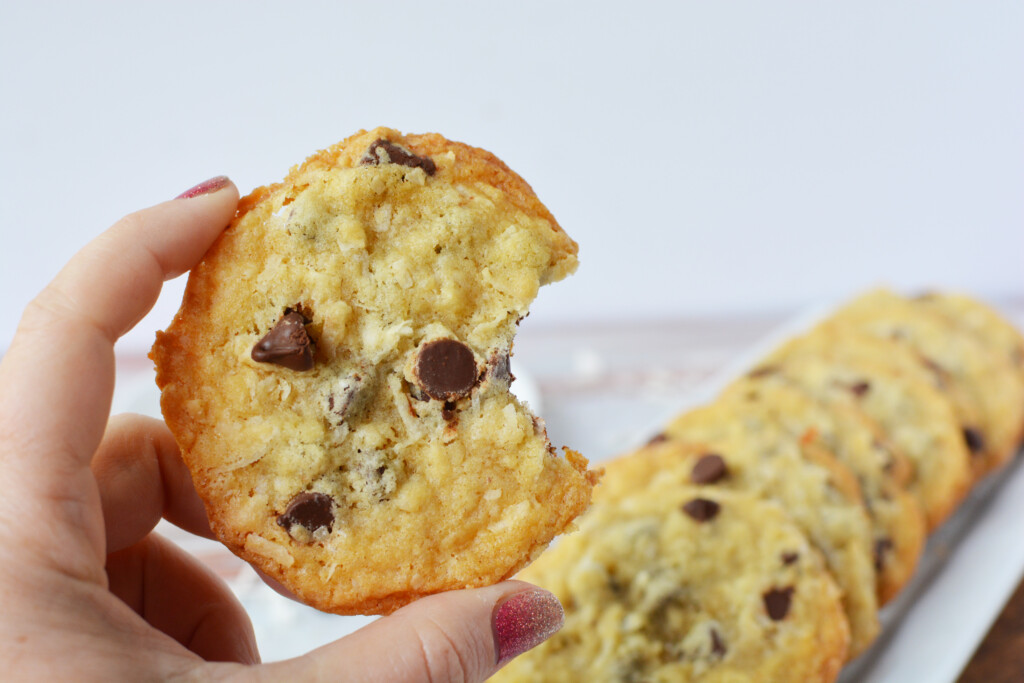 Freezing, Leftovers and Storage
Store leftover cookies in an airtight container at room temperature. You can extend the time they stay soft by putting a slice of bread in with them.
To freeze the dough, you can roll it up in a log about 1.5 inches wide with parchment paper. When you are ready to bake them, just cut off slices of the log about 1 inch thick and stick them straight in the oven. You can bake them frozen.
Or, you can just stick the ball of dough in a freezer safe container or freezer bag and freeze that way. Cookie dough thaws out fairly quickly.
Notes, Tips and FAQs
DON'T OVER MIX THE DOUGH – When combining the wet ingredients and the dry ingredients, combine until JUST incorporated. Mixing too much can make the cookies too dense.
REFRIGERATE DOUGH BEFORE BAKING – For best results, stick the cookie dough balls in the fridge for about 20 minutes before baking.
USE A WIRE RACK – We like to let them cool on the hot baking sheet for about 5 minutes and then transferring to a wire rack.
We hope you enjoy this Coconut Chocolate Chip Cookie Recipe. We'd love to hear how it turns out in the comment section. Happy eating!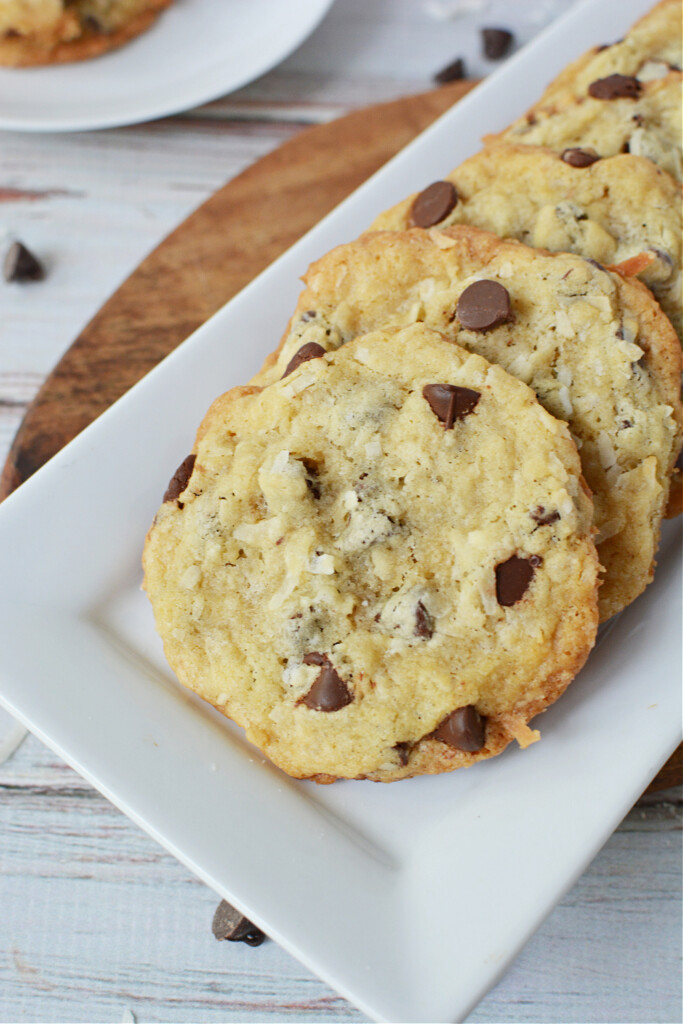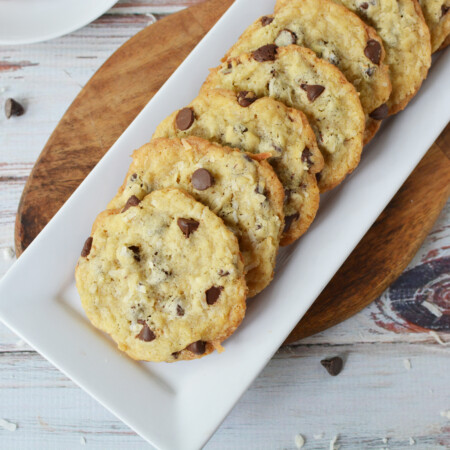 Rate this Recipe
Coconut Chocolate Chip Cookies
These Coconut Chocolate Chip Cookies are a fun, sweet twist on a classic recipe! Slightly crispy edges and a soft, gooey center, all livened up with sweetened coconut flakes. 
Ingredients
2-1/4

cups

all purpose powder

1

teaspoon

baking soda

1

teaspoon

salt

1-1/2

cups

butter

softened

1

cup

granulated sugar

1/2

cup

brown sugar

2

eggs

1

teaspoon

vanilla extract

1

package

12 oz, semi-sweet chocolate chips

1

package

7 oz, sweetened or unsweetened flaked coconut
Instructions
Preheat oven to 375 and line a baking sheet with parchment paper. Set aside.

In a small bowl, combine flour, baking soda and salt and mix well. Set aside.

In a large mixing bowl, cream butter, granulated sugar and brown sugar together until light and fluffy, scraping down the sides halfway through beating.

Add eggs and vanilla and beat until combined well.

Add flour mixture an beat just until combined.

Fold in chocolate chips and coconut. Batter will be stiff.

Using a 2 tablespoon portion scoop, scoop dough into balls and place onto prepared baking sheet. Bake for 8-12 minutes or just until they begin to brown. Remove from oven and let stand on baking sheet for 2 minutes. Remove to a cooling rack to cool completely.
Nutrition
Love this recipe?
Follow @bubbapie for even more delicious recipes!!