Looking for some fun, easy and delicious recipes for game day? Check out these 21 Game Day Appetizers! From the Super Bowl to the just hanging with friends and family to watch the home team, these recipes will be the real winners on game day!! We everything from sliders and dips to pinwheels and pub food. Take a look below for some inspiration before the big game!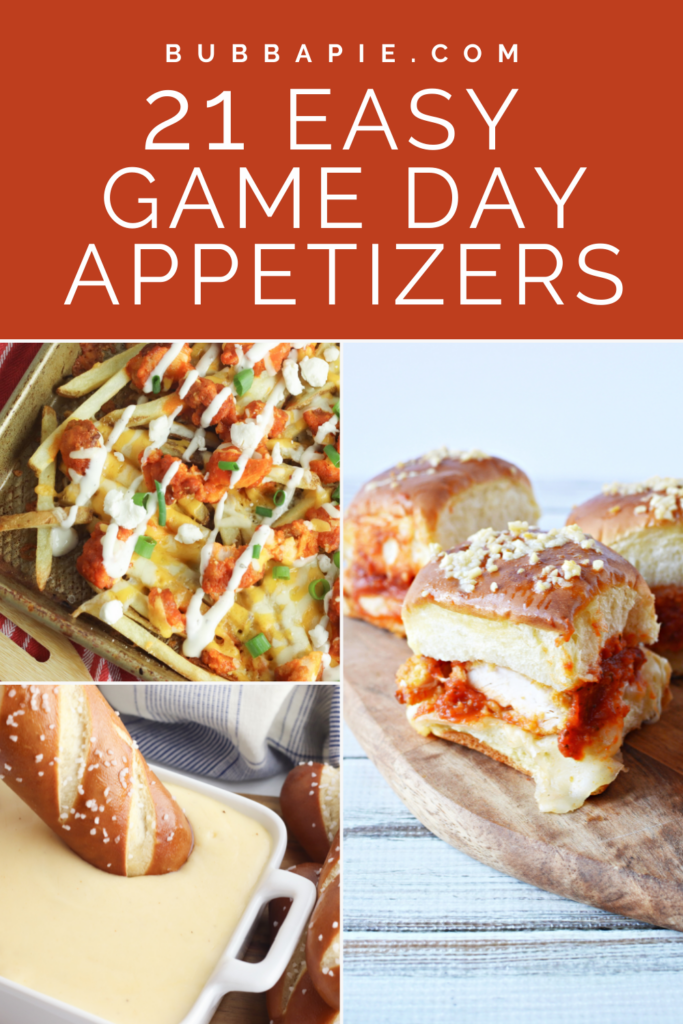 21 EASY APPETIZER RECIPES PERFECT FOR GAME DAY
FRENCH DIP SLIDERS–

These French Dip Sliders make a fun family meal or an awesome appetizer for your next party. Hawaiian Rolls, hearty roast beef, cheese and caramelized onions. Oh my… what else can I say? You NEED to try these immediately.

CUBAN SLIDERS– These Cuban Sliders are loaded with shredded pork, sliced ham, dill pickles, swiss cheese and dijon mustard. Everything is baked on a Hawaiian Roll brushed with garlic and butter. Perfect as a lunch, dinner, finger food or game day snack, there is a ton of authentic flavor in each bite!
MISSISSIPPI SIN DIP– This Mississippi Sin Dip makes the perfect game day party appetizer. Perfect to feed even the most hungry crowd, this ooey gooey cheesy dip is loaded with flavors and served in a bread bowl.
CHEESY BEAN DIP (TEXAS TRASH)– This Texas Trash Dip is loaded with tons of authentic homemade ingredients like cream cheese, sour cream, refried beans and loads of cheese. This Tex-Mex Cream Cheese Bean Dip is ready in just minutes and makes plenty to serve a crowd.
BEER CHEESE DIP– This Easy Beer Cheese Dip is ready in just minutes, and is the perfect recipe for game day, a holiday party or just a fun family night snack while watching movies. Pair your favorite beer with dijon mustard, garlic, milk and tons of cheese for a dip your pretzels, chips, veggies or breadsticks will love you for!
PEPPERONI PINWHEELS– These Pepperoni Pinwheels make a delicious party appetizer! Golden brown pastry puffs surround a cheesy, gooey pepperoni filling. Easy to make and easy to share with a crowd, these bite sized Pepperoni Bites are the perfect thing for your next party!
HOT CORN PARTY DIP– This Hot Corn Dip makes the best party appetizer on earth! Cream Cheese, Greek Yogurt, onions, and corn are mixed with a ton of cheese and just the right amount of spice to give this dip recipe the perfect kick!
BUFFALO CHICKEN FRIES– These Buffalo Chicken Fries are an awesome appetizer recipe! Crispy French Fries loaded with Breaded Chicken Tenders, Buffalo Sauce, Ranch Dressing and tons of Cheese! A perfect recipe for game day!
BUFFALO CHICKEN PINWHEELS– Are you a Buffalo Chicken fan? Check out this easy recipe for Buffalo Chicken Pinwheels filled with cream cheese, shredded chicken and of course a homemade Buffalo sauce! This is one tasty appetizer everyone will love.
BUFFALO CHICKEN DIP– Crock Pot Buffalo Chicken is super easy and delicious! We used homemade buffalo sauce to make this slow cooker version just a little more healthy than using store bought.
MINI PIGS IN A BLANKET– These mini pigs in a blanket are such a quick and easy appetizer for any occasion. From watching to big game to graduation parties, these easy finger foods are perfect for a crowd. I've also included a recipe for a super easy, two-ingredient chili cheese dipping sauce.
4 INGREDIENT FIESTA CORN DIP– Looking for a quick and easy party dip for your next gathering? This Slow Cooker Fiesta Corn Dip only has 4 ingredients! Creamy, cheesy with just the right amount of spice, you can also add more ingredients to tweak it however you want! Read below for some suggestions to make this Fiesta even more fun!
GRILLED JALAPENO POPPERS– These Grilled Jalapeno Poppers are an awesome version of everyone's favorite classic appetizer recipe. Fresh jalapenos crammed with bubbly cream cheese, cheddar cheese, spices and bacon bits all wrapped up in an extra slice of bacon cooked to crispy perfection on the grill. It's the perfect finger food for your next party, cookout or tailgate! And, with no breading, this is an awesome LOW CARB dish!
BISQUICK CHICKEN FINGERS– Take a trip down memory lane back to your childhood with these Bisquick Chicken Fingers. That famous recipe from the back of the Bisquick Box is SOOO easy to make and still tastes just as good as an adult as it did when you were a kid. I've also included some different ways to make this recipe to keep it fresh, including an Air Fryer Recipe!
CHICKEN PARMESAN SLIDERS– This Chicken Parmesan Sliders Recipe takes sweet Hawaiian Rolls and loaded them with breaded chicken, rich marinara sauce and lots of gooey provolone cheese. Make the classic "Chicken Parm" dish into an easy-to-eat handheld sandwich! Great for feeding a crowd or a fun weeknight dinner!
BUFFALO CAULIFLOWER– Looking for a healthy alternative to the buffalo chicken wings we all love? Buffalo cauliflower is a easy Whole 30 and low carb option that is delicious!
CAJUN DEVILED EGGS– These Cajun Deviled Eggs put a fun and spicy twist on this classic recipe. Red bell peppers and cajun spices team make these hors d'oeuvres an appetizer to remember!
HAM SALAD DIP– This easy Ham Salad Dip needs only 5 ingredients to make a tasty dish that is perfect for any occasion. From the holiday celebrations to a casual cookout, this Ham Salad combines sweet and salty ham with crunchy vegetables and tangy mayonnaise for an awesome combination. It can work great as a dip or as a sandwich spread!
CHIPPED BEEF DIP– Get ready for a trip back in time with this old fashioned recipe for Chipped Beef Dip! Made with Buddig Dried Beef, sour cream, cream cheese, cheddar jack and a blend of spices, it's a delicious appetizer, party snack or game day recipe that everyone will love! And it's gluten-free, low carb and keto-friendly!
20. BACON WRAPPED BRUSSELS SPROUTS– These Bacon Wrapped Brussels Sprouts only use 3 ingredients to make an awesome side dish, appetizer or game day snack. Bring them to your next office party or pitch in to be the hit of the party. For some extra flair, try brushing the bacon with maple syrup before wrapping them up!
21. ROTEL FIESTA DIP– Cheesy, creamy and spicy, this Rotel Cheese Dip with ground beef is the perfect appetizer or game day snack for a crowd.