These French Dip Sliders make a fun family meal or an awesome appetizer for your next party. Hawaiian Rolls, tender roast beef, cheese and caramelized onions. Oh my… what else can I say? You NEED to try these immediately.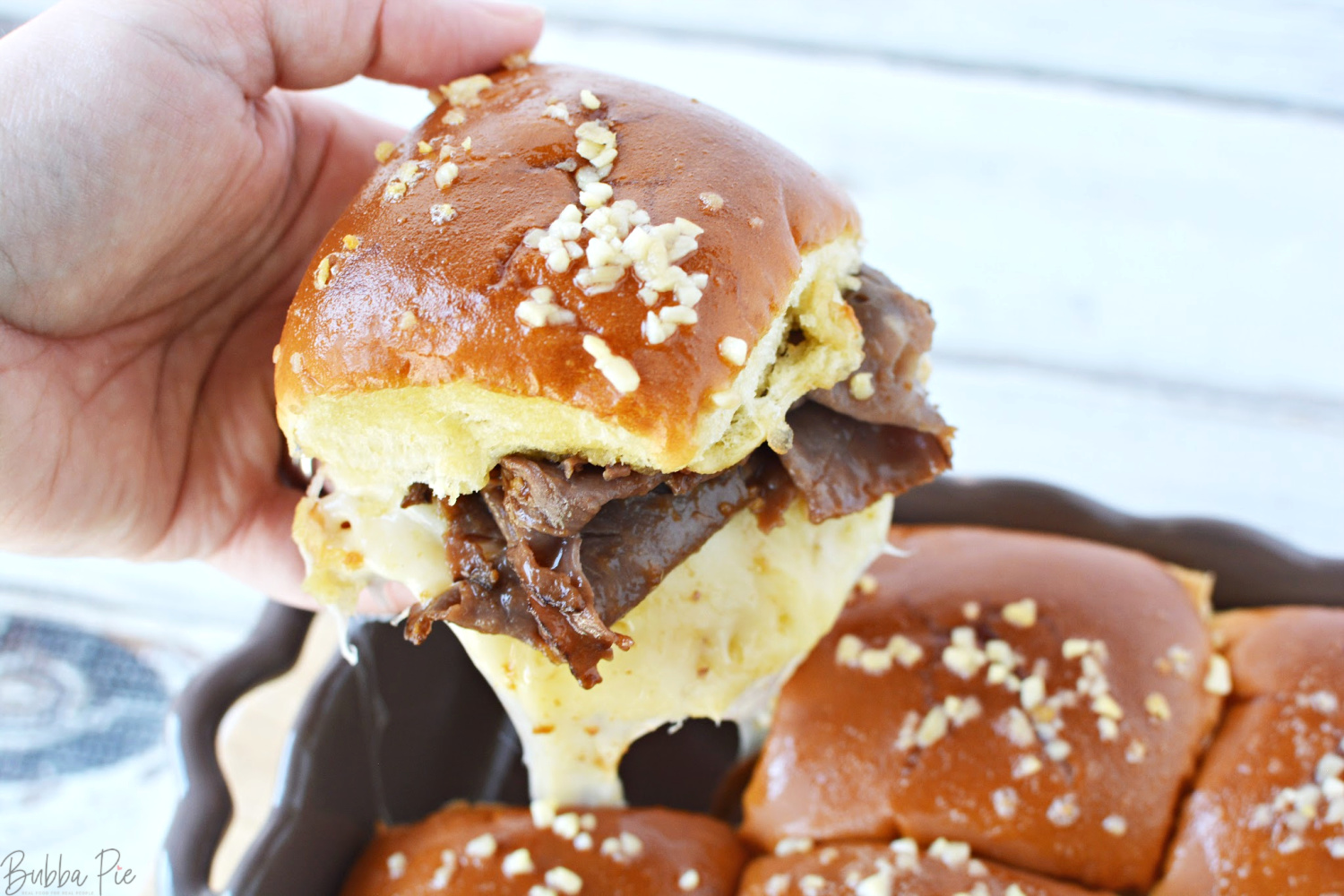 Why You Will Love French Dip Sliders
PERFECT APPETIZER OR MEAL – I'm so pumped about this French Dip Sliders Recipe. I know that I can whip it up pretty easily for a weeknight dinner. And I also know that I've got a rock solid appetizer next time we host game day at our house. Can you imagine plopping a plate of these down on the table when you have friends and family over to watch the big game? They would be gone in an instant!
EASY – With just a few, common kitchen staples and a couple minutes of prep, these sliders are baking in your oven. So easy!
Why Do They Call Them Sliders?
Rumor is, it comes from the Navy. The Navy would serve up small, super greasy hamburgers to the sailors and they would just "slide" down the gut. It was made especially famous by White Castle, something we've all "craved" from time to time.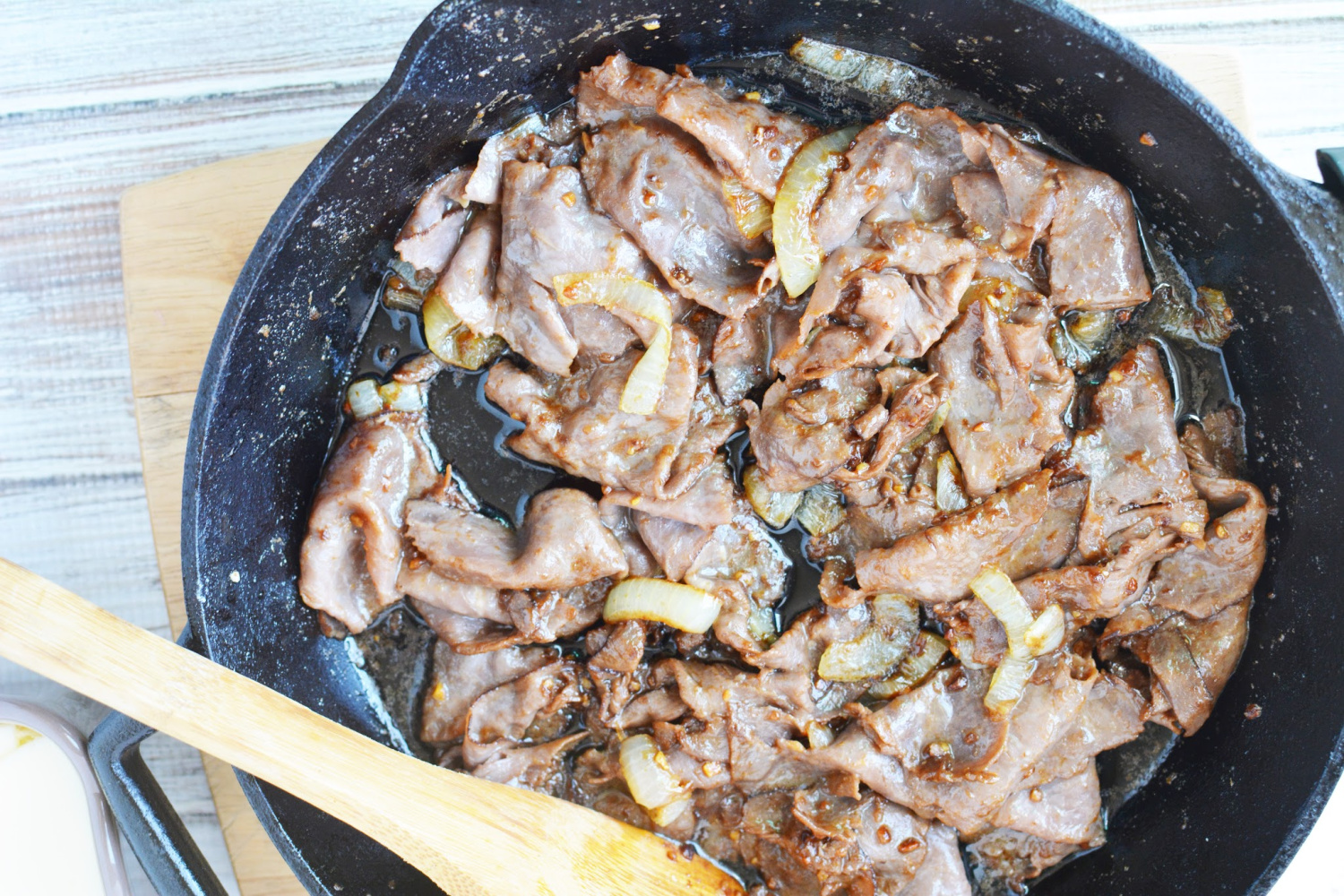 What Is The Best Bread To Use For Sliders?
As you probably know, sliders are just "mini" versions of just about any sandwich. So you'll need to find a smaller bun to put them on. These days, it isn't hard to find slider buns in the bread aisle. But, really, there is only one type of bread to use when making sliders. Hawaiian Rolls. These soft, light and slightly sweet rolls are one of the best things that has ever been invented. And they will take your slider recipe up to the next level for sure!
What Ingredients Will You Need For French Dip Sliders?
For step-by-step instructions, check out the printable recipe card below. But here is what you'll need to get started.
HAWAIIAN ROLLS – Soft, sweet and delicious, Hawaiian Sweet Rolls are a MUST for this recipe! Use a serrated knife to cut them in half and then you can start to layer your ingredients on!
PROVOLONE CHEESE – Provolone is the most common cheese on a French Dip. But you can use any soft white cheese: Mozzarella, Swiss or Muenster would work.
BUTTER – Unsalted butter. Divided.
ONION – One small yellow onion. We like yellow onions because of their sweeter, milder flavor.
GARLIC – Minced. You can mince your own, fresh garlic. Or use the stuff that comes in the jar.
WORCESTERSHIRE SAUCE – This sauce will really give your roast beef a boost of flavor!
ONION POWDER
SALT AND PEPPER – To taste.
DRY AU JUS SEASONING
ROAST BEEF MEAT – Sliced very thin.
What Is the Best Cheese To Use For French Dip Sandwiches?
If you look around on the internet, you will see that about 80% of French Dip Sandwiches use Provolone Cheese. It's a soft, mild white cheese that melts easily. So this is no surprise. But don't be afraid to try some other types. Mozzarella could certainly work, although you won't get as much of a cheese flavor from it. I've seen some use a sharp cheddar and I've even seen some example with Pepper Jack or Bleu Cheese! If these sound good, go for it!
What To Serve With French Dip Sliders?
This recipe works awesome as an appetizer. But it's also a great, easy family dinner. In that case, you'll probably want to serve it with a side dish. Some great suggestions are: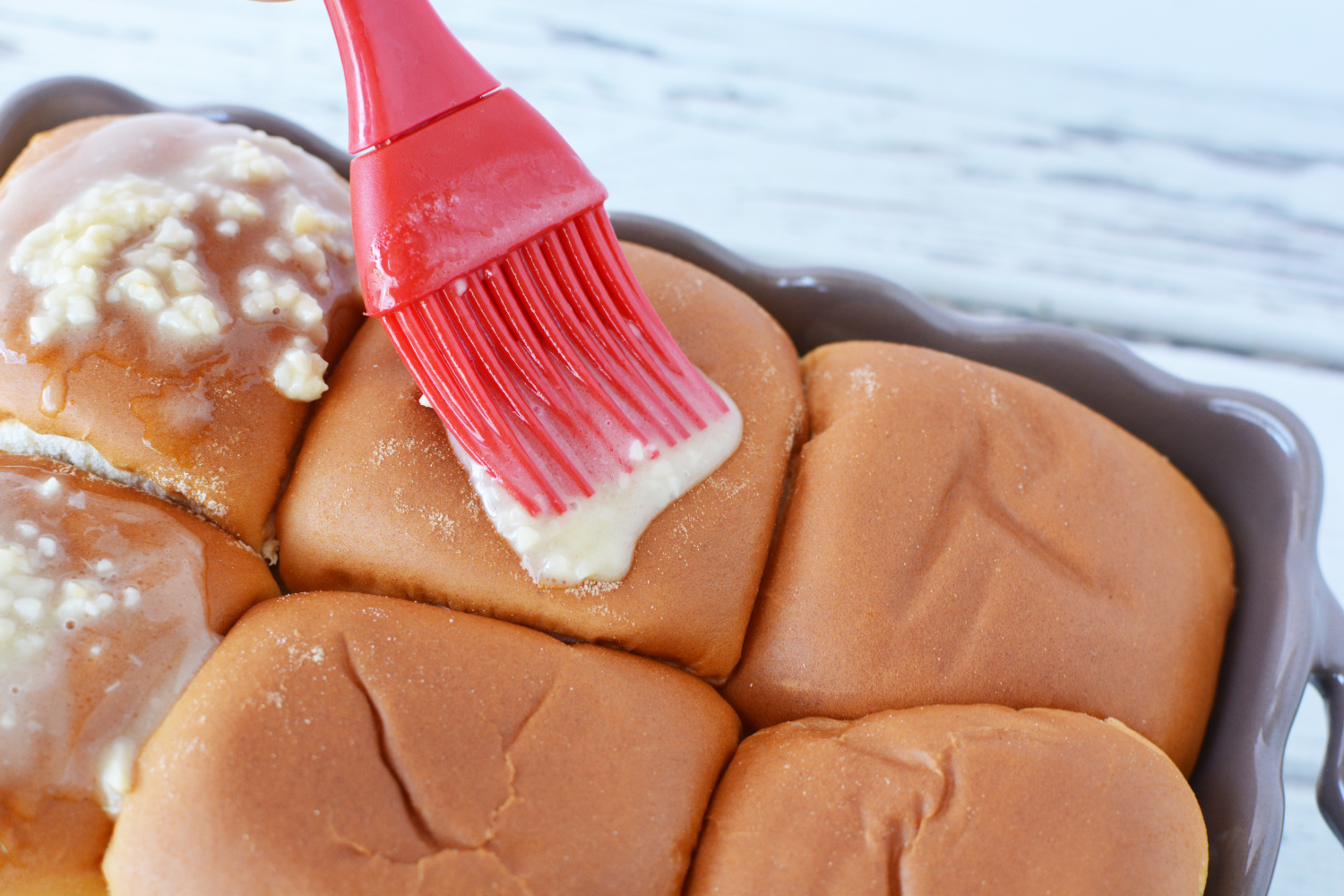 Onions or No Onions?
I'm honestly not a HUGE onion fan, but if they are cooked or caramelized, I can handle them. But my husband loves them! So we used them on this recipe. Instead of using caramelized onions, you could also use store bought french fried onions. This would give your French Dip Sliders some crunch texture. Yum!
White onions or yellow onions? It doesn't really matter. They will both work fine in this recipe. White onions will give you a bit of a stronger onion flavor, while yellow onions will be slightly milder and sweeter. So it's your call!
What Type of Roast Beef To Use For French Dip Sliders?
Using store bought deli roast beef is totally fine for this recipe. One thing that I would do different is have the roast beef sliced into thinner pieces, almost shredded. The slices I had were a little too thick and it made the sandwiches hard to cut out of the pan and a little difficult to eat.
Storage, Leftovers and Freezing
Store leftovers in an airtight container in your refrigerator. This 8X8 pastry pan works great! You can get this pack of 2 for a great price. And they come with a lid that keeps them fresh.
I would not freeze these sliders. They would not thaw very well.
Other Notes and FAQs
USE A LARGE SKILLET – It's best to use a large frying pan when cooking the roast beef, onions and other ingredients.

This

Large Frying Pan

is pretty awesome and affordable! It's nice and deep and comes with a lid.

GARNISH – Putting some parsley or sesame seeds with the melted butter on top of the rolls would look great and give these a great presentation, especially if you are serving them to a crowd as an appetizer.
CAN YOU PUT MUSTARD ON FRENCH DIPS? – Some versions of this sandwich have stone ground mustard. I nice, high quality mustard would go great in this recipe and give it another dimension of flavor and texture.
ARE YOUR BUNS BURNING? – If your buns look like they are getting too dark while baking, you can cover them with aluminum foil.
We've put some tasty recipes on this website that I've been excited to share. But, seriously, you NEED to try these French Dip Sliders as soon as possible!
LOOKING FOR MORE SLIDERS RECIPES? CHECK OUT: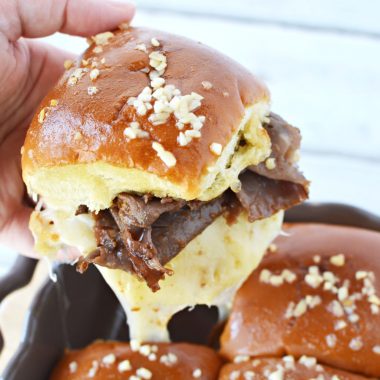 Rate this Recipe
French Dip Sliders
These French Dip Sliders make a fun family meal or an awesome appetizer for your next party. Hawaiian Rolls, hearty roast beef, cheese and caramelized onions. Oh my... what else can I say? You NEED to try these immediately. 
Ingredients
6

hawaiian rolls

4

slices

provolone cheese, cut in half

5

tablespoons

butter

divided

1

small onion

sliced

1

tablespoon

plus 1 teaspoon minced garlic

1

teaspoon

Worcestershire sauce

1/2

teaspoon

onion powder

1/4

teaspoon

pepper

1

tablespoon

about half a packet dry Au Jus seasoning

8

ounces

sliced deli roast beef meat
Instructions
Preheat oven to 350 and pull hawaiian rolls apart and cut in half. Place bottom of rolls into a baking dish. Top with cheese slices, overlapping if necessary. Set aside.

In a skillet, add 4 tablespoons butter, onion and 1 teaspoon garlic. Heat over medium heat until onions are tender, about 5 minutes. Add Worcestershire sauce, onion powder, pepper,  Au Jus seasoning and roast beef. Continue to heat over medium low heat until meat is hot and mixture is combined well.

Place meat mixture on top of the cheese. Add tops of buns.

In a small bowl, add remaining 1 tablespoon of butter and 1 tablespoon minced garlic. Melt together and stir well. Use a pastry brush to top buns with garlic butter mixture. Bake for 10 minutes or until cheese is melted.

Serve immediately.
Notes
While we did not put mustard on our version. Using a good quality, stone ground mustard would work great with these sandwiches. It would give them an extra boost of flavor and texture. You can also add some flair to the garnish if you'd like. Topping of with parsley or sesame seeds would look great and give these a great presentation, especially if you are serving them to a crowd as an appetizer. 
Nutrition
Love this recipe?
Follow @bubbapie for even more delicious recipes!!