These Mini Pigs in a Blanket with Chili Cheese Dip are such a quick and easy appetizer for any occasion. From watching to big game to graduation parties, this easy crescent roll recipe is perfect for any occasion where you'd need to feed a crowd. And our special recipe for Chili Cheese Dip goes perfectly with them!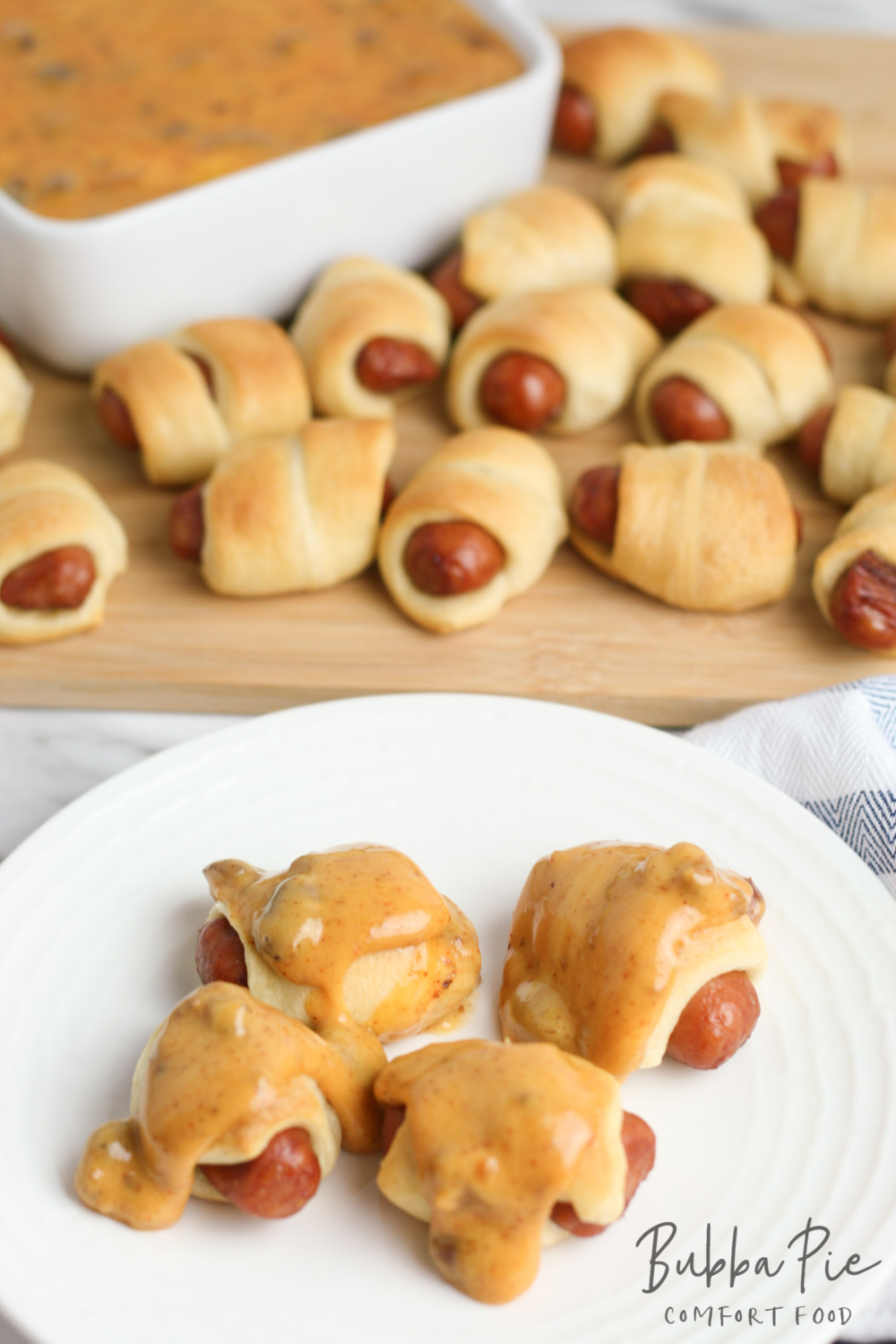 Easy Appetizer Recipes
Whether you are celebrating a holiday or big event with your family or watching some sports with friends, food and drink can be the centerpiece of any occasion. Honestly, I've always had a soft spot for appetizers. I'd be happy with just having a spread of several different handhelds, mini bites or dips to choose from instead of any main courses.
From handheld sandwiches like thes Buffalo Chicken Pinwheels or these French Dip Sliders, to yummy dips like this Ham Salad Dip or this Velveeta Rotel Cheese Dip, you can always keep the party going with some tasty appetizers. But, one appetizer that always gets my motor running when I see it on the spread is Mini Pigs in A Blanket.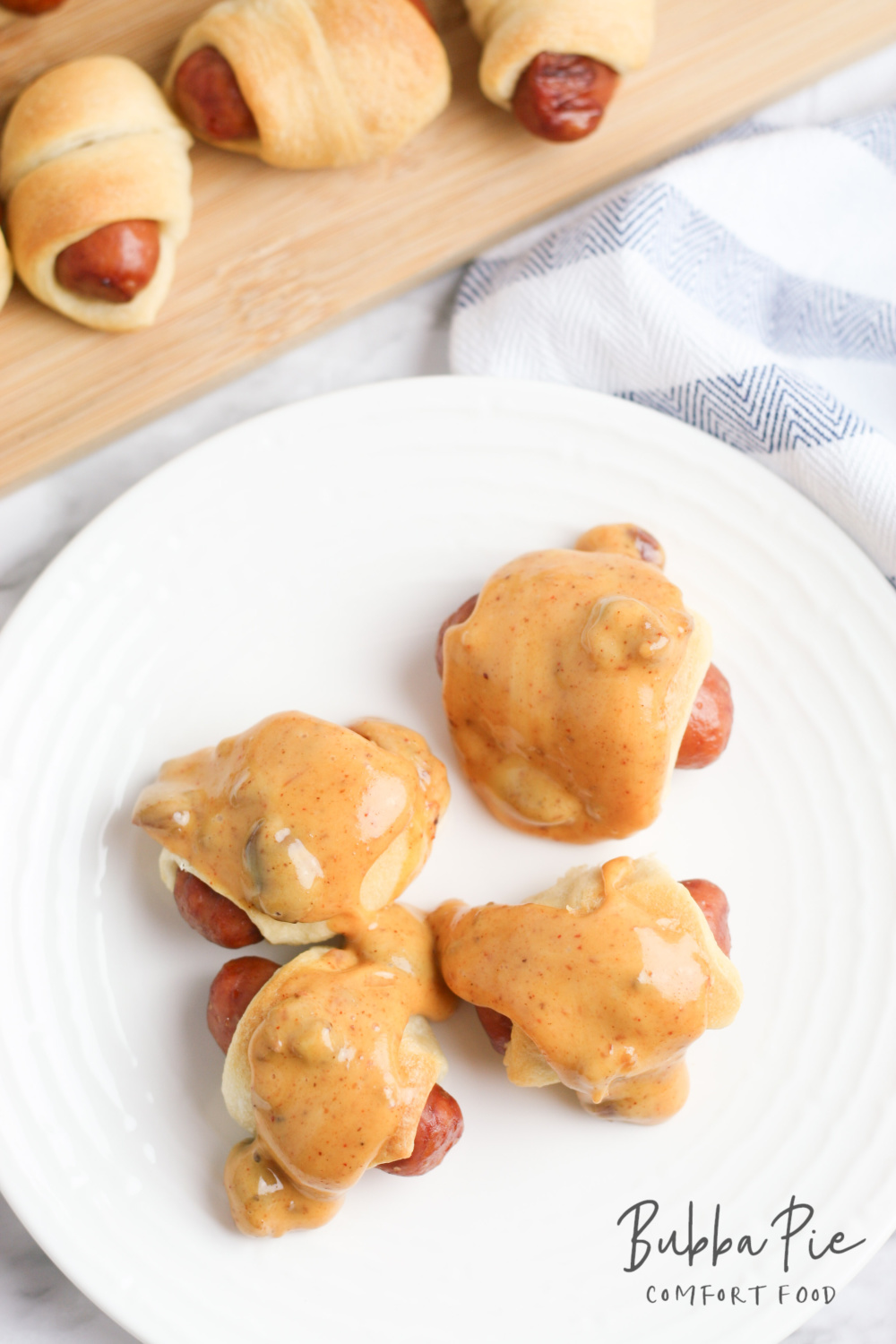 Mini Pigs In A Blanket With Cheese Sauce
So, why do the even call them Pigs In a Blanket? Well, it's because they are composed of hot dogs (the pig) wrapped up in dough (the blanket). Not sure who came up with this name but it's brilliant!
I love Mini Pigs In A Blanket because they are easy to make, easy to eat and there is so much that you can do with them. So, how could I possibly make this food from heaven any better?  Well, I've also always loved Chili Cheese Hot Dogs.  So, what if I combined my love for mini pigs in a blanket with my affection for chili cheese hot dogs?  What if I dipped my pigs in a blanket into some chili cheese dip?  Voila!  Can it get any better than this?  Nope, it cannot.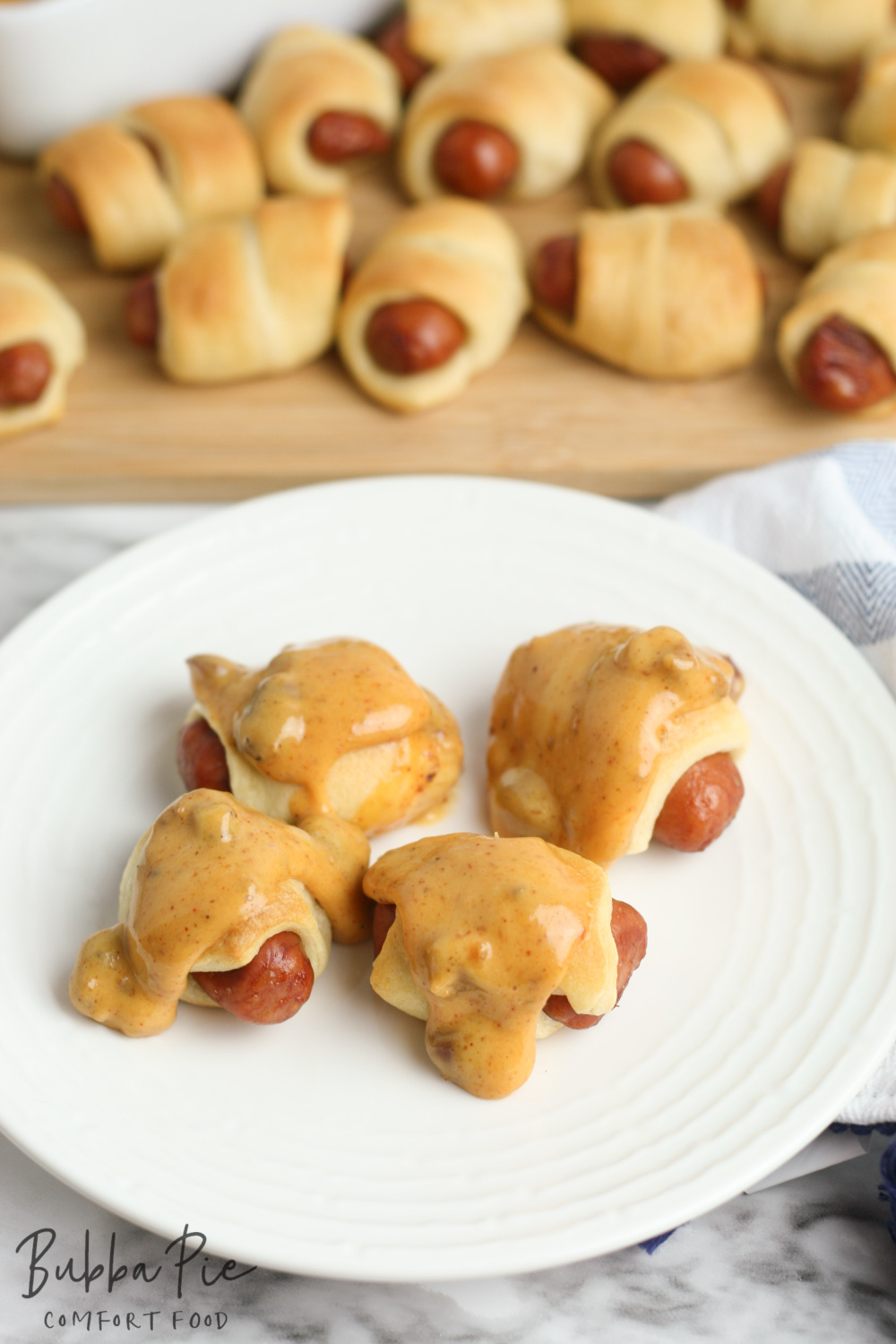 Chili Cheese Dipping Sauce Recipe
But my absolute favorite thing to use for a Mini Pigs In A Blanket dip is this Chili Cheese Sauce. Again, this recipe only has 2 ingredients and is SOOOO easy. All you need is a can of Chili (with or without beans) and 1 package of Velveeta Cheese.
Simply put the can of chili in a crock pot and top with cubed Velveeta Cheese. Cook on low for 4 hours or high for 2 hours.
What Other Dips Can You Use?
Not a fan of Chili Cheese Dip? No problem! These Mini Dogs will taste delicious dipped into just about anything. Some dips that I love to use are:
MUSTARD– Dijon, Stone Ground, Spicy or Yellow
KETCHUP
CHILI SAUCE
BBQ SAUCE
RANCH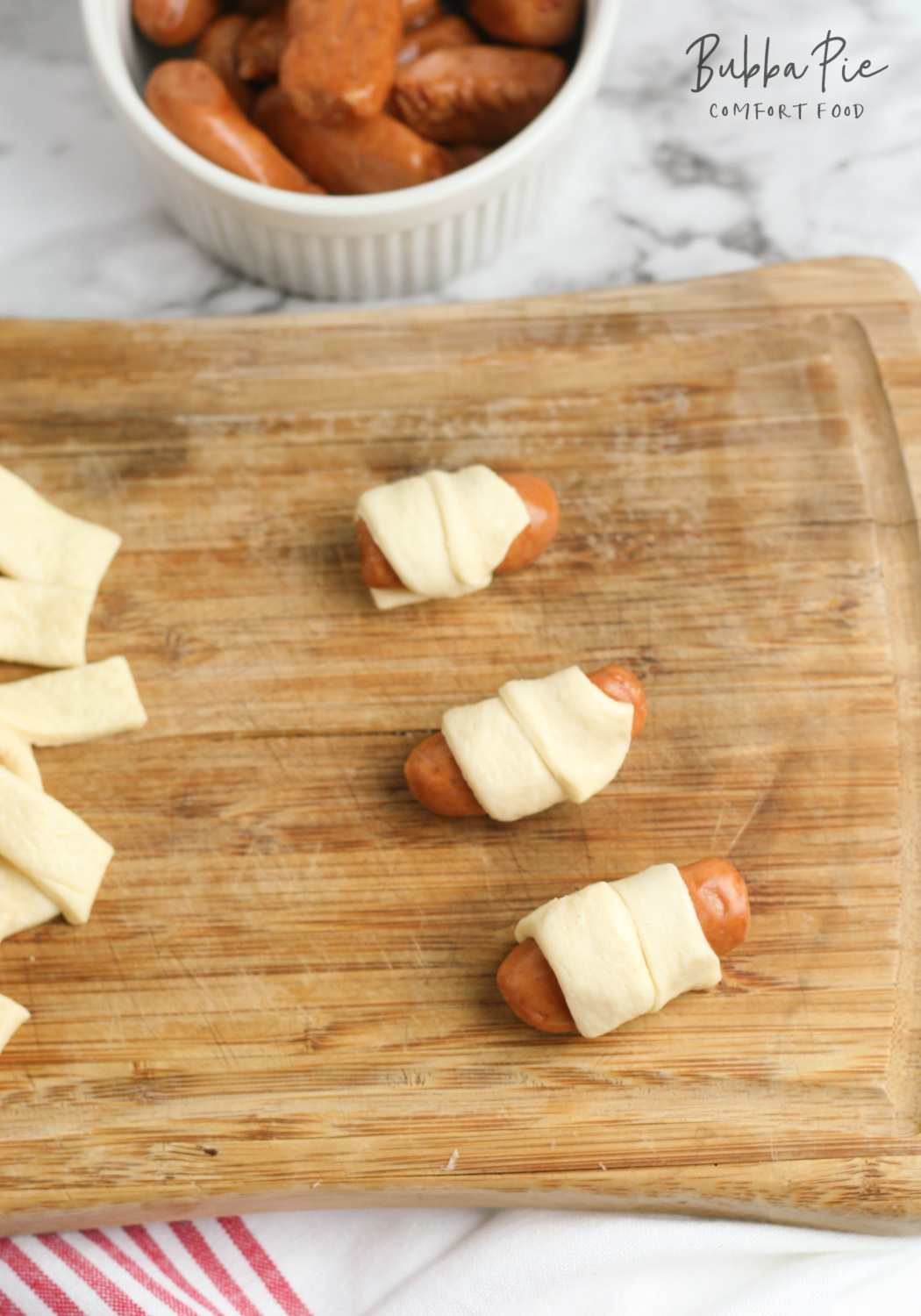 Can You These Ahead Of Time?
Yep! This is another reason that this recipe is so awesome as an appetizer for a party or game day. You can do most of the work ahead of time and not be in the kitchen when all of the guests arrive. Simply assemble the crescent rolls and the Li'l Smokies together, put them on a baking tray and cover with plastic or saran wrap. Keep in the fridge until you are ready to bake them. Make sure you wait to bake them until right when you are ready to serve them. These are certainly best served warm!
I hope you enjoy with mini pigs in a blanket with chili cheese dip recipe.  Dig in!
Notes, Tips and Variations
Use Any Meat! – If you don't have mini wieners, don't worry! You can use regular hot dogs for this recipe. Simply cut the hotdog up into one-inch portions. Or you could use small sausage links, kielbasa or any variation of L'il Smokies. Like these Cheddar Cheese ones!
Add Cheese! –  Either you can buy the mini cocktail smokies that have cheese already in them or you can put a thin strip of sliced cheese inside the crescent roll along with the little smokies. And you can use any sort of cheese you'd like. Sharp Cheddar, Swiss or Pepper Jack for some added heat!
Add toppings to your Pigs In A Blanket! – Topping with Sesame Seeds or "Everything" Bagel Seasoning works great for this recipe. Before putting them in oven, brush the top of the crescent roll with melted butter or egg wash and add your seasoning.
Dijon Mustard! – You can also brush the inside of the crescent rolls with Dijon Mustard before putting the little smokies in. This will give it some added flavor!
Line Baking Sheet –  These Mini Pigs In a Blanket could stick to your baking sheet. So, it's best to line it with parchment paper or a silicon baking mat. Or, at least spray it with cooking spray.
Drain Cocktail Weiners – A lot of times, there is liquid in the packing of the meat. You may want to rinse them off and dry them off before wrapping them in the crescent rolls.
Storage and Reheating – You can keep leftovers in an airtight container in the refrigerator. To reheat, simply put them in the microwave for 20-30 seconds.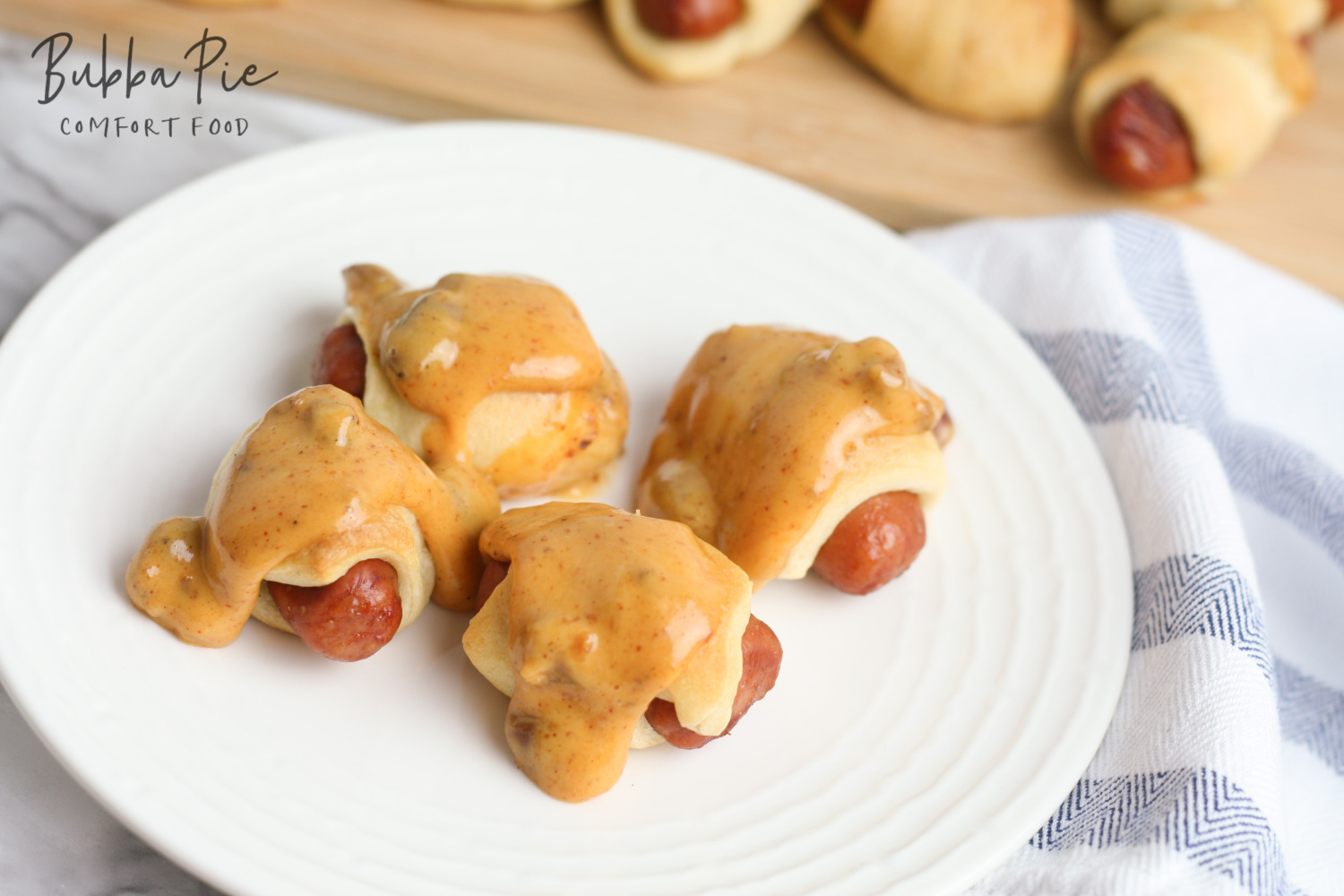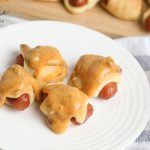 mini pigs in a blanket with chili cheese dip
Mini pigs in a blanket dipped in a rich, spicy, chili cheese sauce. This is the perfect way to enjoy the big football games coming up or as an appetizer for your next party. Easy to eat, easy to share and incredibly delicious!
Ingredients
1

package cocktail wieners

1

package crescent rolls

1

can chili with beans

1

pound

package Velveeta

cubed
Instructions
Preheat oven to 350 degrees.

Unroll crescent roll dough and slice into strips.

Wrap each cocktail wiener with one strip of crescent roll dough.

Place in preheated oven and bake for 20 minutes or until crescents are golden brown.
Chili Cheese Dip Recipe
Place chili in the bowl of a crock pot.

Top with cubed Velveeta.

Cook on low for 4 hours or high for 2 hours, stirring occasionally.
Nutrition Facts
mini pigs in a blanket with chili cheese dip
Amount Per Serving
Calories 166
* Percent Daily Values are based on a 2000 calorie diet.