This Mississippi Sin Dip is the ultimate game day party dip! Cream Cheese, Sour Cream, Mayo, Cheddar Cheese, Ham, Garlic and Hot Sauce are all baked in a bread bowl until ooey and gooey. Do I have your attention?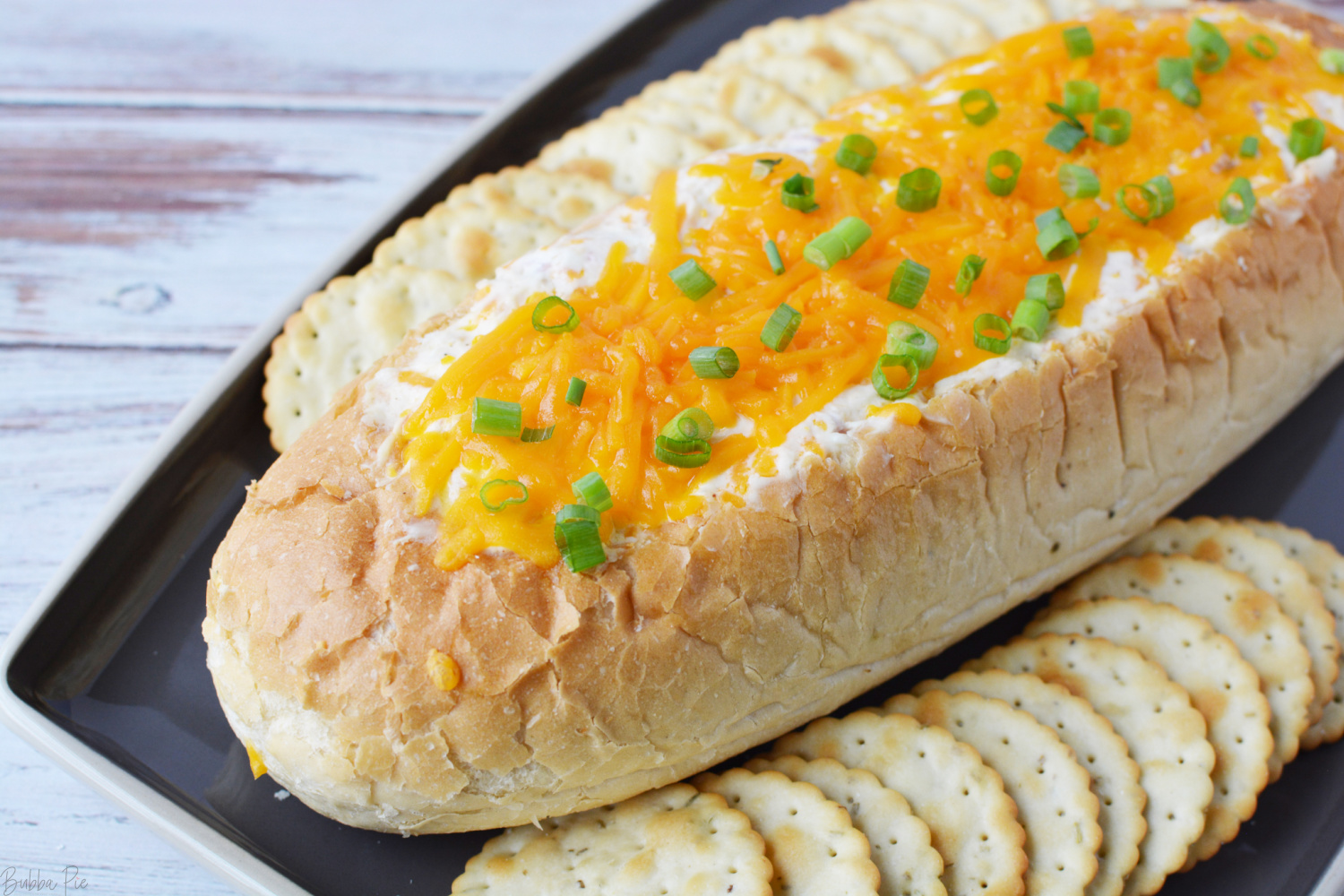 Why You Will Love Mississippi Sin Dip
EASY – Simply mix all the ingredients together, put it in your bread bowl and bake! So simple and easy! You can even mix the ingredients ahead of time and put them in a medium bowl in the fridge. Then scoop and bake whenever your ready!
FEEDS A CROWD – This dip is ooey, gooey, thick and rich! And makes enough to feed a good sized crowd. Just surround it with tons of stuff to dip and your guests will be happy!
DELICIOUS – Warm, creamy cheese, salty ham, sour cream, cream cheese and a dash of hot sauce for some kick. Do I have your attention yet?!?!? This dip is highly addictive!
What Is A Mississippi Dip?
So, what is it and why do they call it a Mississippi Sin Dip? I've looked around on the web for this answer and I can tell you I have no clue. With it's solid comfort food offerings, it doesn't take much imagination to think this dish probably DID originate somewhere in the south. And, with tons of cream cheese, sour cream, mayonnaise, cheddar cheese and ham all stuffed into a carb loaded loaf of bread, consuming this recipe is most certainly a sin for just about any diet you may be on.
But boy oh boy, is it delicious! And totally worth some of the guilt you may be feeling later. Don't be so hard on yourself! You DESERVE this dip!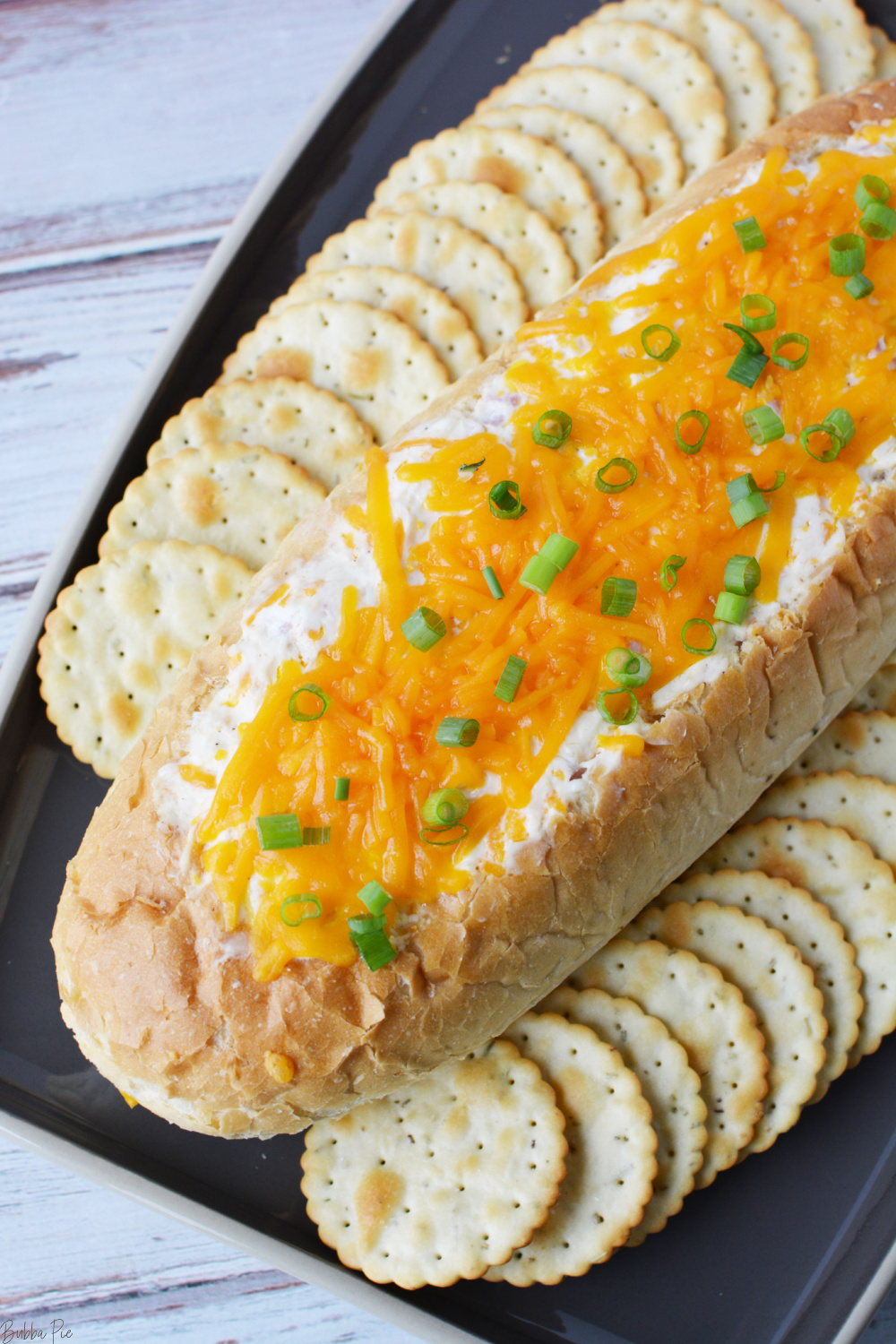 How To Make Mississippi Sin Dip
We like to keep our lists of ingredients pretty small on this site. And this list is a little longer than many of our recipes. But all the ingredients are super simple and you probably already have them in your kitchen. For step-by-step instructions, check out the printable recipe card below. But here is what you'll need to get started:
Mississippi Sin Dip Ingredients:
ITALIAN BREAD – Just make sure your bread loaf is large to fit all of the dip inside it.
CREAM CHEESE – You can substitute for low fat cream cheese to lighten this dish up. Or, there are flavored cream cheeses you could try as well: Garden Vegetable Cream Cheese, Chive and Onion, Jalapeno, etc… They have a ton of flavors!
SOUR CREAM – You can also substitute for light sour cream here too.
MAYONNAISE – Use real Mayo.
SHREDDED CHEESE – We used Cheddar Cheese. But you can use whatever you'd like. Pepper Jack for some heat. Colby Jack, etc…
DICED HAM – This is a great use for leftover ham. Or you can buy some thick cut ham from your deli or even the pre-cubed packages of ham.
GARLIC – Minced.
SALT AND PEPPER – To taste.
WORCESTERSHIRE SAUCE – This gives the dip an extra depth of flavor.
HOT SAUCE – We used about 10 dashes. You can use however much to achieve the heat you want. And use whatever kind of hot sauce you prefer. We used Franks Red Hot.
GREEN ONIONS – For a garnish.
Can You Make This Dip Ahead Of Time?
Yep! You can mix all the ingredients together and keep in an airtight container in the fridge until your ready to put it in the bread and bake it. I wouldn't introduce the dip mixture to the bread until your ready to bake, or the bread may get soggy.
This recipe does have perishable ingredients, so keep an eye on the time after you serve it. I wouldn't leave it out in room temperature for more than 3 hours.
Can You Use A Slow Cooker?
This recipe would be awesome for a slow cooker! Just dump all your ingredients in and cook on low for about 2 hours. Then carve out your bread and serve it!
What To Dip In Mississippi Corn Dip?
You can dip just about anything you'd like into this dip. Some ideas are:
Celery
Carrots
Fritos
Tortilla Chips
Pita Chips
Pretzels
Ritz Crackers
Saltine Crackers
Leftovers, Storage and Freezing
Store leftovers in an airtight container. Or, if you want to keep it in the bread bowl, wrap loaf in aluminum foil or Saran Wrap (plastic wrap). It will need to be in the refrigerator. It should stay good for up to 4 days but the bread bowl may start to get soggy sooner than that.
I would not freeze this dip. It wouldn't thaw very well.
Notes, Tips and FAQs
USE A SERRATED KNIFE TO CUT THE BREAD BOWL – Use a bread knife or a serrated knife when you slice into your bread to keep your cuts clean and keep the bread intact.
DO I HAVE HAVE TO USE ITALIAN BREAD? – No, really any kind of bread loaf could work for this: french bread, sourdough bread, etc…. And really any shape as long as you can make it into a bowl. I've heard of people using Hawaiian Bread too!
WHAT OTHER MEAT CAN YOU PUT IN MISSISSIPPI DIP? – You could cook and dice up some bacon. Or cook (and drain the grease) some breakfast sausage. Shredded chicken could also work!
DO YOU HAVE TO USE A BREAD BOWL – Nope! You could serve this in an 8X8 baking dish and that would work just fine.
BREAD CUBES – Keep the bread you slice out of the loaf to make the bowl. You can make bread cubes out of them to dip into the dip.
I hope you enjoy this awesome party dip! Mississippi Sin Dip is an awesome recipe to feed a hungry crown on game day! Let me know how it works out for you in the comments!
LOOKING FOR MORE DIP RECIPES? CHECK OUT: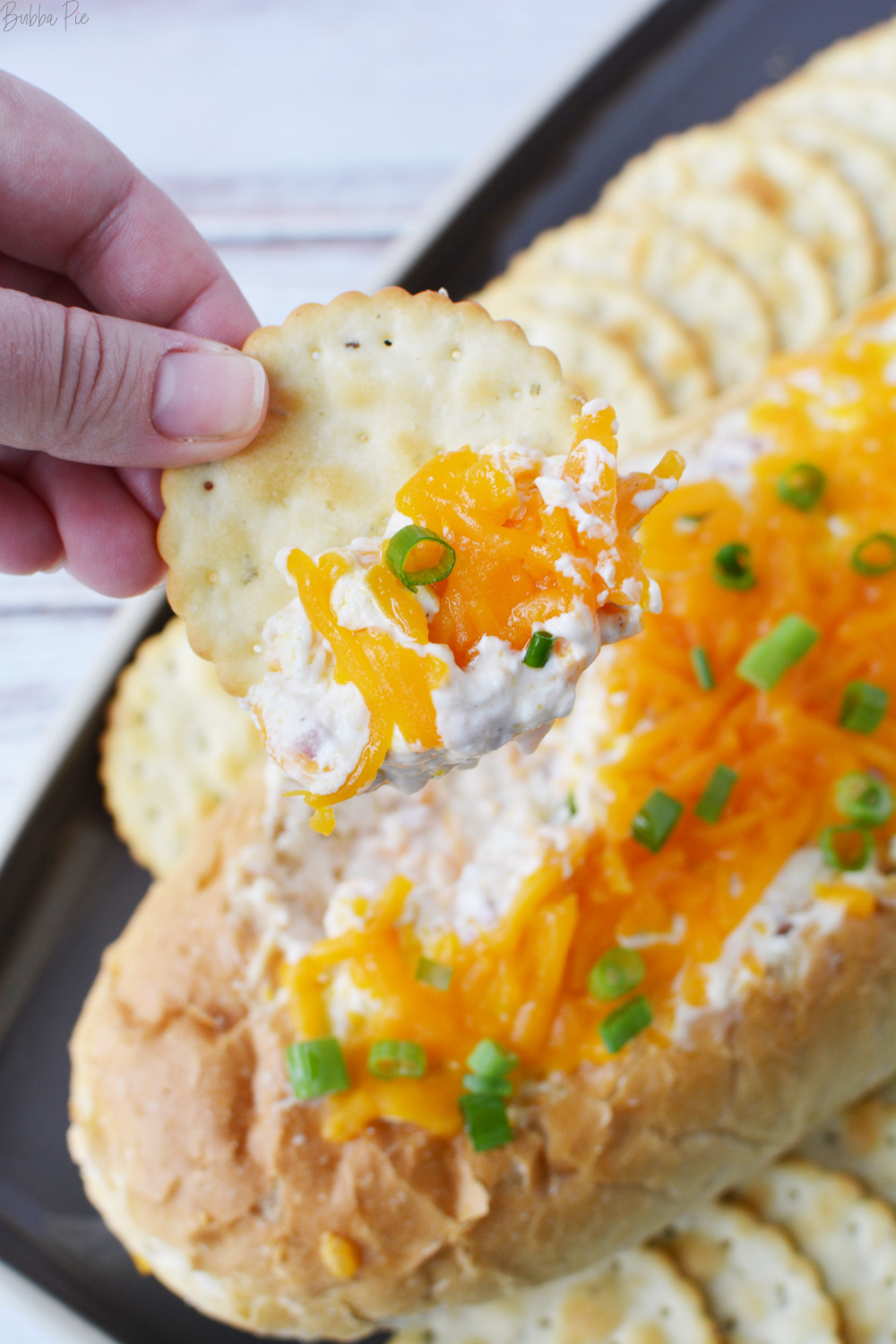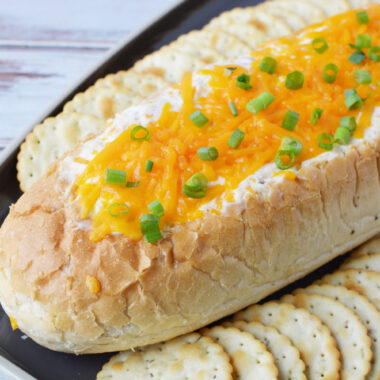 Rate this Recipe
Mississippi Sin Dip
This Mississippi Sin Dip makes the perfect game day party appetizer. Perfect to feed even the most hungry crowd, this ooey gooey cheesy dip is loaded with flavors and served in a bread bowl.
Ingredients
1

loaf Italian bread

1

brick

8 oz, cream cheese, softened

1

cup

sour cream

1/2

cup

real mayonnaise

2-1/2

cups

shredded cheddar cheese

divided

1

cup

diced ham

1

tablespoon

minced garlic

1

teaspoon

salt

1/2

teaspoon

black pepper

5

dashes Worcestershire sauce

10

dashes hot sauce

chopped green onions for garnish
Instructions
Preheat oven to 350.

Place foil onto a baking sheet and place the bread on the foil. Use a knife to cut the center out of the bread and remove. Set aside to serve if desired.

In a mixing bowl, beat together cream cheese, sour cream and mayonnaise. Beat well.

Add 2 cups cheddar cheese, ham, garlic, salt, pepper, Worcestershire sauce and hot sauce. Mix well.

Spoon into prepared bread.

Wrap bread in foil. Make sure you spray the foil that touches the cheese dip with nonstick cooking spray. Bake for 25 minutes. Remove from oven and remove foil. Sprinkle with remaining 1/2 cup cheese and return to the oven for 5 minutes.

Top with chopped onions and serve with crackers.
Nutrition
Love this recipe?
Follow @bubbapie for even more delicious recipes!!