Get your Buffalo fix on without all the guilt with these Buffalo Cauliflower Bites.  Made with a healthy dose of veggies, these Buffalo Cauliflower Wings are a low carb vegetarian recipe perfect for game day, parties, pitch ins or any occasion!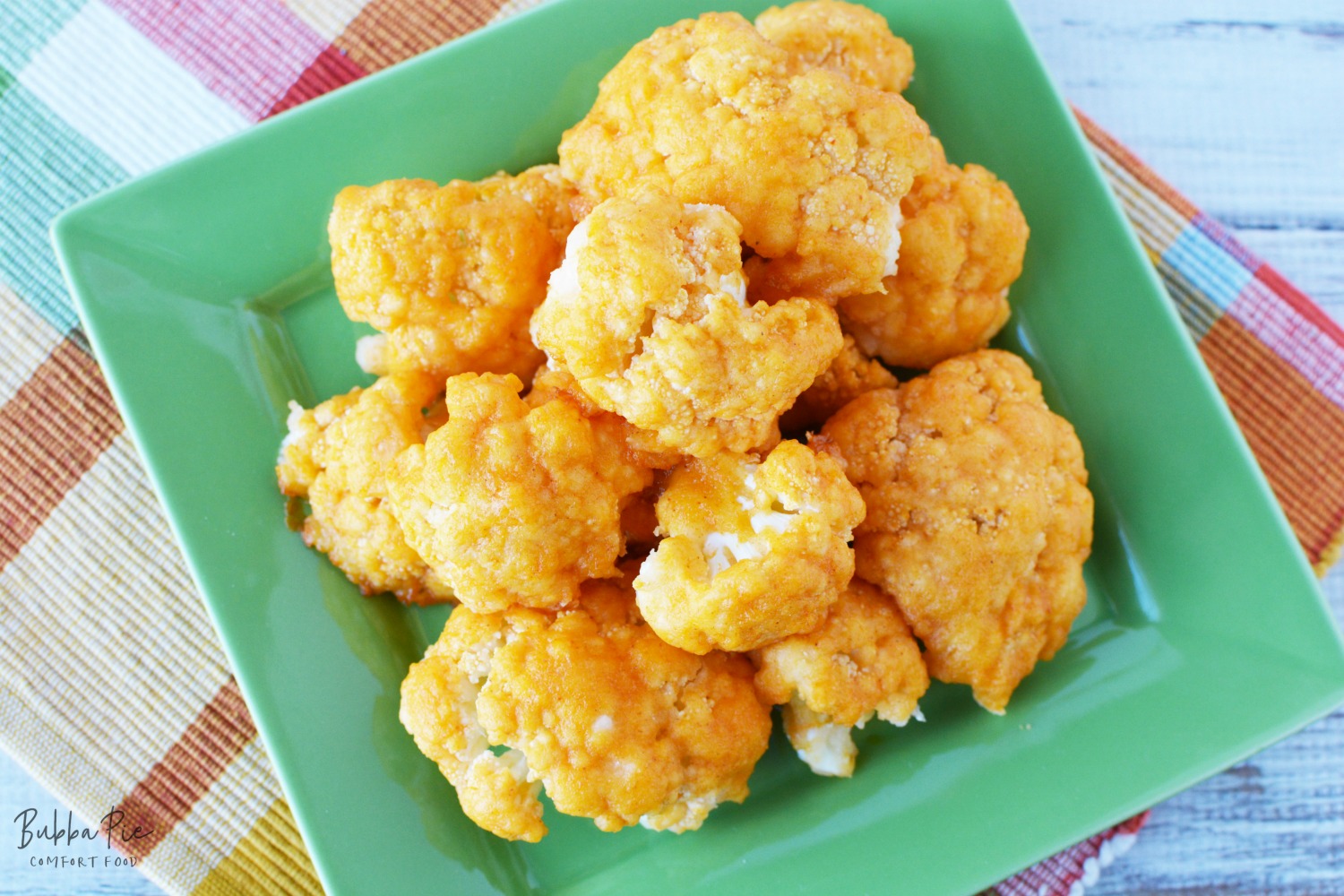 I Am Hot For Buffalo!
Here at Bubba Pie, we love all things Buffalo.  Last week, I talked about my aversion to eating meat off the bone.  So I generally stay away from traditional Buffalo Chicken Wings (my husband has absolutely no problem with them!).  Luckily, there are so many other ways to dive into the zesty, intense flavor of buffalo sauce.  There are Buffalo Chicken Pinwheels, Buffalo Chicken Dip, along with boneless wings and lot of other options.
Buffalo Cauliflower Bites
Unfortunately, while a lot of these recipes solve my dilemma of not eating off a bone.  Most of them aren't terribly healthy for you.  I do like to try to eat a little healthier whenever possible, so I'm super pumped about Buffalo Cauliflower Bites.  I have to admit, I was a little skeptical when I first heard about them.  But I was amazed at how much I felt like I was just eating some boneless buffalo chicken wings.  In fact, a lot of people call these Buffalo Cauliflower Wings, because, basically, that's what they are.
They are incredibly easy to make.  Just mix the ingredients, coat the cauliflower and bake in the oven!
Can You Make Buffalo Cauliflower In The Air Fryer?
Yes! Also, so easy! My husband has made Air Fryer Buffalo Cauliflower Bites and they turned out great as well! Check them out on his website with the link above!
Just make sure that you are using Buffalo Sauce and not normal Hot Sauce.  Buffalo Sauce usually has some butter mixed into it, which will work much better in a recipe like this.  Check out my great recipe for Buffalo Sauce!
Buffalo Cauliflower Wings Recipe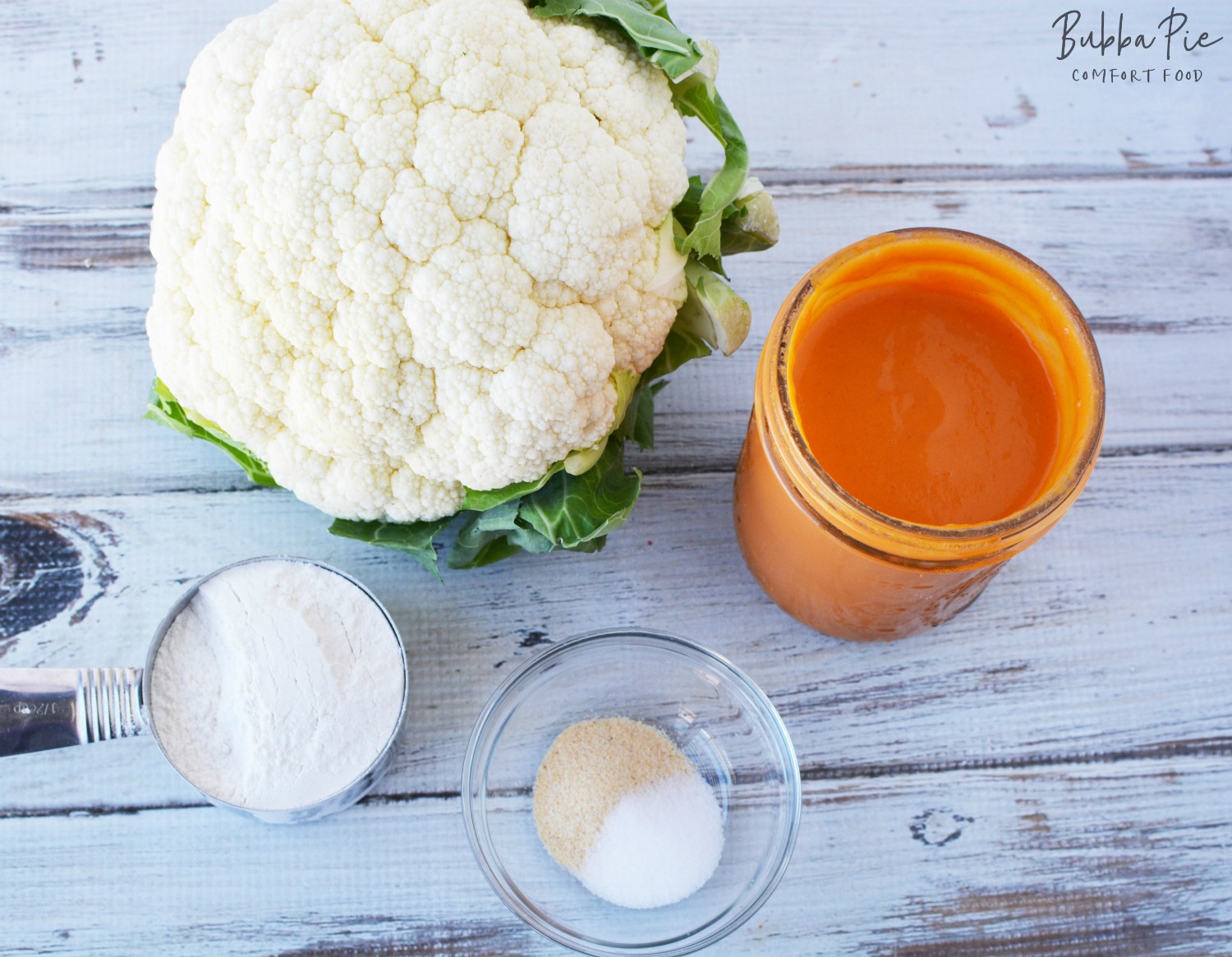 Buffalo Cauliflower Bites Ingredients:
1 head cauliflower, cut into small pieces
1/2 cup water
1/2 cup flour
1 teaspoon garlic powder
1 teaspoon salt
1/2 cup buffalo sauce
How To Serve Buffalo Cauliflower
Buffalo Cauliflower is best served and consumed directly after it's made. I wouldn't make this ahead of time. And they probably won't taste as good reheated.
You can dip them in Ranch or Blue Cheese.  Remember to serve them with a side of celery or carrots just like you normally would.  I also think it would be a great idea to make a salad with these bad boys on top.  Or you could even make a sandwich out of them!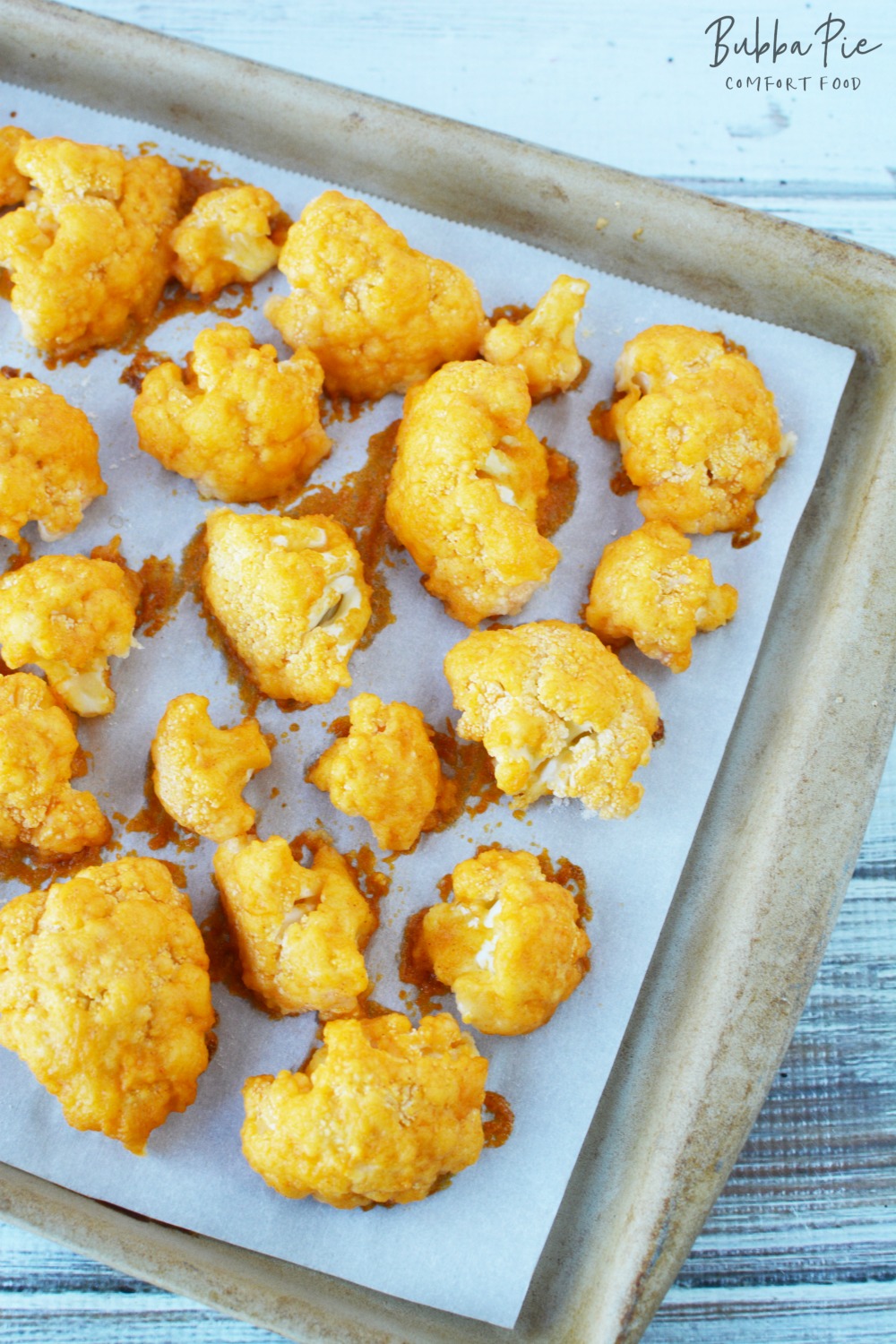 Notes, Tips and FAQs
CAULIFLOWER SIZE– You want to use larger cauliflower florets. This lets them cook nice and tender and they are easier to eat. And make sure you rinse your cauliflower in water before using them.
CAN YOU MAKE THESE GLUTEN FREE?– Sure! Simply substitute for Gluten Free Flour and these will be good for a gluten free diet.
PREPARE BAKING SHEET- The florets may stick to you baking pan if you don't prepare it. I recommend lining it with aluminum foil or parchment paper for an easy clean up. Or you could use a silicone mat. You could also spray with baking spray.
TIP– You can coat your cauliflower by putting them all in a large ziplock bag and shaking them up. This will get them well and evenly coated.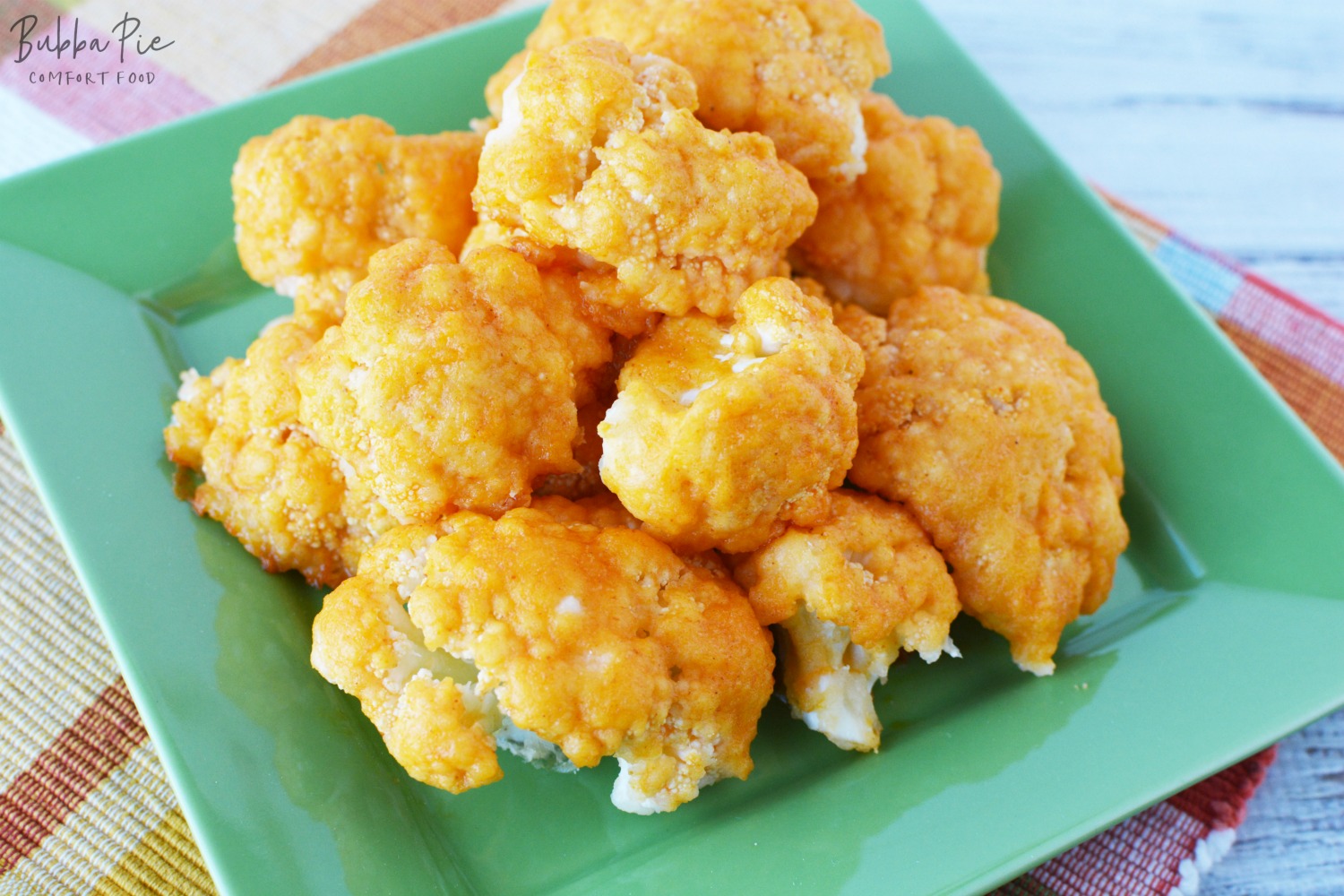 We hope you enjoy these Buffalo Cauliflower Bites! Please drop a line down in the comments section to let us know how they turned out. Enjoy!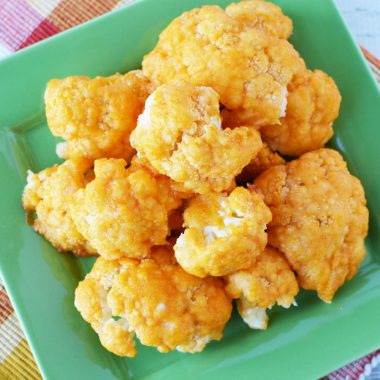 Rate this Recipe
Cauliflower Bites.
Get your Buffalo fix on without all the guilt with these Buffalo Cauliflower Bites. Made with a healthy dose of veggies, these Buffalo Cauliflower Wings are great for any occasion.
Ingredients
1

head cauliflower

cut into small pieces

1/2

cup

water

1/2

cup

flour

1

teaspoon

garlic powder

1

teaspoon

salt

1/2

cup

buffalo sauce
Instructions
Preheat oven to 450 and line a baking pan with parchment paper or grease it well with nonstick cooking spray.

Set aside.In a mixing bowl, add cauliflower and water and mix well to coat cauliflower.

In a small bowl, combine flour, garlic powder and salt and mix well.

Sprinkle over cauliflower and mix well to evenly coat.

Place cauliflower on prepared baking sheet in a single layer.

Coat cauliflower with buffalo sauce.

Bake for 10-13 minutes or until cauliflower is tender.

Remove from oven and serve.
Nutrition
Love this recipe?
Follow @bubbapie for even more delicious recipes!!