This Chicken Parm Sliders Recipe takes sweet Hawaiian Rolls and loads them with breaded chicken, rich marinara sauce and lots of gooey provolone cheese. Make the classic "Chicken Parm" dish into an easy-to-eat handheld sandwich! Great for feeding a crowd as party food, a fun weeknight dinner or game day recipe.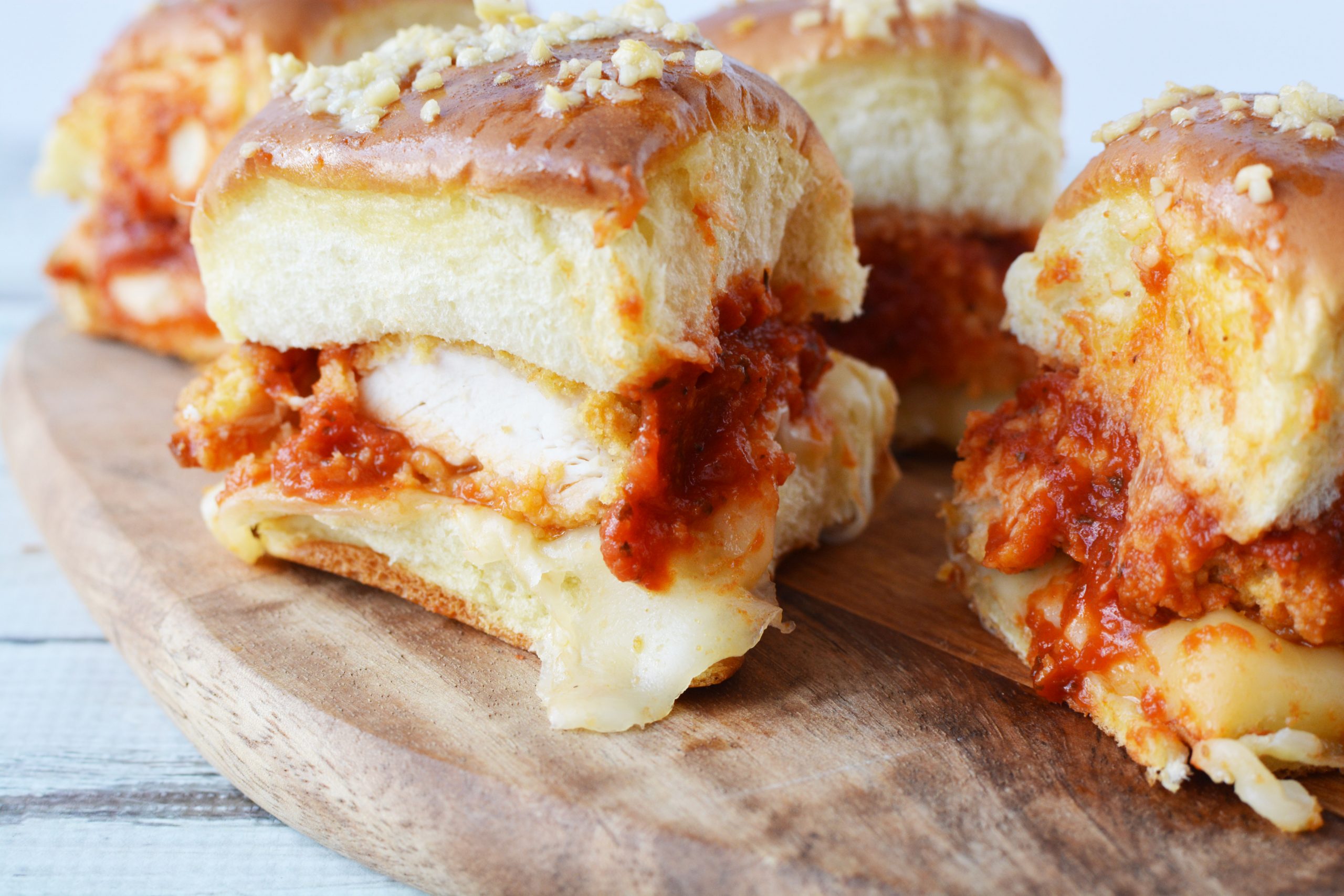 Why You'll Love This Recipe
A NEW TAKE ON A CLASSIC DISH – I've always loved a good Chicken Parmesan Recipe. I've had some great versions of this dish in many different restaurants over the years. It really is one of the ultimate comfort foods. These Chicken Parm Sliders are a fun new way to enjoy this classic Italian staple!
GREAT FOR ENTERTAINING OR FEEDING A CROWD – And it is great finger food to entertain at your next party! Guests can just grab and go! And it's great this this works awesome as an appetizer, or just as a dinner or lunch. Pair with a side salad, french fries or some potato chips for a complete meal!
EASY, SIMPLE RECIPE – We love how easy this is to make. Only a couple, simple ingredients and a few minutes of prep! We use frozen breaded Chicken Breasts to make this recipe even easier. Sliders are so EASY to make. Be sure to also check out our Cuban Sliders, French Dip Sliders, Buffalo Chicken Sliders, Cuban Sliders and Ham and Cheese Sliders!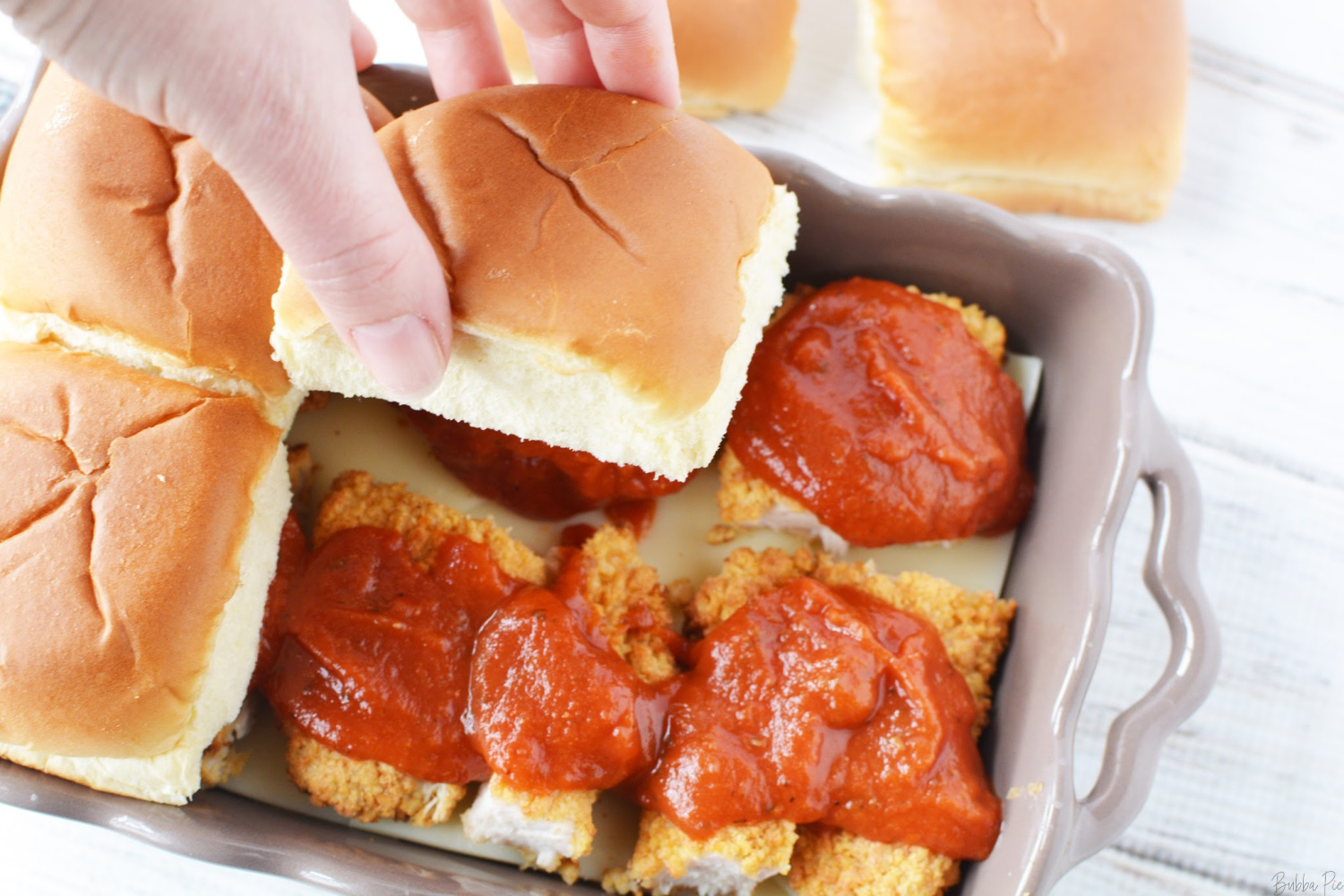 Chicken Parm Sliders Recipe
Just like so many other recipes on this website, there are no curveballs here. Just Comfort Food, easy and simple. For the full, step-by-step instructions, check out the printable recipe card below. But here is what you'll need to get started.
BREADED CHICKEN BREASTS – Just plain, store bought frozen Breaded Chicken Tenders is what we use here. Want to make your own breaded chicken breasts, go for it. Here is a pretty simple recipe. Or, we also have a Bisquick Breaded Chicken Finger Recipe that would be fun to use too. Just cut them up and load them on!
HAWAIIAN ROLLS – Our secret weapon! Sure, you can substitute for any other slider roll. But the soft, sweet taste of these Hawaiian Sweet Rolls just can't be beat!
PROVOLONE CHEESE – You can also substitute for Mozzarella Cheese if you need or want to. Or, even sprinkle some parmesan cheese on top!
MARINARA SAUCE – Once again, store bought sauce. We are all about simple recipes on this site. If you want food made from scratch, there are plenty of other websites out there. Use whatever sounds good to you.
BUTTER – Is there any way to make a Hawaiian Roll taste even better? Yep. Melt butter and minced garlic on top of it!
MINCED GARLIC – See above.
Storage and Freezing
You can store leftovers in an Airtight Container in your refrigerator. Please note, they will NEVER be as delicious as they are straight out of the oven. The buns will start to get soggy the longer they sit.
I would not freeze this recipe.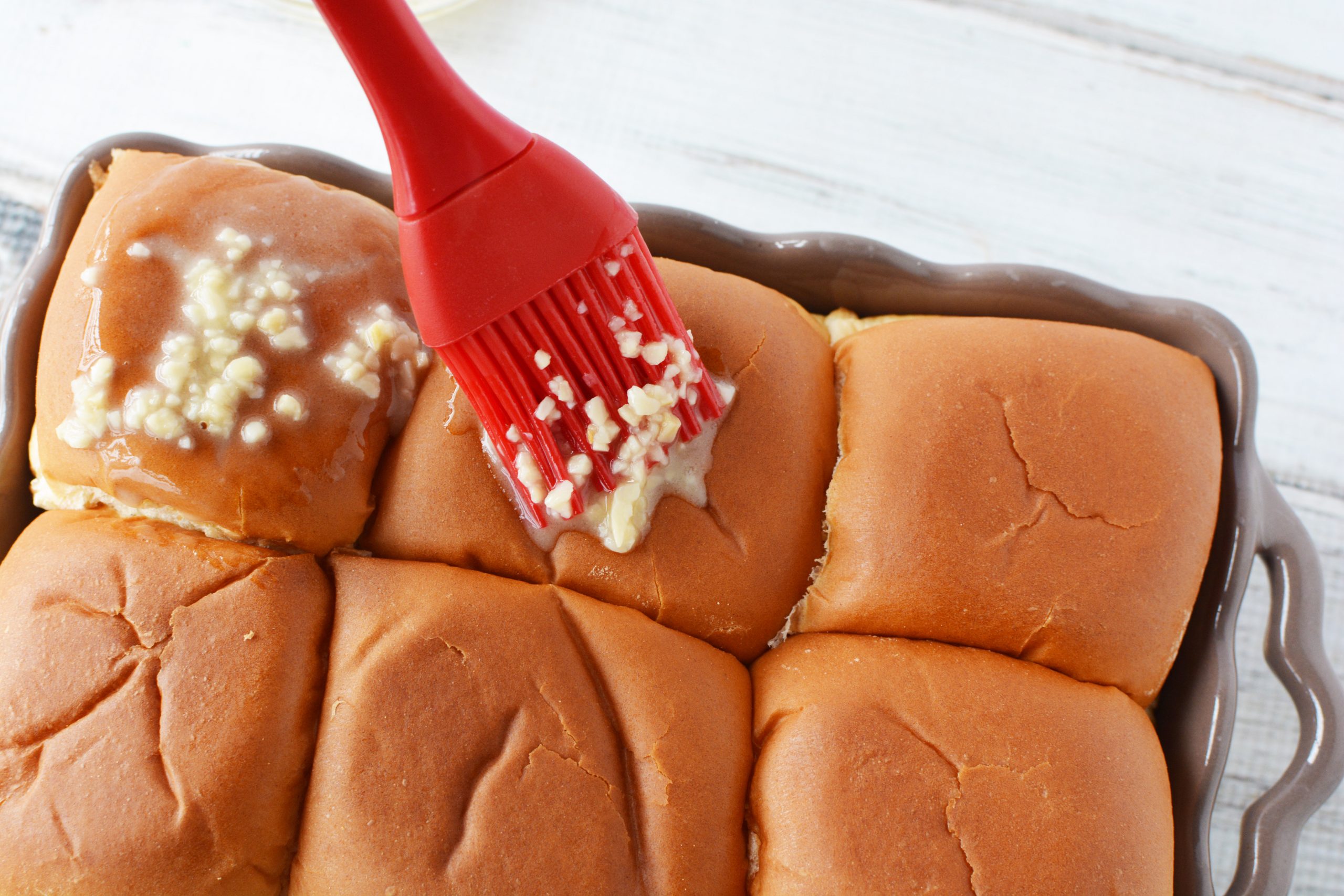 Can You Make These Ahead Of Time?
I would not make these ahead of time. They are best served fresh right out of the oven. Honestly, they are so easy and quick to make, there is really no reason you would need to do this.
But you CAN cook your chicken the day before and just keep them in the fridge. Heat them up a little before adding them and baking them in the sandwich. Just a couple seconds in the microwave should do it.
This recipe makes 6 Chicken Parmesan Sliders. If you need to make more, it would be easy to double this recipe.
Notes, Tips and Variations
GRILLED CHICKEN? – If you want to try to lighten this recipe a bit, you can use boneless chicken breasts instead or the breaded chicken. You could even try getting a Rotisserie Chicken at the store and shredding it up. Then loading it up with the marinara and cheese. Certainly not a traditional Chicken Parm, but who cares?
REALLY SHORT ON TIME? – In a pinch, you can also use Frozen Chicken Nuggets and make them work. We won't judge.
WHAT BAKING DISH TO USE? – It will really depend on how many you are making. For our recipe, we used a 10X6 inch dish. But could even just use a baking sheet if you need to!
USE A SPOON TO SPREAD THE SAUCE – We found the easiest way to spread the marinara sauce around is the back of spoon.
ADDITIONS – Top the slider buns with some Italian Seasoning to add to the garlic and butter mixture, or add it inside the sandwich on the cheese. Or, garnish with fresh basil to add some color and taste.
I hope you enjoy this recipe for Chicken Parm Sliders. Let me know how it turns out in the comments!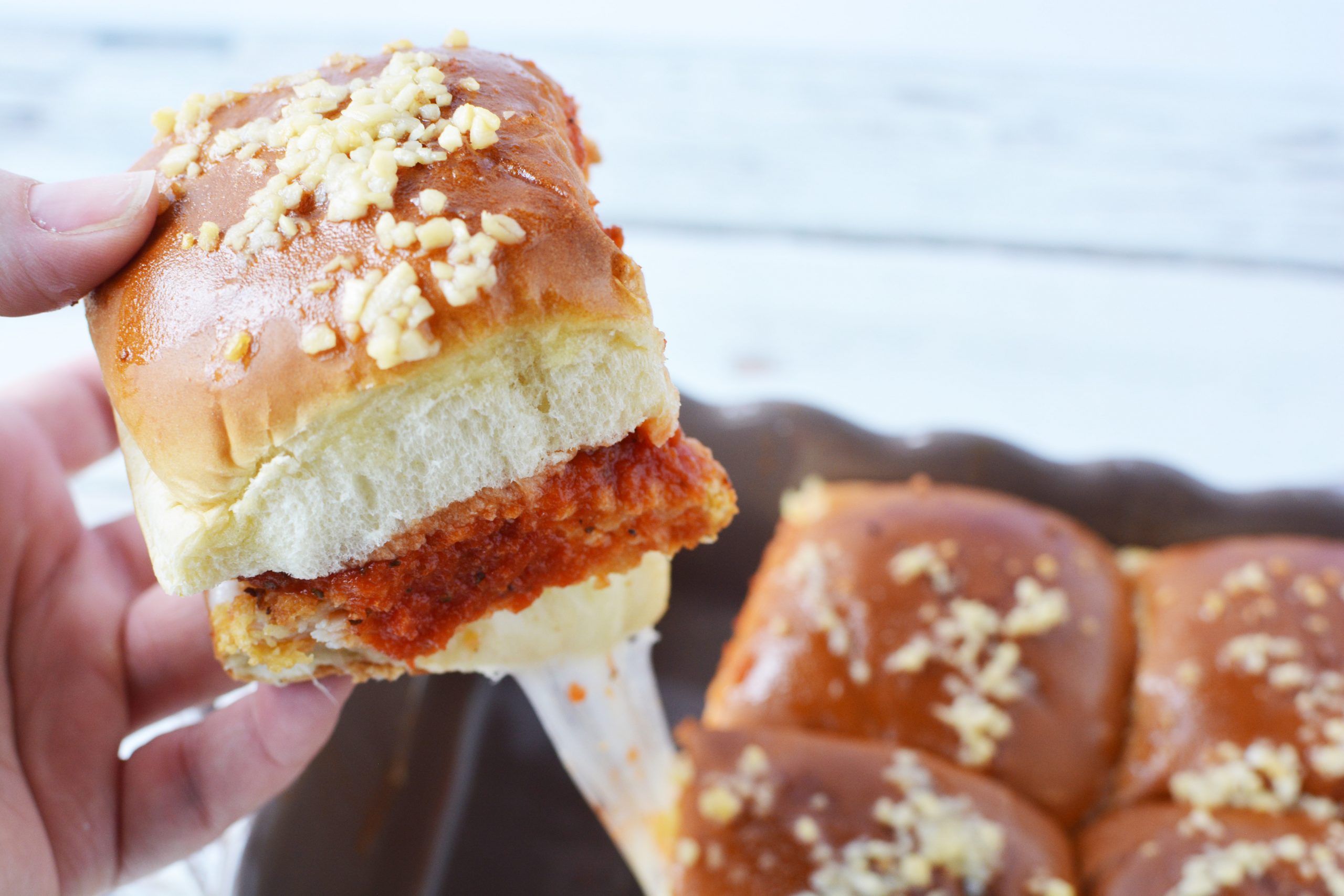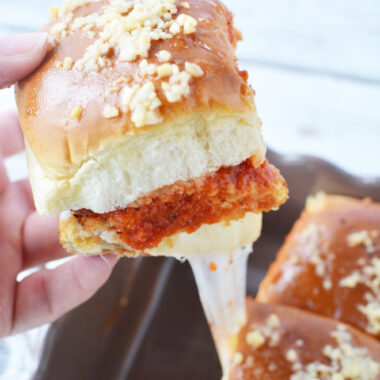 Rate this Recipe
Chicken Parmesan Sliders
This Chicken Parmesan Sliders Recipe takes sweet Hawaiian Rolls and loaded them with breaded chicken, rich marinara sauce and pills of gooey cheese. Make the classic "Chicken Parm" dish into an easy-to-eat handheld sandwich! Great for feeding a crowd or a fun weeknight dinner!
Ingredients
2-3

breaded chicken breasts

6

hawaiian rolls

4

slices

provolone cheese

1

cup

marinara sauce

1

tablespoon

butter

1

tablespoon

minced garlic
Instructions
Cook chicken breasts according to package directions and cut into smaller pieces so they fit onto the hawaiian rolls.

Break apart hawaiian rolls and cut with a bread knife to create a bun. Place bottoms into a baking dish.

Cut cheese in half and place on the bottom half of buns, overlapping if necessary.

Top with chicken pieces and marinara sauce. Place the top bun on the chicken.

Melt butter and garlic in a small bowl, and use a pastry brush to brush the top of the rolls.

Bake for 10-12 minutes or until hot.
Love this recipe?
Follow @bubbapie for even more delicious recipes!!