This Crockpot Buffalo Chicken Dip is a creamy, cheesy party dip that has just the right amount of kick and fun flavor! Perfect for sharing during game day, parties or potlucks, you can dip just about anything into it and it tastes delicious!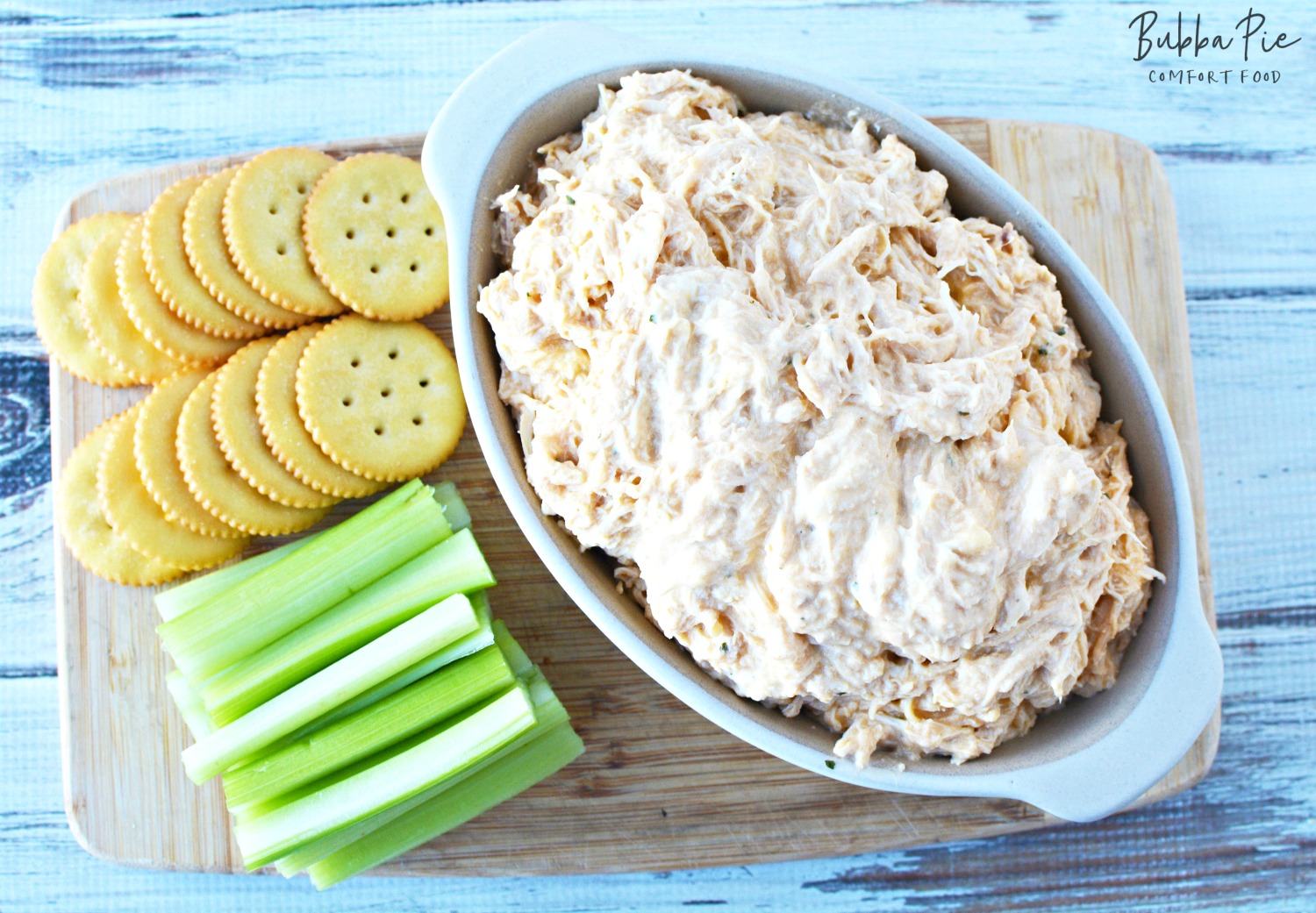 Why You'll Love Crock Pot Buffalo Chicken Dip
EASY – With just a few simple ingredients, this Buffalo Dip will be cooking in your Crock Pot! It's a simple recipe that is great for beginners!
MAKE AHEAD – Make this dip ahead of time and have it all ready for when you guests arrive! Satisfy those hungry tummies and spend your time having fun instead of preparing food in your kitchen!
GREAT TO FEED A CROWD – Just have an assortment of options to dip and let your guests feed themselves. This dip makes a lot that can go a long way to feed quite a number of guests.
TRAVELS WELL – Make this at home, or on the road! All you need is somewhere to plug in your slow cooker to prepare the dip or keep the dip warm! And it's easy to transport right in the Crockpot!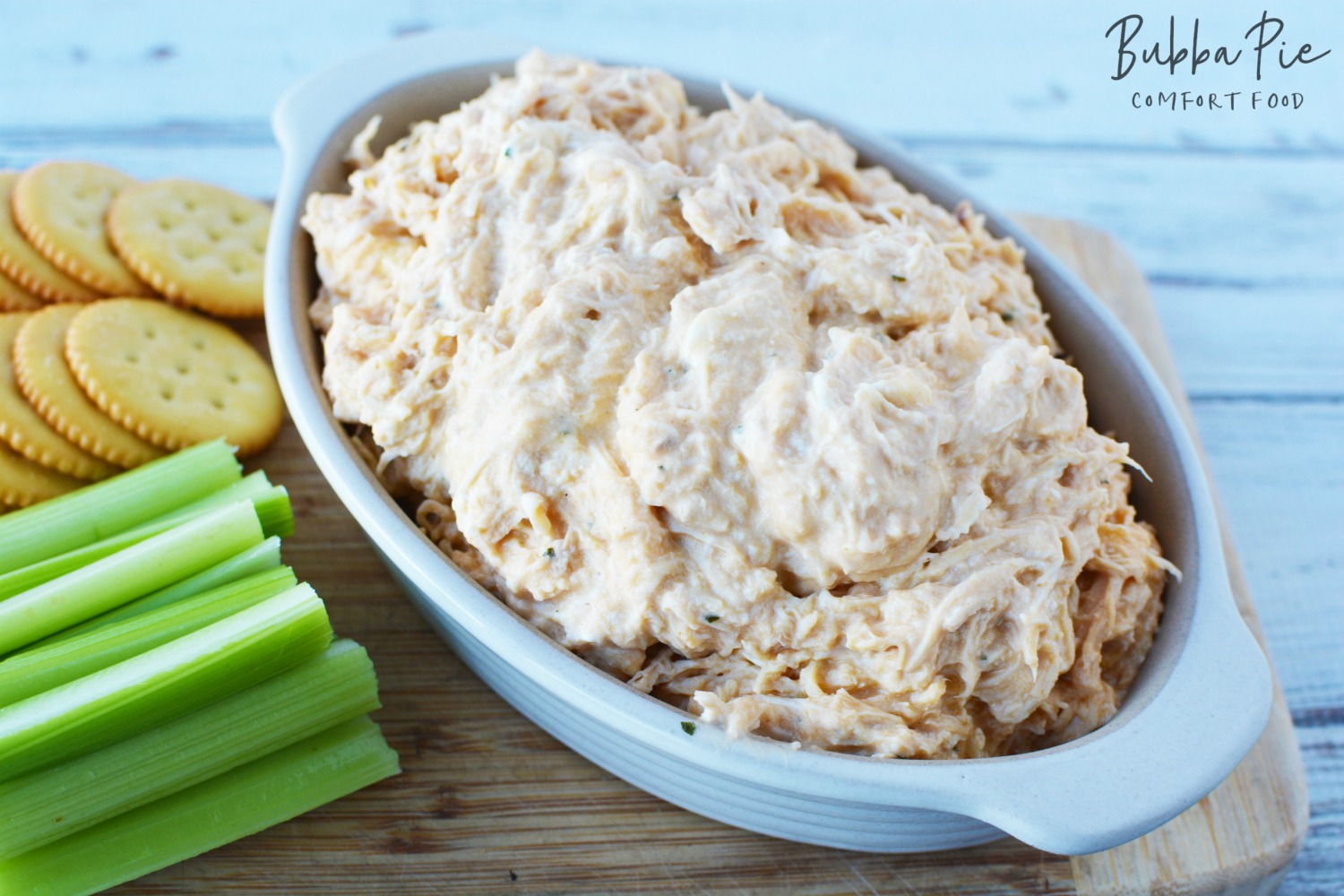 Slow Cooker Buffalo Chicken Dip
This slow cooker buffalo chicken dip is absolutely perfect for your next party.
The ingredients are pretty simple. For the Buffalo Sauce, you can use anyone you'd like, but I actually have a great Homemade Buffalo Sauce that I love to use and it is perfect for this Buffalo Chicken Slow Cooker Recipe.
For step-by-step instructions, check out the printable recipe card below. But here is what you'll need to get started:
Buffalo Chicken Dip Slow Cooker Ingredients:
CHICKEN – Read below for some ideas as to the best/easiest way to get shredded cooked chicken in this dish. You can also substitute for boneless skinless chicken thighs.
BUFFALO SAUCE – Use an Buffalo Sauce you'd like. Make it as spicy (or not spicy) as you prefer!
CREAM CHEESE – We cube it up so it melts a little better. You can also use flavored Cream Cheese, like this Jalapeno Cream Cheese or this Garlic Herb Cream Cheese.
DRY RANCH SEASONING – Any brand will do.
SALT AND BLACK PEPPER – To taste.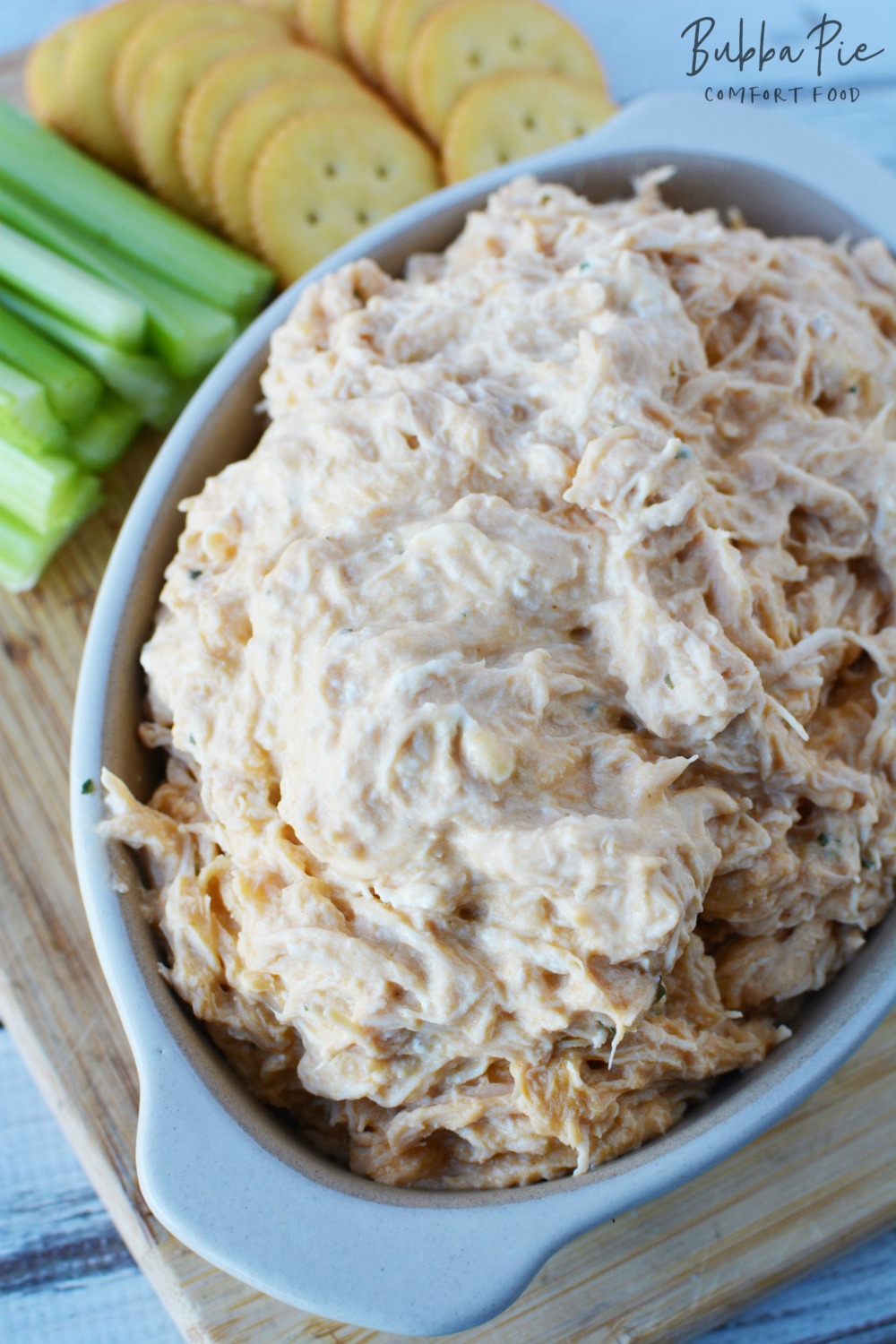 What To Dip In Buffalo Chicken Dip?
You can dip just about anything into this recipe. Some ideas would be:
CRACKERS
BREADSTICKS
BELL PEPPERS
CELERY STICKS
TORTILLA CHIPS
PITA CHIPS
FRITOS OR CORN CHIPS
CARROTS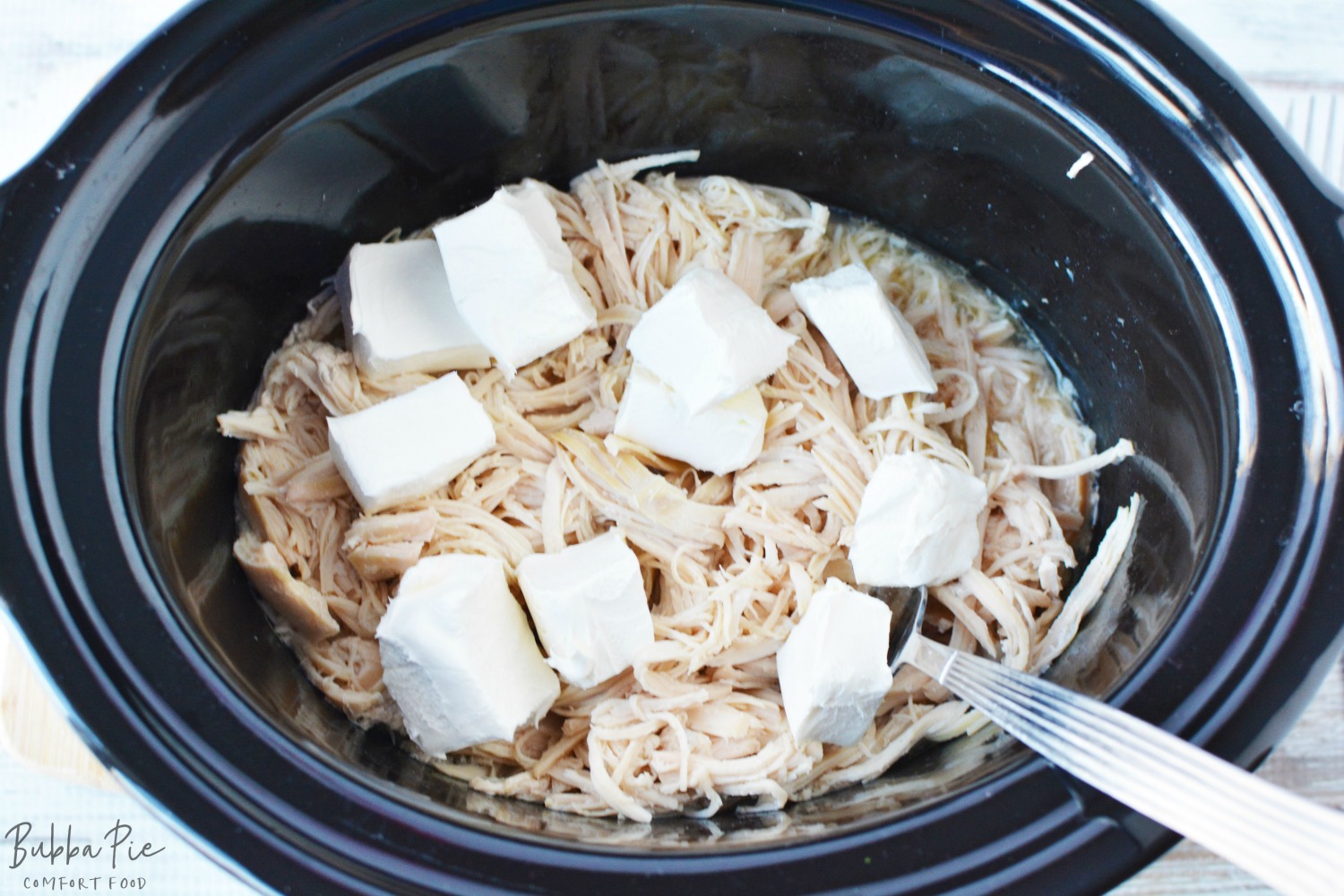 What Is The Best Chicken To Use For Buffalo Dip
So, you are going to need cooked, shredded chicken for this recipe. You basically have 3 ways to get this.
MAKE YOUR OWN SHREDDED CHICKEN– You can boil, use an Instant Pot, or even poach your boneless skinless chicken breast to make your own shredded chicken.
BUY A ROTISSERIE CHICKEN– We love to do this, it makes things so easy and the rotisserie chicken is always so tender and moist.
USE CANNED CHICKEN- This is a VERY easy and INEXPENSIVE option. Some people really don't like canned chicken. But it's never bothered me. We are all about shortcuts here!
Can You Bake Buffalo Chicken Dip?
Yep! You don't need to use your Slow Cooker for this recipe. You can also combine all of the ingredients into a 2 quart baking dish. Bake in a preheated oven at 375 for 20-25 minutes.
Notes, Tips and FAQs
EXTRA CHEESE– I've read that some people put an extra layer of shredded cheddar cheese on at the end, right before serving. We didn't do that for this recipe, but you can bet we'll do it next time!
ROOM TEMPERATURE CREAM CHEESE– Let yoru Cream Cheese get to room temperature, this will make it much easier to mix in and get creamy.
USE BUFFALO WIN SAUCE– Make sure you are using buffalo wing sauce, not "hot sauce". The difference is that wing/buffalo sauce is usually cut with butter, making it a lot less hot and great for cooking!
CAN YOU DOUBLE THIS RECIPE?- Yep! Just use twice the ingredients and make sure you are using a large enough Crockpot. You may also need to extend the cooking times.
HOW TO MAKE THIS HEALTHIER?– First of all, you can use a homemade buffalo sauce, which may be "more natural" than any store bought. Otherwise, you're best bet to cut calories is to substitute for low fat cream cheese. Please note that people have said using low fat cream cheese can make your dip a little more runny.
STORAGE- Keep your Buffalo Chicken Dip in an Airtight Container in your fridge for 3-5 days. I would not freeze this recipe.
ADD GREEN ONIONS – Add green onions before serving for some extra color and flavor.
We hope you enjoy this Crockpot Buffalo Chicken Dip Recipe! We'd love to hear how it turns out in the comments section below!
LOOKING FOR MORE SPICY BUFFALO RECIPES OR DIP RECIPES? CHECK OUT: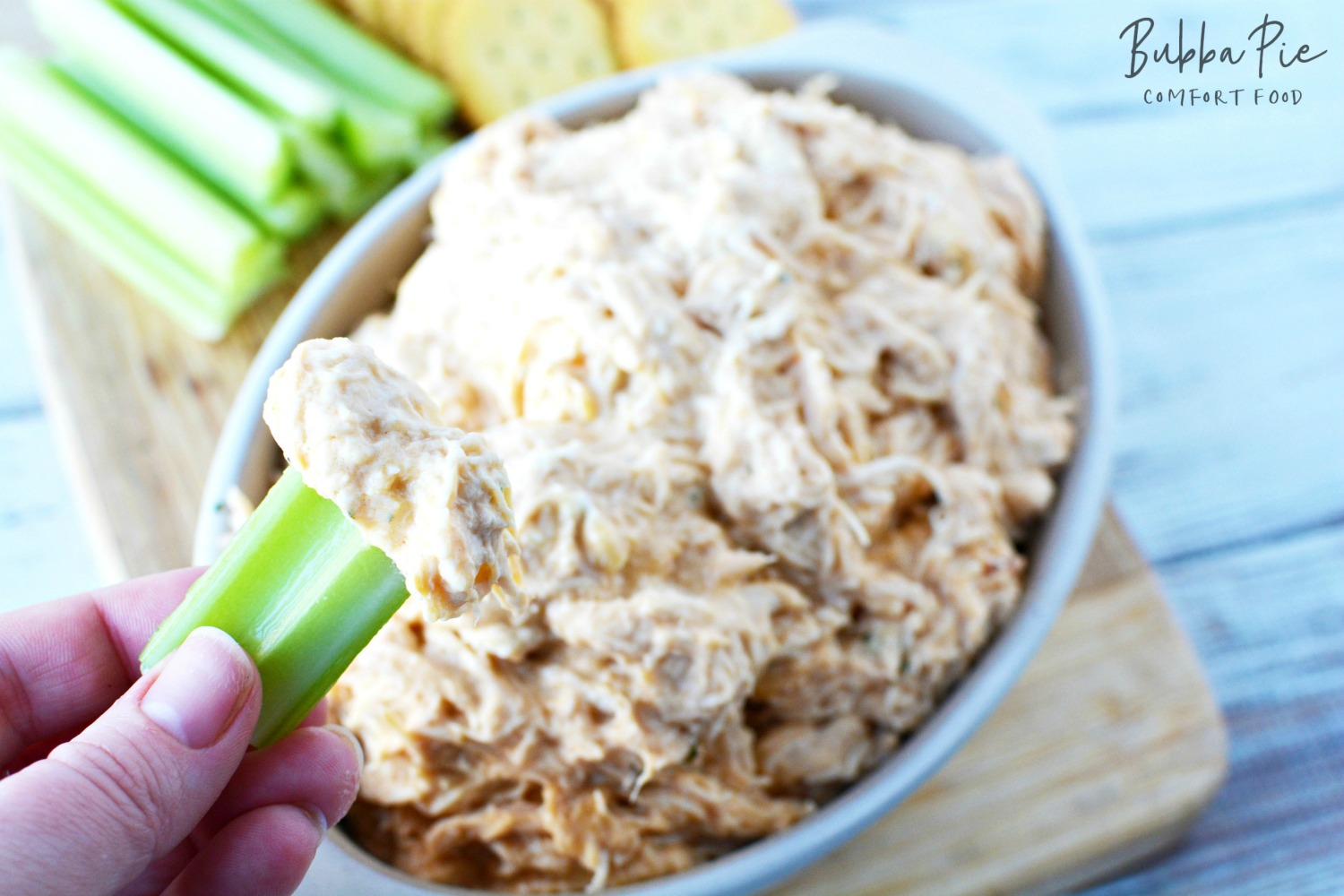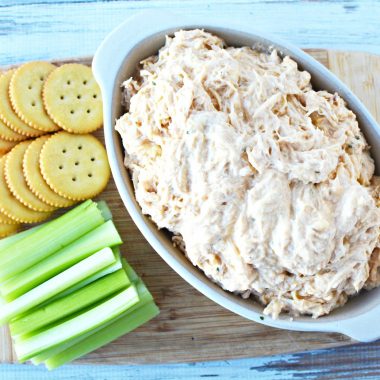 Rate this Recipe
Buffalo Chicken Dip Crock Pot Recipe
This Buffalo Chicken Dip Crock Pot Recipe is perfect for any party or big game. You can make it ahead in your slow cooker and it will be ready to enjoy for as long as you need it. The leftovers taste great the next day too!
Ingredients
2

chicken breasts

cooked and shredded

1

cup

buffalo sauce

4

ounces

cream cheese

cubed

1

package

dry ranch dressing

salt and pepper

Fresh vegetables

crackers, chips for dipping/serving.
Instructions
Place chicken breasts and water in slow cooker.

Add cream cheese and ranch. Cook on low for 6 hours or high for 3 hours.

Season with Salt and Pepper and mix well until cream cheese is melted.

Serve immediately or keep on the warm slow cooker setting.
Nutrition
Love this recipe?
Follow @bubbapie for even more delicious recipes!!