This Crockpot Buffalo Chicken Dip is the perfect appetizer for any party or big game.  You can make it ahead in your slow cooker and it will be ready to enjoy for as long as you need it. This creamy, cheesy party dip has just the right amount of kick and just about everything tastes delicious when dipped into it!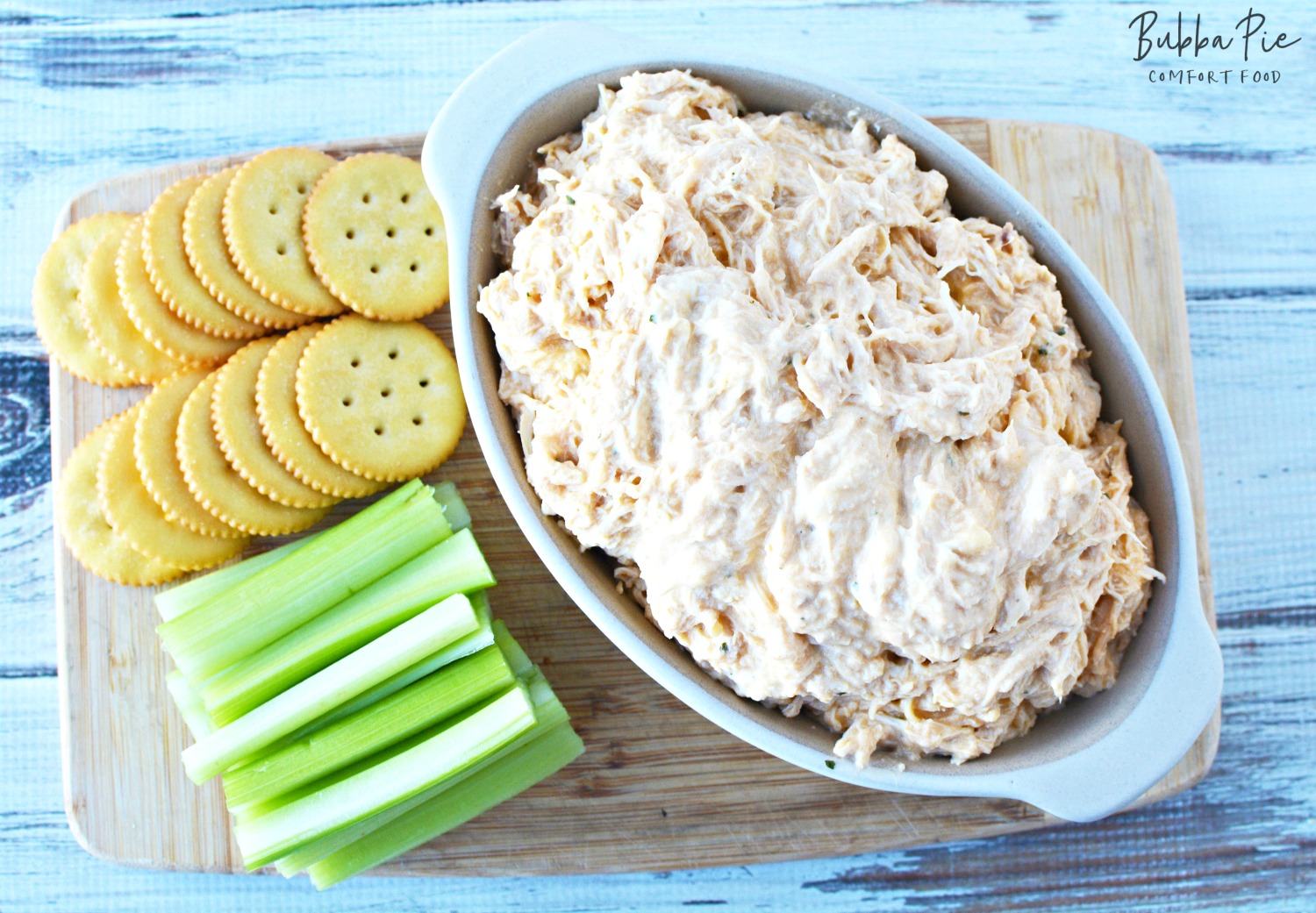 Making Buffalo Chicken Dip in your Crockpot may be the ultimate party appetizer! Whenever I'm entertaining a larger number of guests, the primary concern is always to find the best way to feed everyone.  Obviously, you want the food to be tasty, but it is also important to find recipes that are easy to eat, easy to share, will stay fresh and won't keep me in the kitchen the whole time.
Making Appetizers In A Slow Cooker
The most dependable answer to most of these questions is always: The Slow Cooker! Not only are Slow Cookers great for
easy family dinners
, they are also perfect for making appetizers and party recipes! For instance, I love making this
Velveeta Rotel Dip
and putting it a slow cooker on the lowest setting. It keeps the dip hot, creamy and warm for the whole party!
Crock Pots also travel well. If you've got an office pitch in, you can set this up in the breakroom in the morning when you get to work, and it will be fresh, hot and ready by the time of the party!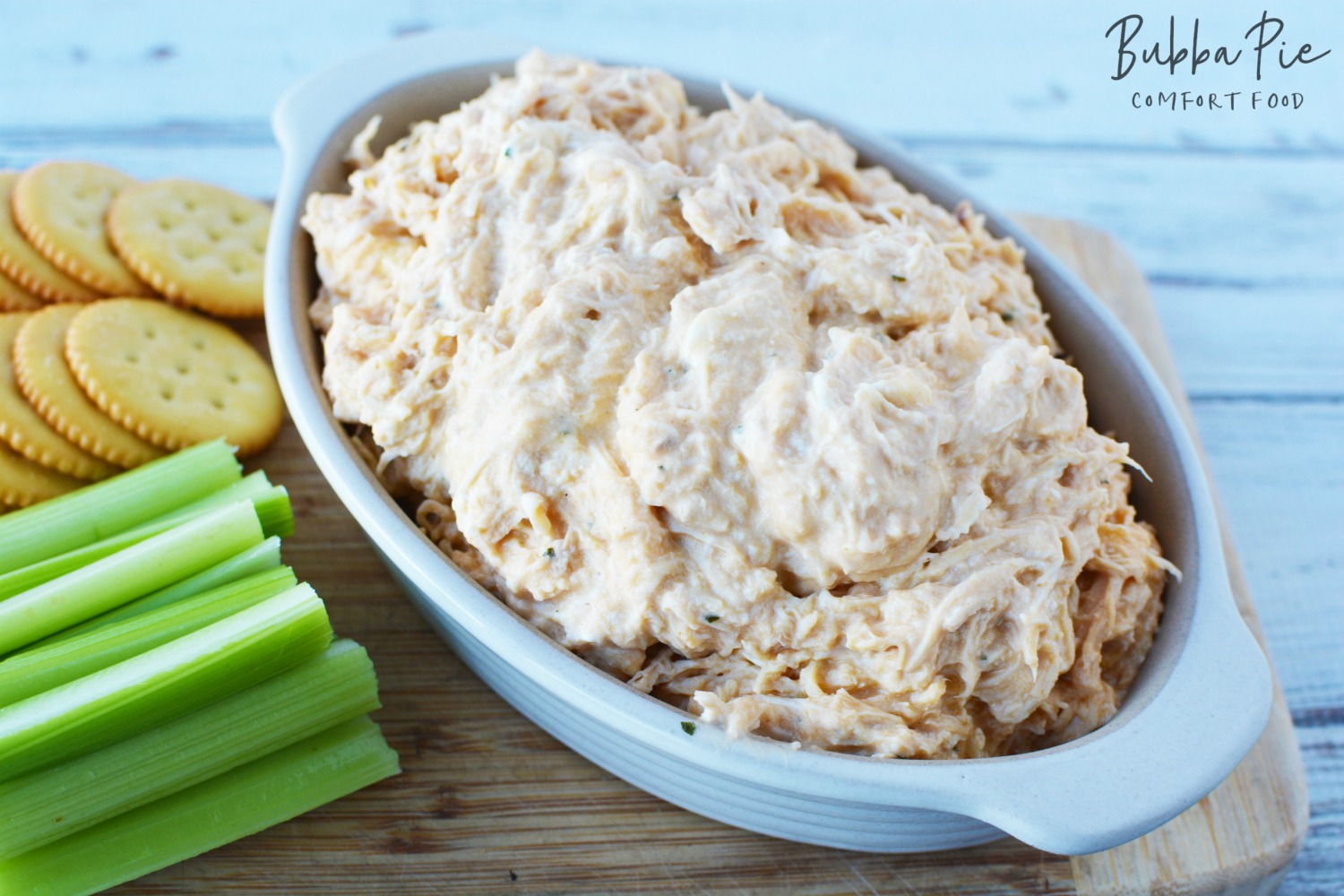 Slow Cooker Buffalo Chicken Dip
This slow cooker buffalo chicken dip is absolutely perfect for your next party.
Like most Crock Pot recipes, it is extremely easy to make, so you won't miss all the action while you are slaving away in the kitchen.  You can make it ahead of time and it will be ready whenever you need it.  It will also stay nice, warm and fresh in the slow cooker so your guests can keep coming back for more throughout the party.  And it is super easy to share.
What To Dip In Buffalo Chicken Dip?
You can dip just about anything into this recipe. All sorts of crackers, celery, carrots, Fritos, tortilla chips, tortilla "scoops", toasted baguette slices or you could even make a sandwich with it!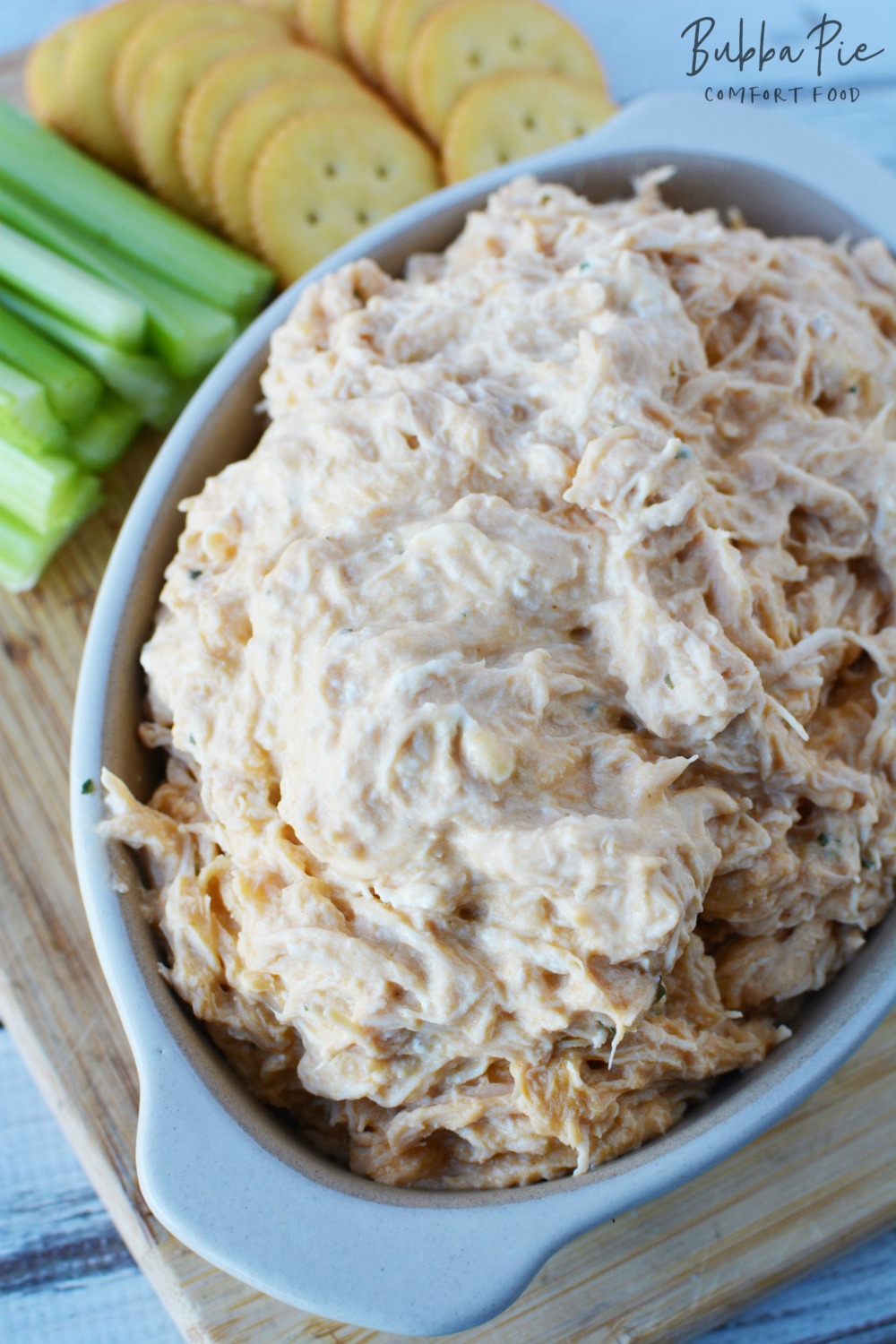 Easy Buffalo Chicken Dip Crock Pot Recipe
The ingredients are pretty simple.  For the Buffalo Sauce, you can use anyone you'd like, but I actually have a great Homemade Buffalo Sauce that I love to use and it is perfect for this Buffalo Chicken Slow Cooker Recipe.  Also, after your chicken is cooking in the Crock Pot, there will still be some water in the slow cooker.  Leave that water in there, it will help keep the chicken from drying out as your guests are enjoying it throughout the party.
Here is what you'll need to get started!
Buffalo Chicken Dip Slow Cooker Ingredients:
2 chicken breasts
1/2 cup water
1 cup buffalo sauce
4 ounces cream cheese, cubed
1 package, dry ranch dressing
salt and pepper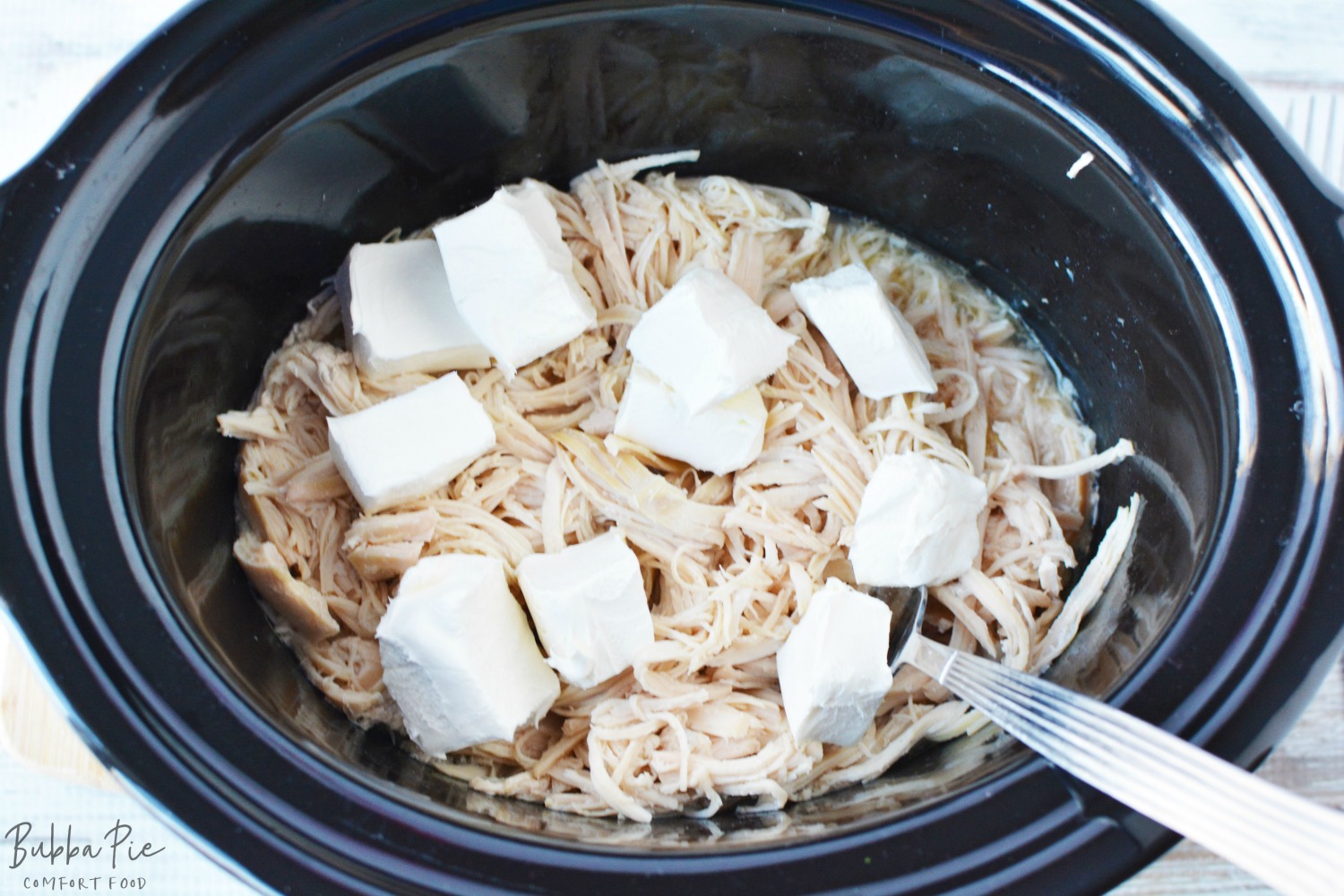 What Is The Best Chicken To Use For Buffalo Dip
So, you are going to need cooked, shredded chicken for this recipe. You basically have 3 ways to get this.
MAKE YOUR OWN SHREDDED CHICKEN– You can boil, use an Instant Pot, or even poach your boneless skinless chicken breast to make your own shredded chicken.
BUY A ROTISSERIE CHICKEN– We love to do this, it makes things so easy and the rotisserie chicken is always so tender and moist.
USE CANNED CHICKEN– This is a VERY easy and INEXPENSIVE option. Some people really don't like canned chicken. But it's never bothered me. We are all about shortcuts here!
Can You Bake Buffalo Chicken Dip?
Yep! You don't need to use your Slow Cooker for this recipe. You can also combine all of the ingredients into a 2 quart baking dish. Bake at 375 for 20-25 minutes.
Notes, Tips and FAQs
EXTRA CHEESE– I've read that some people put an extra layer of shredded cheddar cheese on at the end, right before serving. We didn't do that for this recipe, but you can bet we'll do it next time!
ROOM TEMPERATURE CREAM  CHEESE– Let yoru Cream Cheese get to room temperature, this will make it much easier to mix in and get creamy.
USE WING/BUFFALO SAUCE– Make sure you are using wing/buffalo sauce, not "hot sauce". The difference is that wing/buffalo sauce is usually cut with butter, making it a lot less hot and great for cooking!
CAN YOU DOUBLE THIS RECIPE?- Yep! Just use twice the ingredients and make sure  you are using a large enough Crockpot. You may also need to extend the cooking times.
HOW TO MAKE THIS HEALTHIER?– First of all, you can use a homemade buffalo sauce, which may be "more natural" than any store bought. Otherwise, you're best bet to cut calories is to substitute for low fat cream cheese. Please note that people have said using low fat cream cheese can make your dip a little more runny.
STORAGE- Keep your Buffalo Chicken Dip in an Airtight Container in your fridge for 3-5 days. I would not freeze this recipe.
We hope you enjoy this Crockpot Buffalo Chicken Dip! We'd love to hear how it turns out in the comments section below!
LOOKING FOR MORE SPICY BUFFALO RECIPES?  CHECK OUT: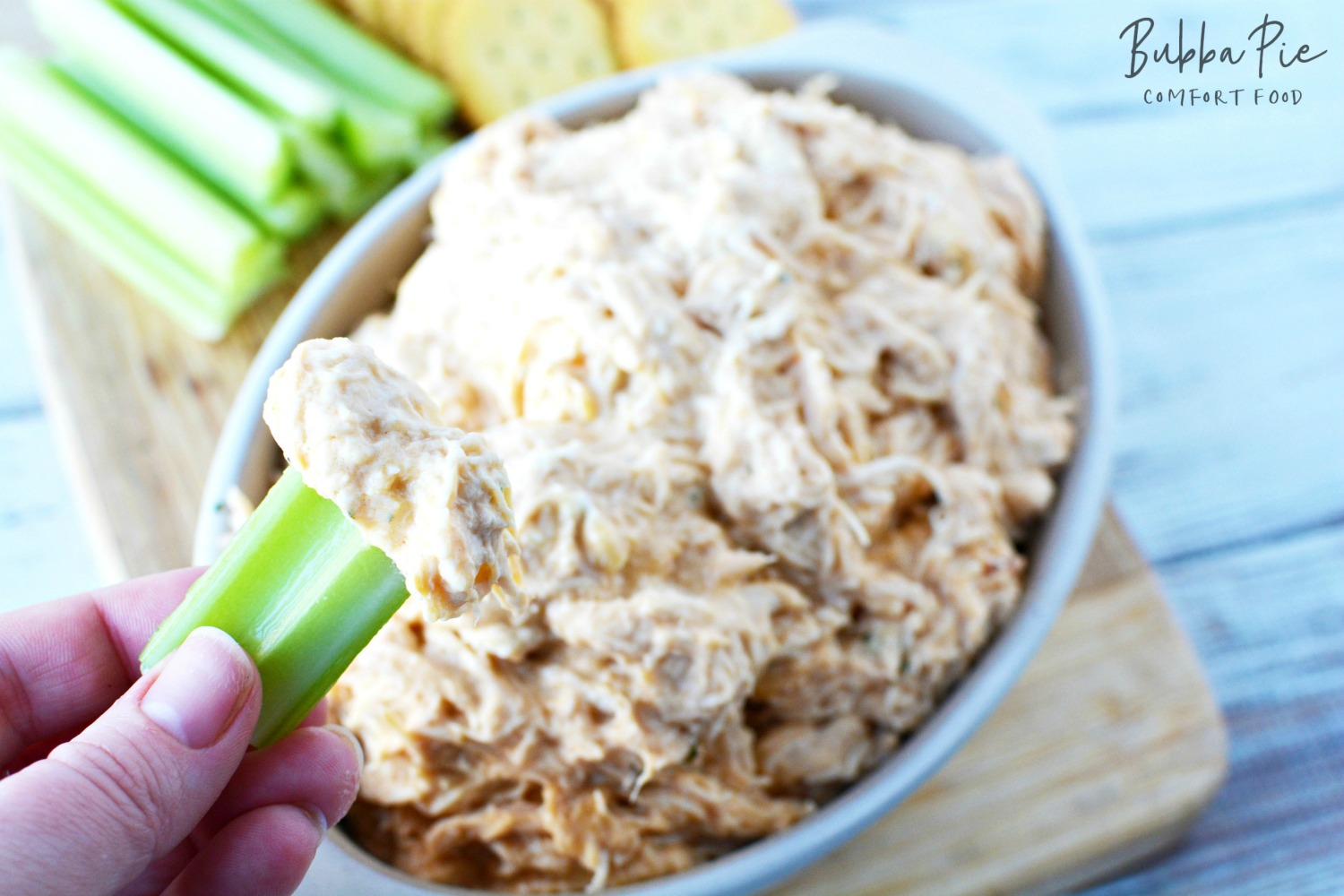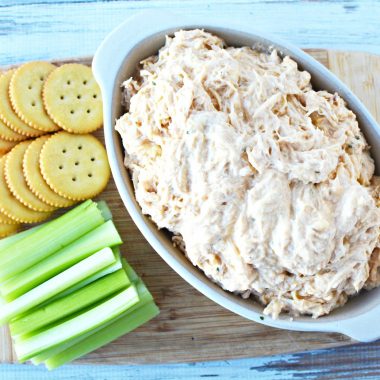 Rate this Recipe
Buffalo Chicken Dip Crock Pot Recipe
This Buffalo Chicken Dip Crock Pot Recipe is perfect for any party or big game. You can make it ahead in your slow cooker and it will be ready to enjoy for as long as you need it. The leftovers taste great the next day too!
Ingredients
2

chicken breasts

1/2

cup

water

1

cup

buffalo sauce

4

ounces

cream cheese

cubed

1

package

dry ranch dressing

salt and pepper

Fresh vegetables

crackers, chips for dipping/serving.
Instructions
Place chicken breasts and water in slow cooker.

Cook on low for 6 hours or high for 3 hours.

When cooking is complete, shred the chicken in the water remaining in the Crock Pot (I use two forks).

Stir in buffalo sauce, cream cheese and ranch.

Season with salt and pepper.

Mix well until cream cheese is melted.

Serve immediately or keep on the warm slow cooker setting.
Nutrition
Love this recipe?
Follow @bubbapie for even more delicious recipes!!