These Oven Roasted Baby Carrots are a classic, simple vegetable side dish that goes with just about any main course. Just toss lightly in olive oil and dress with fresh dill. They are buttery and tender with just the slightest satisfying crunch.
There is just something about Roasting Baby Carrots that we love here at Bubba Pie. Roasting them really brings out their aroma and slight sweetness and them come out fork tender and delicious. They are a perfect side dish for any occasion.
Everyone needs a good carrot recipe. They are remarkably simple to make and only take a couple of simple ingredients. But they are easy to dress up anyway you'd like. From adding a little more sweetness to get Honey Glazed Carrots, to these savory Garlic Roasted Carrots, you just can't go wrong!
Oven Roasted Baby Carrots with Dill
Today, our secret ingredient is fresh Dill. If you can grow your own in your own garden, that is perfect, otherwise go and grab some in the produce section of your grocery store. For step-by-step instructions, check out the printable recipe card below. But, it's so easy. Just toss the carrots in the ingredients, put them on a sheet pan or rimmed baking sheet and then bake them! Ready to get started? Here is what you'll need:
CARROTS – Fresh Baby Carrots. You can find these easily at the store in the produce section. You can also cut regular sized carrots up into sections if needed.
VEGETABLE OIL – 3 Tablespoons. You can substitute olive oil if you'd like.
SALT AND PEPPER – Sprinkle a little on to taste. We used about 1/2 teaspoon of each.
DILL – Chopped fresh dill. This is our secret ingredient that will really bring out the flavors of these carrots. Always use fresh herbs if you can. But, if not, you can easily find these in the store.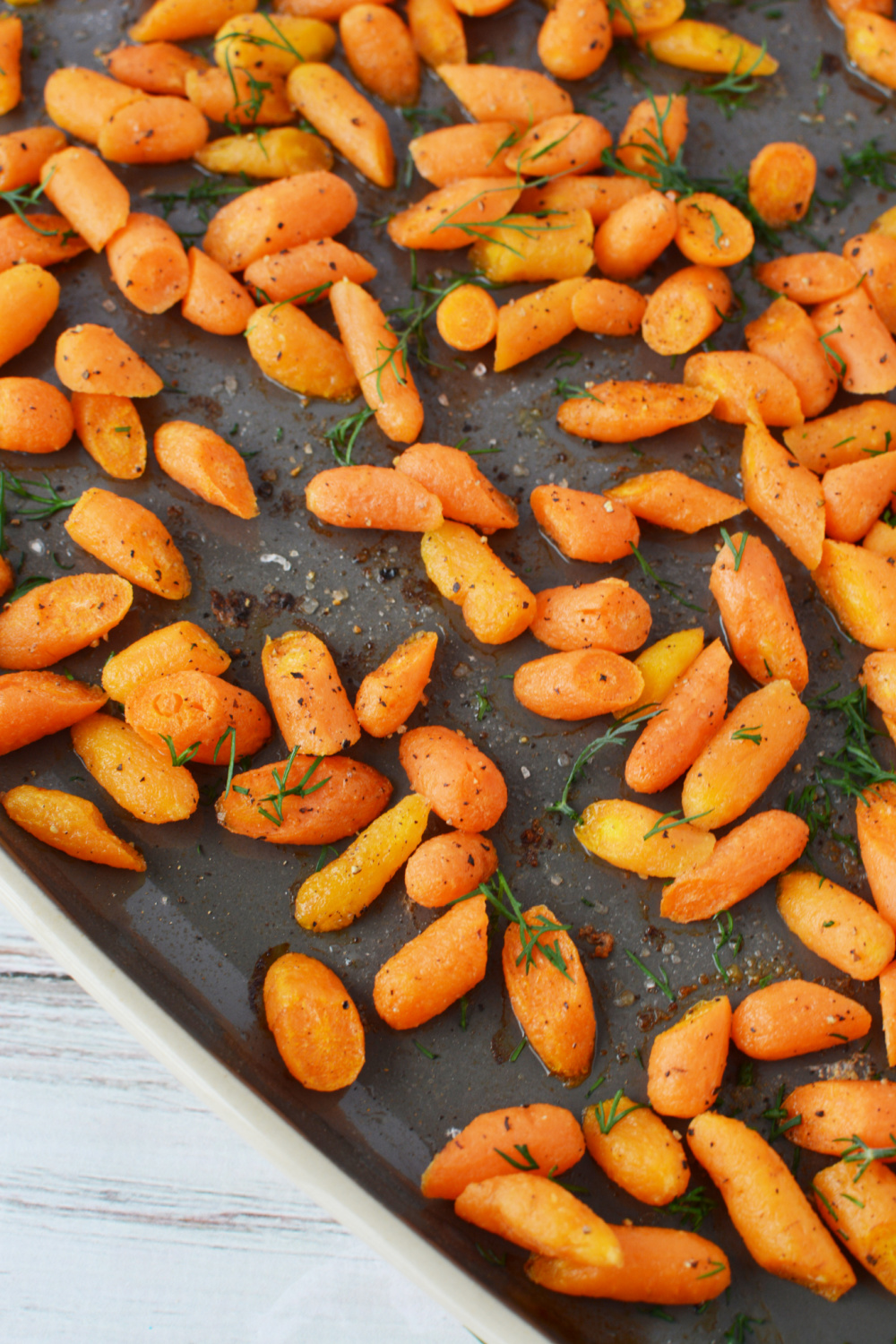 Do I Need To Use Baby Carrots?
No. You can use any carrots you'd like to for this recipe. Just make sure to cut the down to the size I have in the pictures. And make sure they are all an even size so the roast equally.
Do You Need To Peel Carrots?
If you use whole, fresh carrots, I'd recommend that you peel them. But it isn't imperative that you do so. If you don't peel carrots, just make sure you scrub them well with a brush.
Salt and Pepper To Taste
Like with so many other vegetable side dishes, the key is to use salt and pepper to taste. So don't be afraid to do some taste testing while cooking!
Notes, Tips and Variations
LINE YOUR BAKING SHEET – It is helpful to line your baking sheet with parchment paper, a silicone mat or aluminum foil so that the carrots don't stick.
DOUBLING THE RECIPE – Need to cook more carrots? No problem. Generally 1 pound of carrots can serve 4-6 people. So, that is a good scale to use if you need to buy more carrots.
FLIP HALFWAY – For best results, flip the carrots halfway through roasting.
GARNISH – The fresh dill gives these carrots a nice color. But you can also garnish with a little fresh parsley if you'd like.
Other Vegetable Side Dishes
Looking for some other great vegetable side dishes? Check out:
What a great way to get your veggies! We hope you enjoy this recipe for Oven Roasted Carrots! They are great for the Holidays like Thanksgiving, Christmas or Easter. Or perfect for summer cookout or an easy side dish for a weeknight family dinner! Any occasion!
Let us know how it turns out in the comments section!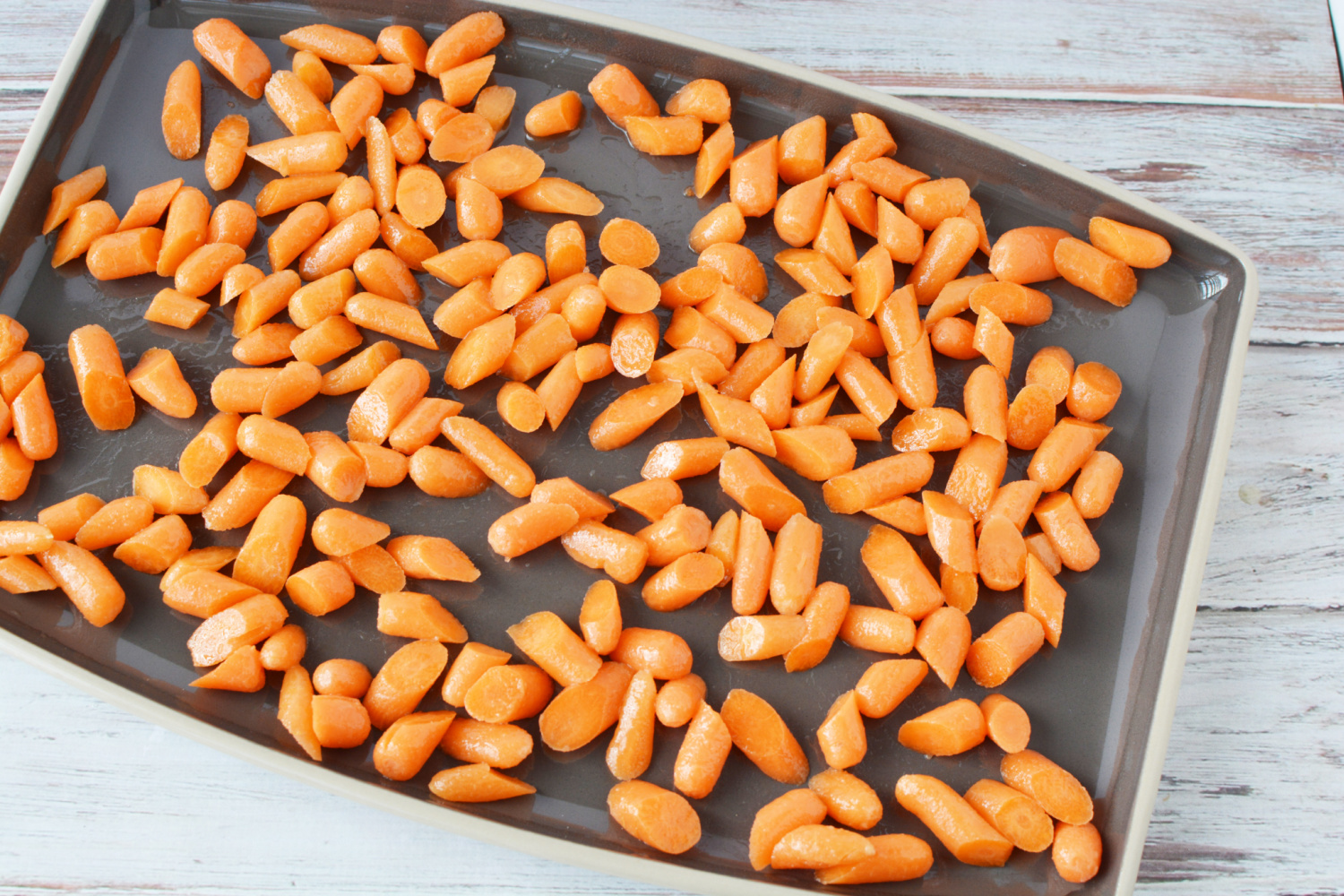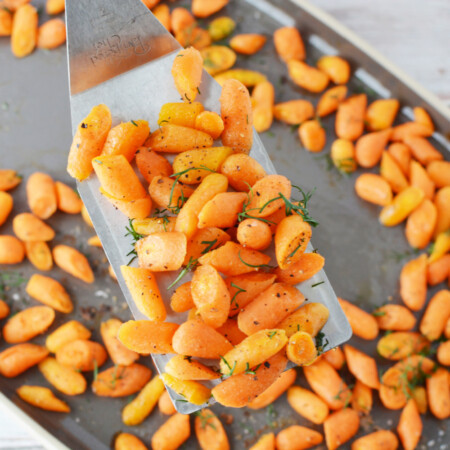 Rate this Recipe
Oven Roasted Carrots
These Oven Roasted Carrots are a classic, simple vegetable side dish that goes with just about any main course. Lightly tossed and olive oil and dressed with fresh dill, they are buttery and tender with just the slightest satisfying crunch. 
Ingredients
1

lb

16 oz, baby carrots

3

tablespoons

vegetable oil

salt and pepper

chopped fresh dill
Instructions
Preheat oven to 400.

Slice carrots into 1/2" pieces on a diagonal if desired. You can also cut them straight. Add to a large bowl.

Pour in oil and mix well to evenly coat.

Spread in a single layer on a baking sheet. Season with salt and pepper.

Roast for 20-25 minutes or until desired doneness. Remove from oven and serve immediately topped with chopped fresh dill.
Nutrition
Love this recipe?
Follow @bubbapie for even more delicious recipes!!