Simple, easy and delicious, this recipe for Roasted Brussels Sprouts and Sweet Potatoes will become your new favorite side dish. Bursting with Fall Flavors, these Roasted Vegetables are perfect for Thanksgiving and holiday meals. And it is Gluten Free, Dairy Free, Vegan, Vegetarian and Whole30 friendly!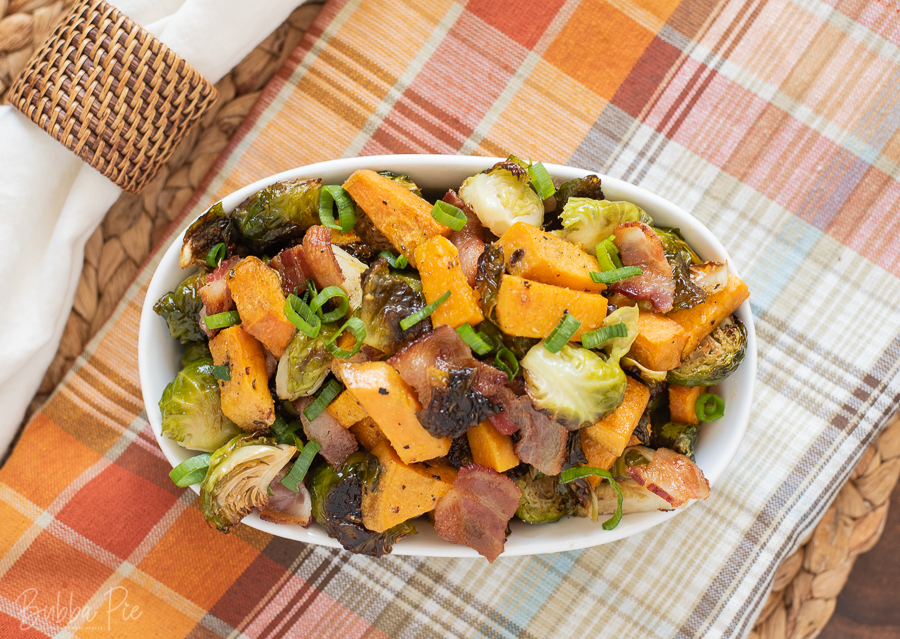 Why You Will Love Roasted Brussels Sprouts and Sweet Potatoes
EASY – With just a handful of common pantry staples, you can whip up this delicious side dish in just a couple of minutes and pop it in your oven!
MAKE AHEAD – Oven space an issue on your Holiday Meal prep? Make these the day before and they will only need 5-10 minutes in the oven to reheat and taste just as good as they did when they were freshly roasted!
INEXPENSIVE – Brussel Sprouts and Sweet Potatoes are not expensive. And, like I mentioned, you probably already have a lot of these other ingredients hanging out in your pantry!
Brussels Sprouts
When browsing around the web looking at Brussels Sprouts Recipes, it seems that just about everyone says the same thing. I used to hate Brussels Sprouts but now I love them. It seems that the common narrative is this: when they were kids, their mom used to boil them. And at some point, they realized that you could roast them. Game changer!
Roasted Brussels Sprouts and Sweet Potatoes
For this recipe, I paired Brussels Sprouts with my second favorite vegetable: Sweet Potatoes! Sweet Potatoes are another classic Fall ingredient (Sweet Potato Casserole anyone?!?!). When I decided to roast these too awesome vegetables, I asked myself, what could make this even better? Yep. Bacon!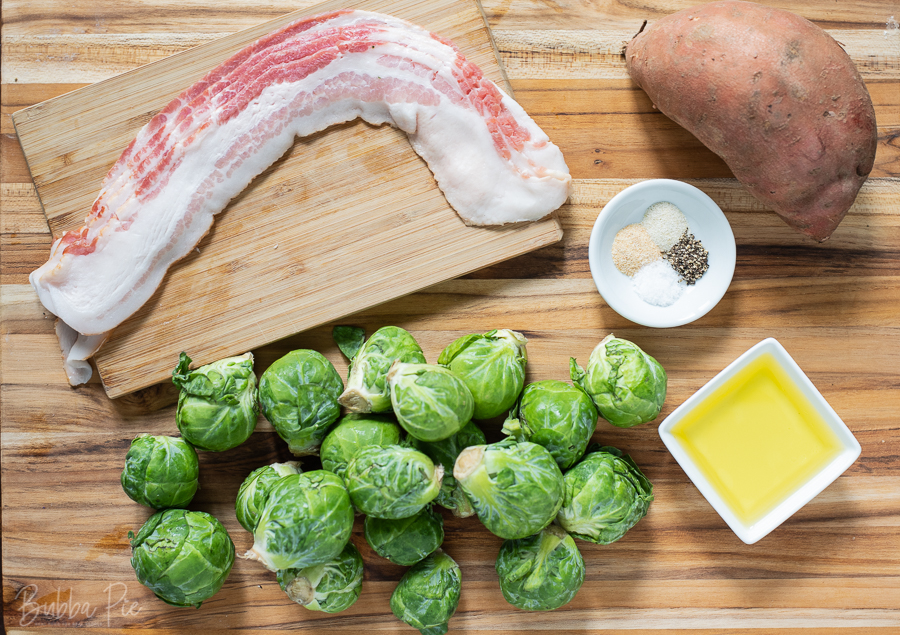 So now we have the heartiness of the Brussels Sprouts, the Sweetness of the Sweet Potatoes and the savory flavor of bacon, all together in each bite. I toss these ingredients with some olive oil and other seasonings and throw them in the oven. Super easy. Super delicious. Ready to get started? Here is what you will need.
BRUSSEL SPROUTS – As always look for bright, green sprouts without any blemishes or brown spots. Try to find Brussels Sprouts that are all about the same size for even cooking.
SWEET POTATO – One large Sweet Potato should do it. Make sure you aren't buying a Yam! This is a different vegetable!
OLIVE OIL – You'll toss everything in EVOO to get that crispy, golden roasted finish!
BACON – While I love thick cut bacon with my breakfast, for this recipe, you'll want a thinner sliced bacon that will crisp up easily.
SEASONINGS – We use a combination of Garlic Powder, Onion Powder, Salt and Pepper.
GREEN ONIONS – Optional for garnish.
A Great Make Ahead Recipe
When I made this recipe, I only ate a couple of bites of it and then put the rest in the fridge. For lunch the next day, I just stuck it in the oven and reheated it it at 400 degrees for about 10 minutes. They came out just as delicious as the night before!
This is why this recipe would make a great Thanksgiving Side Dish. We all know that oven space gets pretty limited on that day. If you need to save some time, you can make this ahead and just throw it in the oven for 10 minutes before you are ready to sit down to eat (while your husband is figuring out how to carve the turkey!).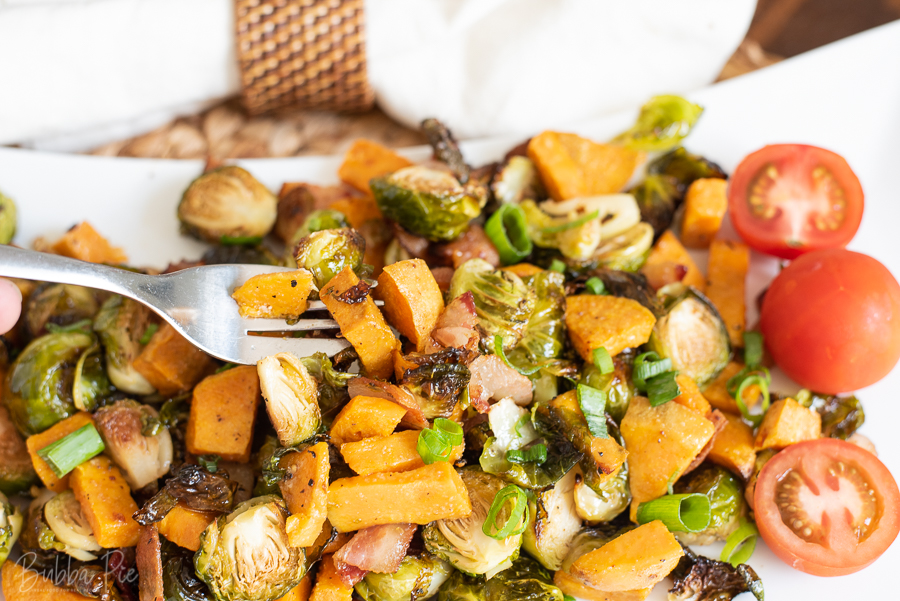 Notes, Tips and Variations:
ADD SOME HEAT?- Add 1/4 tsp of Red Pepper Flakes to this recipe to add a little heat to this dish.
PARCHMENT PAPER- You can spray your baking pan with non-stick spray or line it with aluminum foil. But, when roasting vegetables, I love to use parchment paper.
VEGGIES GETTING TOO ROASTED?- If your roasted veggies are starting to look a little too roasted, but still aren't tender inside, cover them with aluminum foil.
TRY TO KEEP EVERYTHING THE SAME SIZE– For even cooking, try to cut your Sweet Potatoes and Brussels Sprouts the same size. The bag of Brussels Sprouts that I got at the store had widely varying sizes. So some I just cut in half and some I had to cut into fourths.
ROAST IN SINGLE LAYER – Make sure everything is in a single layer on your baking sheet for even roasting as well.
DO YOU NEED TO PARCOOK THE BACON?- I wasn't sure about this, so I actually tried it both ways. I parcooked half of the bacon for 5 minutes at 400 degrees. I put this bacon on one side of my cooking sheet when I cooked the final dish. I put raw bacon on the other side. Obviously, the end result was that the precooked bacon turned out a little crispier. The raw bacon came out plenty cooked, just not as crispy. I really like crispy bacon, so I'd probably parcook it again. But you don't absolutely need to.
Other Ideas to Add to Roasted Brussels Sprouts
We love this recipe just as it is. But there are a number of ways you can liven this up even more. Here are a couple:
ADD NUTS: Sliced Almonds, Pecans or Walnuts.
DRIZZLE: A Balsamic Glaze or Maple Syrup would be delicious!
ADD ASPARAGUS
CHEESE – Sprinkle with Parmesan Cheese or at Feta Cheese after roasting.
I hope you enjoy this Roasted Brussels Sprouts and Sweet Potatoes Recipe. I'm definitely gonna bring this one to Thanksgiving Dinner this year!
LOOKING FOR MORE RECIPES WITH SWEET POTATOES OR BRUSSEL SPROUTS? CHECK OUT: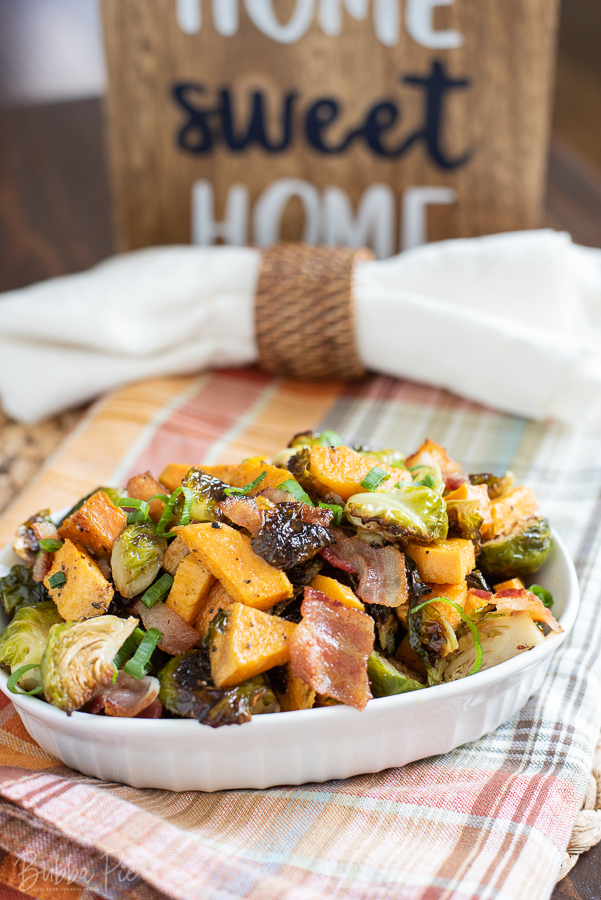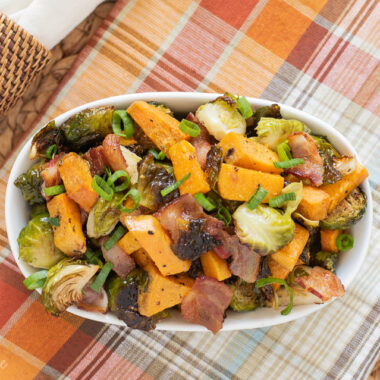 Rate this Recipe
Roasted Brussels Sprouts and Sweet Potatoes
Simple, easy and delicious, this recipe for Roasted Brussels Sprouts and Sweet Potatoes will become your new favorite side dish. Bursting with Fall Flavors, this these Roasted Vegetables are perfect for Thanksgiving and holiday meals. 
Ingredients
1

lb

Brussels Sprouts

1

Large Sweet Potato

1/4

Cup

Olive Oil

4

Slice

of Bacon

1/4

tsp

Garlic Powder

1/4

tsp

Onion Powder

1/4

tsp

Salt

1/4

tsp

Pepper

Green Onions for Garnish
Instructions
Preheat oven to 400 degrees.

If desired, put bacon into oven for 5 minutes to parcook.

Cut up Brussels Sprouts and Sweet Potatoes into evenly sized chunks. Layer onto Parchment Paper lined baking tray.

Mix together Garlic Powder, Onion Powder, Salt and Pepper. Sprinkle evenly over vegetables.

Cut bacon into small, 1/2 inch pieces and place amongst the vegetables.

Bake in the oven for 25-30 minutes, or until vegetables are tender and just starting to brown.

Garnish with Green Onion or Parsley if desired.
Nutrition
Love this recipe?
Follow @bubbapie for even more delicious recipes!!