Simple, wholesome and delicious, these Easy Honey Glazed Carrots only have 3 ingredients and are ready in just minutes. This healthy, nutritious side dish recipe will have everyone wanting seconds!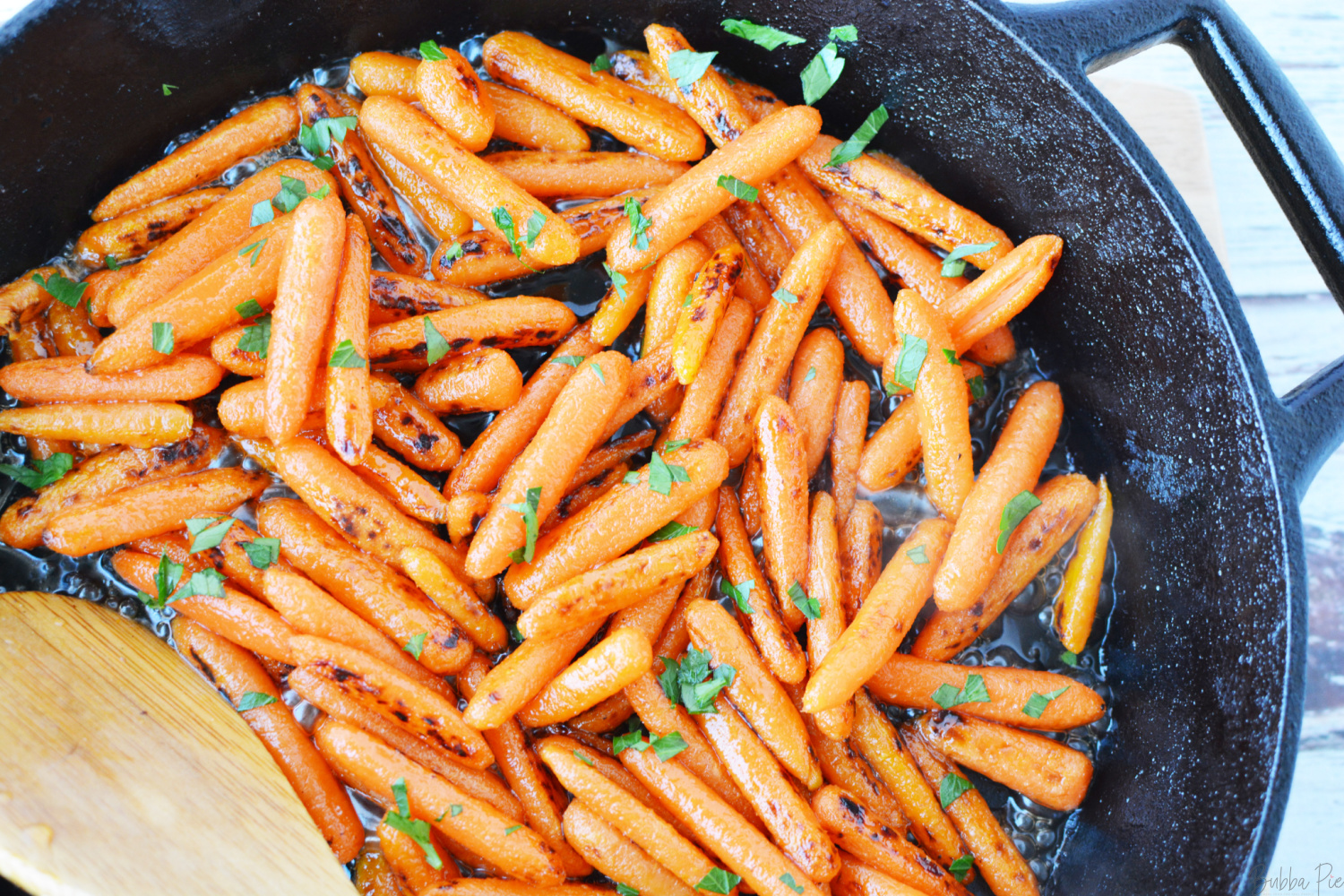 Why You Will Love Honey Glazed Carrots
EASY – With just 3 ingredients and a couple of minutes of prep, you just can't get any easier. Especially during the holidays, you'll need all the help you you get for quick easy dishes!
GOES WITH ANY DISH – From a traditional, formal Holiday meal, to a fun carefree cookout, these carrots go with anything!
DELICIOUS – Just a few simple ingredients transports this dish into an amazing combination of tastes! The slightly sweet, tender carrots have a buttery honey glaze that is simply out of this world!
Honey Glazed Carrots Recipe
So what do you need to get started? Just 3 ingredients! See the recipe card below for the full recipe!
CARROTS – any carrots will do. We used baby carrots. You can also cut up larger carrots. Rainbow carrots, if you can find them, would make a beautiful presentation. Just make sure they are all the same size for even cooking.
BUTTER – we used unsalted butter. But using salted butter could also work to balance out the sweetness of the honey.
HONEY – don't have honey? You could also sub for real Maple Syrup. I'm talking about the REAL stuff here!
PARSLEY (OPTIONAL) – garnish with parsley to give it a splash of color and flavor just before serving.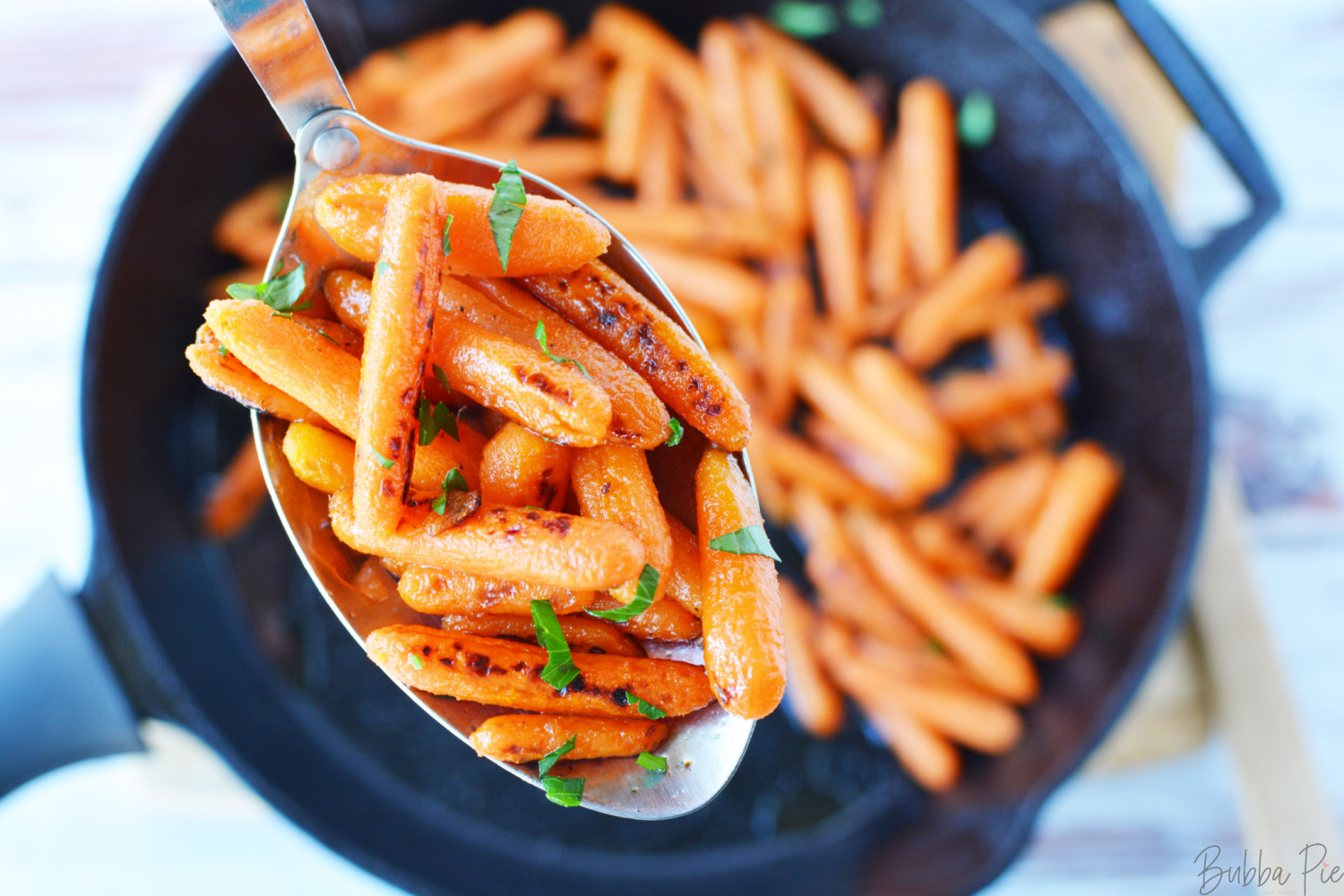 What Are The Best Carrots To Cook?
As I mentioned above, you can really use any carrot. We used baby carrots and they worked great! If you are buying whole carrots, just make sure they aren't too thick or you will need to increase your cooking time. You can always cut them in half lengthwise. It's up to you whether or not you want to peel them. I like to peel mine.
But the most important thing is that all the carrots are the same size.
How To Store Honey Glazed Carrots
If you have leftovers ( you probably won't!). You can store these carrots in an airtight container in your refrigerator. They should be good in your fridge for up to 3 days. Reheating in the microwave is fine.
You can freeze these carrots in a freezer bag. Just allow to fully cool before putting in your freezer. They should be good in there for about 3 months.
Sheet Pan Honey Glazed Carrots Recipe
So, can you make Honey Glazed Carrots in a sheet pan? Yep! So simple!
Preheat your oven to 425 degrees.
Cut and/or peel you carrots as needed. Melt you butter in the microwave.
Then, in a large bowl, combine the butter and honey and toss your carrots in the bowl until evenly coated.
Spread them out on a prepared baking sheet and roast in the oven for about 20 minutes. You can broil on low for the last couple minutes to caramelize the carrots if desired.
Garnish with parsley.
What To Serve With Honey Glazed Carrots?
Notes, Tips and FAQs
CAN YOU USE ANY TYPE OF HONEY WITH CARROTS? – Yep! Clover, wildflower, Tupelo or whatever you'd like to try should work!
ADDITIONAL INGREDIENTS TO CONSIDER – I've seen some recipes that sprinkle a little cinnamon, ginger or allspice on the carrots. And of course, salt and black pepper to taste.
I hope you enjoy this easy side dish recipe! Let me know how these Honey Glazed Carrots work out for you in the comments section!
LOOKING FOR MORE VEGETABLE SIDE DISHES? CHECK OUT:
ALSO, CHECK OUT OUR GARLIC ROASTED CARROTS RECIPE!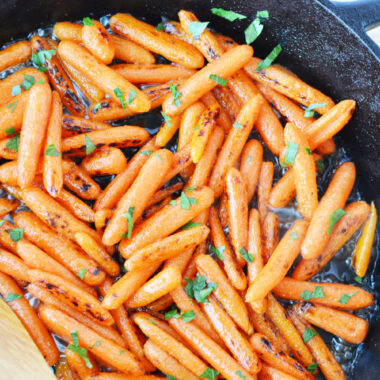 Rate this Recipe
Easy Honey Glazed Carrots
Simple, wholesome and delicious, these Easy Honey Glazed Carrots only have 3 ingredients and are ready in just minutes. This healthy, nutritious recipe will have everyone wanting seconds!
Ingredients
1

bag

1 lb, mini carrots

water

1

tablespoon

butter

2

tablespoons

honey

chopped parsley

optional for serving
Instructions
Add carrots to a skillet and add about 1" of water into the skillet.

Heat on medium high heat, covered, until boiling.

Continue to boil until carrots are soft and tender, about 10 minutes. Drain.

Add butter to the skillet and cook on medium, flipping occasionally until carrots are browned.

Reduce heat to low and add honey. Stir to evenly coat.

Sprinkle with chopped parsley before serving.
Nutrition
Love this recipe?
Follow @bubbapie for even more delicious recipes!!