If you've never had Roasted Acorn Squash, now is the time! This Maple Roasted Acorn Squash is brushed with butter, cinnamon, brown sugar and maple syrup. It's roasted in the oven and the glaze caramelizes for a soft, buttery dish that is just loaded with Fall flavors.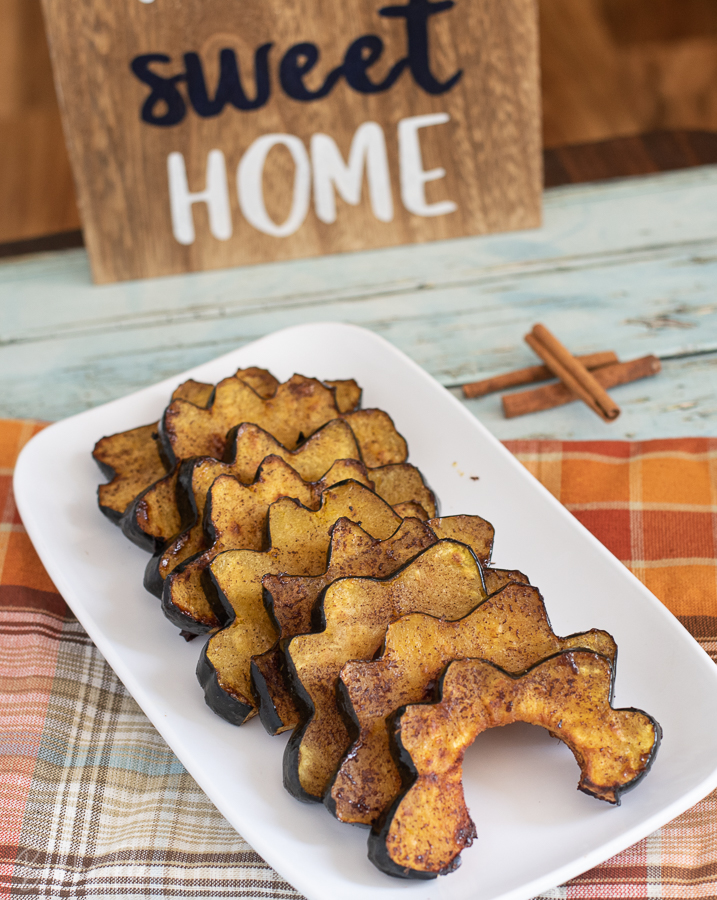 Why You'll Love Roasted Acorn Squash
FULL OF FALL FLAVORS – With Cinnamon, Brown Sugar and Maple Syrup all baked perfectly into this soft, tender Squash, this dish just screams comfort food! And it's great to warm you up on a cold, Autumn weeknight for a family dinner, or as a side dish for a formal Holiday Meal.
EYE CATCHING – You can certainly just cut your Acorn Squash in half, dress it with it's topping and back. But we love slicing it like the pictures and serving it to guests. Sure, a lot of people love to eat Butternut Squash, but serving Acorn Squash like this can give your dinner party an elegant flair.
inexpensive – While this may look like a gourmet side dish, it's a really inexpensive recipe. And I'd be willing to bet you already have most of these ingredients in your house!
Butternut Vs Acorn Squash
So, what is the difference between a Butternut and an Acorn Squash. Well, first of all, the look extremely different. There is no way you'd mix these two up. Butternut is long, yellowish and bulged one end. The Acorn looks like, well, I long Acorn. It's usually green with some yellow spots on it.
They both tasted great roasted. With the Butternut, it's a larger vegetable and you'll get more flesh from it. Butternut is also "smoother", so it works great in soups, etc. You can even sub it for Pumpkin in a Pumpkin Pie!
The Acorn Squash is smaller and has a more stringy texture, making it harder to put in soups. Acorn Squash has a thicker skin and is generally a more "sturdier" fruit (Yep! It's a fruit, not a vegetable!). This makes it really great for roasting and stuffing.
Yes, you CAN eat the skin of an Acorn Squash. But it is pretty tough. I don't recommend trying to peel it off though due to the ridges. Best to just Roast it with skin on and not eat the skin (it's pretty easy to avoid it!).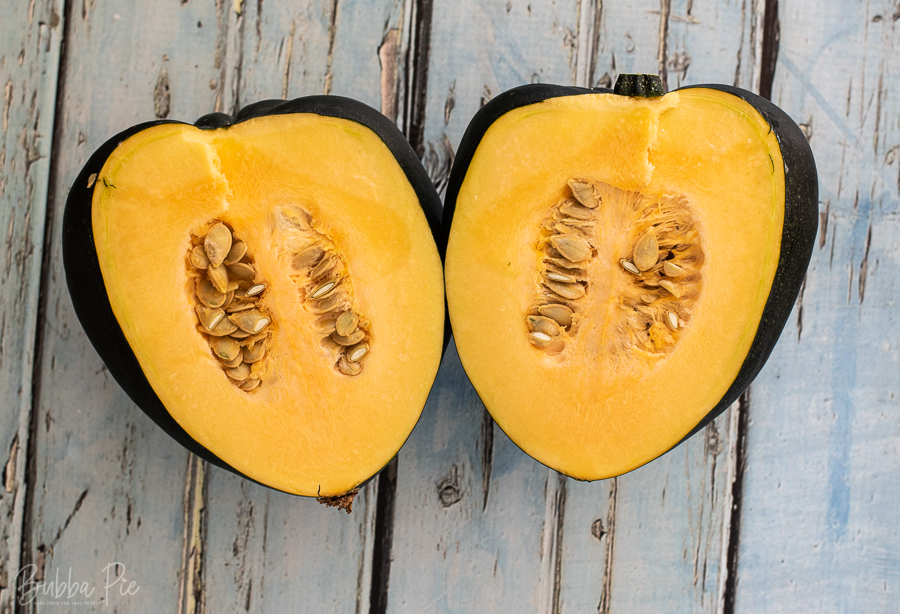 Roasted Acorn Squash
You'll see some recipes for Roasted Acorn Squash that are simply halved and then dressed and then roasted. I decided to slice mine up because I think this would make an awesome Thanksgiving dish. I can just imagine putting these slices of Roasted Squash on a platter and letting my family serve themselves into buttery, cinnamon and maple heaven! But, if you REALLY want to just cut your squash in half, brush the maple butter on top and roast, you should be able to do that with this recipe.
Ready to get started? Here is what you'll need:
ACORN SQUASH – Look for a good sized, healthy Squash in your produce section.
BUTTER – We used unsalted butter. But you can substitute for Salted if you'd like.
MAPLE SYRUP – You'll need REAL Maple Syrup. Not pancake syrup!
BROWN SUGAR – That combo of the sweet brown sugar and the salt? Mmmm! Yes, please!
SALT – Good, quality Kosher Salt.
CINNAMON – For that extra boost of Fall Flavor!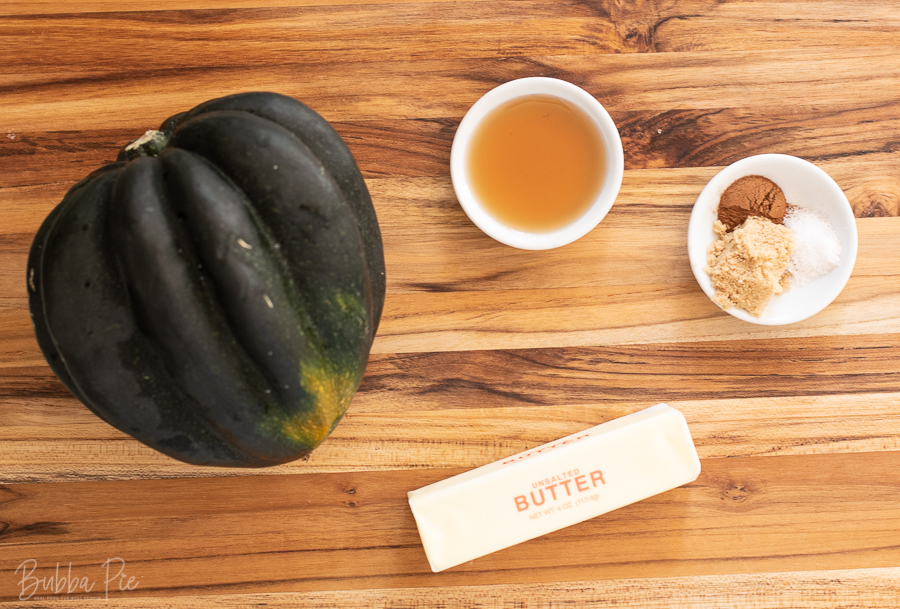 Can You Make Acorn Squash Ahead of Time?
You can prepare this recipe ahead of time. Just cut the Squash, brush with the maple butter and keep covered in the refrigerator. Then throw in the oven when your ready to roast.
Storage, leftovers and Freezing
This dish is best served fresh and warm, I wouldn't recommend trying to reheat this in any way.
For the same reason, once you cook your Squash, there is really no great way to freeze it and then thaw it out without it becoming very mushy.
Notes, Tips and FAQs
HOW TO CUT ACORN SQUASH? – You will need a solid, sturdy Chef's Knife to cut the Acorn Squash. Having a sharp knife is very important! There are plenty of instructions and videos on the internet for the best way to do this. It also helps to have a non-slip cutting board. Or, dampen a towel and put it on any cutting board. We don't even try to cut through the stem. We just cut around the skin next to it. And be careful!
SIMPLIFY? – If you want more savory than sweet, you can make this recipe SUPER simple. Just brush the Squash with 1 1/2 tbsp of olive oil and then sprinkle on Salt and Pepper to taste.
WHAT IS THE BEST WAY TO SCOOP OUT THE SEEDS INSIDE? – We like using a melon scooper to do this. Or just use a large spoon.
DON'T THROW AWAY THOSE SEEDS! – You can toast acorn seeds just like you would Pumpkin Seeds!
LINE YOUR SHEET PAN WITH PARCHMENT PAPER – This makes serving the squash and cleaning up much easier!
I hope you enjoy this Maple Roasted Acorn Squash Recipe! Looking for more Thanksgiving Side Dish Recipes? Check out: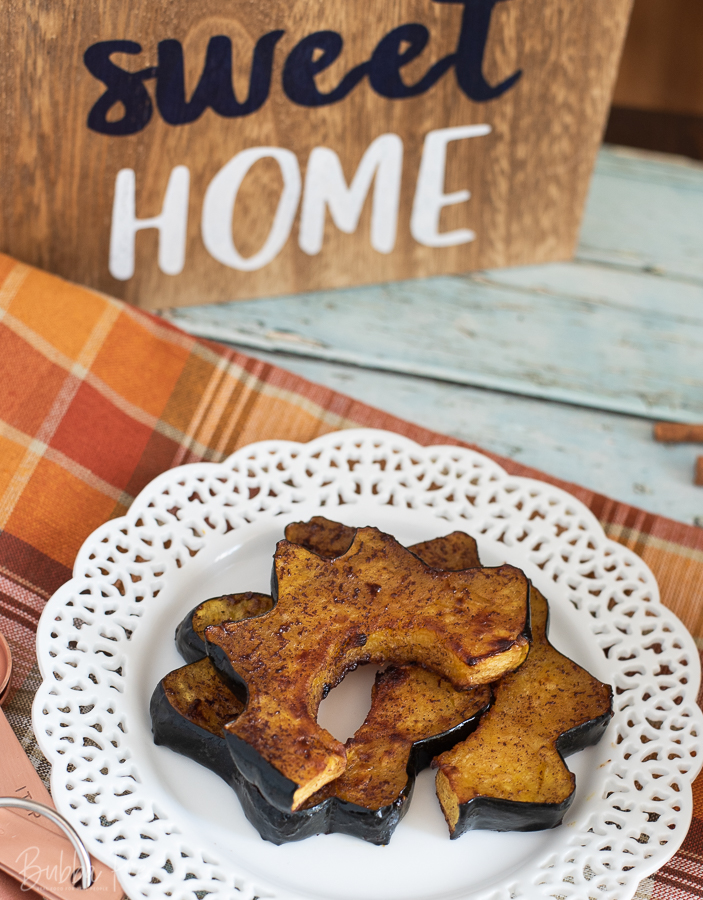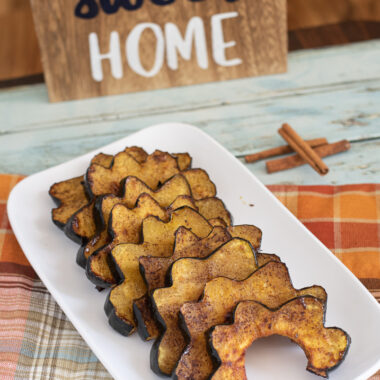 Rate this Recipe
Maple Roasted Acorn Squash
If you've never had Roasted Acorn Squash, now is the time! This Maple Roasted Acorn Squash is brushed with butter, cinnamon, brown sugar and maple syrup. It's roasted in the oven and the glaze caramelizes for a soft, buttery dish that is just loaded with Fall flavors. 
Ingredients
2

tbsp

Unsalted Butter

1 1/2

tbsp

Maple Syrup

2

tbsp

Brown Sugar

1/2

tsp

Salt

1/2

tsp

Cinnamon
Instructions
Preheat oven to 400 degrees.

Using a large, sturdy knife, cut Squash in half.

Scrape out seeds and strings from center. I like using a melon scooper.

Then Cut into slices going "horizontally" down the squash.

Mix butter, syrup, cinnamon and salt in small bowl. Heat in microwave for 45 seconds.

Put Squash slices on parchment lined baking sheet and brush both sides with maple butter.

Cook for 25 minutes, flip Squash over and bake for another 25 minutes.
Nutrition
Love this recipe?
Follow @bubbapie for even more delicious recipes!!