This Cheesy Cauliflower Au Gratin makes a fantastic delicious creamy side dish for just about any occasion. Fresh Cauliflower florets are covered with Gruyere and Cheddar Cheese, garlic, butter and spices, then roasted to creamy, bubbly perfection in your oven. We love to make this for Thanksgiving but it's great any time of year!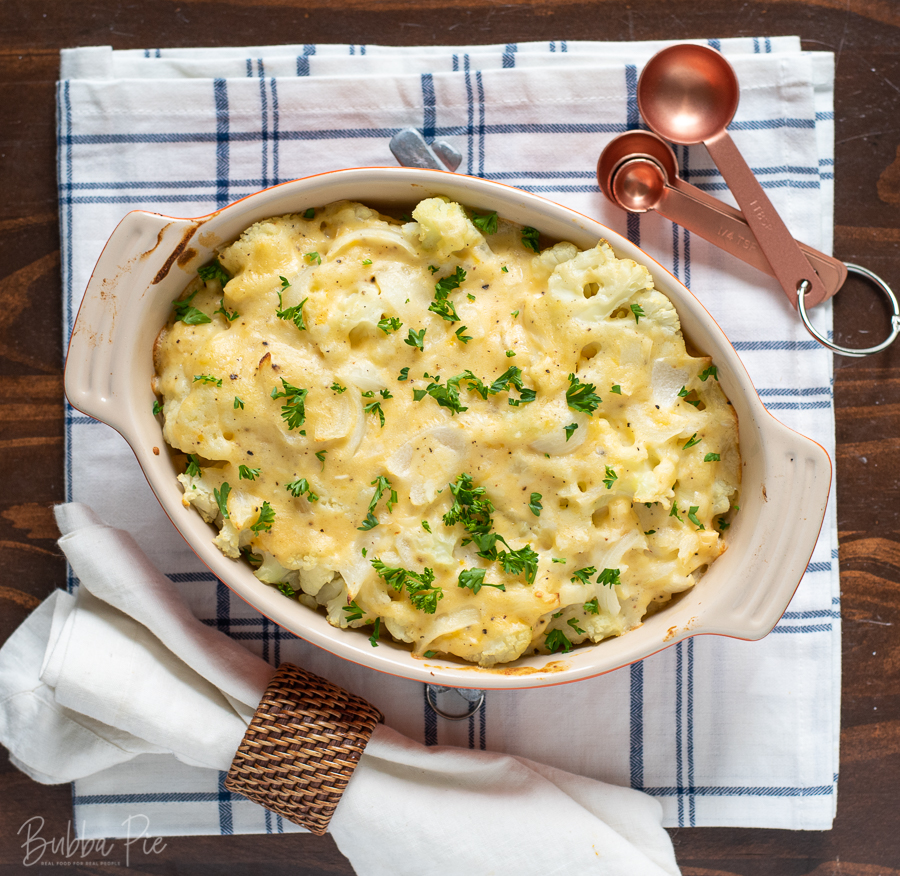 Why You Will Love Cauliflower Au Gratin
How To Make Cauliflower Au Gratin
These sorts of recipes just scream comfort food to me. I love looking at this list of ingredients. Everything is simple, straightforward and you probably already have most of these in your kitchen. Here is what you'll need to get started.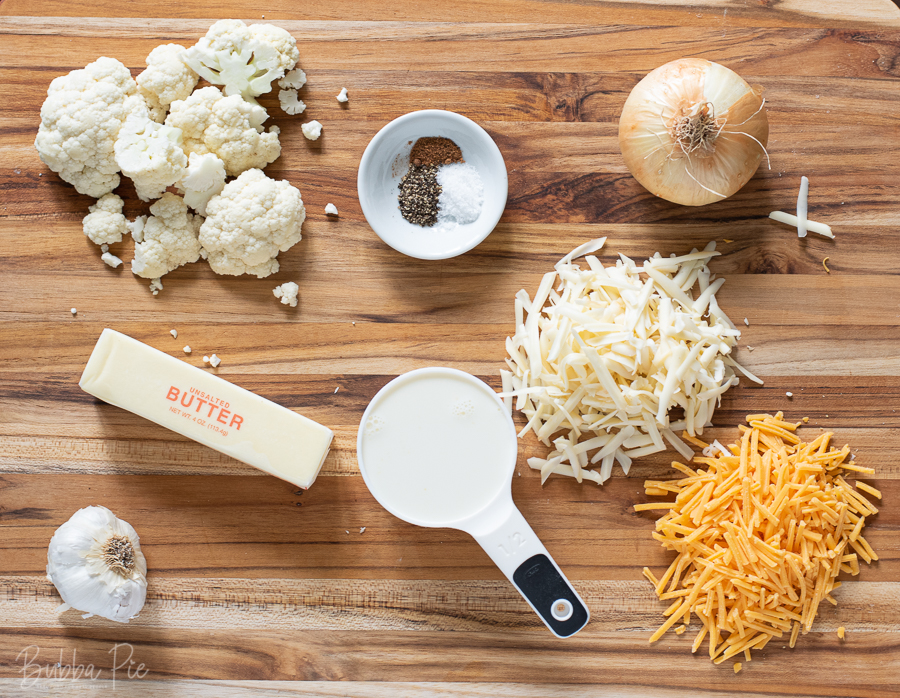 What Does Au Gratin Mean? Do We Need Breadcrumbs?
Everyone has heard of Potatoes Au Gratin, right? Often times, anything baked "Au Gratin" is topped with bread crumbs. But that isn't always the case. Au Gratin just means it's roasted with lots of cheese, or breadcrumbs or both. Right now, we are on an anti-gluten kick, so we left the breadcrumbs off. But, if you really want that trademark crispy Au Gratin Topping, no problem! Just sprinkle about 1/4 a cup on top right before you put them in the oven. Regular breadcrumbs or Panko Breadcrumbs will work. You can also top with crushed Ritz Crackers, Crushed Pretzels, Potato Chips or Dry Stuffing Mix.
Storage and Freezing
Store leftovers in an airtight container in your refrigerator. Reheat gently in an oven. Or use a microwave if you must. They should be good in your fridge for up to 3 days.
I would not freeze this recipe. Cauliflower just doesn't hold up well after being frozen.
Other Notes, Tips and Variations
What To Serve With Cauliflower Au Gratin
As we mentioned above, this recipe is great as a Holiday Side Dish during Thanksgiving or Christmas. It goes great with your Turkey! But would also be delicious during Easter with your ham as well!
But it's a great vegetable casserole dish to use as a side dish for anything, such as this Sheet Pan Salmon.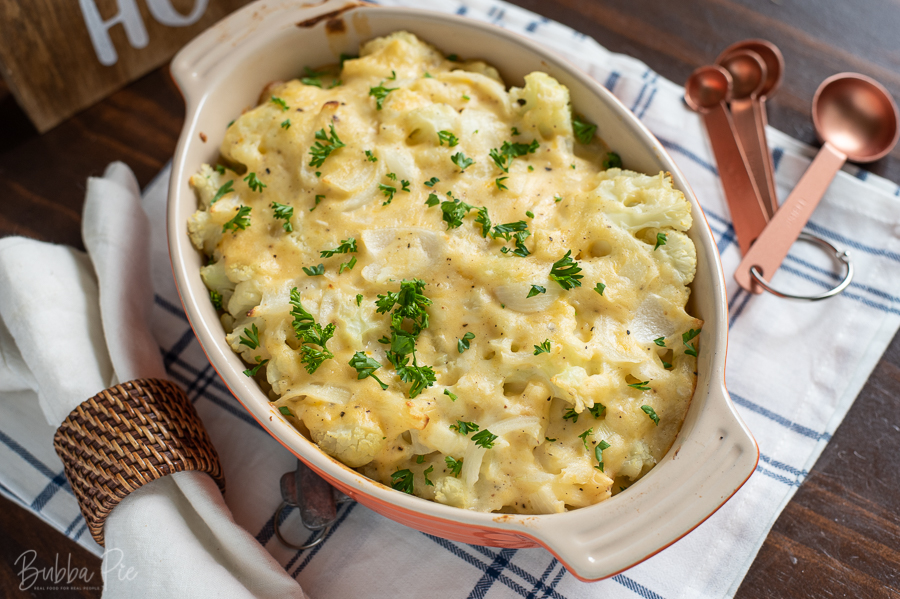 I hope you enjoyed this recipe for Cauliflower Au Gratin. I'd love to hear how it turned out for you in the comments section.
LOOKING FOR MORE SIDE DISHES? CHECK OUT: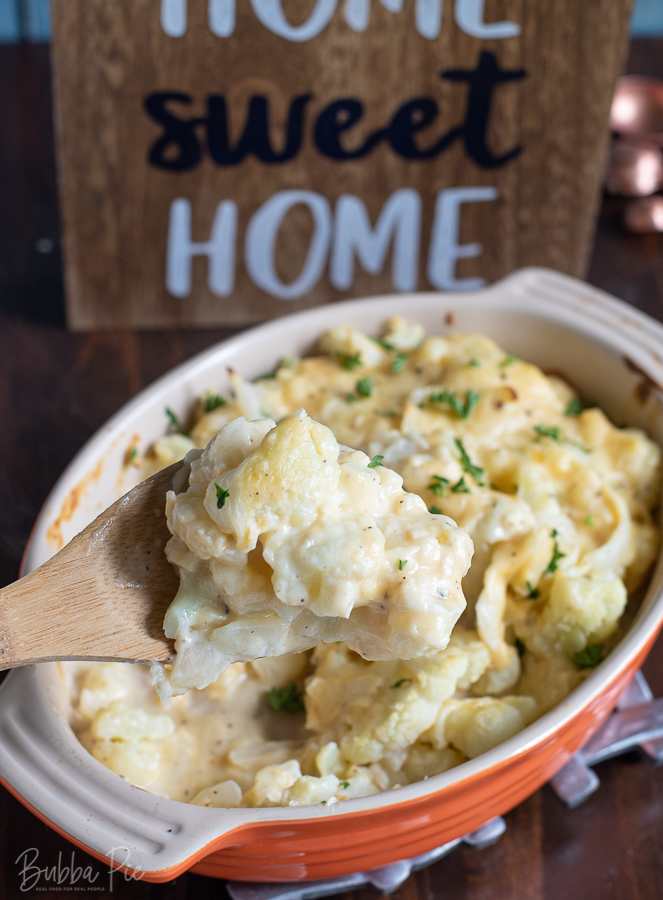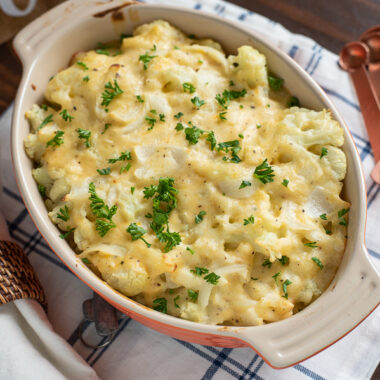 Rate this Recipe
Cheesy Cauliflower Au Gratin
This Cheesy Cauliflower Au Gratin makes a fantastic side dish for just about any occasion. Tender Cauliflower florets are loaded with Gruyere and Cheddar Cheese, garlic, butter and spices, then roasted to bubbly perfection in your oven. 
Ingredients
1

large head of Cauliflower

cut into large florets

2

tbsp

of Butter

2.5

tbsp

of Flour

1 1/2

cup

of Milk

1/2

cup

of Gruyere

2/3

cup

of Cheddar Cheese

1

clove

minced Garlic

1/2

tsp

of Pepper

1/4

tsp

of Nutmeg

1

tsp

of Salt

or more to taste

1

small chopped onion
Instructions
Preheat oven to 375 degrees.

Cut Cauliflower into large Florets and cook in boiling water for 5 minutes.

Using a slotted spoon, remove cauliflower from water. Drain and put on paper towel to dry and cool.

While Cauliflower is cooking, melt butter in medium sized saucepan and add diced onions. Stir frequently until onions are soft, about 5 minutes.

Toss in minced garlic and let cook for about 1 minute.

Add flour and stir to combine, let this mixture cook for about 3 minutes.

Stir in the milk and continue to stir frequently until mixture starts to thicken.

Remove from heat and add all the cheese, salt, pepper and nutmeg. Stir until fully melted.

Coat 9X9 baking dish with butter. Add half of the cauliflower in the bottom. Pour half the cheese mixture on top. Add the other half of cauliflower and then rest of cheese.

Bake for 25-30 minutes. Top should start to get golden and cheese should be bubbling. Garnish with Parsley.
Notes
ADD BACON- Yep! Add some bacon to this recipe! I'd cook the bacon first until it just starts to get done. Cut it into small pieces and mix it in with the cheese sauce. MAKE SURE YOU GREASE YOUR PAN- This is very important! A NOTE ON THE BAKING DISH I USED- From the pics, you'll see that I used a Le Creuset Oval shaped baking dish. I did this mainly for photography reasons. This recipe works fine in a 9X9 inch dish.  EXPERIMENT WITH CHEESE- Ha! That sound's like the name of a jam band from the 90's. But, seriously, mix and match cheeses that you like. You really can't go wrong with this recipe when it comes to the cheese!
Nutrition
Love this recipe?
Follow @bubbapie for even more delicious recipes!!