Soft, decadent and so easy! These Cake Mix Cookie Bars only take a few ingredients and a couple minutes to prep time. Loaded with chocolate chips, they are perfect for any occasion!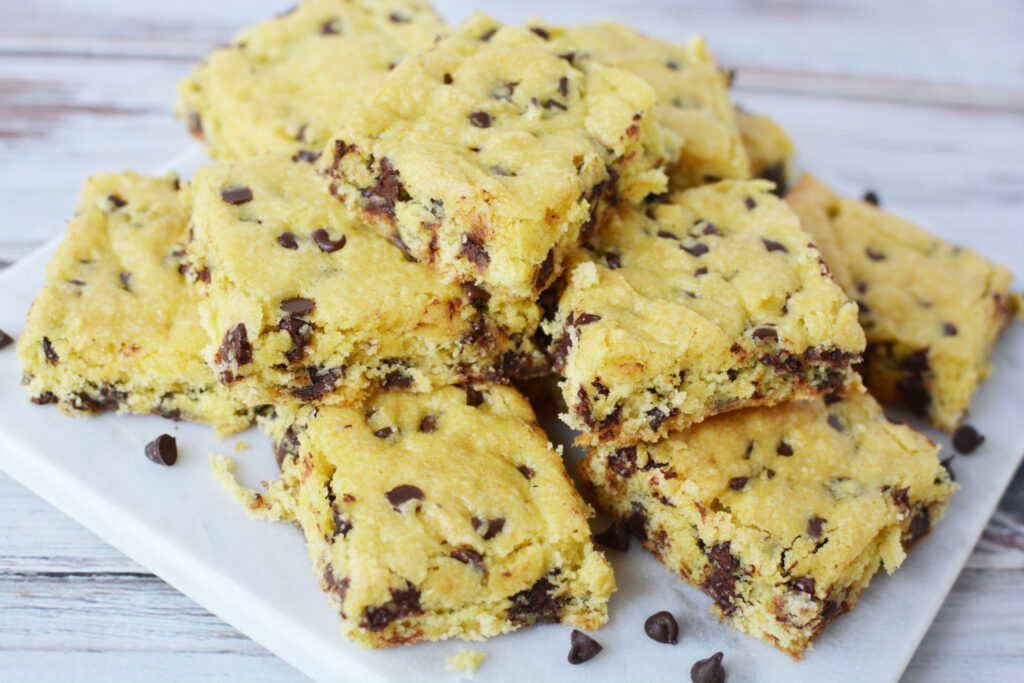 Why You Will Love Cake Mix Cookie Bars
EASY – Using Cake Mix to make a delicious dessert is the ULTIMATE shortcut! You'll only need a handful of other common ingredients and a couple minutes of prep to get these cookie bars in the oven! They are a great beginner recipe or one to let the kids help with.
FUN TO SHARE – This recipe is perfect to bring to a cookout, pitch in, bake sale or potluck. Or to share with a crown for any occasion.
What Are Cake Mix Cookie Bars?
They fall somewhere between a cookie, a brownie and a sheet cake. That's the best way I can describe it. You bake them in a sheet pan and cut them out into squares. They come in lots of different varieties, like these Avalanche Bars, Hello Dolly Bars or Peanut Butter Blossom Bars. But these cookie bars are of the classic variety with simple chocolate chips in them. And made even easier with Cake Mix!
How To Make Cake Mix Cookie Bars?
You only need 6 ingredients for this recipe. Some other recipes out there only use 4 ingredients, and skip out on the vanilla extract and the milk. But, I'm willing to bet you have those two ingredients in your home already, and the taste of these Chocolate Chip Bars is totally worth the extra 30 seconds to mix them in!
Here is a helpful list of the ingredients, for the step-by-step instructions, check out the recipe card below.
YELLOW CAKE MIX – This recipe is traditionally made with Yellow Cake Mix. But you can really use just about any cake mix that you like. Chocolate Cake Mix, Lemon Cake mix, Strawberry Cake Mix, White Cake Mix, Birthday Cake Mix, Confetti, Red Velvet… The sky is the limit!
MILK – We use 2% milk. But you can use whatever milk you'd like. The milk adds a little more fat and helps the recipe be even more moist.
VEGETABLE OIL – Cake Mix Recipes often need oil because that is also the best way to get moist results.
EGG – 1 regular egg. Provides binding and structure to the recipe.
VANILLA – We put a teaspoon of vanilla in this recipe to give the taste just a little more depth. To be honest, we put a little vanilla in just about everything we bake!
CHOCOLATE CHIPS – We used mini chocolate chips for this recipe. But again, you use whatever sounds good. Regular sized chocolate chips, chocolate chunks, white chocolate chips, milk chocolate chips, butterscotch chips, etc… It's fun to change the type of chocolate chips with the cake mix (e.g., chocolate cake mix with peanut butter chips). You could also put candy in this recipe such as M&Ms or other pieces of candy bars.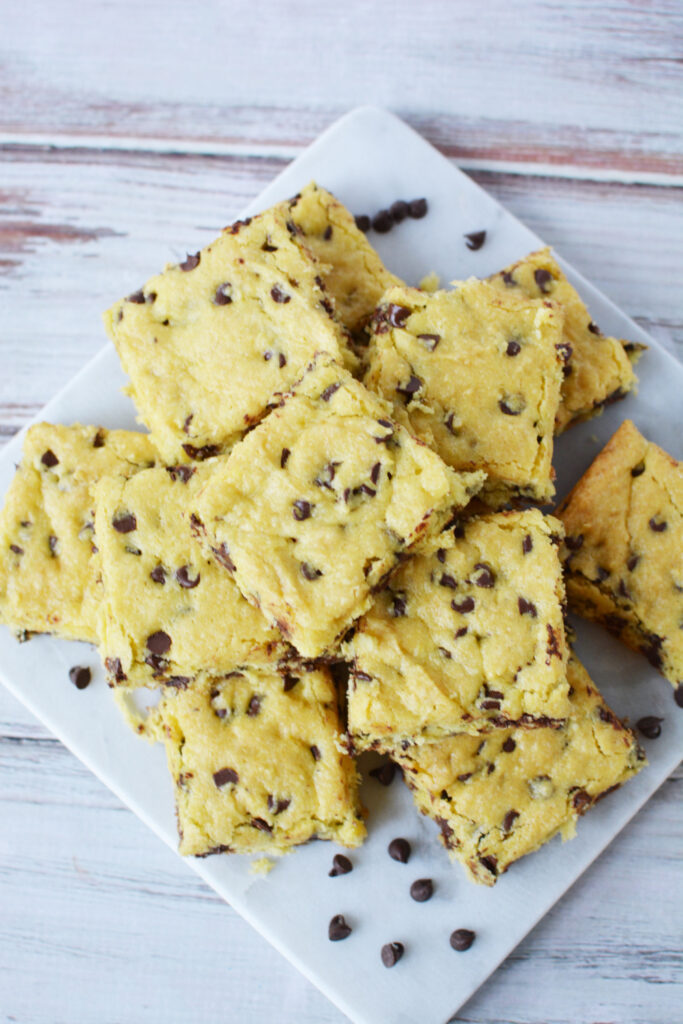 Storage and Freezing
Leftovers should be kept in an airtight container at room temperature. We like to bake the in this baking dish, which has it's own fitted lid to keep leftover in. Or you can keep them in a large ziplock baggie.
These cookie bars freeze very well! Just let them fully cool and cut them into squares. I'd put wax or parchment paper in between the bars and wrap them in freezer wrap or a freezer bag (or both). They will be good in your freezer 3-4 months. Just let thaw at room temperature or stick them in the microwave for 30 seconds.
Notes, Tips and Variations
SUB APPLESAUCE – If you are looking to shave a few calories, you can certainly substitute applesauce for the vegetable oil. The ratio for substituting applesauce for vegetable oil is 1:1. So you would need 1/3 cup of applesauce.
TOOTHPICK TEST – They should start to turn golden brown when they are ready. To know for sure then this recipe is ready to come out of the oven, stick a toothpick in the center. If it comes out clean, it's ready to come out. You can also use a cake tester.
ADJUST THICKNESS OF THE BARS – When baked in a 9X13 dish, these bars come out pretty thin (thinner than brownies). If you would like thicker bars, you can bake them in a smaller dish. Just note that you may need to adjust baking times.
COOL COMPLETELY – These bars can be a little hard to cleanly cut into. Make sure that they are fully cooled before you cut into them. And use a serrated knife to help.
ADD NUTS – Feel free to add walnuts, pecans or peanuts into this recipe.
THICK BATTER – Your batter mixture will have a pretty thick texture. This is totally normal but it can be tough to work with. We recommend using a Stand Mixer for sure. It can also be difficult to get laid flat in your baking dish. Using a rubber spatula that has been sprayed with cooking spray can help. Or just grease your hands. You can also try using some parchment paper or even the bag that the cake mix came in!
SERVE WARM – Yeah… serve this warm with a dollop of vanilla ice cream on top. Did we even need to say this? Or, at least drink a cold glass of milk with it!
We hope you enjoy this recipe for Cake Mix Cookie Bars. Please let us know how they turn out in the comments!
LOOKING FOR MORE CAKE MIX RECIPES: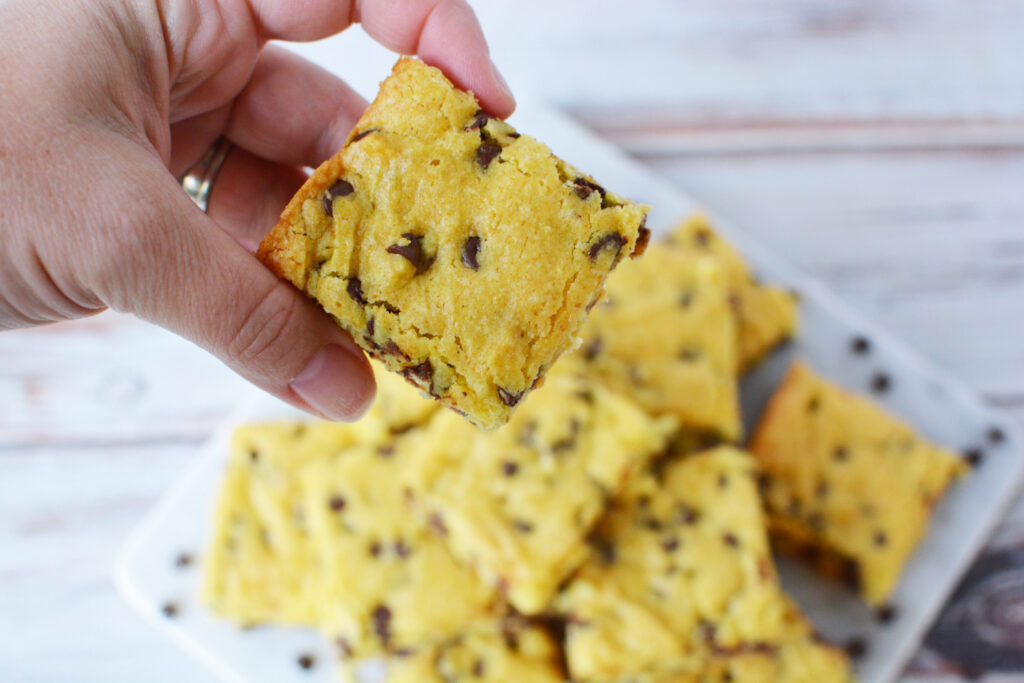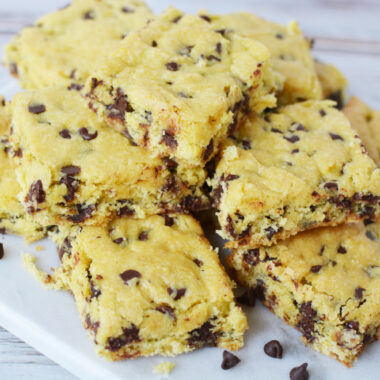 Rate this Recipe
Cake Mix Cookie Bars
Soft, decadent and so easy! These Cake Mix Cookie Bars only take a few ingredients and a couple minutes to prep time. Loaded with chocolate chips, they are perfect for any occasion!
Ingredients
1

box

15.25 oz, yellow cake mix

1/2

cup

milk

1/3

cup

vegetable oil

1

egg

1

teaspoon

vanilla

1

cup

mini chocolate chips
Instructions
Preheat oven to 350 and grease a 9x13 pan with nonstick cooking spray. Set aside.

In a mixing bowl, combine and stir cake mix, milk, oil, egg and vanilla and mix well.

Dough will be stiff and sticky.

Fold in chocolate chips.

Spoon batter into prepared pan and spread evenly.

Bake for 23-26 minutes or until browned and edges are set.

Cool completely before cutting into bars.
Nutrition
Love this recipe?
Follow @bubbapie for even more delicious recipes!!