These Hello Dolly Bars are an easy classic recipe that has been around for decades! Sometimes called 7 Layer Bars or Magic Cookie Bars, they combine a graham cracker crust, chocolate chips, pecans, coconut and sweetened condensed milk.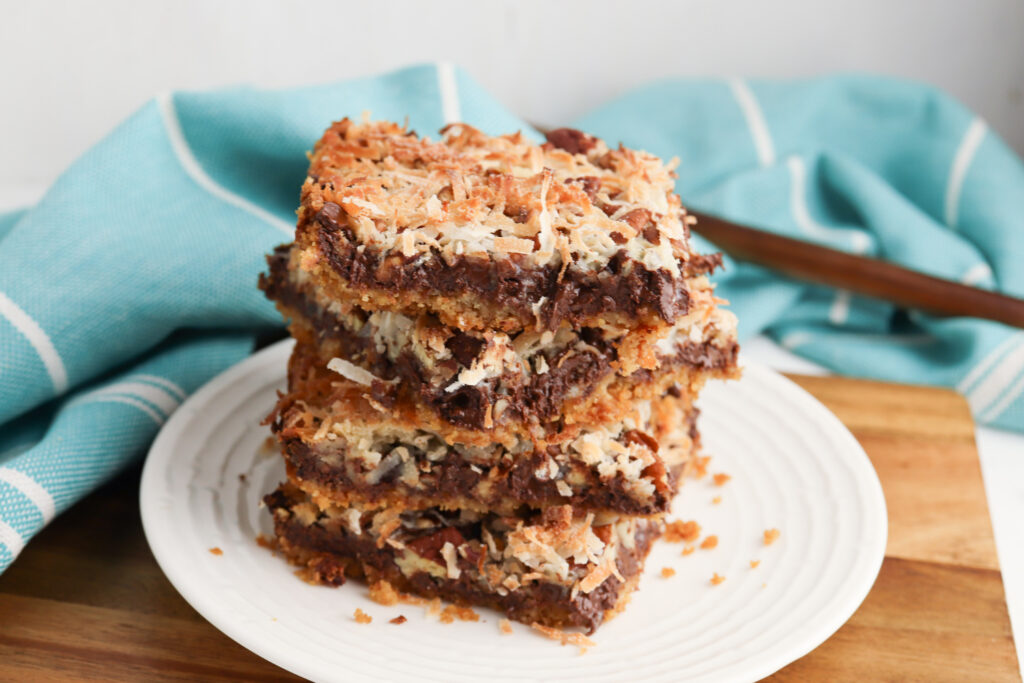 Why You Will Love This Hello Dollies Recipe
EASY – Just a handful of ingredients and a couple of minutes of prep work! This Hello Dollies Recipe is SO simple. It's great for beginning bakers and a kid friendly recipe to let the little ones help on!
UNIQUE – Bring these dessert bars to your next pitch in, potluck or cookie exchange! I'll bet most people will never had even heard of this recipe!
DELICIOUS – Sweet, salty, gooey, soft and a little crunchy? I can't even find enough adjectives to describe this treat. You've just gotta try it for yourself!
The slight spice of the graham crackers, the sweetness of the chocolate chips, the saltiness of the pecans and the roasted coconut flakes are all baked together with sweetened condensed milk. It is truly an overload of the taste buds! Sweet, salty delicious chewiness!
In a lot of ways, these remind me of Avalanche Bars or Ooey Gooey Butter Cake. Where they aren't quite a cookie, or a cake…. they are something else entirely! And just like the Butter Cake, this recipe has a rich tradition and history!
Why Do They Call Them Hello Dolly Bars?
Well, they don't always. A lot of people call these by lots of different names. The "Hello Dolly" name comes from the musical that was popular in the 1960s when this recipe started making the rounds. People also call them Magic Bars because they seem to be held together with just the sweetened condensed milk. There are no eggs or other binding agents in this dessert!
A lot of times, you'll find this recipe with butterscotch chips added to it. This would make 7 ingredients and "7 layers". This is why they also call them seven-layer bars. We aren't huge fans of butterscotch, so we left them out of this recipe. But you can certainly add them if you'd like.
They are perfect anytime of year, but also popular during the holidays. They make fun, easy Christmas gifts for friends and neighbors!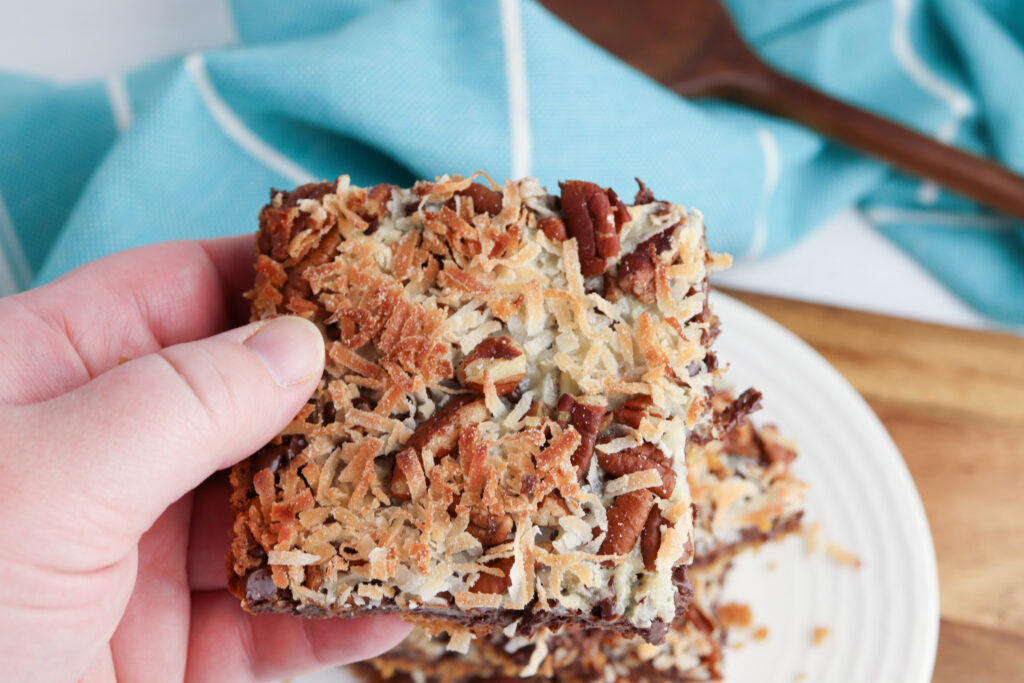 What Ingredients Are Needed For A Hello Dollies Recipe?
Gooey, sweet, salty, buttery and utterly delicious. These Hello Dolly Bars aren't only called by a lot of names, there are a lot of adjectives to describe them. For such a simple recipe with so few ingredients, there is A LOT going on! For step-by-step instructions, check out the printable recipe card below. But here is what you'll need to get started.
BUTTER – You want UNSALTED BUTTER for this recipe. You will be getting enough salt with the pecans. You'll need to melt your butter to combine it with the Graham Crackers. 30 second intervals in the microwave should do the trick.
GRAHAM CRACKER CRUMBS – 1 1/2 Cups of Graham Cracker Crumbs should be about 1 sleeve of crackers. You can use a cuisinart or food processor to do this, but a lot of people like avoid washing more dishes and use a ziplock baggie. Just throw them all in there and use a rolling pin to gently crush them.
SWEETENED CONDENSED MILK – Any brand will work. We pour ours over the graham cracker crust before adding any of the other layers. I've seen some people add this last, pouring it over all the ingredients and letting it seep in. There seem to be two camps on this as to which one works better. Honestly, I don't think you can go wrong with this recipe.
MINI CHOCOLATE CHIPS – We used Semi-Sweet Chocolate Chips. And you absolutely don't need to use mini chips. Regular sized chocolate chips will work fine too. You can sub for milk chocolate or dark chocolate chips if you'd like, but it will change the flavor of this recipe.
SWEETENED COCONUT FLAKES – These taste SO DELICIOUS after roasting in your oven for a bit! If you don't have "sweetened" flakes, you can use regular coconut flakes and be just fine. The sweetened condensed milk will add plenty of sugar to compensate.
PECANS – Chopped. You can throw them right on in or you can roast them first. Do this by putting them in a skillet over low heat for about 2-3 minutes. Or on a baking tray in your oven at 325 for 7-10 minutes. You can also use other nuts such as Walnuts if that sounds yummy!
With these ingredients, it's so easy to make! Just mix the melted butter and crushed graham crackers in a medium sized bowl. Press it into a baking dish. Then layer on all of the other ingredients and throw it in the oven! The complete, step-by-step recipe card is below!
Do Hello Dolly Bars Need To Be Refrigerated?
So, with Hello Dolly Bars being made with milk, do they need to be refrigerated? Nope! They are fine in an airtight container right out on your counter. They should stay good for about 3-5 days. You can probably extend their shelf life by a day or two if you keep them in your refrigerator. No need to warm them up when you eat them. They are already so gooey and soft and perfect to eat at room temperature.
Can You Freeze Hello Dolly Bars?
They also freeze very well. Just make sure you let them cool fully, cut them into individual bars and use wax paper to separate them so they don't freeze together. You can thaw them overnight in the fridge or just put them out on the counter for a bit. Some people even like to eat these straight out of the freezer, although we haven't tried this.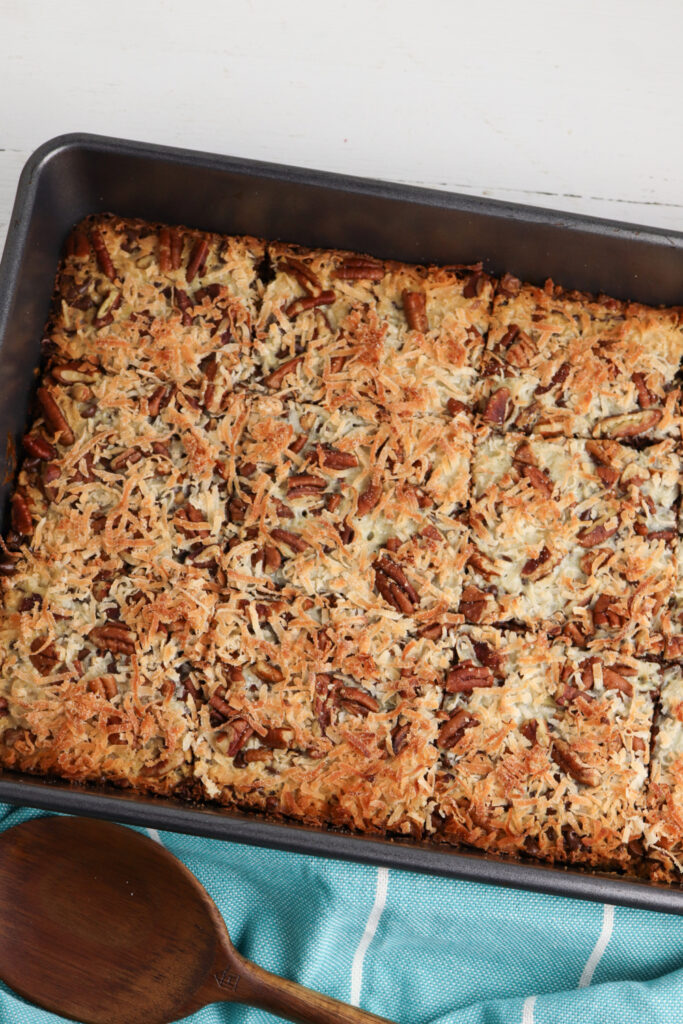 Notes, Tips and Variations
NO BUTTERSCOTCH CHIPS? – As I mentioned above, we decided to leave them out in the recipe, but you can easily add them if you'd like. Instead of the two cups of chocolate chips, simply add one cup of each. You could also add peanut butter chips or white chocolate chips if that sounds good! Just don't go over 2 total cups or it will be too much.
OTHER ADDITIONS – Although we haven't tried this, we've seen people add crushed pretzels, dried cranberries or dried cherries to this recipe. Add dried cranberries would make this even more of a yummy holiday treat! And adding crushed pretzels is great if you are allergic to nuts.
DON'T BURN THE SHREDDED COCONUT – The coconut flakes on top can start to brown very quickly. Sometimes they will brown faster on the outside than the inside. If they aren't getting as golden brown as you'd like on the inside, don't worry, they will still taste fantastic and leaving them in can cause the outside coconut to burn.
LINE THE PAN WITH PARCHMENT PAPER – This recipe is VERY sticky and gooey. We highly recommend lining your baking pan with parchment paper so that the Hello Dolly Bars release easily after baking. You can even use that parchment paper to keep them separated while storing them!
Tools To Help With This Recipe
We hope you enjoy these Hello Dolly Bars! Let us know how they work out for ya! We love to hear all the comments that you leave below!
LOOKING FOR MORE GREAT DESSERT RECIPES? CHECK OUT: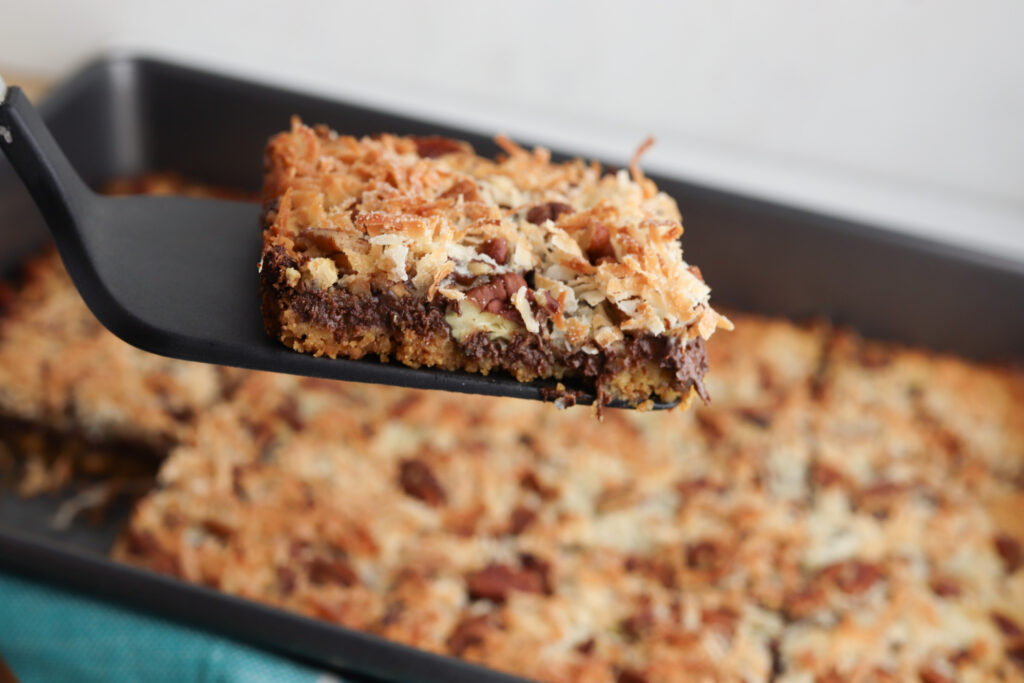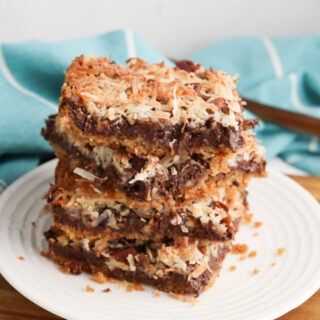 Rate this Recipe
Hello Dolly Bars
These Hello Dolly Bars are an easy classic recipe that has been around for decades! Sometimes called 7 Layer Bars or Magic Cookie Bars, they combine a graham cracker crust, chocolate chips, pecans, coconut and sweetened condensed milk.
Ingredients
½

cup

butter

melted

1 ½

cups

graham cracker crumbs

1 14-

ounce

can sweetened condensed milk

2

cups

mini chocolate chips

1

cup

sweetened coconut flakes

1

cup

chopped pecans
Instructions
Preheat the oven to 350 degrees.

Stir together the butter and graham cracker crumbs.

Press the mixture into the bottom of the pan.

Top the crust with sweetened condensed milk.

Sprinkle the chocolate chips, pecans, and coconut flakes over the milk.

Bake in the preheated oven for 25 minutes, then remove from oven and allow to cool before slicing.
Nutrition
Love this recipe?
Follow @bubbapie for even more delicious recipes!!