This Banana Pudding Poke Cake is an easy cake mix dessert recipe that is perfect for any occasion! Light, fluffy cake is infused with banana pudding and topped with whipped cream and Nilla Wafers!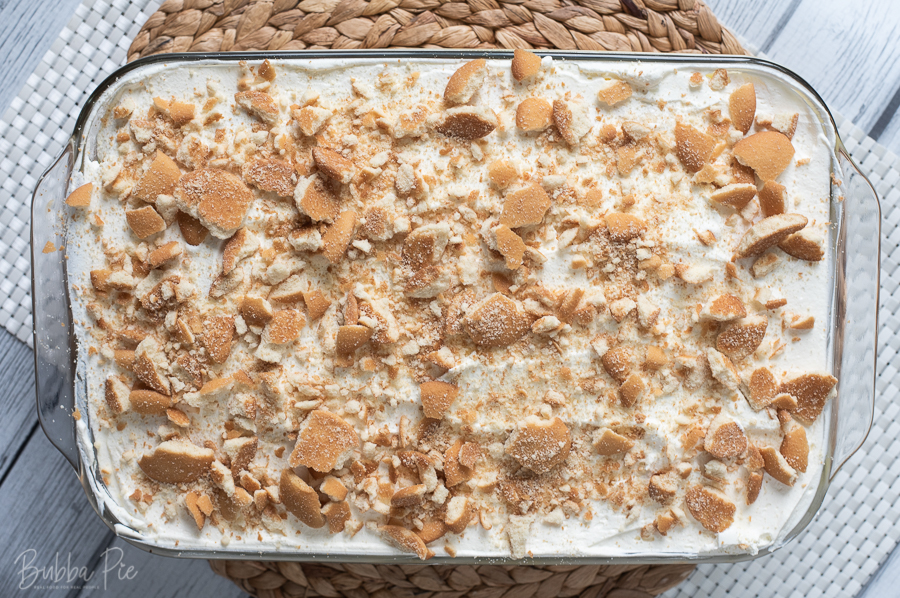 Why You'll Love Banana Pudding Poke Cake
EASY – You gotta love Cake Mix Recipes! Using store boxed cake mix is the ultimate shortcut for so many fun and delicious recipes! Other than that, the rest of the ingredients are super simple and you probably already have them in your kitchen!
KID FRIENDLY – Even picky eaters are gonna love this one. I mean, what's more kid-friendly than banana pudding? And you can even let them help make it. The kids love to poke the holes in the cake!
ALSO BE SURE TO CHECK OUT OUR BANANA ROLL CAKE, WHICH IS A LOT LIKE THIS RECIPE!
What Is A Poke Cake?
Why do we call this a Poke Cake? You may have seen recipes for Poke Cakes before and have wondered just what in the heck they were. It's pretty simple: you bake a cake and then you poke some holes in it. You can then fill the holes with tons of different delicious things. I've seen chocolate and vanilla cream, whipped cream, pureed fruit, condensed milk and Jello. A couple months ago, we made this Strawberry Jello Poke Cake and it's been one of our more popular recipes this summer! But, one of the most common things to add to a poke cake is pudding. And that brings us to today's recipe!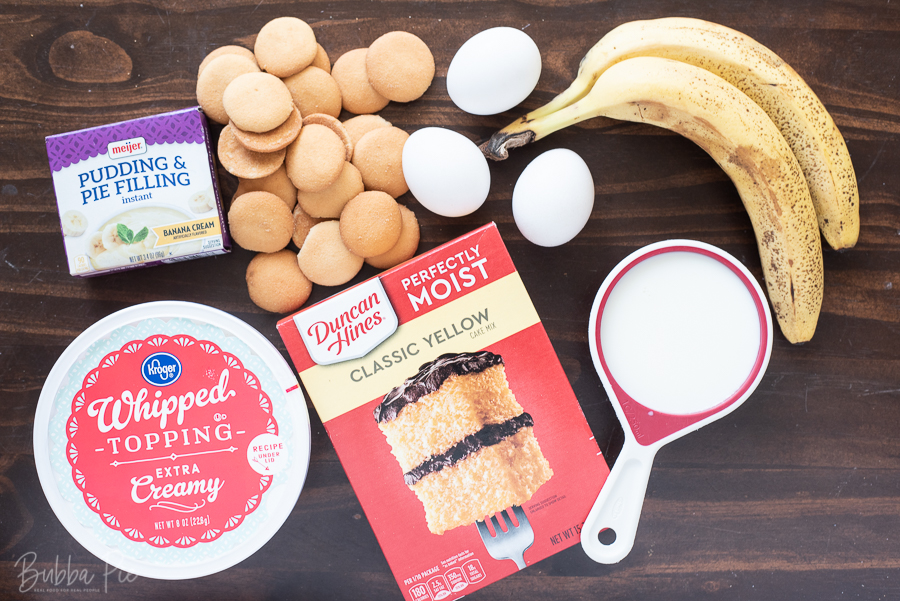 Banana Pudding Poke Cake Recipe
For step-by-step instructions, check out the printable recipe card below. But here is what you'll need to get started:
YELLOW CAKE MIX – We love to use yellow cake mix because of the "banana theme". But you can really use any flavor of cake mix you'd like. Vanilla, white, funfetti… Even chocolate cake would be yummy!
VEGETABLE OIL – To mix with the cake mix.
LARGE EGGS – For best results, bring your eggs to room temperature before using them.
BANANA CREAM PUDDING MIX – The best to use is the Jell-O Banana Cream Pudding Flavor. But any Instant Banana Pudding will do. You can also use sugar free instant pudding mix if you are watching your sugar intake.
MILK – We used 2% milk, but you can use whatever you'd like.
COOL WHIP – If frozen, make sure you let it thaw.
VANILLA WAFERS – We used the Nabisco Nilla Wafers.
FRESH BANANAS – You'll want them ripe enough to be sweet, but not too ripe that the banana slices brown quickly when exposed to fresh air.
Check out the recipe card below for complete instructions and measurements. But, in general, it's so simple to make this recipe. Just prepare the Yellow Cake according to the instructions on the box. After taking out of the oven, let it cool for a bit and then poke holes in it with the wooden spoon handle. Prepare the Banana Cream Pudding in a large bowl according to the instructions. Spread the pudding on top of the cake and let it seep into the holes. Chill in the refrigerator for 30 minutes and then layer the Cool Whip Topping. Top with crushed wafers and fresh banana slices and you are ready to serve!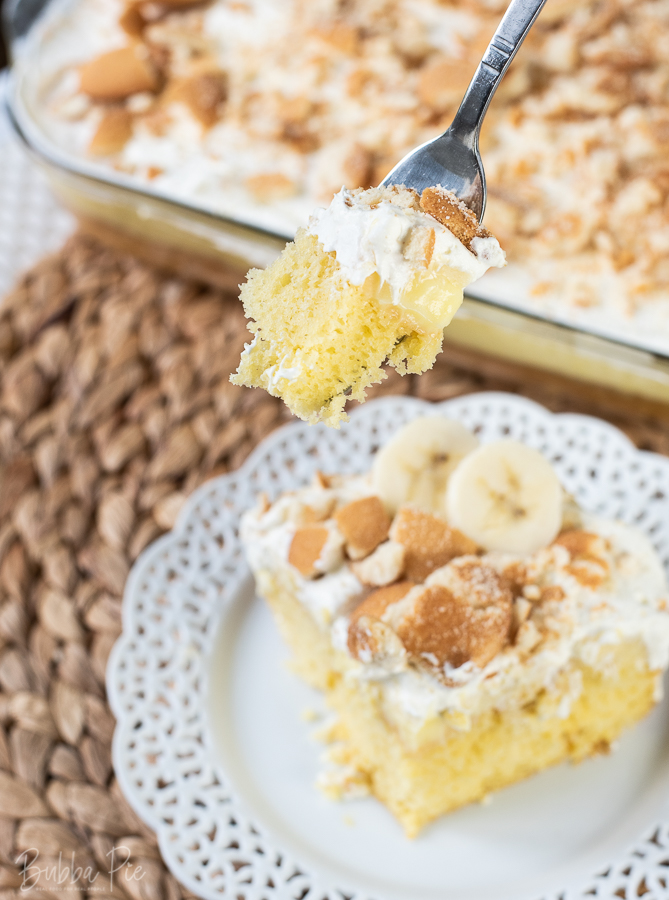 Storage, Leftovers and Freezing
Banana Pudding Poke Cake leftovers should be kept in an airtight container in the refrigerator. I would let it sit out in room temperature for more than an hour or so. Even less time if bringing it outside on a hot day.
You can freeze poke cakes. But I would freeze it before putting the wafers and fresh bananas on. That in the refrigerator overnight and top with wafers and fruit before serving.
Notes, Tips and FAQs
Be Quick With The Pudding!- Usually, the box says that the pudding sets in 5 minutes. I've found that it is much faster than that. You want to pour the pudding on the cake before it sets and thickens. This way it will really get down into the holes. So, as soon as you get those lumps out of the pudding mix, pour it over the cake asap!
Ripe Bananas- You will want to use nice and ripe bananas for this recipe.
Alternate Toppings?- While Vanilla Wafer are certainly the most popular topping of this recipe, there are lots of other fun options too: Shortbread Cookies, Lady Fingers, Animal Crackers (even the frosted kind) or chocolate wafer. I'd love to try this recipe with crushed Oreos on top as well. I love the combination of chocolate and bananas! And you could also add nuts! Crushed Walnuts, Pecans or shaved Almonds could work!
How To Store Banana Pudding Poke Cake?- This cake will need to be kept in the fridge. It should keep for up to 5 days. The bananas may brown and the wafers may get soft, but it will still be good to eat for a couple days. We love to use this cake pan. It's got it's own lid so you can just keep it right in there in the pan without worrying about aluminum foil or saran wrap! I've seen some people wait to top their cake with the bananas and wafers until they serve it, this way it will stay as fresh as possible. This is a great idea if you are not planning on serving it all at once and aren't as worried about the presentation.
Do You Have To Use Yellow Cake Mix?- Nope. You could use any flavor you want. I think most people use the yellow to go with the banana theme. But White could also work and even chocolate. As I mentioned above, bananas and chocolate go together really well. You could really change up this recipe by using chocolate cake mix and top with Oreos.
Do You Have To Use Cool Whip?- If you've read this blog before, you know that one of our definitions of comfort food is the ease with which you can make it. We try to keep our ingredients as simple as and easy as possible! So, can you make your own whipped topping? Certainly! But we think Cool Whip does just fine!
I hope you enjoy this recipe for Banana Pudding Poke Cake. It's a great recipe for a crowd and for summer cookouts and gatherings. I love how it is light and creamy and not too filling. It tastes like a fresh summer day! Let me know how it turns out for you in the comments. Thanks for reading!
Items To Help With This Recipe
FOR MORE LIGHT, FUN DESSERTS, CHECK OUT: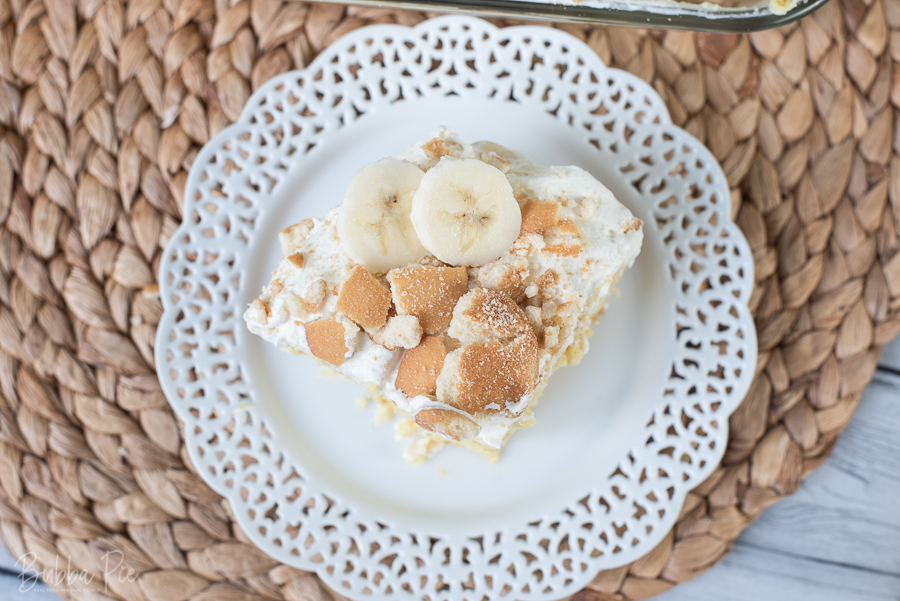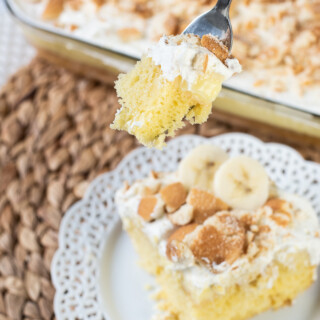 Rate this Recipe
Banana Pudding Poke Cake
This Banana Pudding Poke Cake is light, creamy and delicious. And it only takes a handful of ingredients to make this delicious dessert recipes. Soft Yellow cake is infused with Banana Cream Pudding and topped with Cool Whip, bananas and crushed Vanilla Wafers. It's  a great summer dessert recipe and perfect for you next cookout!
Ingredients
1

Box of Yellow Cake Mix

1/3

Cup

of Oil

3

Eggs

2 3.4

oz

Packages of Banana Cream Pudding Mix

4

Cups

of Milk

Cool Whip

1

Box of Vanilla Wafers

2

Fresh Bananas
Instructions
Prepare the Yellow Cake according to directions on the box.

Once cake is done, let cool for about 20 minutes.

Using the handle of a wooden spoon, poke holes in the cake.

Prepare the Banana Cream Pudding according to directions on the box.

As soon as the lumps of the pudding are gone, pour over cake before pudding has a chance to set and thicken. Focus on getting the pudding into the holes.

Cover and refrigerate for at least 30 minutes to let the pudding set.

Slice bananas and place them on top of the pudding.

Spread Cool Whip over the top of the cake.

Put 30 Vanilla Wafers in a zip lock bag and crush. The amount you crush them is completely up to, some like them crushed up fine and some like big chunks. I like a little of both! Sprinkle wafers on top of the Cool Whip and serve!
Nutrition
Love this recipe?
Follow @bubbapie for even more delicious recipes!!