Drop Biscuits are simple, delicious buttery biscuits that only take a couple ingredients and just minutes to throw together. They can be used for just about any occasion, so they are a great option when you need a quick, go-to bread or biscuit recipe!
Oh, Drop Biscuits, where have you been all my life? It seems like I'm always forgetting about the bread with any meal. The main course and the sides are all ready to go, but I've completely forgotten to buy some bread at the store. And, surely, it's too late to make some from scratch? Right? And surely I don't even have the ingredients, right? WRONG!
These Drop Biscuits use just a few simple ingredients that I bet you already have laying around your kitchen. And they take just minutes to prepare!
What Are Drop Biscuits?
I had never really heard of Drop Biscuits before. A Drop Biscuit is simply made from "dropping" the dough from a spoon onto the baking pan before inserting into the oven. This is in contrast to having to roll them out and cut them into biscuit shapes before baking. So quick and easy! They come out golden brown and slightly crispy on the outside, while deliciously warm and soft on the inside.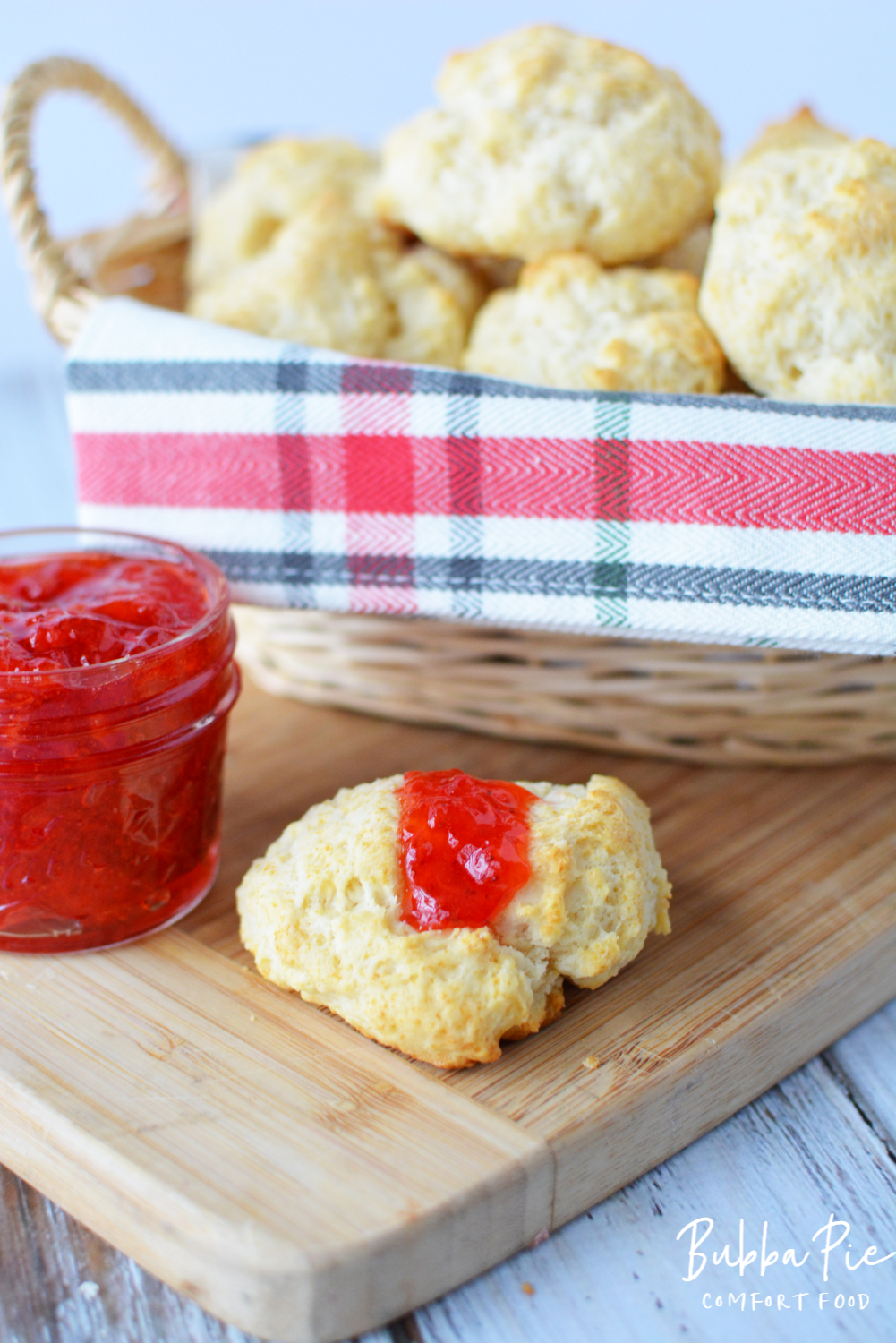 How To Make Drop Biscuits?
First, gather up the few simple ingredients that you'll need. They are:
FLOUR – Regular, all purpose flour. Be careful when measuring your flour. A common mistake it to pack it into your measuring cup. The safest way to make sure you are using the correct amount is to weight it using a kitchen food scale. Or, at least spoon it into your measure cup and flatten the top. Use gluten free flour if you want to make this friendly for gluten-free diets.
BAKING POWDER – Will cause our Biscuits to rise and give them their tender, fluffy texture.
SUGAR – We use a tablespoon of plain, white sugar in this recipe. Not all drop biscuit recipes use sugar and you can omit (or reduce this) if you'd like.
SALT – Baking with salt always gives your recipes more complexity and depth of flavor. Helps balance out that sugar.
BUTTER – COLD unsalted butter. In order for this recipe to work. You really need to keep it cold and work it in with a pastry cutter or a couple of forks.
BUTTERMILK – This recipe tastes best with buttermilk. But you can sub with whole milk, 2% or any other milk if you'd like. Whatever milk you use, make sure that it is nice and cold so that it doesn't warm up your butter.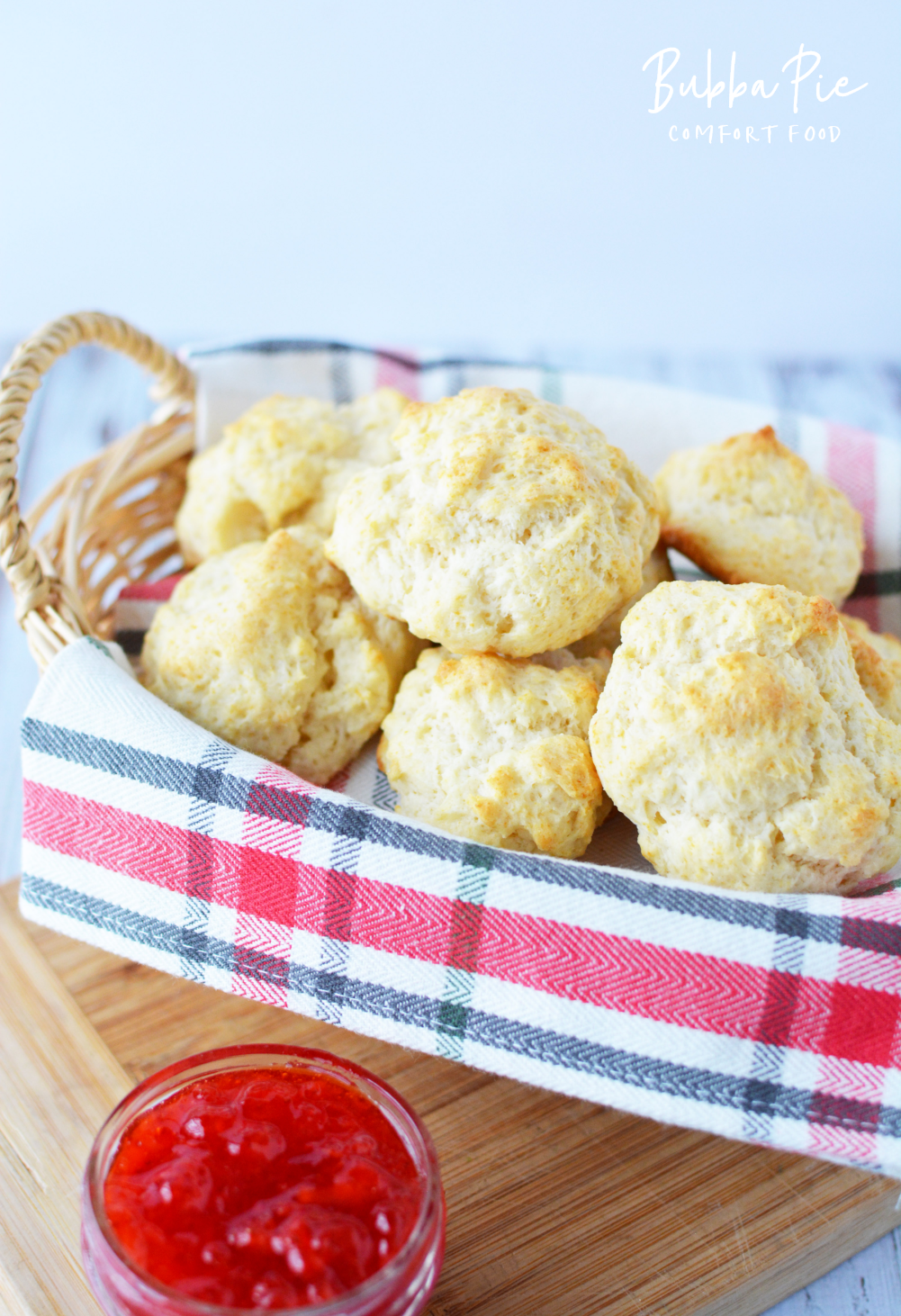 What Can You Use Drop Biscuits For?
They can taste great just on their own, but the options of dressing them up are almost endless.
CLASSIC – butter and jam. You CAN'T go wrong with some warm biscuits with melted butter and jam on them!
SOUPS – Great to sop up any yummy soup, stew, chowder or chili.
BREAKFAST – Right at home next to some eggs and bacon. Or, better yet, use them to make Biscuits and Sausage Gravy!
DESSERTS – Yep! You can use Drop Biscuits for dessert! Top them with warm pie filling (apple pie!!!). Pile some strawberries, ice cream and whipped cream and use them for Strawberry Shortcake. Or even use the dough as a base for an easy apple cobbler recipe. For an even easier Apple Cobbler, check out this Bisquick Apple Cobbler!
OTHER TOPPINGS – Apple butter, honey, sugar and cinnamon, peanut butter.
Notes, Tips and Variations
SILICONE MAT – This will help prevent the biscuits from sticking and give their bottoms a nice golden firmness.
USE A CASSEROLE DISH – We made these on a baking sheet. But you can also grease up an 8X8 casserole dish and drop them all in there together. They will bake together and all the butter will stay in the biscuits. Yum!
ADD CHEESE – After you mix the wet and dry ingredients, you can carefully incorporate some shredded cheddar cheese into the biscuits to give some added flavor. You can also add any seasonings you think might be yummy, garlic powder, onion powder, pepper, etc…
PREHEAT OVEN – You really want that butter to be as cold as possible when it goes into the oven. So, have your oven totally preheated and ready to go so that your dough isn't sitting on the counter, warming up. If you need to, you can keep the dough in the fridge. But you REALLY don't want it sitting out to long in any environment.
USE A SCOOPER TO DROP THE BISCUITS – You can get away with just using a large spoon. But we recommend using a scooper to help you drop those biscuits!
DON'T OVERMIX – When you stir the wet and dry ingredients together in a bowl, you want to do so until the mixture JUST incorporated. That keeps these biscuits light and fluffy!
I hope you enjoy these easy homemade drop biscuits. Let me know how they turn out in the comments section!
LOOKING FOR MORE BISCUIT AND ROLL RECIPES? CHECK OUT: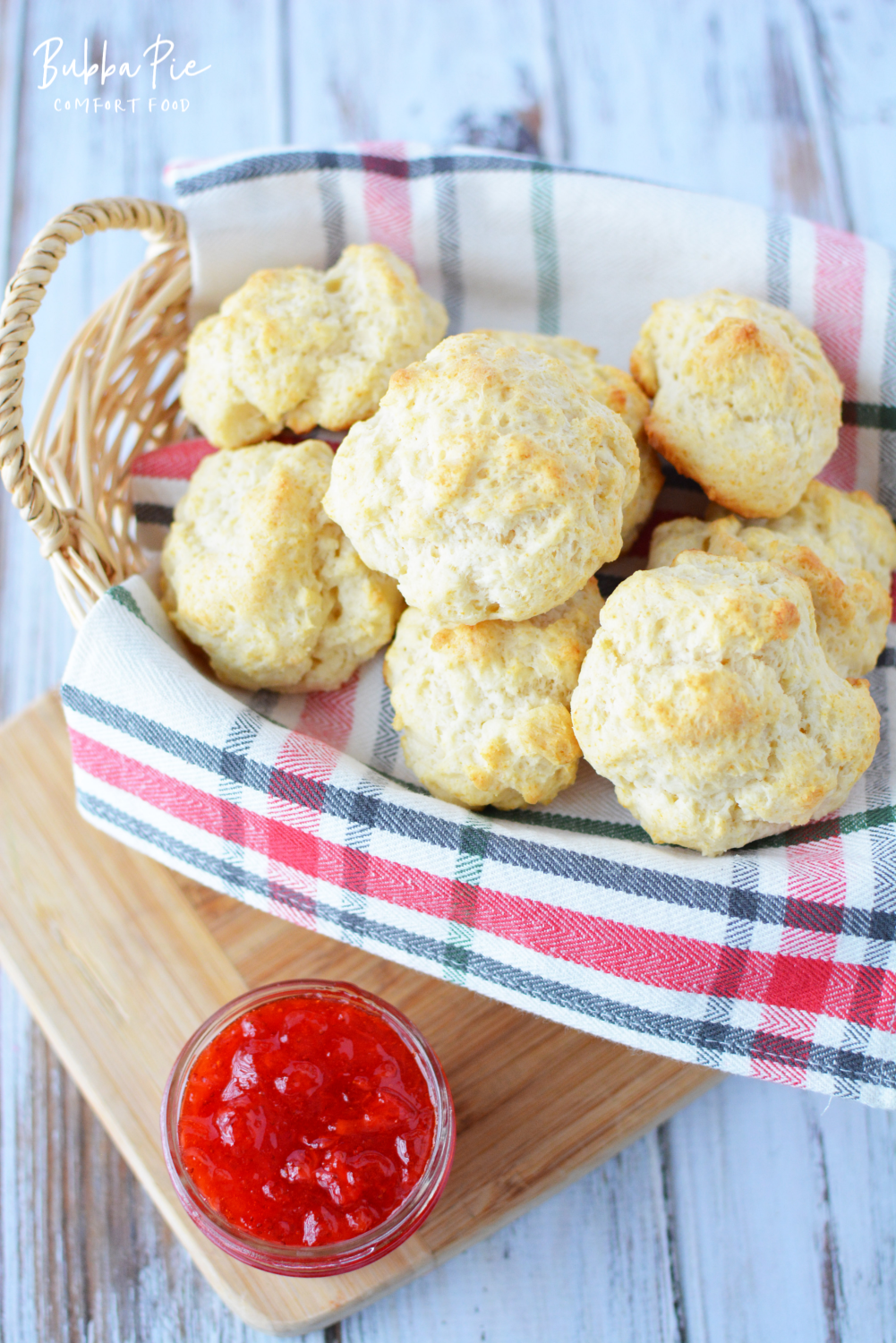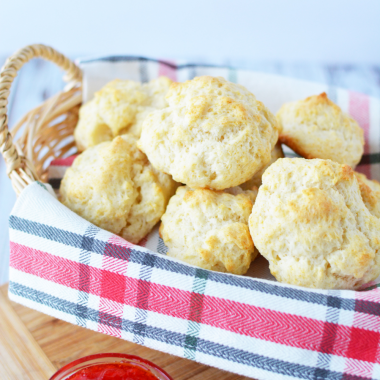 Rate this Recipe
Quick And Easy Drop Biscuits
Using only a handful of ingredients and just a little time, these quick and easy drop biscuits are the perfect partner for just about any meal.
Ingredients
2

cups

flour

1

tablespoon

baking powder

1

tablespoon

white sugar

1/2

teaspoon

salt

1/2

cup

butter

1 stick cold and cubed

1

cup

buttermilk
Instructions
Preheat oven to 400 and line a baking sheet with parchment paper. Set aside.

Add flour, baking powder, sugar and salt to a food processor and process for 5 seconds or until mixed through.

Add butter and process until fine crumbs form, about 10 seconds.

Add buttermilk and process until a dough forms on one side of the food processor.

Drop dough, using a 3 tablespoon portion scoop, onto prepared baking sheet and bake for 20 minutes or until golden brown.
Nutrition
Love this recipe?
Follow @bubbapie for even more delicious recipes!!