This Ooey Gooey Butter cake is one of our most popular recipes! A buttery, cake crust is topped with a rich cream cheese layer. And, using cake mix as our base, it's a quick, simple and easy dessert recipe for any occasion.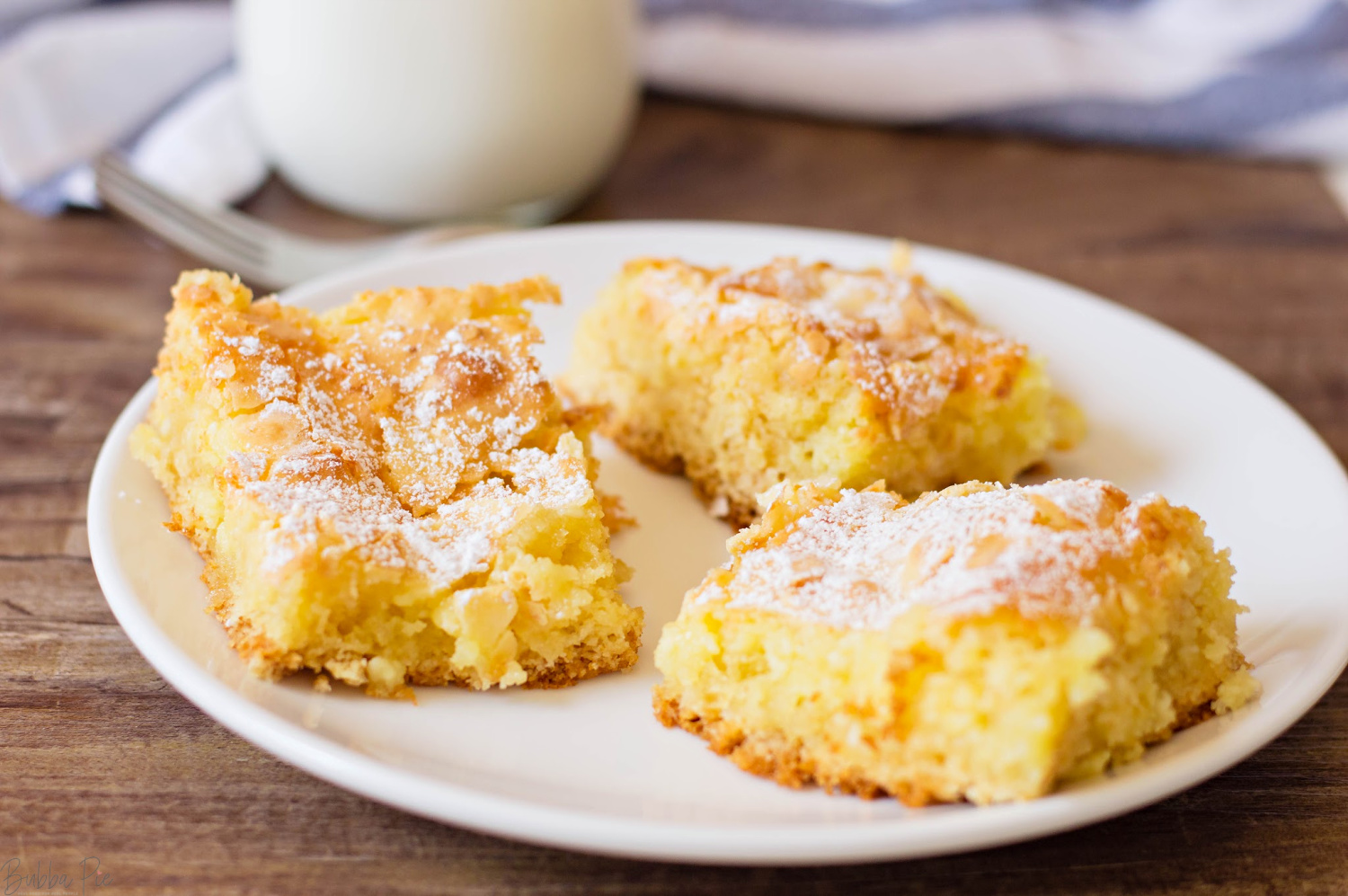 Why You Will Love Ooey Gooey Butter Cake
EASY RECIPE – We LOVE using cake mixes to make fun desserts! It is the ultimate shortcut for so many recipes! This recipe only has 5 ingredients and a couple of minutes to prepare!
DELICIOUS – All the flavors of butter, vanilla and cream cheese combine for this decadent dessert! Is it a brownie? A blondie? A cake? Or a cheesecake? It's sort of all of them combined!
UNIQUE – Bring this recipe to your next pitch in, potluck or cookie exchange. It's something fun and different on the dessert table and you'll have everyone asking you for the recipee!
What Is Ooey Gooey Butter Cake?
These have been called so many things, including Texas Gold Bars, Neiman Marcus Bars and Gooey Butter Bars. I've done some research, and all of these recipes basically revolved around a Yellow or Vanilla Cake mix that is topped with a Cream Cheese/Sugar/Vanilla Mixture. And it seems to have originated in some way in St. Louis by a baker who may have been drinking too much Anheuser-Busch and messed up by adding too much sugar and not enough flour to his cake.
Generally, and Ooey Gooey Butter cake consists of a firmer bottom layer that acts as a cake crust, and super creamy, sweet top layer. They are golden brown in color. We top ours with powdered sugar. But you can sometimes see it topped with whipped cream.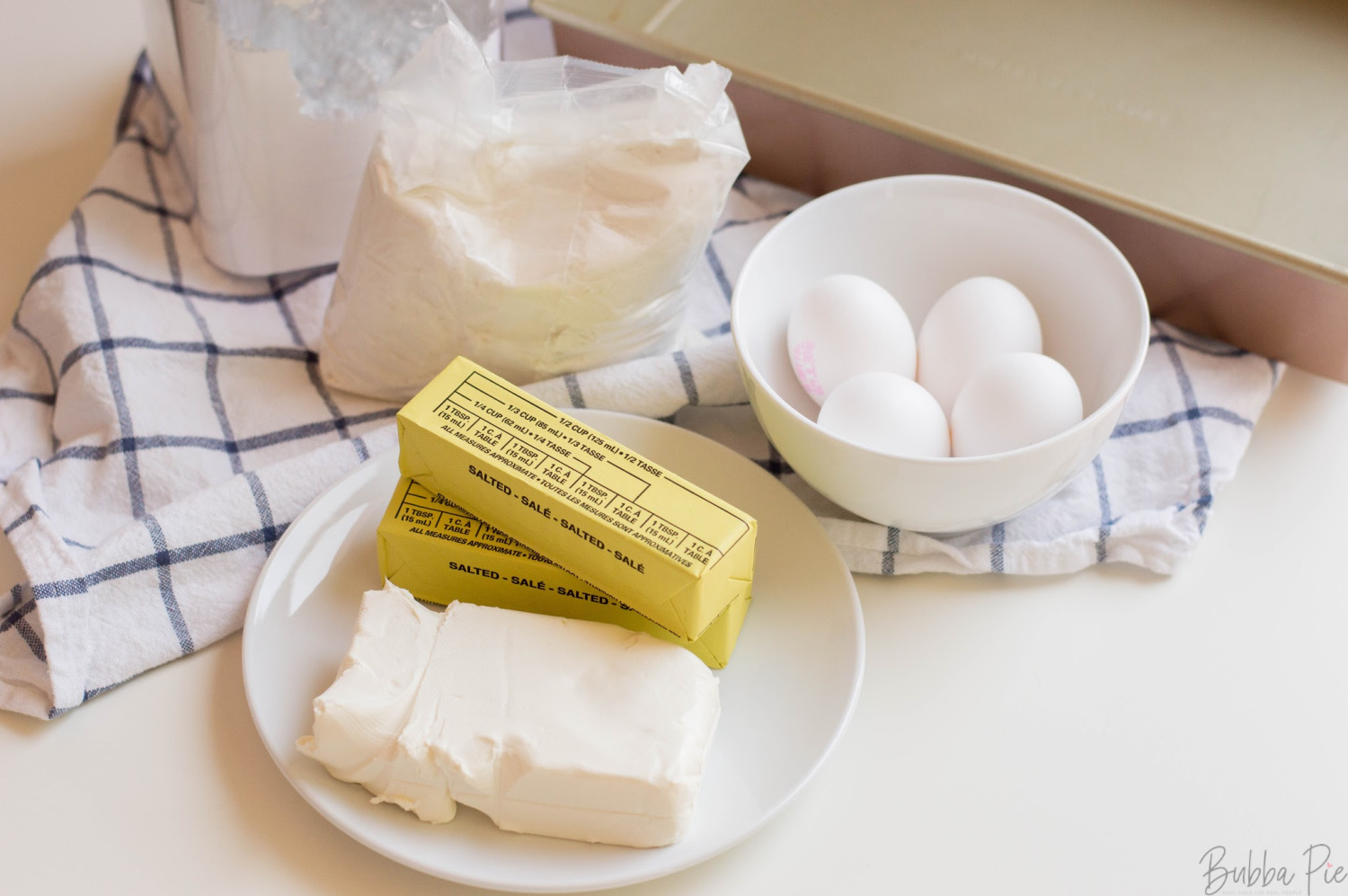 How To Make Ooey Gooey Butter Cake
Like just about all Cake Mix Recipes, this is so simple and easy! For step-by-stepp instructions, check out the printable recipe card below. But here is what you will need to get started.
For the cake:
YELLOW CAKE MIX – Use any brand of Yellow Cake Mix to get that distinctive gold color. But, really, you can use any flavor of cake mix to make your cake batter. See below for some ideas!
LARGE EGGS – If possible, let your eggs come to room temperature for best results.
VANILLA EXTRACT – While we cut corners and costs where ever we can in site, we always recommend using a high quality vanilla extract. It's worth it!
BUTTER – Unsalted butter. Melted.
CREAM CHEESE – Make sure it's softened to make it easier to work with. You try using a low fat cream cheese here to lighten this dish up a bit. But you'll loose some of the creaminess that makes this dessert so yummy!
CONFECTIONER'S SUGAR – Also called Powdered Sugar. To sift and sprinkle on top as a garnish!
Storage, Leftovers and Freezing
You'll want to store leftovers in an airtight container at room temperature. They should be good for up to 5 days. If you want to extend the shelf life, keeping it in the refrigerator should add a couple of days.
You can also freeze Ooey Gooey Butter cake. Allow to fully cool and then wrap in freezer wrap/plastic wrap or put in a freezer bag. I'd cut up the bars before freezing and then either wrap them all separately, or put parchment paper in between the bars so they don't stick together. It will be good in your freezer for up to 3 months. Simply allow to thaw at room temperature.
Notes, Tips and FAQs
Like I mentioned above, there are different names and different versions of this treat. That being said, we are always fans of improvising and mixing things up. Here are a couple ideas and a couple things to consider:
USE AN ELECTRIC MIXER: This recipe is so much easier with an electric mixer! We love our Kitchenaid Stand Mixer! Or, if you are looking for a less expensive option, this 6 Qt Kucco Stand Mixer gets great reviews!
USE A BAKING PAN WITH A LID: We love to use this baking pan because it comes with a lid! This way, you can just keep the leftovers fresh right in your baking pan! No more trying to cover it up with messy aluminum foil. Yay!
BUTTER- Use REAL, high quality butter in this recipe. We'll tell you when "it doesn't really matter" if you use the cheap stuff. With this Butter Cake, the butter matters.
COOL COMPLETELY- I'm not gonna lie, it's gonna be tough, but you'll need to let the Ooey Gooey Butter Cake cool completely before cutting into it. Some cakes are great to serve right out of the oven. Sorry, won't work for this one. You can also spray your knife with some cooking spray to avoid the cake sticking to the knife. Seriously, this cake is super gooey and ooey in the most delicious way!
LET THE CREAM CHEESE SOFTEN– This is SUPER important. Let it sit at room temperature for at least an hour before making this recipe.
IMPROVISE CAKE MIX- I've seen some recipes that use French Vanilla Cake Mix. Lemon Cake Mix sounds really delicious as well. Heck, try a Red Velvet Cake Mix and see how that turns out! I've even heard of a Strawberry Ooey Gooey Butter Cake!
TOP WITH MORE CONFECTIONER'S SUGAR- After the cake has cooled, dust it with a nice coating of powdered sugar to add a little more flavor and presentation.
I hope you enjoy this Ooey Gooey Butter Cake Recipe. We'd love to hear how it turned out in the comments section. Stay in touch and thanks for reading!
LOOKING FOR MORE CAKE MIX RECIPES? CHECK OUT: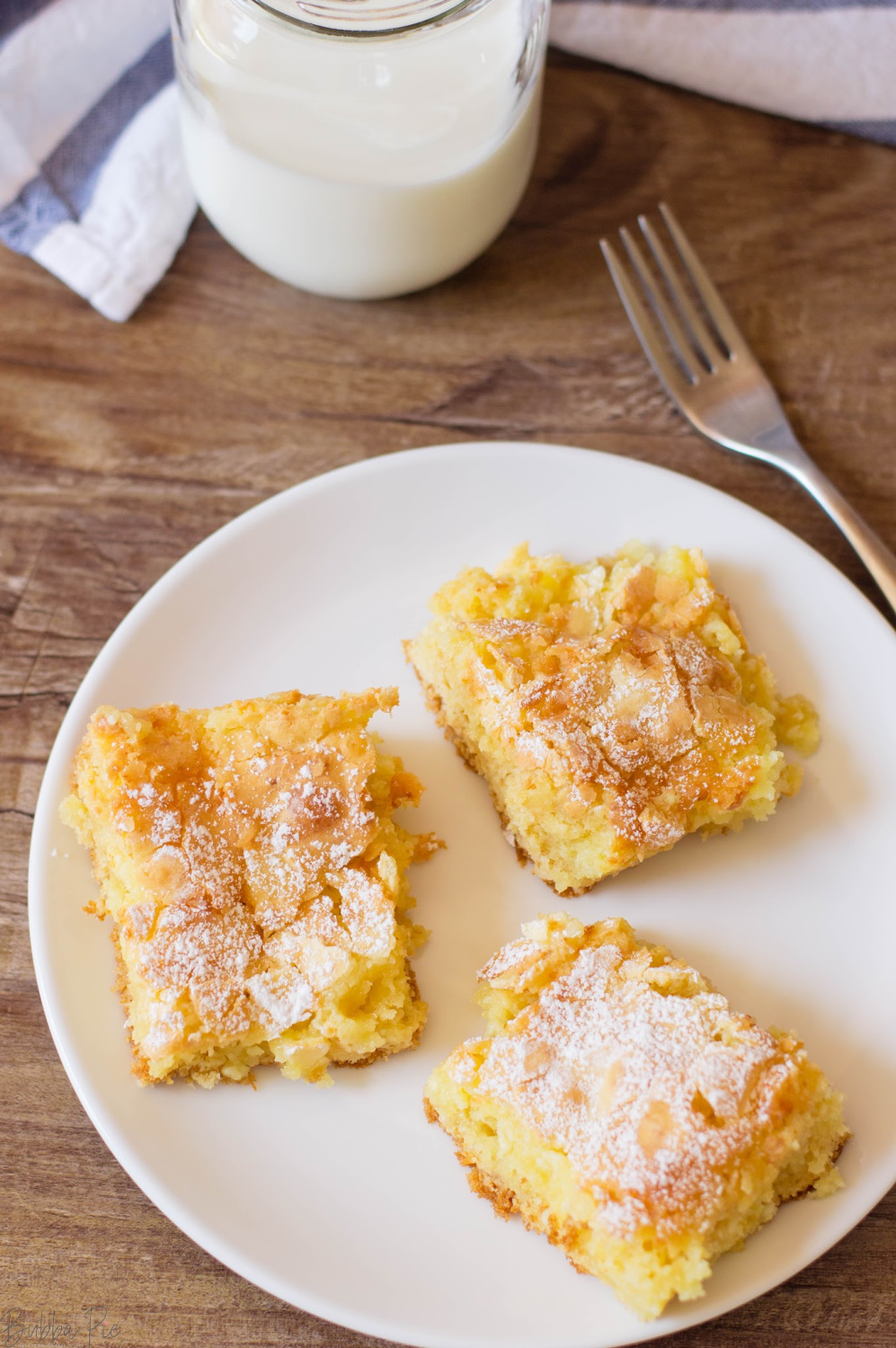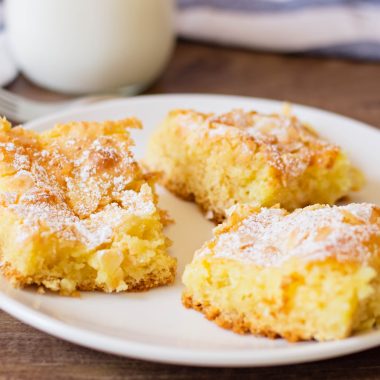 Rate this Recipe
Ooey Gooey Butter Cake
This is Ooey Gooey Butter Cake is one of the most delicious Cake Mix Recipes I've ever seen! Yellow Cake mix is topped with a combination of Cream Cheese, Egg, Vanilla and Sugar. It's Ooey, Gooey Rich and Buttery in the most yummy way!
Ingredients
For The Cake
Cooking spray + parchment paper

1

box yellow cake mix

2

large eggs

1

tsp

vanilla

1

stick

approx. ½ cup butter, melted
For The Topping/Filling
8

oz.

cream cheese

softened

2

large eggs

1

tsp

vanilla

1

stick

approx. ½ cup butter, melted

4

cups

confectioners' sugar

sifted
Instructions
Spray a rectangular pan, 9x13 in size, with cooking spray and line with parchment paper. Set aside.

Preheat oven to 350 degrees F.

Begin by preparing the cake. In a large bowl, mix together all cake ingredients: yellow cake mix, eggs, vanilla and melted butter.

Add the mixture into the bottom of the coated pan, flattening it as much as possible.

Next, use an electric mixer to beat together softened cream cheese, eggs, vanilla and butter.

One cup at a time, add confectioners' sugar and beat until all ingredients are fully incorporated.

Pour cream cheese mixture on top of the cake base and bake for 35-40 minutes. Cool before serving.
Nutrition
Love this recipe?
Follow @bubbapie for even more delicious recipes!!