What is a Pig Pickin' Cake? It's a classic Southern dessert specialty that starts with a yellow box cake mix with mandarin oranges baked into it. Then it's topped with a creamy whipped pineapple topping and garnished with Mandarin Orange Slices. It's light, fruity and alway moist. It's like having the taste of summer in every bite.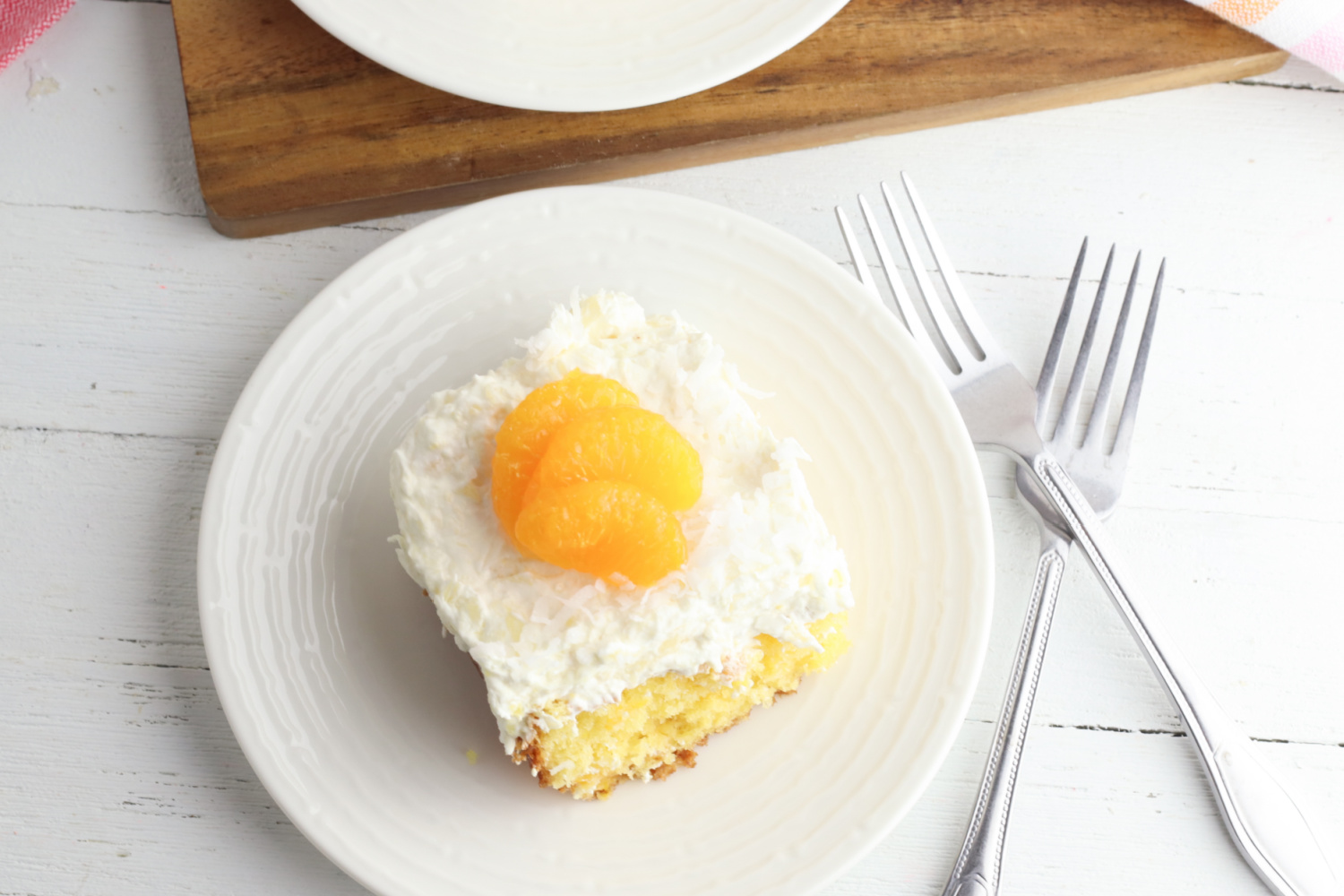 Bright and fresh, this cake Pig Pickin' Cake has been around for decades. This is seriously one of the easiest cake recipes out there! And it all starts with our favorite shortcut, boxed cake mix!
Why Do They Call It Pickin' Pig Cake?
Well, it's actually called a lot of different things: Pea Pickin' Cake, Pig Lickin' Cake or Mandarin Orange Cake. It's one of those great recipes that has a somewhat disputed origin story and has morphed into lots of different glorious concoctions over the years. What we do know is that it originated in the South and the common story is that this cake was often served at Barbeques while the guests were "Pickin'" their meat off of the roasted pig.
Put whatever you call it, it's a delicious chilled cake that fits perfectly into any summer event, from pitch ins to picnics to potlucks! If you're looking for an awesome summer cake recipe, look no further!
Cake Mix Recipes
Oh, how we love Cake Mix Recipes! They are truly the ultimate shortcut. Our biggest advice is to always check out the bakery aisle at the store because boxed cake mixes may be on sale. Sometimes you can find them for as cheap as $1 each! When this happens, load up on them because you can ALWAYS find a use for them.
On this site, we've had a ton of fun with cake mix! From this Cake Mix Peach Cobbler to these super easy Snickerdoodles and Red Velvet Cookies, a cake mix is the ultimate shortcut.  We've also made some pretty fun cakes on here as well, are two most popular are this Ooey Gooey Butter cake and this Crack Cake.
Today, we are gonna add another delicious cake mix recipe to our site. This is the famous Pickin' Pig Cake, also called a Orange Pineapple Cake! It's a perfect cake for sun shiny summer weather and good times with friends and family. In fact it reminds me a lot of our Pineapple Sunshine Cake or our Pineapple Pretzel Salad!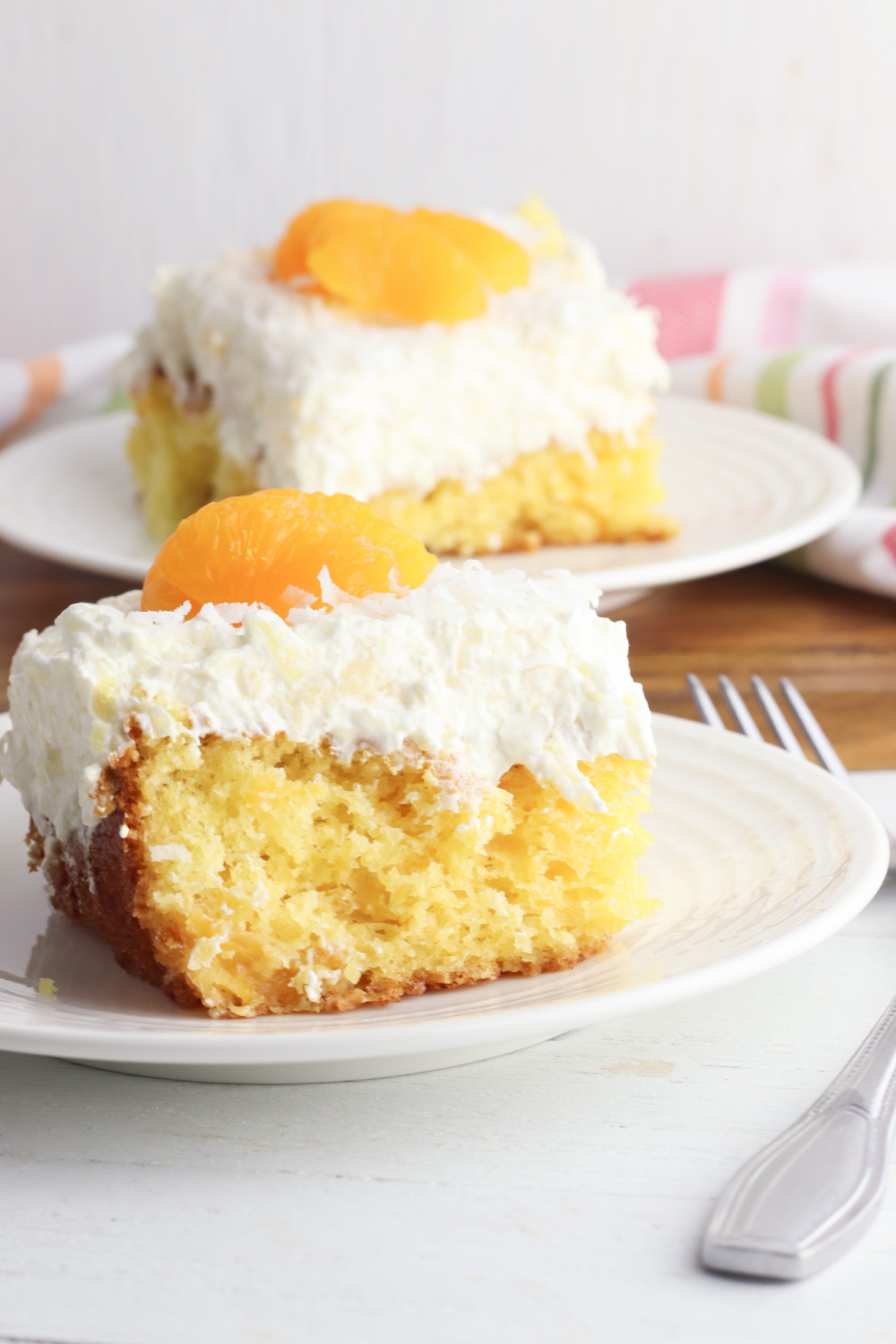 How To Make A Pig Pickin' Cake
This is a SUPER easy recipe. And the great thing is that, especially up here in the north where I live, there is a good chance this will be a new dessert your friends and family hasn't seen before!
Ready to get started? Here is what you'll need:
CAKE INGREDIENTS
YELLOW CAKE MIX – Any brand will do. The original recipe always calls for Yellow Cake Mix. But the great thing about boxed cake mix recipes is that you can switch up cake flavors. So go for White Cake Mix or even Lemon Cake Mix. I've even heard of people using Chocolate Cake Mix for this recipe, but really have no idea what that would taste like.
MANDARIN ORANGES – You'll want to use canned mandarin oranges because you'll need the juice. So, we would not advise using fresh oranges.
EGGS – A binding and leavening agent in the cake.
OIL – Many cake mix recipes use vegetable oil. This is how you get those SUPER moist results!
FROSTING INGREDIENTS
WHIPPED TOPPING – We used Cool Whip but you can use whatever brand you'd like. Or you could make your own. Mix this with the Instant Pudding Mix and you will thank me!
VANILLA PUDDING –  Just simple instant vanilla pudding mix will do. You will fold this in with the Whipped Topping to make that super creamy, light frosting!
PINEAPPLE – Canned, crushed pineapple. You will NOT be using the juice from the can, so make sure to drain it well.
SHREDDED SWEETENED COCONUT – Gives the frosting such a sweet, light taste and texture.
Storage and Freezing
You need to keep leftovers in an airtight container in the refrigerator because this has a whipped cream topping. Leftovers will taste great in the fridge for about 3 days.
Can you freeze this Orange Pineapple Cake? Yep! This cake freezes great! Let the cake fully cool and cover with freezer wrap or a freezer bag. It should be good in your fridge for about 3 months. To serve, let thaw overnight in your refrigerator.
Notes, Tips and Variations
LET CAKE FULLY COOL – You need to put the vanilla pudding mix on a fully cooled cake, or you will have a mess on your hands. Use wire racks to help your cakes cool faster.
LET THE WHIPPED TOPPING SIT FOR A WHILE – Once you combine all the ingredients for the whipped topping, let it sit in your refrigerator for a while. Some people like to let it sit overnight for the flavors to really incorporate with one another.
GARNISH WITH FRUIT –  We garnished ours with an orange slice. But strawberries would be super cool! Or even some fresh pineapple slices!
MAKE A ROUND LAYER CAKE? – Most versions of this recipe are in a 9X13 cake pan. But you can also make it into a round, layered cake if you'd like by using a round baking dish. Just use these directions to pour the batter into two round baking dishes, let them fully cool and put the whipped frosting between the layers and also as an outer layer.
USE AN ELECTRIC MIXER – Speed things up by using a stand mixer to combine cake mix, they seriously aren't too expensive and can be used for so many things in your kitchen!
I hope you enjoy this Pig Pickin' Cake Recipe. Let me know how it turns out in the comments!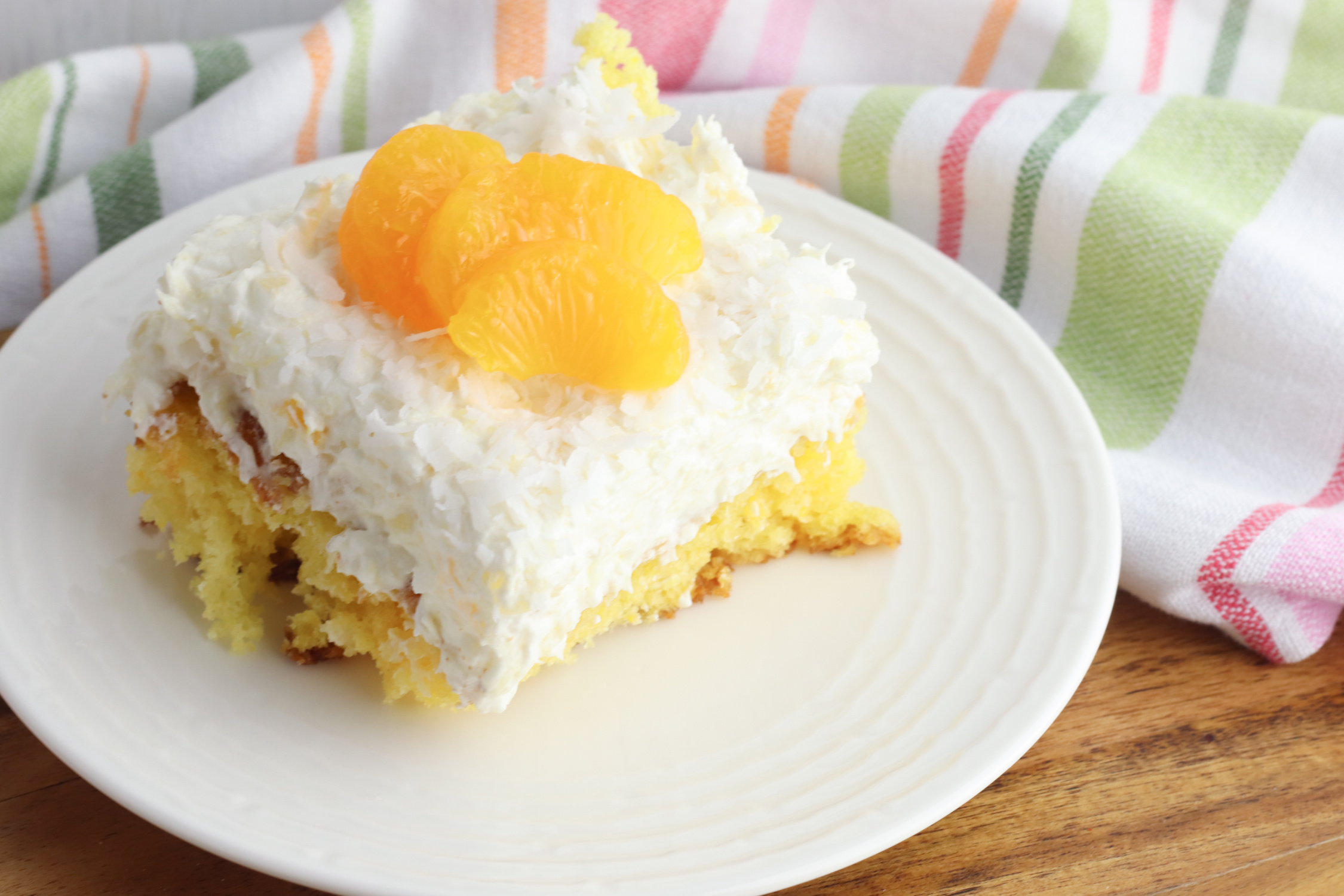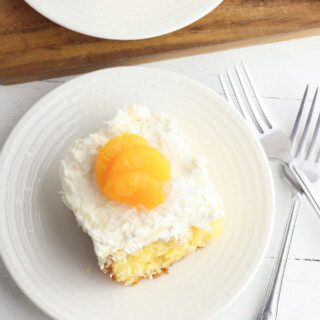 Rate this Recipe
Pig Pickin' Cake
What is a Pig Pickin' Cake? It's a classic Southern dessert specialty that starts with a box cake mix with mandarin oranges baked into it. Then it's topped with a creamy whipped pineapple topping. It's light, fruit and alway moist. It's like having the taste of summer in every bite. 
Ingredients
CAKE INGREDIENTS

1 15.25

ounce

box yellow cake mix

1 11-

ounce

can mandarin oranges

with juice

3

eggs

½

cup

oil

FROSTING INGREDIENTS

1 8-

ounce

container whipped topping

1 1-

ounce

package vanilla pudding

1 20-

ounce

can crushed pineapple

drained

1/3

cup

shredded sweetened coconut

Storage and Serving Suggestions
Instructions
Preheat the oven to 350 degrees and grease a 9x13 inch cake pan with nonstick cooking spray.

In a large bowl, beat together the cake mix, oranges, eggs and oil, until well combined.

Pour the batter in the prepared pan and bake in the preheated oven for 25 to 30 minutes, until a toothpick inserted into the cake comes out clean.

To make the topping, mix together the whipped topping and vanilla pudding until combined.

Allow to rest for five minutes to give the topping time to absorb the pudding, then add the pineapple and stir to combine.

Spread the mixture over the cake after it has completely cooled. Sprinkle coconut over the top of the cake before serving.
Nutrition
Love this recipe?
Follow @bubbapie for even more delicious recipes!!