These yummy Red Velvet Cake Mix Cookies have only 5 ingredients and take a couple of minutes to prepare. Light, chewy and full of chocolate flavor, they are a perfect dessert for any occasion!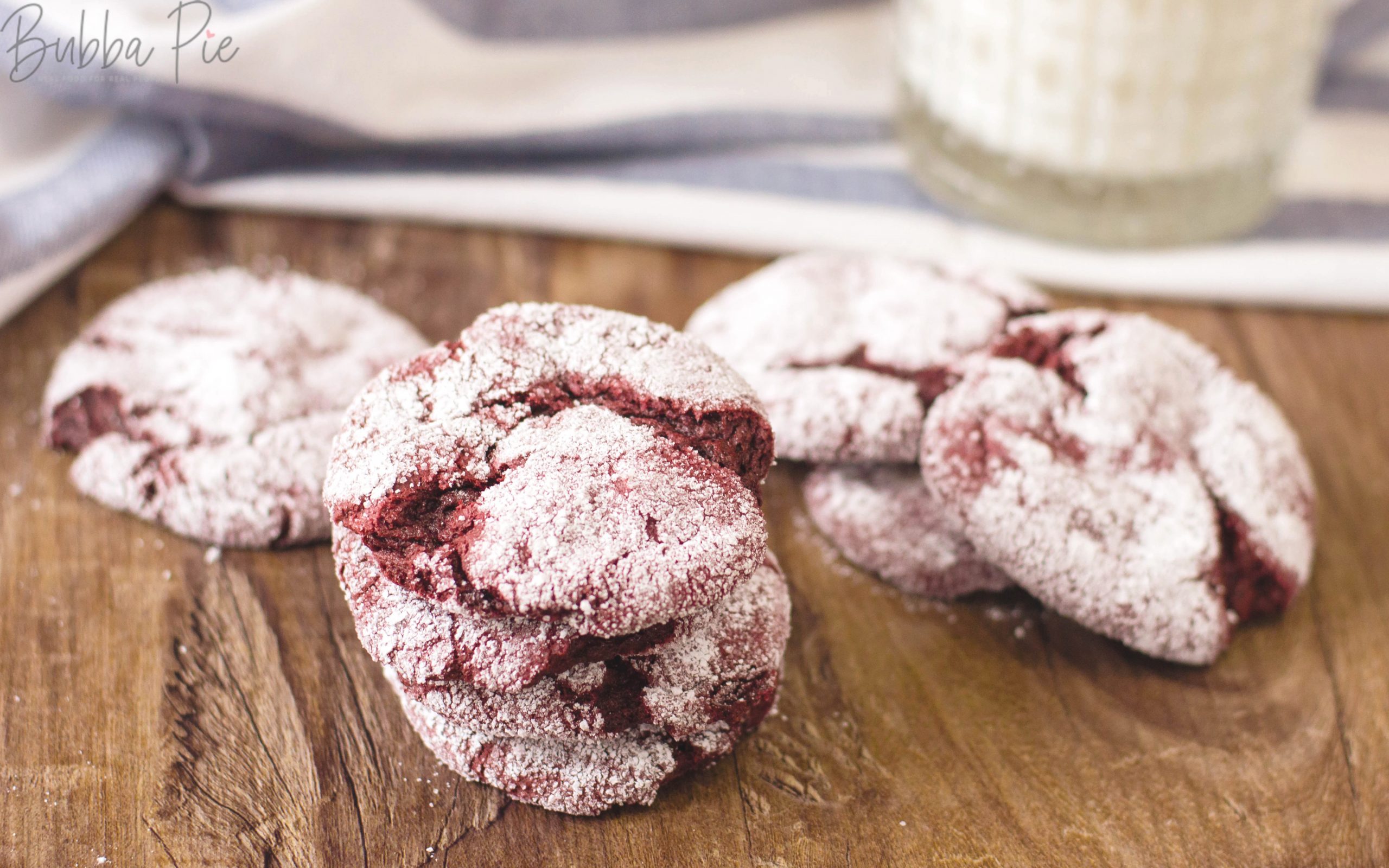 Why You Will Love Red Velvet Cake Mix Cookies
SIMPLE AND EASY – Using cake mix as our main ingredient for these cookies is the ULTIMATE shortcut.
PERFECT FOR HOLIDAYS – These are great cookies for Christmas or Valentine's Day!
Red Velvet Cake Mix Cookies
I've always considered cake mix good for, well, making cake, but it turns out that it can be a fantastic ingredient for all sorts of yummy ingredients! For instance, I recently made this White Wine Bundt Cake that is incredible! And it's equally perfect for making cookies. Seriously, these cookies don't taste "cakey" at all. They taste just like regular, delicious cookies! Except much easier!
It literally takes about 3 minutes to throw these cookies together and get them in your oven! For step-by-step instructions, check out the printable recipe card below, but here is what you'll need to get started:
RED VELVET CAKE MIX – Any brand of box of cake mix will do. Your choice! We like to use Duncan Hines.
OIL – This will make those cookies nice and moist! Use canola or vegetable, either will work fine.
2 EGGS – Make sure they are room temperature before adding them to this recipe.
GRANULATED WHITE SUGAR – We will dust our cookies with a light coating of sugar. This will give them a bit of a sparkle and add texture.
POWDERED SUGAR – We will also coat in powdered sugar. Along with the flavor, we love how the white shows up against the red. This makes them great as Holiday Christmas Cookies or Valentine's Day Cookies!
How To Make Your Own Red Velvet Cake Mix?
The main ingredient we are using is obviously Red Velvet Cake Mix. It doesn't matter which brand. Usually, it isn't a problem to find Red Velvet Cake Mix in the baking aisle at your grocery store. But, if for some reason you can't, don't worry! Red Velvet is really just chocolate cake mix that has red food coloring in it. So, you can buy normal chocolate cake mix and add a couple drops of red food coloring until it is the color you like!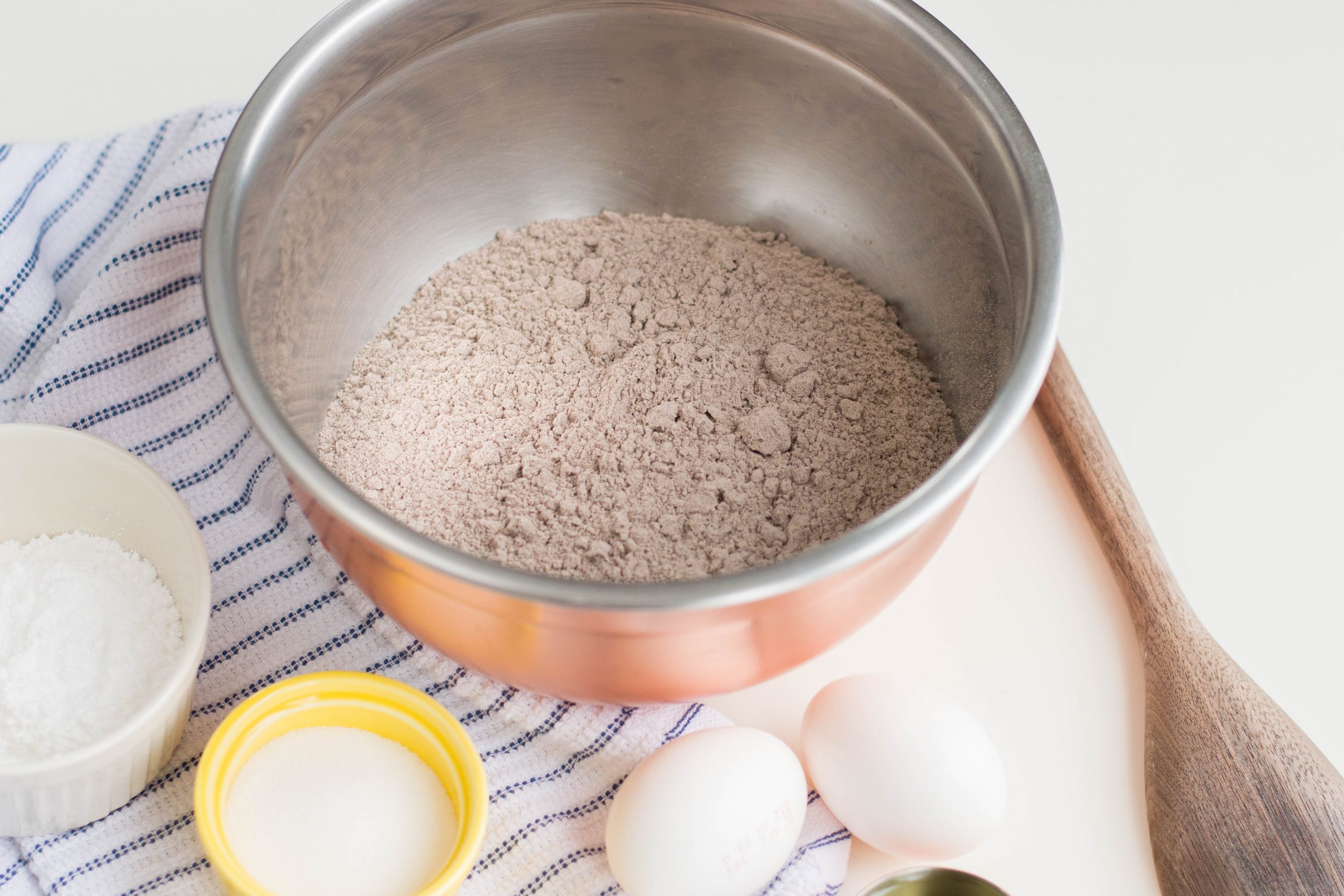 Storage and Freezing
These cookies can be stored at room temperature in an airtight container. You can both freeze the dough before baking or freeze the cookies after baking.
To freeze before, make the dough into balls according to instructions. Then put in a freezer bag or freezer wrap (or both). They will be good in freezer for 3-4 months. No need to thaw out before baking, just add 1-2 minutes of baking time.
To freeze after baking, allow to fully cool. Then package them separated by parchment or wax paper so they won't stick. Simply lay them out at room temperature to thaw.
Notes, Tips and FAQs
ADD ONS – I think it would be a great idea to add white chocolate chips to make these a great Valentine's Day Dessert. Or, you could add regular chocolate chips for a decadent treat! You could also add caramel chips, toffee, M&Ms, sprinkles or nuts!
WHY IS MY DOUGH TO STICKY? – A common problem with cake mix cookies is that the dough can be hard to work with because it's pretty sticky. The way to solve this is to put the dough in the refrigerator for 30-60 minutes. You can also periodically spray you cookie scoop with cooking spray.
GLUTEN FREE RECIPE? – Although we haven't tried this, it should be pretty easy to make a gluten free version of this recipe by simply subbing for a gluten free cake mix.
CHANGE UP THE CAKE MIX – Different types of cake mix can make a ton of other delicious cookie recipes, like these Strawberry Cake Mix Cookies (also great for Valentine's Day!) or these Snickerdoodle Cake Mix Cookies!
CAN YOU DOUBLE THE RECIPE? – This recipe yields about 16-20 cookies, but you can certainly double the ingredients if you need to feed more people.
PREPARE YOUR BAKING SHEET – Make sure you line your baking cheese with parchment paper or a silicon mat.
Items To Help With This Recipe
I hope you enjoy this Red Velvet Cookie Recipe! Let me know how they turned out or if you've made any fun tweaks to the recipe!
LOOKING FOR MORE CAKE MIX RECIPES? CHECK OUT: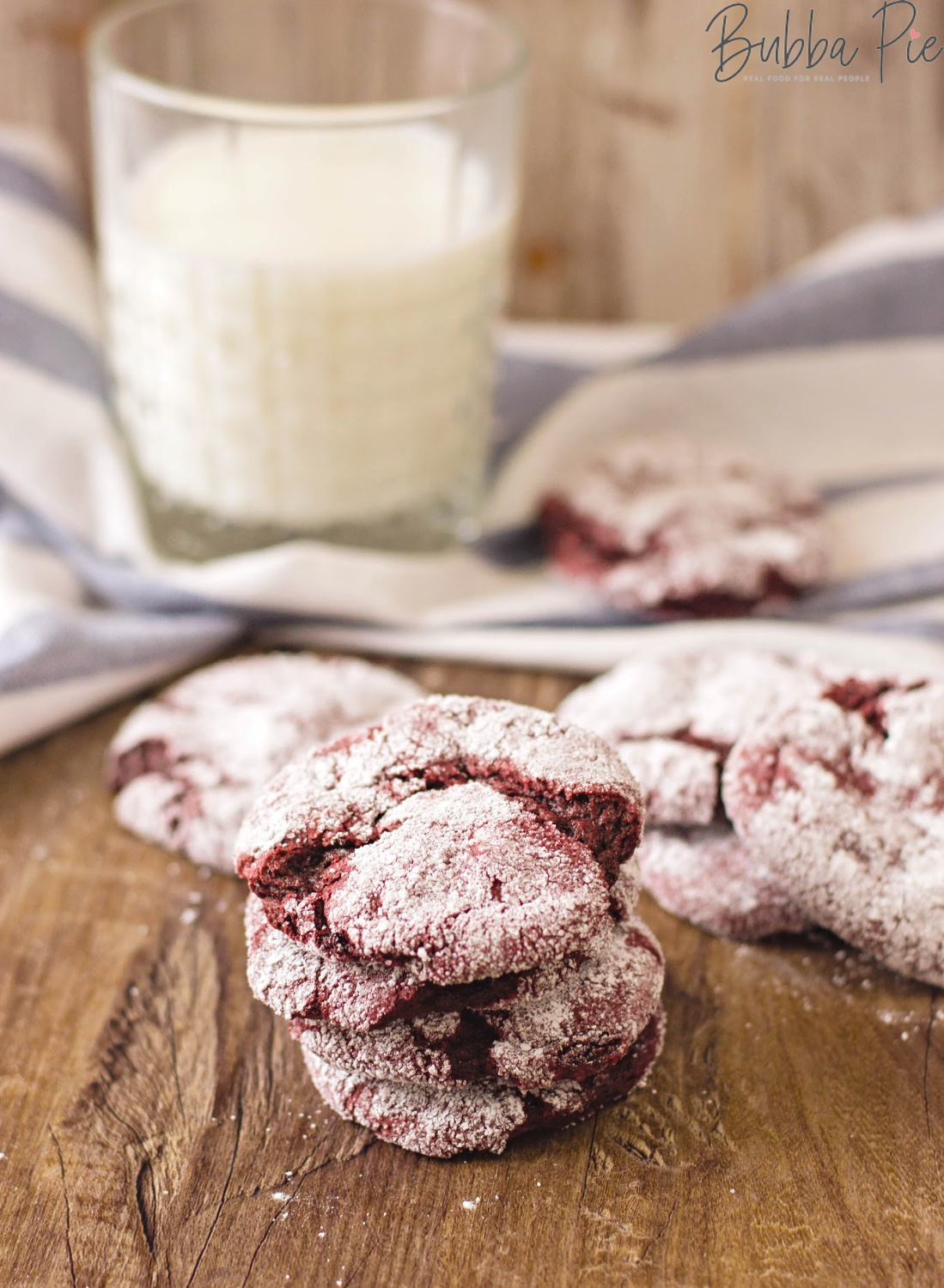 Tools To Help With This Recipe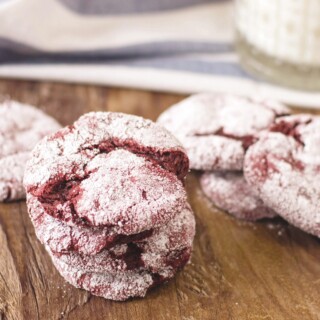 Rate this Recipe
Red Velvet Cake Mix Cookies
These yummy Red Velvet Cake Mix Cookies are the perfect dessert for any occasion. Tender and moist inside with a nice, crinkly and slightly crispy outside, you won't be able to have just one. 
Ingredients
1

red velvet cake mix

1/3

cup

canola or vegetable oil

2

eggs

3

tbsp

granulated sugar

6

tbsp

powdered sugar
Instructions
Line a cookie sheet with parchment paper and set aside.

In a medium-sized bowl, combine cake mix, oil and eggs. Mix thoroughly.

Cover the bowl with plastic wrap and chill in the refrigerator for 30 minutes.

Remove from refrigerator. Pre-heat your oven to 350 degrees F.

Roll dough into one-inch balls and coat with a thin layer of granulated sugar.

Follow by coating the cookie dough ball in powdered sugar.

Place on lined cookie sheet about 2 to 3 inches apart from each other.

Bake for 9 to 12 minutes. Let cool completely
Nutrition
Love this recipe?
Follow @bubbapie for even more delicious recipes!!