This Slow Cooker Ham with Pineapple is perfect for the holidays or any special family dinner.  Cooking Ham in a Crock Pot is easy, delicious and the meat practically falls apart on your fork! The salty and sweet combination is a classic dinner for Christmas, Easter, Thanksgiving or just a when you need some easy comfort food!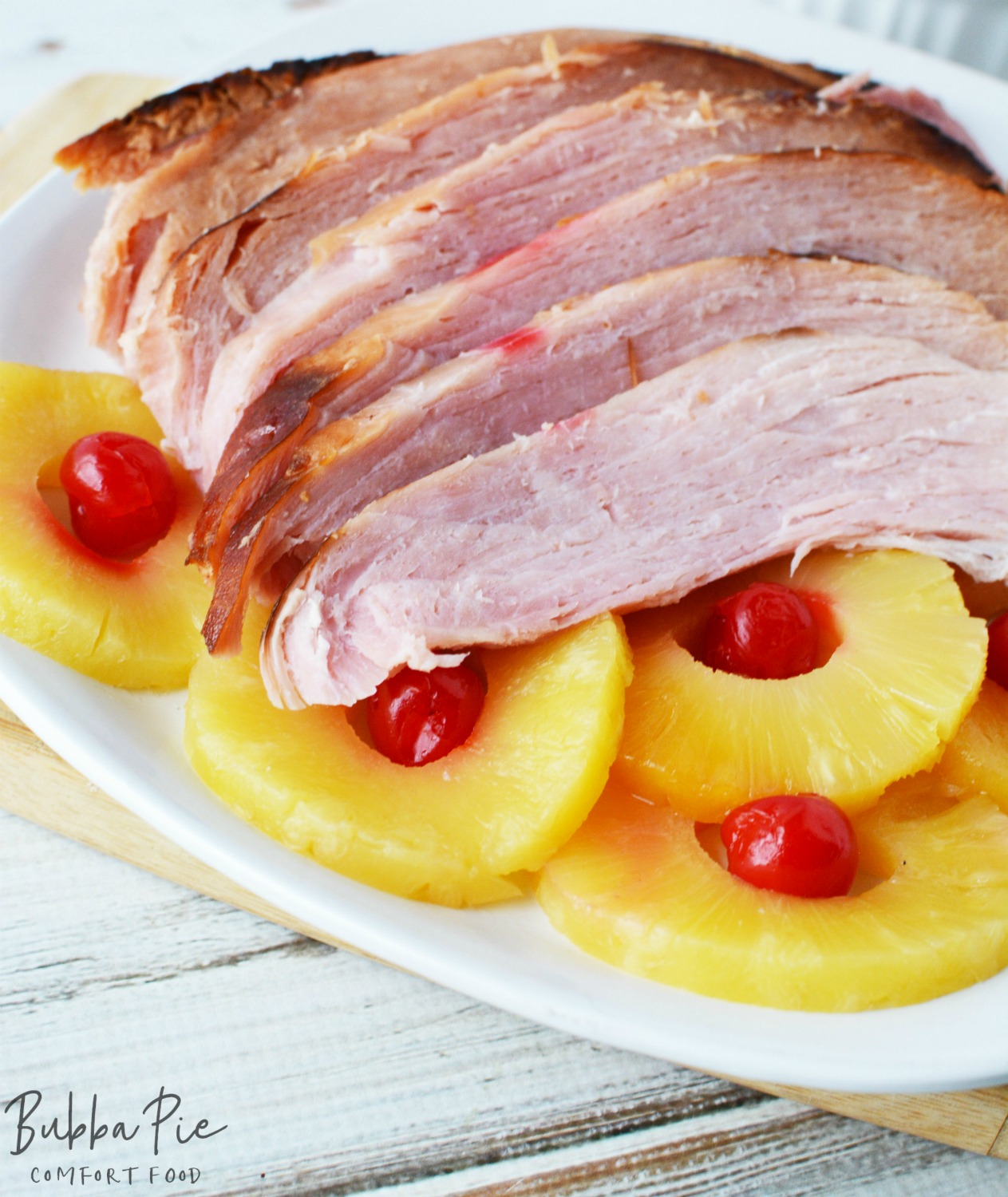 Why You'll Love This Recipe
This is one of our favorite Crockpot Recipes ever! I know that most Slow Cooker Recipes are easy, but this one takes that cake! And it's just about impossible to mess up! It's super forgiving!
The other thing we love about using our Slow Cooker is that it frees up oven space. This is crucial, especially during the holidays when you've probably got lots of things to bake and cook in your oven. This ham will stay out of the way!
It's tender, juicy, salty, sweet and makes plenty for everyone with leftovers waiting for you tomorrow!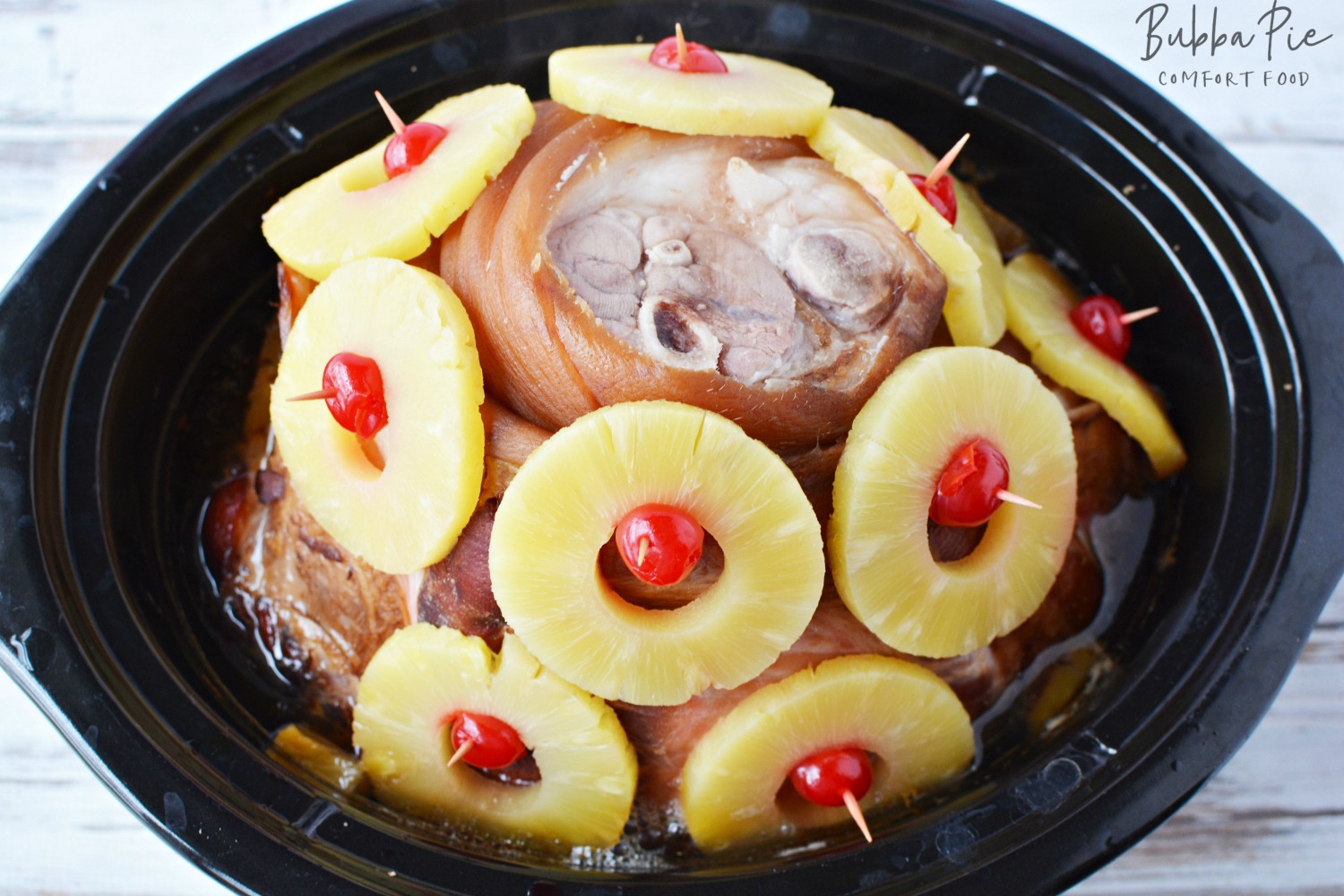 Why Cook Ham In A Slow Cooker?
Cooking Ham in a Crock Pot is also incredibly easy.  You basically just put the ingredients in, turn it on and let it do it's thing!  Preparing an Easter dinner can be hectic and you will probably entertaining friends and family too, so knowing that your main dish is preparing with little or no oversight from you is super awesome!
Slow Cooker Ham also stays warm for as long as you need it to.  Once it is done cooking, just leave it in there and it will be ready to eat whenever your guests are and it will stay warm throughout the meal.  No more having to time everything perfectly to make sure it all finishes cooking at the same time!
We love to serve this with:
What Kind Of Ham To Use In A Slow Cooker?
It doesn't really matter.  I've seen recipes calling for a Slow Cooker Spiral Ham, a boneless ham or a ham shank with the bone in.  You can buy ham cooked, halfway cooked, raw, smoked or cured. The cooked ham simply needs to be heated up (actually not even that). If you are buying raw ham, just make sure you are cooking to an internal temperature of 140 degrees.
For this recipe, I am using a ham shank with the bone it.  Obviously, cooking the meat with the bone in will give you a better result, so I'd definitely suggest doing that.  Ham bones can also be used to flavor all sorts of other dishes such as soups as well.  You also can't go wrong with a spiral cut ham, these are pre-cut to make serving easy.  The other benefit of the spiral ham is the the juices can seep in between the slices during cooking to add some extra flavor.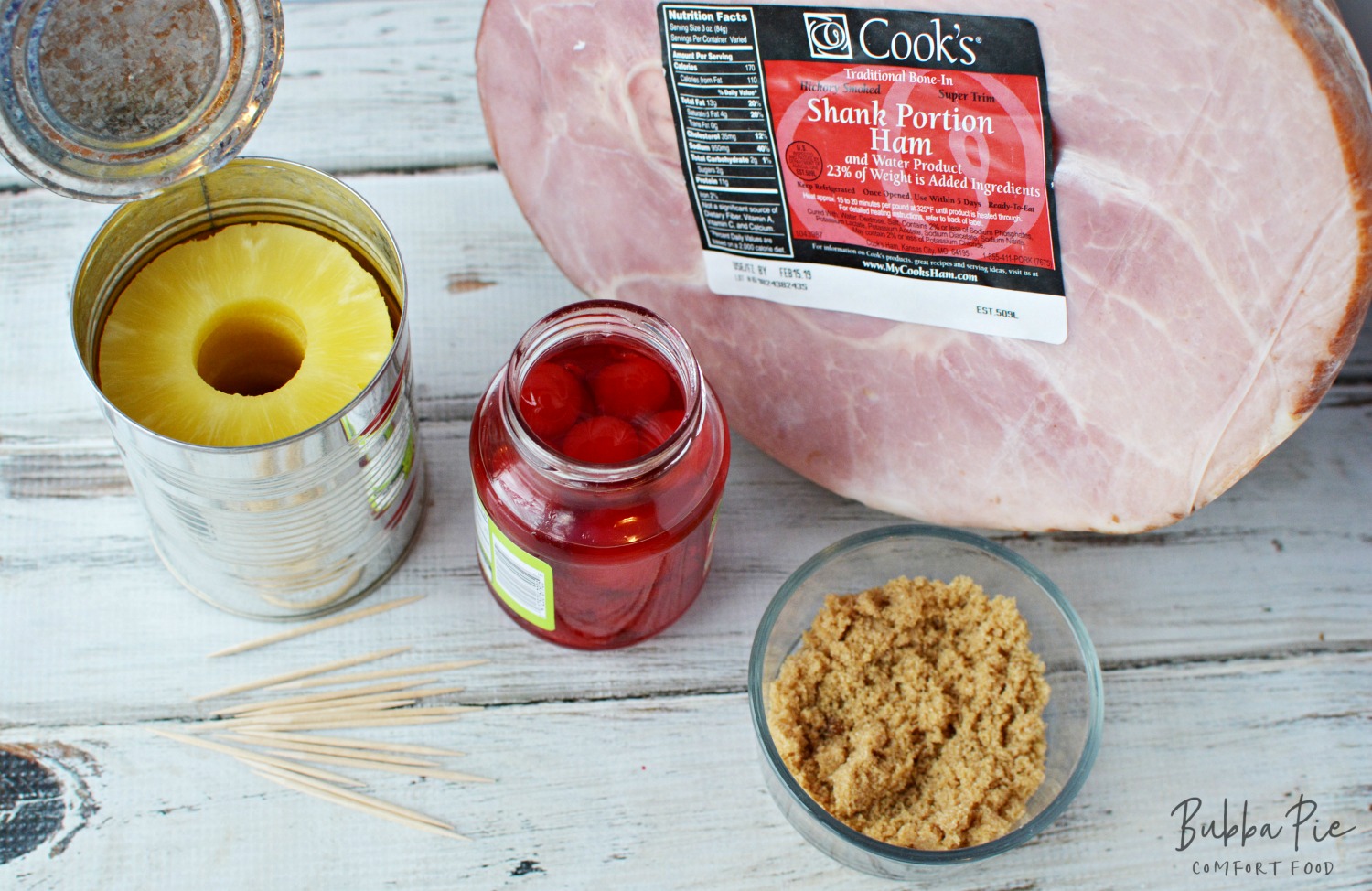 How Much Ham Do You Need?
When deciding how much ham to buy, you can usually count on each guest eating 3/4 lb of bone-in ham.  If you have a lot of kids coming over, you can probably reduce that.  But I'd aim high, there is nothing wrong with lots of leftovers to make ham sandwiches the next day. If using boneless ham, you can reduce that to about 1/2 pound per person.
While at the store, also take into consideration the size of your slow cooker.  Obviously, you don't want to get a ham that won't fit in the Crock Pot.  But if it is a little large, don't panic.  I actually got a ham shank that was a little too big for my slow cooker.  The lid wouldn't fit on.  I was able to put some aluminum foil (I doubled it up) over the top and it worked completely fine.  Some of the tooth picks even poked through but it didn't affect the cooking at all!
Slow Cooker Ham With Pineapple Recipe
Cooking ham in the slow cooker with pineapple is the perfect Easter recipe.  The sweetness of the pineapple and the maraschino cherries work so well with the rich, salty taste of the ham.  Pressing the brown sugar onto the ham, with the juices of the pineapple and the cherries infused into it during cooking creates an outer crust that you have to taste to believe.  There are really only 4 ingredients (plus some toothpicks!) you need for this delicious Easter meal.
For step-by-step instructions, check out the recipe card below. But here is what you'll need to get started:
HAM – I used shank portion bone-in ham (10.34lbs). Just place ham in your crockpot, add the other ingredients below, and your ready to go!
PINEAPPLE RINGS – One can of pineapple rings. Make sure you are saving the juice in the can to pour in your slow cooker. If you don't have pineapple rings, you can simply used canned pineapple chunks. Either attach them with a toothpick or  just dump them in the crock pot. It will still be delicious!
BROWN SUGAR – You'll be slathering this all over your ham and the glaze that results is amazing!
MARASCHINO CHERRIES – We really love using them, it gives this dish an extra kick of flavor and color. But you can omit them if you want/need to.
TOOTHPICKS – To keep your pineapple stuck on the ham. If you can't find or don't have toothpicks, this recipe will work fine with you just throwing them in Crockpot. The presentation just won't be quite as great.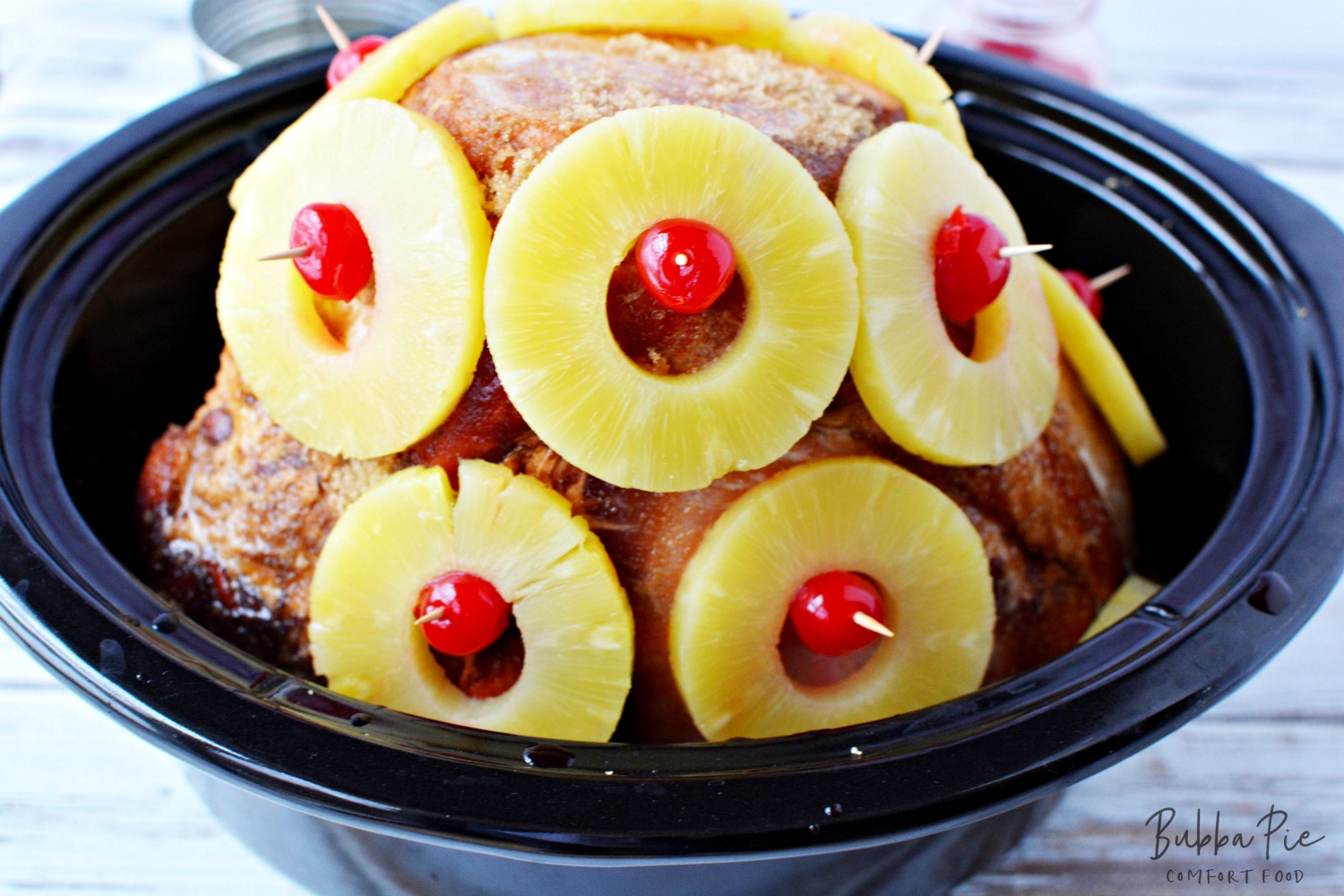 Can You Use Fresh Pineapple For This Recipe?
Yep, you sure can! But an important ingredient to this recipe is the pineapple juice that comes in the can. So, if you use fresh pineapple, make sure you buy some pineapple juice to pour into the slow cooker. You'll need about 3/4 cup. If you don't have pineapple juice, you can also use apple juice.
How To Store Leftovers. Can You Freeze Ham?
Store leftovers in an airtight container in your refrigerator. It should be good for up to 7 days. You can reheat in the microwave for oven.
You can freeze leftover ham. Allow to fully cool and then wrap in a freezer bag, freezer wrap or both. It will be ok in your freezer for up to 3 months. Allow to thaw overnight in your refrigerator.
Recipes Using Leftover Ham
And the best part is that you'll almost certainly have plenty of leftovers. And there are some really tasty ways to use. Some ideas are:
We hope you enjoy this Slow Cooker Ham Recipe with Pineapple. Please let us know in the comments section how it turns out for you!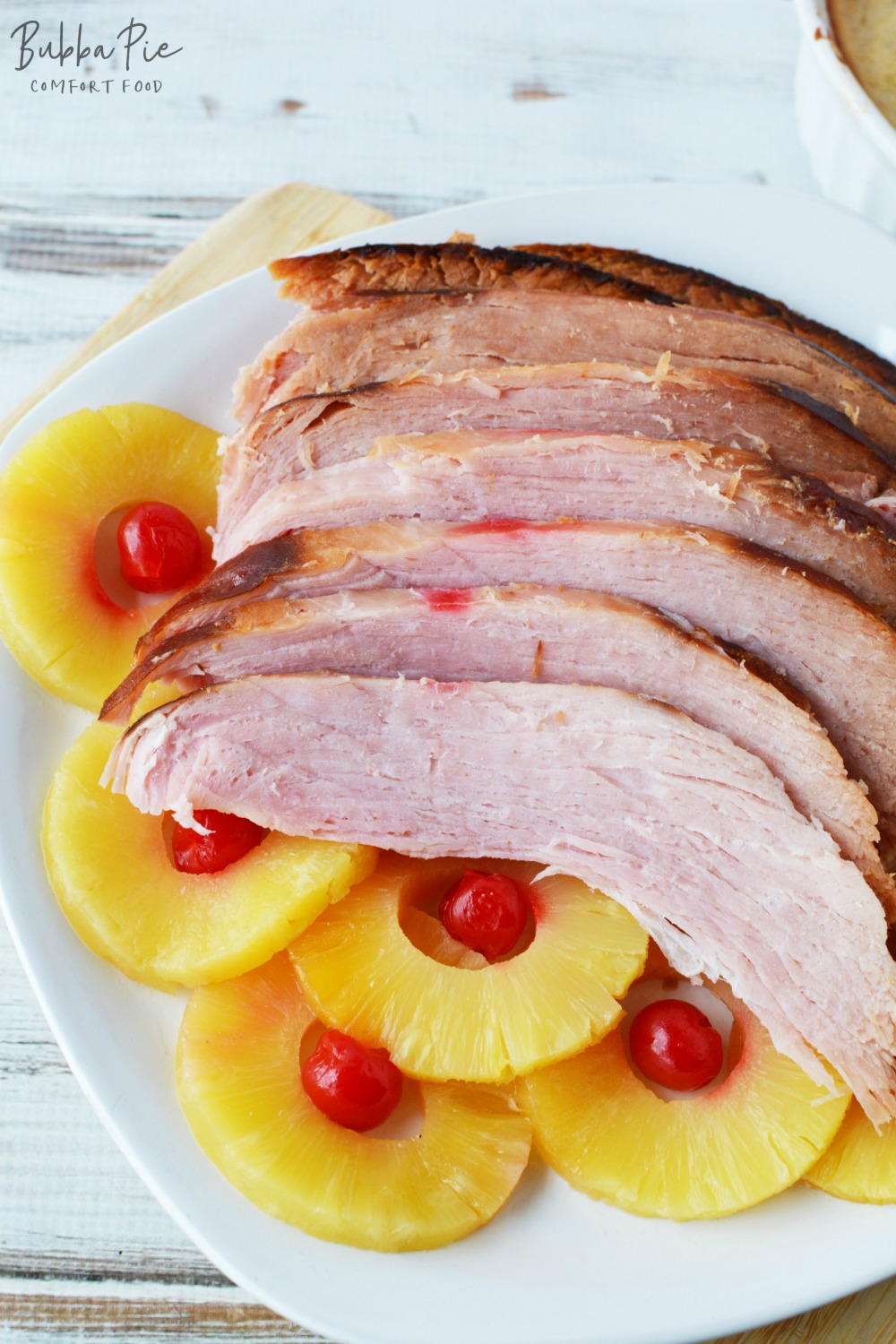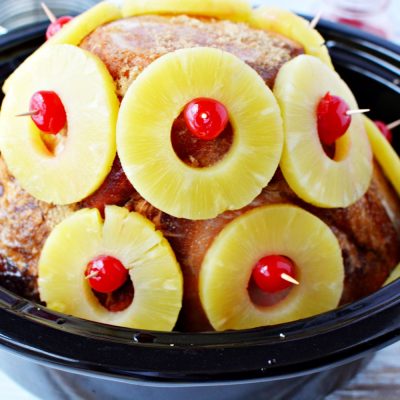 Rate this Recipe
Slow Cooker Ham with Pineapple
This Slow Cooker Ham with Pineapple is perfect for the holidays or any special family dinner. Cooking Ham in a Crock Pot is easy, delicious and the meat practically falls apart on your fork!
Ingredients
Ingredients:
1

ham- I used shank portion bone-in ham

10.34lbs

1

can

20 oz, pineapple rings

1/2

cup

brown sugar

loosely packed

maraschino cherries

Toothpicks
Instructions
Drain pineapple juice into bottom of slow cooker.

Add ham, cut side down (fat on top).

Spread with brown sugar seasoning. I found it best to work with my hands and press it into and on the ham.

Use toothpicks to add cherries and pineapple to ham.

Cover with 2 layers of foil if your lid will not fit on the crock. It's okay if the tooth picks poke out of the foil.

Heat on low for 7-8 hours until heated through.

Remove pineapple and cherries and discard toothpicks.

Slice and serve with pineapple and cherries.
Nutrition
Love this recipe?
Follow @bubbapie for even more delicious recipes!!