These Cheesy Fried Grit Cakes are a fun take on a classic Southern Recipe. Fried to a perfect golden brown, they are perfect for Breakfast, Lunch, Dinner or even an Appetizer!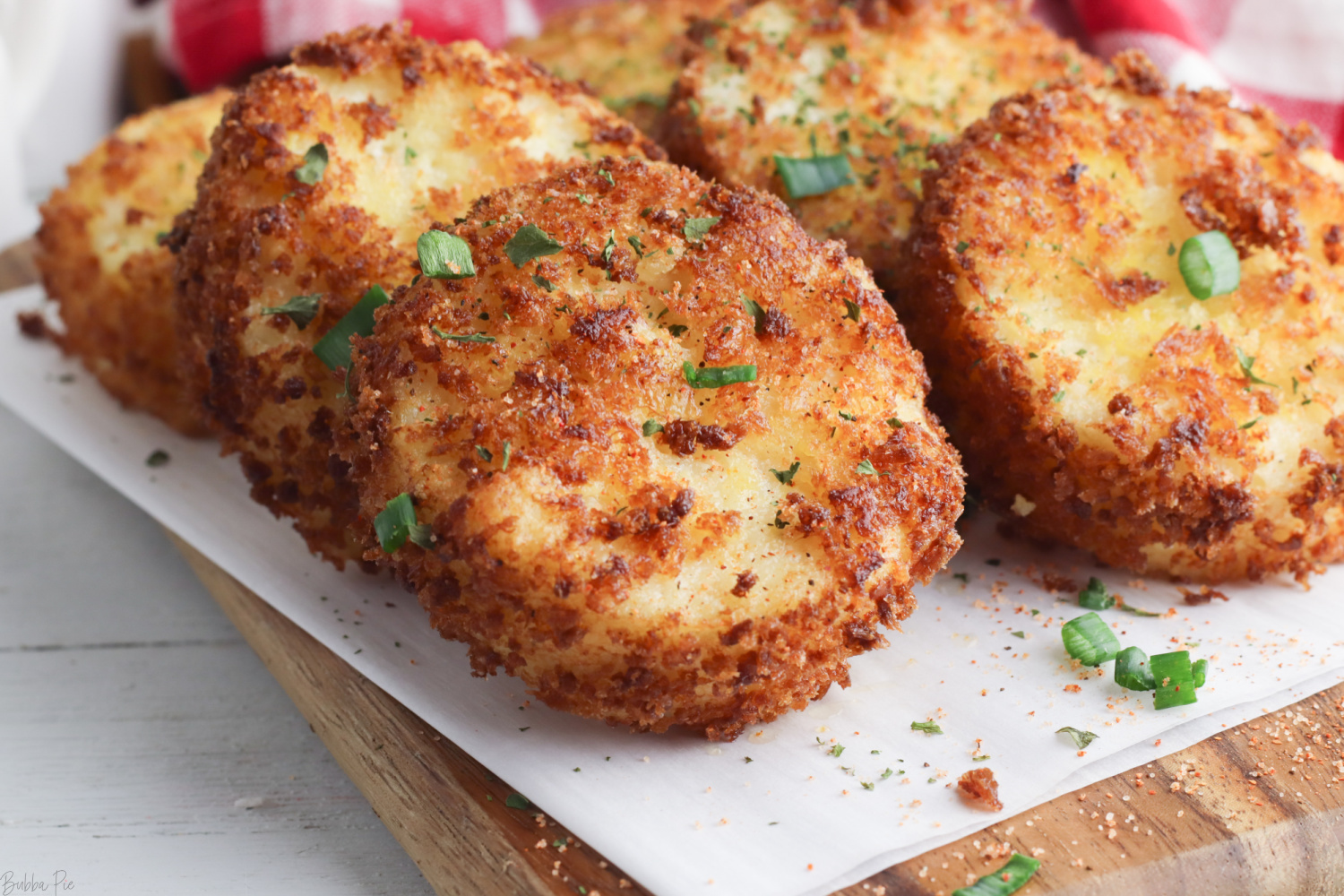 Southern Comfort Food
Here at Bubba Pie, we love recipes that have strong roots in specific regions of America. From Idaho Finger Steaks to Kentucky Hot Brown Sandwiches, we relish in the stories and traditions that make these dishes the classics that they are.
When looking at Southern Cuisine, there isn't much more of a trademark dish than Grits! Grits are a staple on breakfast plates all over the South, with a rich history and strong tradition.
Cheesy Fried Grit Cakes
Traditionally, Grits were served as a breakfast side. But, as of late, they have become a little more "trendy, with restaurants and celebrated chefs dressing up this classic ingredient into all sorts of fare. One thing I've heard about is Fried Grit Cakes. This had me intrigued!
How To Make Fried Grit Cakes
The process to make these Fried Grit Cakes is super easy and only takes a handful of simple ingredients. You will need to let the grits chill for at least 3 hours, so this is something you'll have to plan a bit in advance. But the recipe is really straightforward. Here is what you'll need:
2 cups milk
2 cups water
¼ teaspoon salt
1 cup instant grits
½ teaspoon pepper
½ cup shredded sharp cheddar cheese
3 eggs
2 tablespoons milk
2 cups Panko breadcrumbs
1 tablespoon Creole seasoning
Oil for frying (you'll need enough for about 1/2 inch of oil in whatever fry pan you are using.)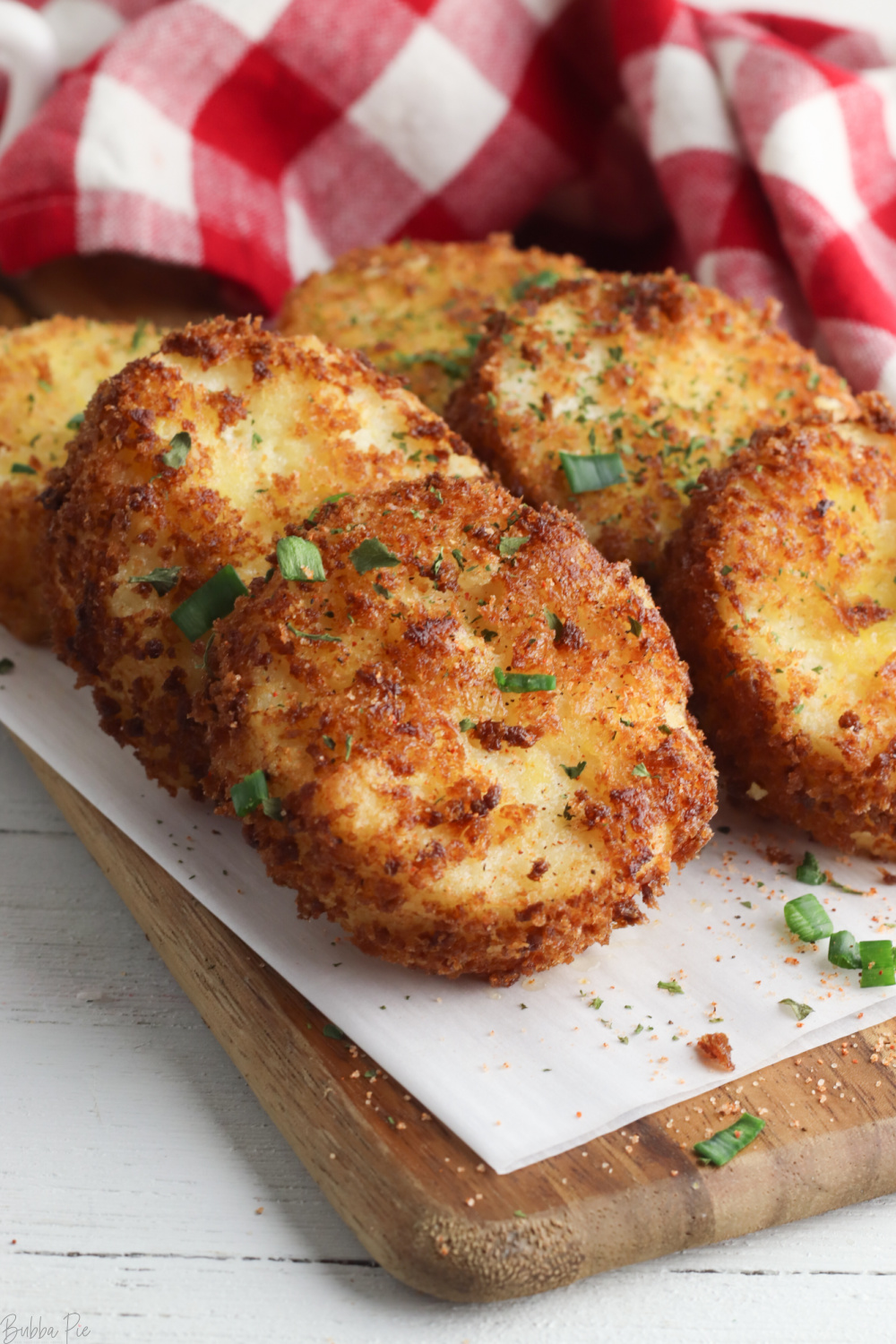 Do You Have To Use Instant Grits For This Recipe?
We love shortcuts and making comfort food recipes as simple as possible. So we used Instant Grits for this Grit Cake recipe. But you could use "quick grits" or "stone ground grits". But both would take more cooking time. For Quick Grits, you'll need to add 5-10 minutes of cooking time. For Stone Ground Grits, it'll be more like 30 minutes.
How To Serve Cheesy Fried Grits
With all the cheese, salt, pepper and other seasonings, this dish does taste fine on it's own. But you can also dress it up and incorporate it into other dishes.
BREAKFAST GRIT TOPPINGS:
Fried Ham
Sausage Gravy
Scrambled Eggs
DINNER GRIT TOPPINGS:
BBQ Pulled Chicken or BBQ Pulled Pork
Shrimp
Smoked Sausage
Taco Meat with Salsa, Guacamole, Sour Cream, etc.
APPETIZER IDEA
Cut the Fried Grits into "Fries" and dip them into Marinara
Notes, Tips and Variations
Don't have a round cooking cutter? No problem! You can make these into a square or rectangle shape by just cutting them out of the baking dish in those shapes.
Feel free to substitute any cheese you'd like with this recipe! Colby Jack, Pepper Jack or Mexican Blended Cheeses would work great!
Make sure you chill the grits for at least 3 hours before cutting them. Or else they will be too hard to work with!
Tools To Help With This Recipe
I hope you enjoy these Cheesy Fried Grit Cakes! Let me know how they turn out for you in the comments section! Thanks for reading!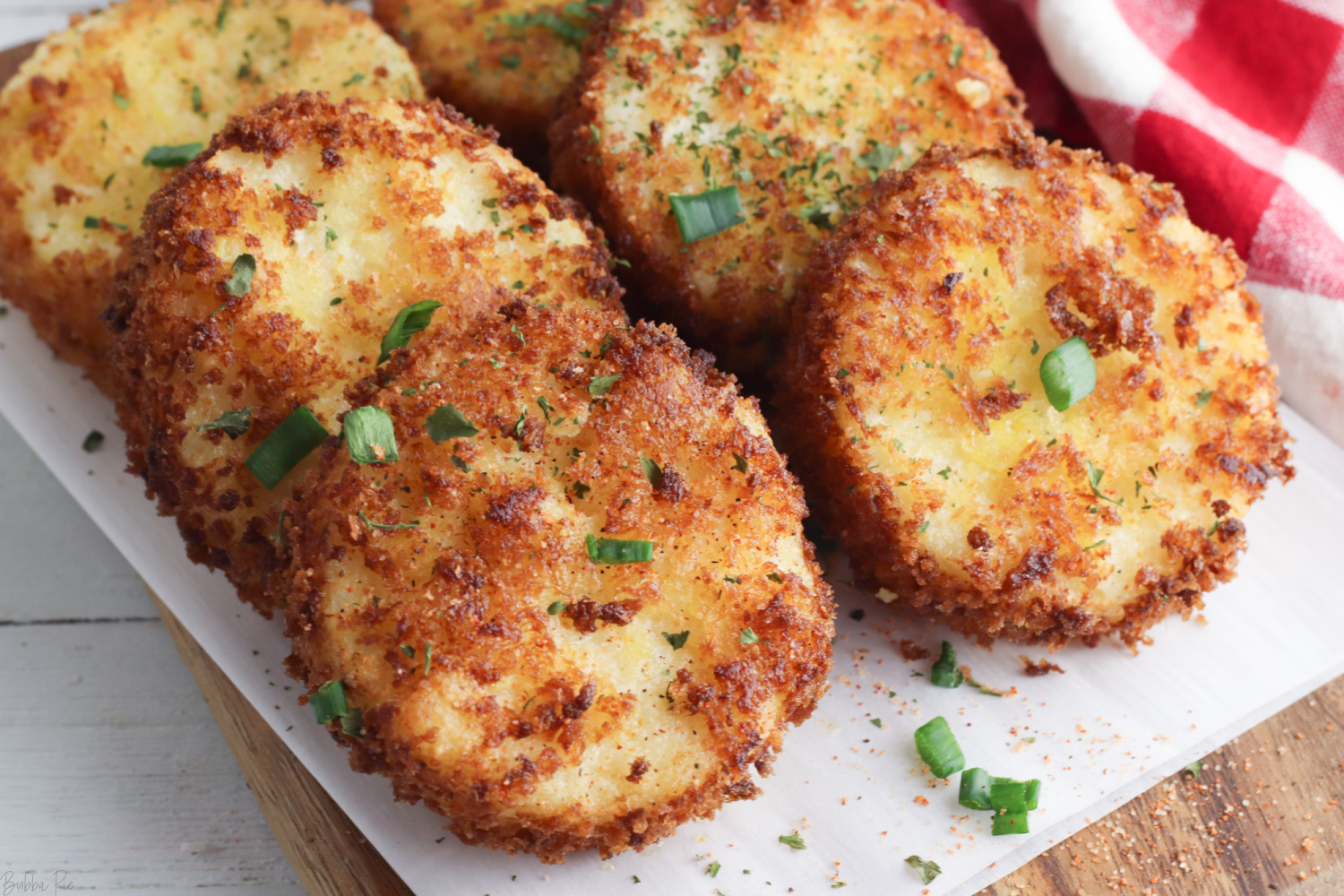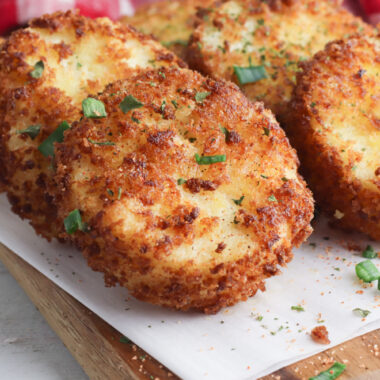 Rate this Recipe
Cheesy Fried Grit Cakes
These Cheesy Fried Grit Cakes are a fun take on a classic Southern Recipe. Fried to a perfect golden brown, they are perfect for Breakfast, Lunch, Dinner or even an Appetizer!
Ingredients
2

cups

milk

to simmer with water.

2

cups

water

¼

teaspoon

salt

1

cup

instant grits

½

teaspoon

pepper

½

cup

shredded sharp cheddar cheese

3

eggs

2

tablespoons

milk

to add to eggs and breadcrumb coating later.

2

cups

Panko breadcrumbs

1

tablespoon

Creole seasoning

oil (enough to for about 1/2 inch in your fry pan)
Instructions
Heat 2 cups of milk, water, and salt in a large saucepan over medium high heat.

When the milk begins to simmer, reduce heat and stir in the grits. Cover and cook until thickened, around 5 minutes.

Remove from heat and stir in the shredded cheese and pepper until well combined.

Spread the mixture into a baking dish and chill for 3 hours, until set.

When ready to fry, heat the oil in a large skillet over medium heat.

Whisk together the eggs and tbsp milk in a shallow dish. In a separate dish, mix together the breadcrumbs and Creole seasoning.

Use a round cookie cutter to cut out the grits.

Dip each grits cake in the egg mixture, then the breadcrumb mixture. Repeat the process again, dipping in the egg mixture and then breadcrumbs. Continue dipping all the grits cakes in the egg and breadcrumbs until they're all coated.

Place the coated grits cakes in the hot oil and cook each side until browned, between two and three minutes on each side. Transfer to a paper-towel lined plate to cool slightly before serving.
Nutrition
Love this recipe?
Follow @bubbapie for even more delicious recipes!!