These Bacon Wrapped Pork Chops make a quick, easy and delicious meal for any night of the week. When you wrap them in bacon, you get tender, juicy and moist results every time! Plus, it is Keto, Low Carb and Gluten-Free!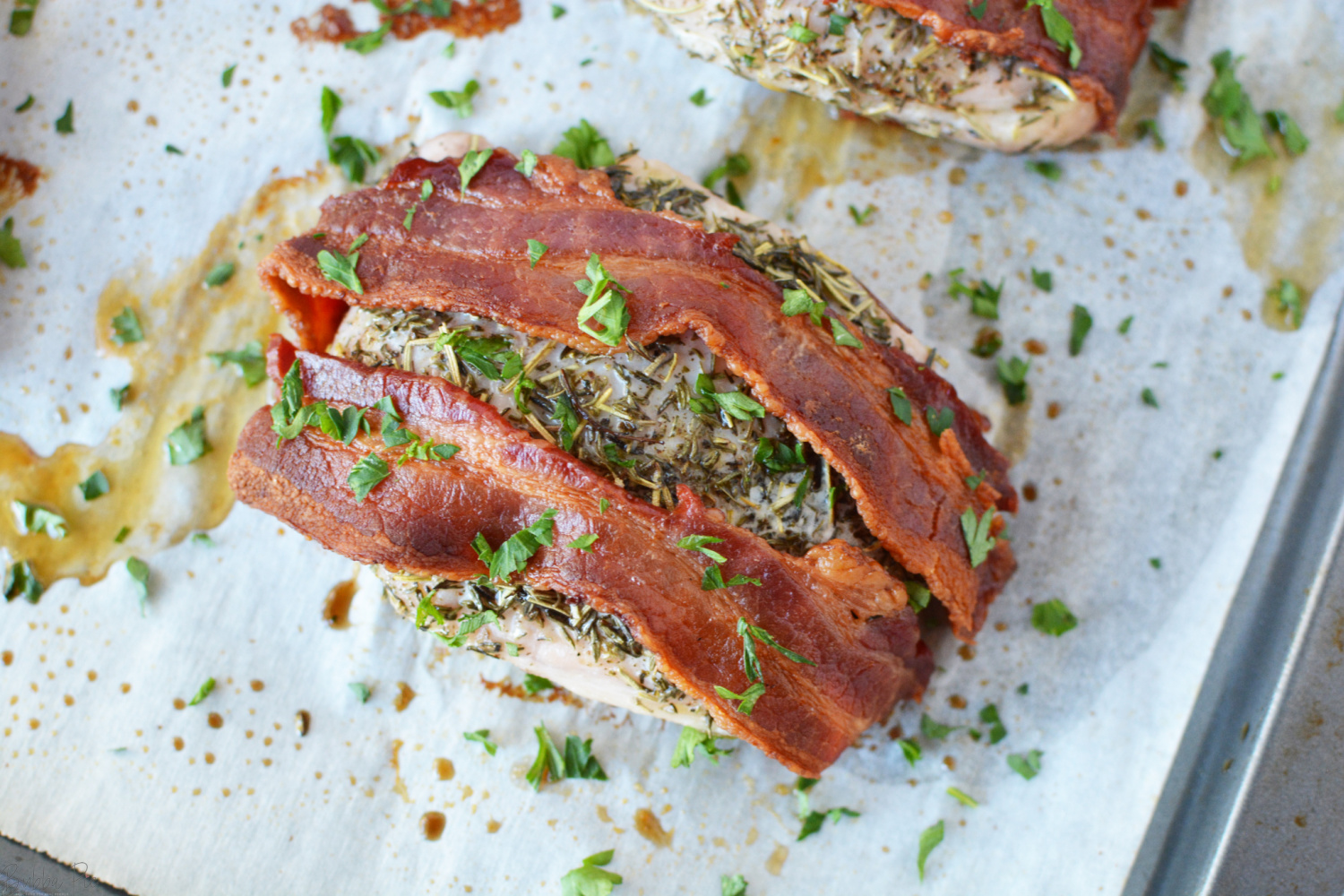 Why You Will Love This Recipe
EASY – With just a handful of common pantry ingredients, you can easy prepare this dinner even on a busy weeknight!
KID FRIENDLY – Even picky eaters are gonna like this one!
VERSATILE – These bacon wrapped pork chops go with any number of sides. From roasted potatoes to rice to salads! Pair them with anything for a complete, nutritious family dinner!
Easy Bacon Wrapped Pork Chops
Pork Chops wrapped in bacon? Really? Yep!
I've found that just about everything tastes better when it is wrapped in bacon. Over the past couple of months, we've been wrapping bacon on all sorts of things, mostly vegetables. We LOVE these Bacon Wrapped Brussels Sprouts. And these Bacon Wrapped Green Beans make an elegant side dish for more formal occasions.
But wrapping meat in bacon is on a whole other level! By baking your Pork Chops with bacon, you can be assured that your meat will come out of the oven tender and moist everytime!!!!
How To Make Bacon Wrapped Pork Chops
These juicy Pork Chops wrapped in Bacon are so simple and easy to make with literally just minutes of prep time! And, I'm willing to bet you already have all of these ingredients! For step-by-step instructions, check out the printable recipe card below. But here is what you'll need:
BACON – The star of the show. We suggest using thin sliced bacon for this recipe. It will crisp up much better than thin sliced bacon.
BONELESS PORK CHOPS – Center Cut, 3/4″ thick. If you have thicker or thinner cuts, that's ok, you may just need to adjust the cooking time. Can you use bone-in pork chops? Yes, you can, but we like boneless because they have more meat.
OLIVE OIL – You will be brushing both sides of the pork chop with this, along with the seasonings to really bring the flavor out!
SEASONINGS -We will be using thyme, rosemary, salt and pepper. If you don't have all of the seasonings, that's ok. This recipe will still taste great. After all, we are using bacon!
PARSLEY – Optional. Chopped fresh and used as a garnish.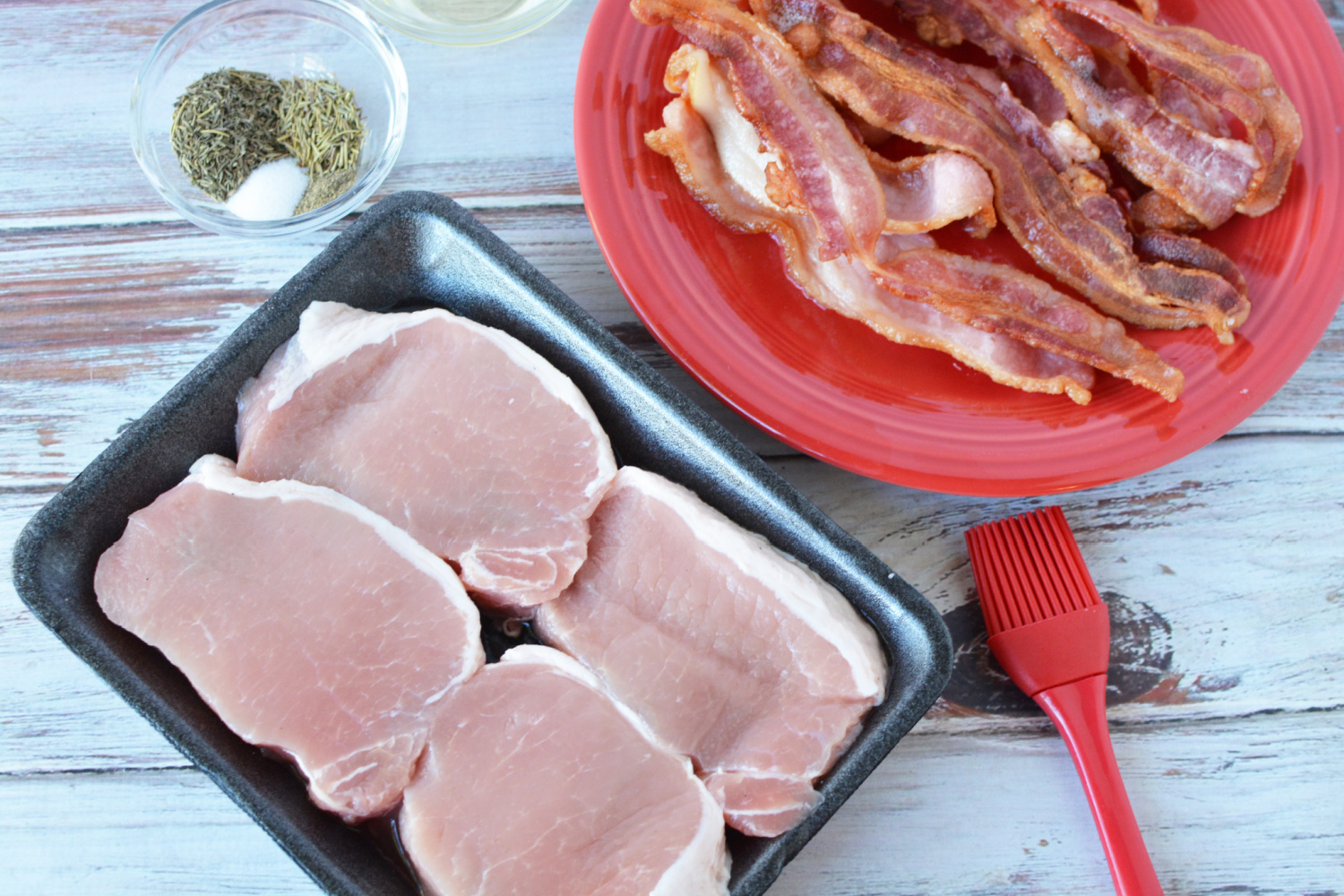 What Is The Best Way to Par Cook Bacon?
You are going to need to par cook your bacon a bit before you wrap it around the pork. It seems like everyone has their own methods of cooking bacon perfectly, so feel free to use whatever method you prefer. I actually just used a microwave to par cook this bacon. If I was cooking it all the way, I'd never do this, but it was ok for par cook. For thick cut bacon, cook it on high for 2-3 minutes, flipping halfway through. For thinner bacon, microwave on high for 1-2 minutes, flipping halfway through. Just keep an eye on it because the cooking time can vary depending on your microwave.
Another way to cook the bacon is to put it in the oven while it is preheating for the pork chops. There is no need to preheat an oven when cooking bacon!
You can also actually par boil the bacon. This actually gets rid of a lot of the rendered fat and results in a leaner, healthier dish.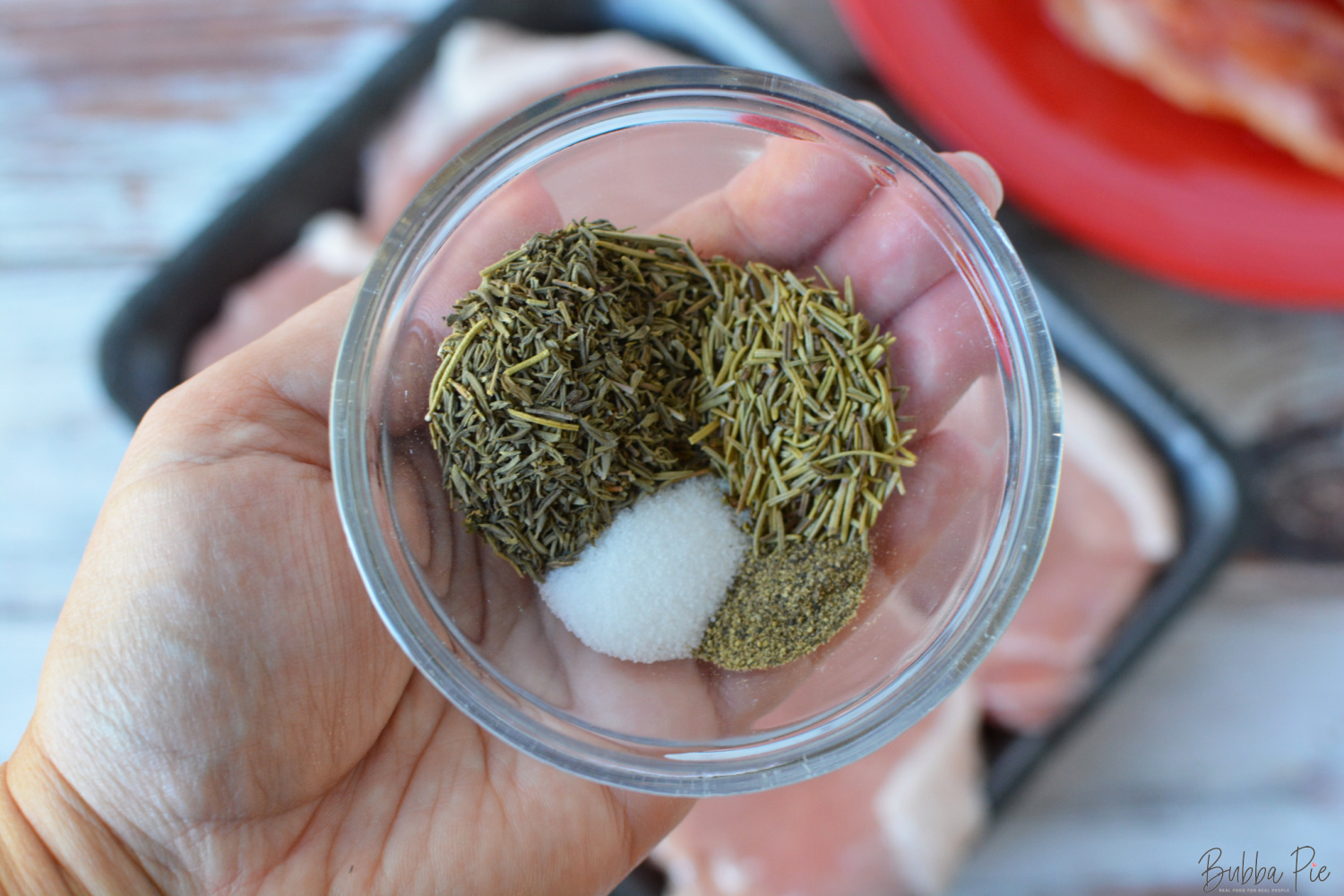 Notes, Tips and FAQs
CRISPY BACON – If your bacon doesn't look crispy enough at the end of cooking, you can put it in the broiler for a minute or two. Just keep an eye on it. Alternatively, if it looks like your bacon is getting TOO crispy and the pork chops aren't done yet, you can cover them with aluminum foil.
BROWN SUGAR – I've seen some recipes where brown sugar is sprinkled on top of the bacon before cooking. We haven't tried this, but go for it! It sounds delicious!
BBQ – Another way to get that sweet and salty combination is to brush with BBQ Sauce!
HOW TO KNOW WHEN YOUR PORK IS DONE? – Pork is safe to eat as soon as it reaches 145 degrees internally. Here is a meat thermometer we like to use.
OTHER SEASONINGS – If you have Montreal Steak Seasoning, that is a quick and easy substitution for the herbs that I have in this recipe.
What To Serve With Your Bacon Wrapped Pork Chops
This recipe makes a super easy family dinner for busy weeknights. Some ideas that you can serve with this dish are:
We hope you enjoy this recipe for Bacon Wrapped Pork Chops. Let us know how it turned out for you in the comments section!
LOOKING FOR MORE PORK CHOPS RECIPES? CHECK OUT: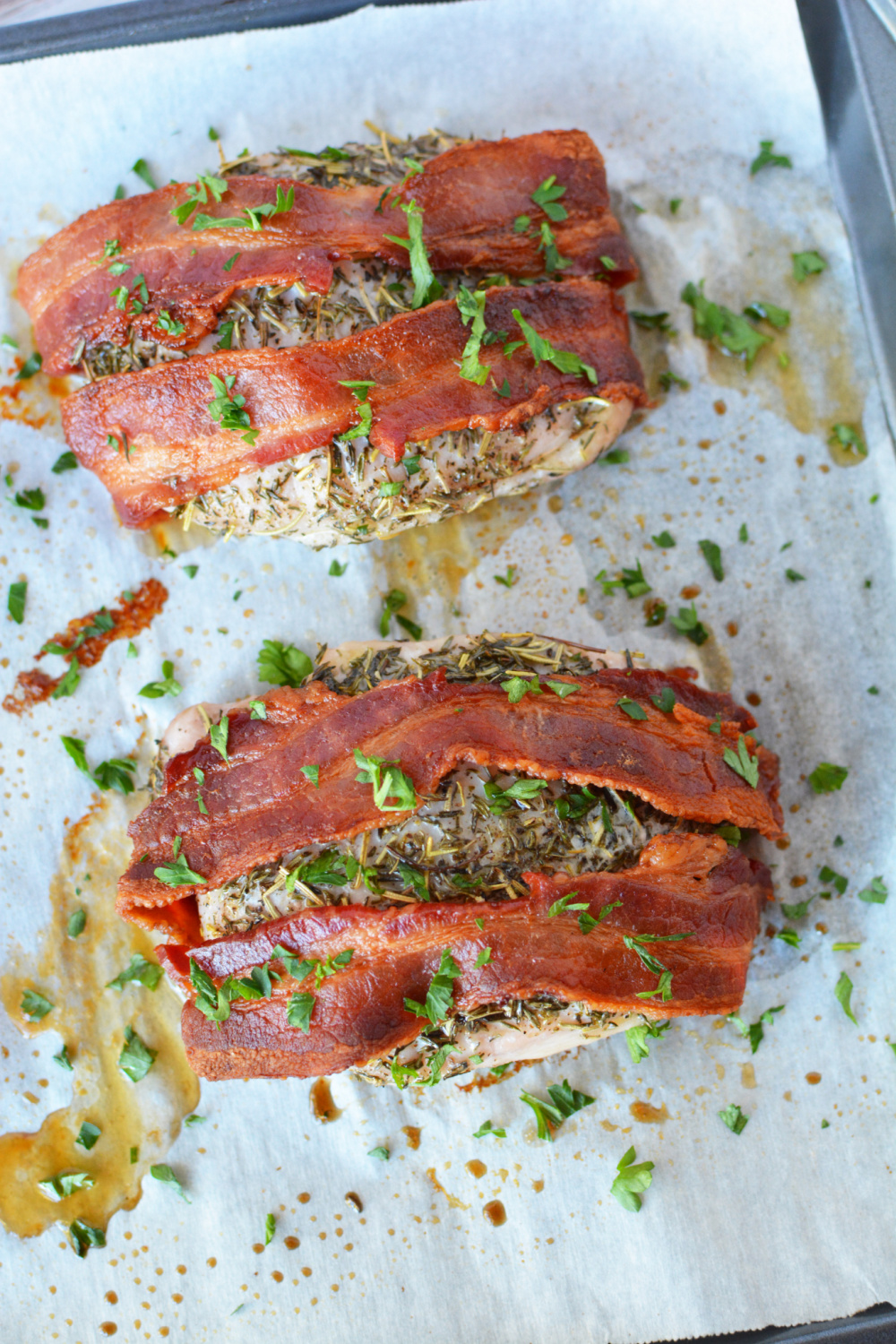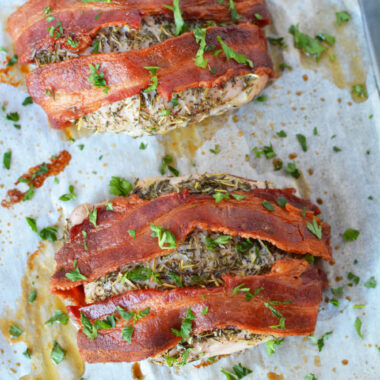 Rate this Recipe
Bacon Wrapped Pork Chops
These Bacon Wrapped Pork Chops make a quick, easy and delicious meal for any night of the week. Plus, it is Keto and Low Carb friendly! When you wrap them in bacon, you get tender, juicy and yummy results every time!
Ingredients
8

slices

bacon

uncooked

4

boneless pork chops

3/4" thick

2

tablespoons

oil

1

tablespoon

thyme

1/2

teaspoon

rosemary

1/2

teaspoon

salt

1/4

teaspoon

ground black pepper

chopped fresh parsley

optional for serving
Instructions
Place bacon in a single layer on a microwave safe plate with paper towel. For thick cut bacon, microwave 6-8 minutes, flipping halfway through cooking. For regular cut bacon, microwave 3-5 minutes, flipping halfway through cooking.

Preheat oven to 400 and use a pastry brush to brush pork chops with oil on both sides.

Mix seasoning together and sprinkle on both sides of pork chops.

Wrap 2 slices of bacon around each pork chop, tucking the loose ends under the chop. Bake 20-30 minutes or until chops are no longer pink in the center. serve immediately with chopped fresh parsley.
Nutrition
Love this recipe?
Follow @bubbapie for even more delicious recipes!!