This slow cooker cube steak will cook in your Crockpot until it is so tender, it falls off your fork. Served with rich and creamy mushroom sauce, your whole family will enjoy this one! It's inexpensive, simple, authentic comfort food at it's best. Just set it and forget it! You kitchen will smell SO good with this one!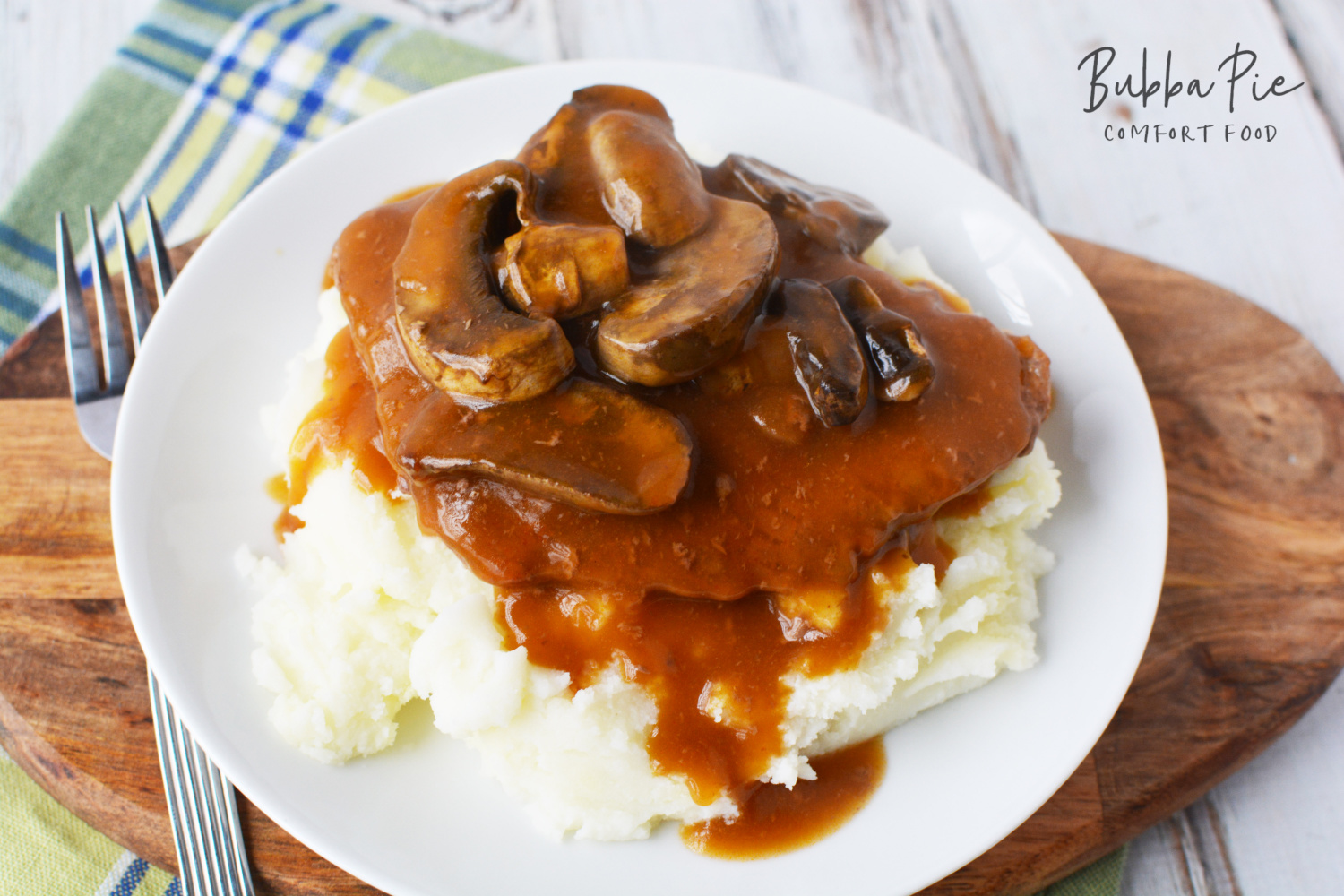 Slow Cooker Recipes
Here we are, back with yet another Slow Cooker Recipe. As a "Comfort Food" website, these Crock Pot Cube Steaks are right up our alley!
I mean, is there anything better than walking into the house and smelling a Crock Pot cooking dinner?  It always smells so good, just about no matter what you are making.  Sure, using a Slow Cooker is super easy: just dump it all and let it do it's thing. But it's the SMELLS that really get me!
Over the years, we've made some really amazing meals, from Tex Mex inspired creations like this Crockpot Mexican Casserole to old school family dinners like these Slow Cooker Ranch Pork Chops. We've made holiday side dishes (Green Bean Casserole anyone?!?!) and Game Day Dips. Check out our roundup of our 16 Favorite Slow Cooker Recipes for more ideas!
A Slow Cooker is a must have for any kitchen! If you need to grab one, or are just looking to upgrade, here are a couple of great options: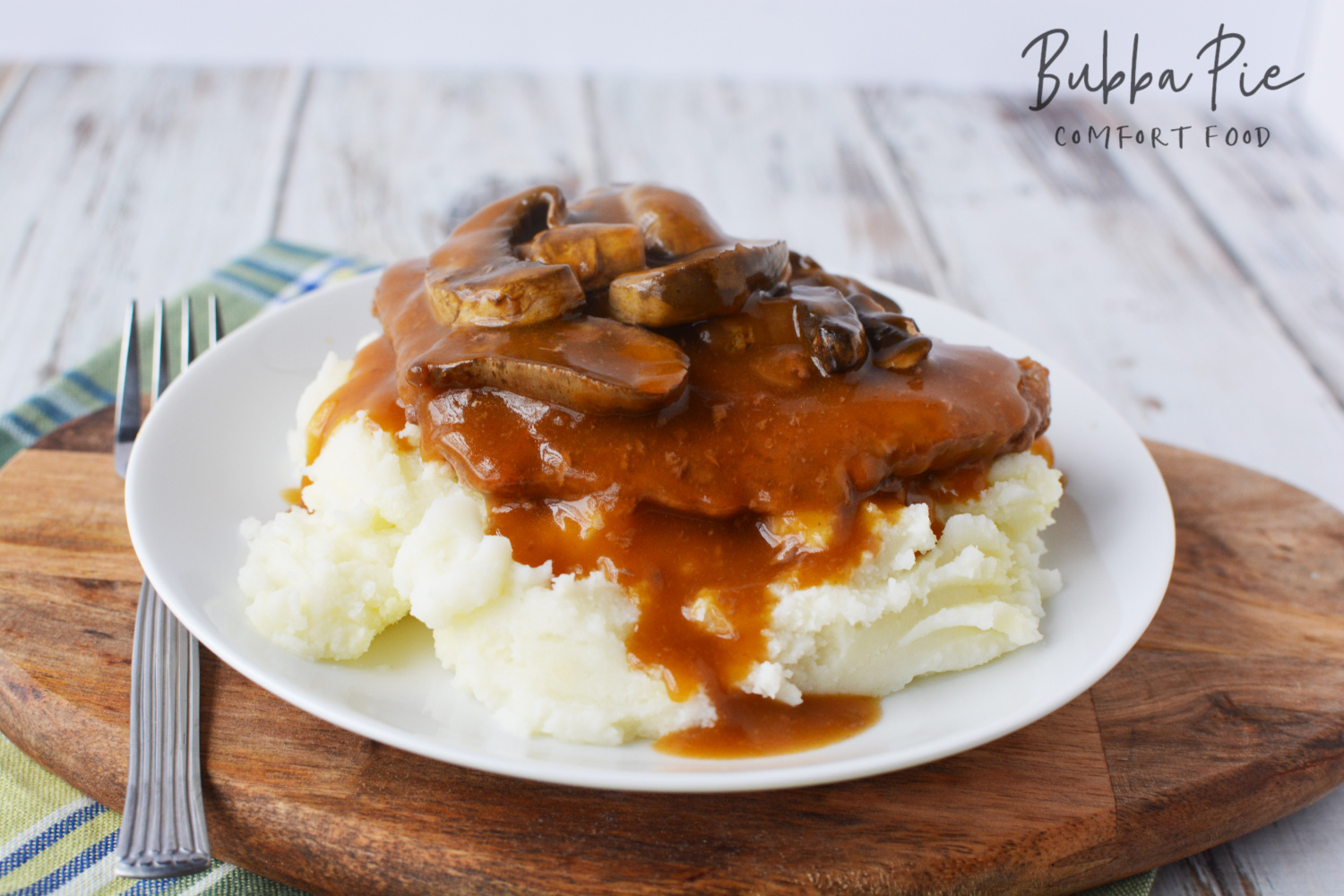 What Is Cube Steak?
Cube steak, sometimes called "cubed steak" is usually a less expensive (and less tender) cut of meat that has been tenderized and flattened. The top round or top sirloin cut of meat is usually used for this. The process of tenderizing the steak makes little "cubed" patterns in the meat.
Slow Cooker Cube Steak
My husband's mother always made cube steaks for dinner when he was a child.  He has fond memories of it.  Cube steak is great because it is inexpensive meat and there are a lot of things that you can do with it.  You just have to make sure to cook it correctly or it can get a little tough.  At some point, it occurred to me that slow cooker cube steak would be a great idea.  Cooking cube steak in a crock pot will make it super tender delicious.  Add some rich and creamy mushroom sauce and now you are in business! For step-by-step instructions, check out the printable recipe card below. But here is what you'll need to get started.
Slow Cooker Cube Steak Ingredients
1 CAN GOLDEN MUSHROOM SOUP– Golden Mushroom Soup is a lot like Cream of Mushroom Soup. So you can use that if you'd like. Just note that Cream of Mushroom Soup will have dairy in it. You can also try Cream of Chicken, Cream of Celery, Cream of Asparagus or even Cream of Bacon!
1/2 CAN OF WATER– By "can" I mean the soup can! I've had some questions about this. Just fill the soup can halfway up with water. For a richer result, you can also use beef broth.
1 lb CUBE STEAK- Easy to find at your local meat department. If you can't find Cube Steak, a decent substitution would be to buy a Top Round Steak and tenderize it at home with a meat tenderizer.
4 OZ SLICED MUSHROOMS- Don't slice your mushrooms too thin, or they will break up during the cooking process. You want them nice and meaty!
Can You Use Frozen Cube Steak In A Slow Cooker?
Nope. You cannot. You'll need to thaw it out in your fridge beforehand. When cooking meat in a slow cooker, if it starts frozen, it just won't have time to fully cook. Also, it is a health risk to defrost meat in higher heat conditions.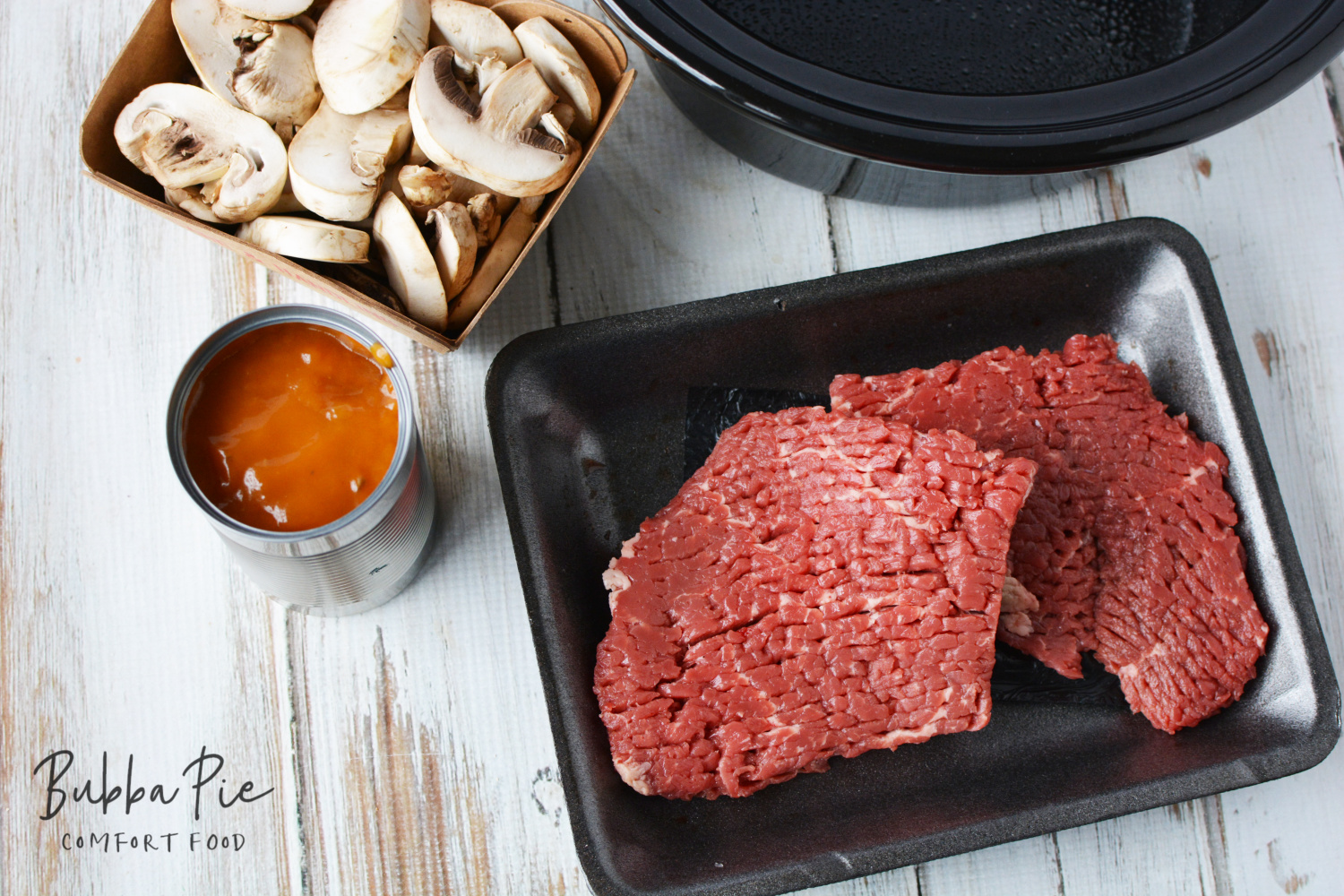 What To Serve With Your Cube Steak?
We usually serve our Cube Steak over mashed potatoes, like we have pictured. But you can also serve it over rice or pasta or egg noodles.
You may also want to offer a side with your Cube Steak, such as Oven Roasted Green Beans, Garlic and Butter Roasted Carrots or Honey Glazed Carrots.
Or, you could serve it with a nice, healthy salad like this Grilled Vegetable Salad.
And don't forget the bread! 7-Up Biscuits, Drop Biscuits or Garlic Cheddar Biscuits would be perfect!
Notes, Tips and FAQs
CAN I MAKE MY CUBE STEAK EVEN MORE TENDER?– You can take an extra step to tenderize your steak by soaking it in milk for one hour.
MY GRAVY IS TOO THIN!- I'd stir in a cornstarch slurry to thicken up your gravy mixture. To make the slurry, combine 1 tbsp of cornstarch to 1 tbsp of water in a small bowl. Keep adding until you get the right consistency for your gravy mix. Usually 2 tbsp will do it!
ADD FLAVOR – Some versions of this recipe call for a packet of French Onion Soup Mix. Go for it if that sounds good!
If you are a fan of steak and mushrooms, this is the recipe for you.  The steak comes out super tender and the sauce is so creamy and rich.  Love it!  Let me know what you think!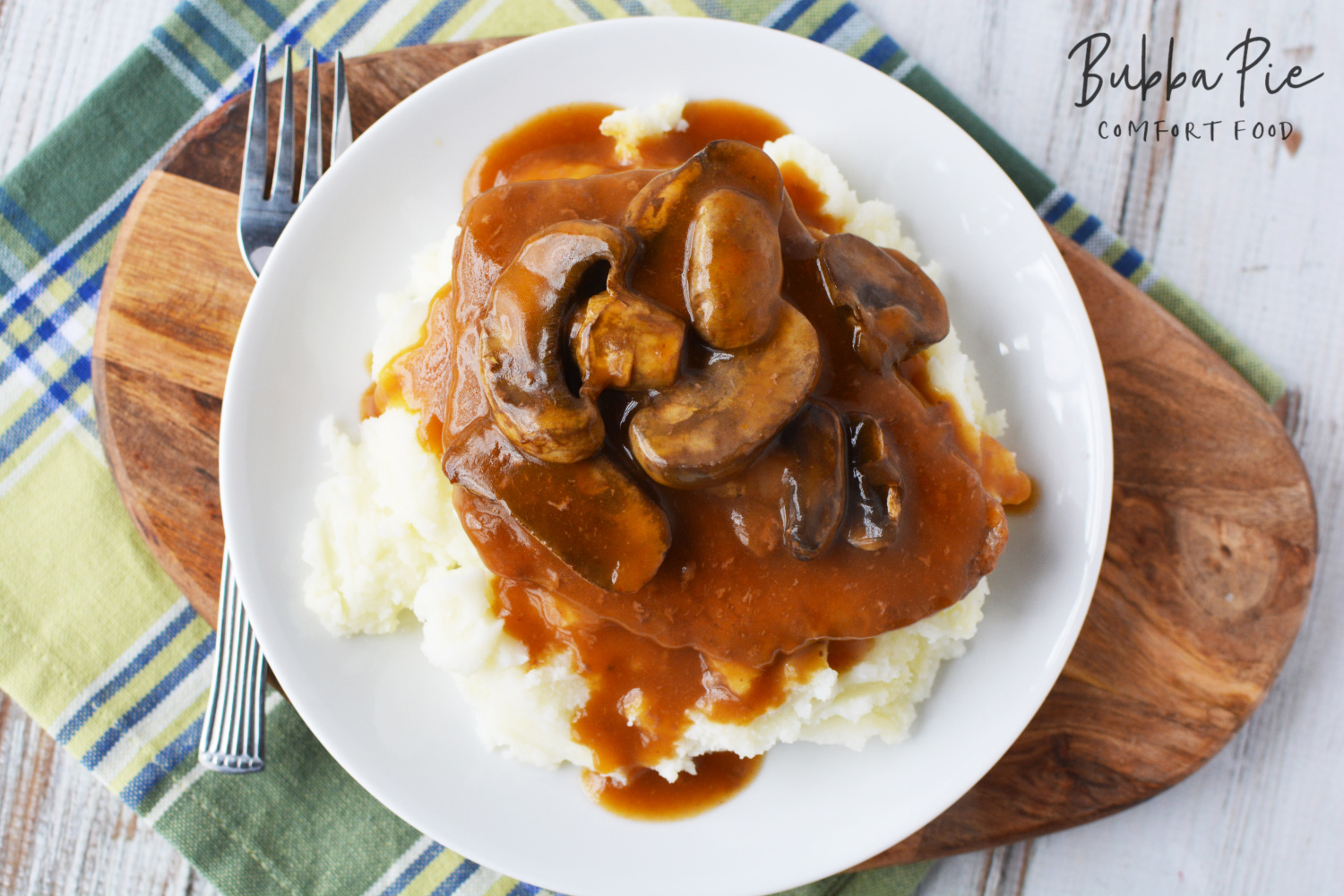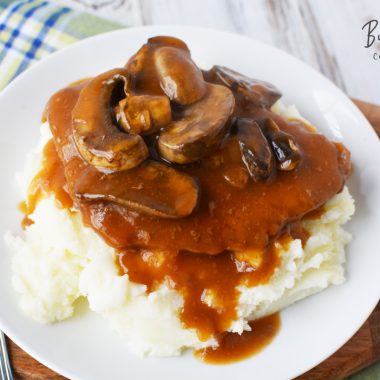 Rate this Recipe
slow cooker cube steak
This slow cooker cube steak will cook in your crock pot until it is so tender, it falls off your fork. Served with rich and creamy mushroom sauce, your whole family will enjoy this one!
Ingredients
1

can

10.5 oz, golden mushroom soup-condensed Campbell's soup

1/2

can

of the soup water

1

lb

cube steak

4

ounces

sliced mushrooms

mashed potatoes

cooked and kept warm

optional 2 tablespoons cornstarch dissolved in 2 tablespoons water

Salt and Pepper to Taste
Instructions
Grease a slow cooker with nonstick cooking spray.

Pour soup and water into slow cooker and mix well.

Add cube steak and cover with mixture.

Top with mushrooms.

Heat on low for 6-8 hours. 30 minutes before serving, remove steak from pan and set aside to keep warm.

Add cornstarch slurry and turn slow cooker to high.

Heat until thickened.

Serve steak on a bed of mashed potatoes and covered with mushroom gravy sauce.
Nutrition
Love this recipe?
Follow @bubbapie for even more delicious recipes!!